Project managers use an astounding variety of project management tools every day.  Especially in fast-moving digital agencies, the average PM is likely using a dozen different project management apps, from Gantt chart software to personal productivity apps to stay on top of that ever-changing to-do list. In this review, we cover off some basic questions, and then we present an in-depth review of our top choices, followed by some details about our criteria.
What Are Project Management Tools?
When we talk about project management tools, we're talking about one of two things:
The reports, charts, briefs, plans, and documents themselves that a project manager produces and uses in order to do their job.
Software for managing projects, which includes features for generating charts and reports, sharing documents, tracking budget, communicating, etc.
In this review, we're using the term "project management tools" to talk about the second definition—the software. For some great resources on the other type of tools (reports, charts, briefs, plans), start by taking a look at The Digital Project Manager "How To" Guides.
Why Use Project Management Software?
Whether we're in agencies, marketing communications or consulting, without good PM software, we find ourselves drowning in an endless sea of spreadsheets, post-its and paperwork. As PMs, our toolkit can be the only thing that keeps us from throwing our toys out of the pram and having a total meltdown. To get projects out the door, we need the right tools to make it happen.
What Are The Best Project Management Tools?
There's a common debate on PM tools: Is a tool only as good as its user? Or are we only as good as our tools?
There is no black-and-white answer, but the questions do remind us of the importance of not only finding the best PM tools for our environments, but also developing the best project management methodologies, processes, and workflows.
Simply put, there's a symbiotic relationship between our project management tools and techniques. Choosing the right ones for each unique case is an ongoing practice in awareness and education (which you can begin right here!).
The Best Project Management Tools For Agencies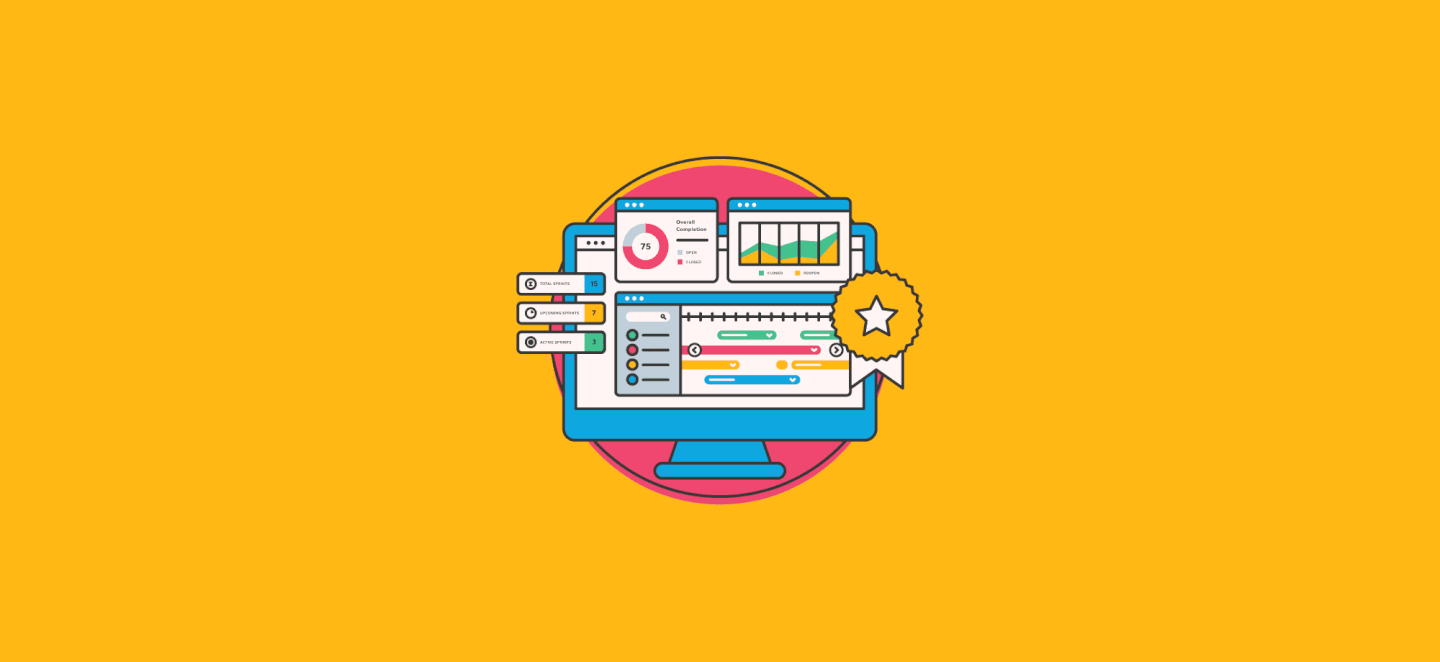 Project management is a broad industry—in our project management tools review we've selected platforms that are the best for agency environments. Of course, some of these can adapt to different environments (IT, healthcare, finance), but we're focused on how they work for digital teams at agencies. These include:
Read on for the best project management software for agencies and studios:
This top project management tools list includes a review of the features, pricing, integrations, and pros & cons of the following tools:
Best Project Management Tools Review
Clarizen is an enterprise grade professional services automation software solution, designed to speed up the way you do business – integrating work, content and process tightly together to enable more efficient working. Clarizen's real focus is making projects happen faster with timesaving workflows. Clarizen is a great project management tool if you have lots of repeatable projects that require repeatable processes as the workflow automation is pretty flexible and powerful.
It covers off the PPM basics of task lists, schedules, docs and files, communications and reporting without breaking a sweat. Clarizen's project planning tools   are a powerful mix of functionality across the planning, executing and controlling of a project. Within planning are project workflows, a full featured resource, schedule and task planning tools, with project and portfolio optimization so that you can easily and quickly align projects to business objectives.
For project execution, Clarizen enables everyone on the team to be aligned with a dashboard that enables teams to work better together and see how their contribution fits into the bigger picture – from the project timeline and milestones, to budget, project discussions, and sharing documents.
Instead of being obligated to make educated guesses, project managers can make accurate data-based decisions that align project selection and investment with big picture priorities. Changing tasks and schedules takes a few clicks, and project managers can run hypothetical scenarios to proactively see the impact of resource changes before they go live, and alert end users via their personal dashboard of any changes to their workload. Because resource scheduling is built-in, Clarizen delivers real-time insights into all available resources, schedules and tasks.
Clarizen has some really powerful integration options out the box that are worth considering if you're have other business-critical systems already in place. You can combine the power of Clarizen with other enterprise tools including Jira, SharePoint, Tableau, Salesforce and Intaact, among others with subscription to an App integration so you don't have to play around with the API's yourself. As well as the enterprise tool integrations possible, Clarizen has an App marketplace to add additional functionality into the system including helpful add-ons like active directory sync, Excel reporting integration and priority automation – many of which are free.
Clarizen offer a free trial and costs from $60/user/month.
Score: 10
Paymo is a full featured tool targeting small to medium businesses, with tools to manage a project from brief through to invoicing with a set of tools that cover project management, collaboration, time tracking, team management, timesheets, and accounting. Paymo is a cost-effective solution if you're looking for an end-to-end agency powering platform.
Project execution is covered robustly with solid task management functionality which gives the ability to brief resources easily through tasks which can be templated and defined with task durations allocated, and hours budgeted to complete the task. You can add files to tasks, comment on tasks and create dependencies between tasks. Helpfully, they also support multi-user task assignment so more than one person can be held responsible!
The project schedule is an integral part of Paymo. You can create project milestones and they have an inbuilt critical path generator so you can see the tasks that are holding up a project, and the latest that each activity can start and finish to keep the project on track. Paymo generates Gantt charts to illustrate start and finish dates as well as the summary elements of projects.
Paymo supports file sharing and the ability to attach files to tasks, and organize files within a central file storage location for each project.
Project communication is well supported. Email notifications are provided for important updates which are automatically sent to resources, like being assigned a new task or being removed from a task. There is also a dashboard where you can see the recent activities, collaborate with other team members using a designated discussion area, and create shareable notes.
With built-in timesheets (and ability for automated time tracking), financial management and project reporting are very rich. You can set a project budget and measure an outcome against that budget and include tracking of expenses for a project or work item enabling you to view the financial health of a project in terms of estimate vs actual budget. Reports can be exported and downloaded with the ability to create reports to show the time allocated and/or spent on certain tasks or projects or users within projects.
Paymo has some useful add-ons and integrations. Paymo for mobile and desktop allow you to track time with a dedicated app that can analyse your desktop activity to auto-assign it to a project. With their Zapier integration you'll be able to connect Paymo with more than 500 apps including Google Apps, QuickBooks Online, Slack or Xero. They also have their own API  so you can do your own integrating if you're feeling nerdy.
Paymo offers a free version ideal for freelancers. Paymo regular plans cost from $9.56/user/month.
Score: 9.5
Celoxis is a comprehensive and web-based all-in-one platform for project portfolio management and work collaboration. One of the world's most adopted tools in PM, Celoxis is the software of choice for brands like HBO, Rolex, Virgin Care, KPMG, Singapore Post, Del Monte, LG and Deloitte for streamlining their projects, processes and people.
Celoxis' real world project schedules and powerful interactive Gantt Charts packs all of the team and work dynamicities including  geographically distributed project teams working in different timezones,  part-time resources, unavoidable absences, interim resource swaps, and even inter-project dependencies.
Task management within Celoxis is strong and unique. Teams get an edge over other tools by eliminating multiple software they'd use otherwise. Celoxis lets them see their tasks and to dos, report bugs, manage tickets, or fill time all from a single tool. They also get relevant notifications to their inbox and can send updates directly even without logging in. Collaboration is powerful with project discussions, @mention comments, file sharing, document version control, and activity stream. 80% of their typical actions such as starting a timer, attaching a file or updating status can be done straight from their dashboards.
Celoxis provides a single source of truth for executives with real-time project status, resource availabilities and utilization, timesheets, project finances, risks, issues and to-dos.
Celoxis comes with powerful analytical capabilities and their rich and interactive charts breathe new life into your project data. Organizations can leverage their built-in best practice reports and dashboards to gather 360-degree real-time insights around project health, tracking actuals vs estimates, team utilization and profit margins. With their exhaustive custom field library including formula fields, you can easily track all of your financial KPIs such as NPV.
Celoxis is extremely customizable and flexible when it comes to different organizations and industries. With their unique custom apps, you have the power to create and configure intuitive project and business processes within the project management system.
Celoxis is one of the few project management software to be available both in SaaS and On-Premise flavors. SaaS costs $25/user/month and On-Premise costs $450/user one-time. Both require a minimum 5-user sign-up and come with 30-day free trial.
Score: 10
10,000ft's project and resource management software makes it easy for organizations to see and act on critical data across projects and people. By focusing on the big picture, 10,000ft provides businesses with accurate data at the right time to make confident decisions about their projects, teams, and portfolios.
The simple design of their software, combined with powerful status dashboards and reporting makes 10,000ft an industry favorite. It's as powerful as enterprise-level software without the clunkiness or lackluster user experience of typical enterprise tools.
10,000ft recently released new project planning capabilities for intuitive task management, notes, and work status tracking. These features help visualize important details, like whether work is at risk or if team members are struggling with a specific area of the project. This new approach to project planning means everyone across the team to access the right level of detail to keep up with all the moving parts of your projects.
Resource management is at the core of 10,000ft's software. Visual capacity schedules help you balance the workload so your people are staffed for just enough work, without being overworked.
Timesheets in 10,000ft are designed to be simple and easy so your team will actually use them. Timesheets are pre-populated with scheduled hours to keep team members focused and help managers set clear expectations. Depending on your team's needs, choose between one-click timesheets or options to include project categories and notes.
10,000ft makes it easy to plan, resource, execute, and course correct projects on-time and on-budget with timely, accurate data from your team.
10,000ft offers two integration options. Through popular third-party tool Zapier, access out-of-the-box interactions with thousands of other tools. For more custom integrations, use 10,000ft's robust API to create specific workflows.
Customers include Ogilvy, Accenture, Mercedes Benz, Twitter, SONY, and over 1,000 other agencies, internal creative teams, and technical project-based organizations. Licenses start at $15/user/month. 10,000ft offers a free 14-day trial and 90-day paid pilot program for extended evaluation and implementation support.
Visit 10,000ft.com to learn more about their software and sign-up for a free trial.
Score: 10
Ravetree is a work management software platform that empowers teams to deliver work faster, be more informed, and spend less time searching for information. Project-driven organizations around the world use Ravetree to manage their projects, resources, and client information—all in one place.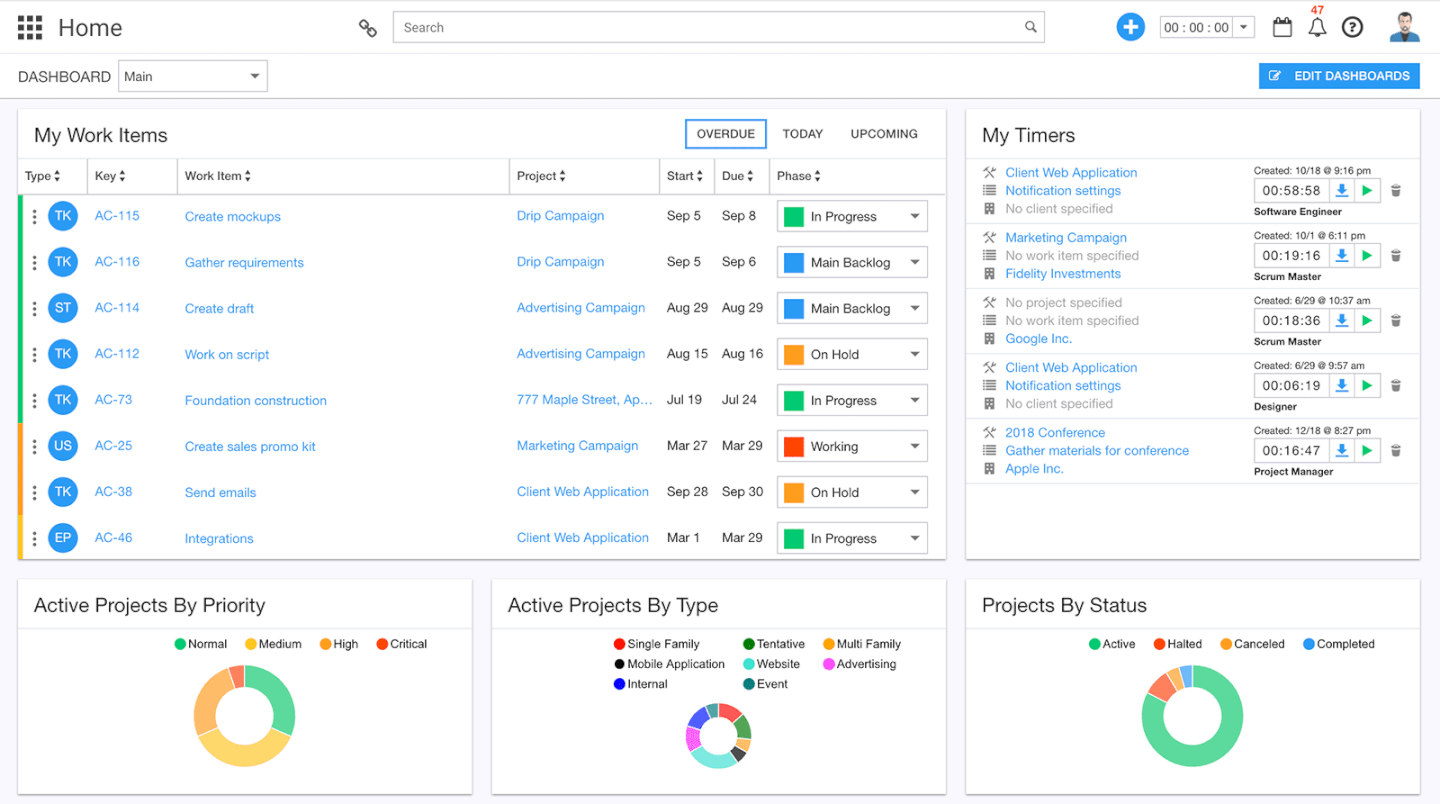 Companies love Ravetree's elegant and clean user interface, which makes it easy to communicate and collaborate with colleagues and clients. Ravetree eliminates the pain of moving between different applications, relying on cumbersome spreadsheets, and entering the same data in multiple places. Other tools are geared towards either project managers or team members, but not both. Ravetree has solved this problem by providing the powerful features needed by project managers, while offering the usability and intuitiveness needed by team members who just want to get work done.
Ultimately, companies benefit from having a single source of truth from which they can optimize their operations and easily see the big picture. Ravetree has a 5-star customer support rating, and takes pride in being a customer focused company. Training, setup, and customer support are 100% free. Schedule a demo today to find out why companies are moving from the other platforms to Ravetree.
Score: 10
Backlog is a cloud-based project management tool perfect for developers and the teams they collaborate with. Backlog provides a range of useful collaboration features including task management (including subtasks, checklists, and custom fields), milestones, file management, wikis, and more. But Backlog is more than a project management app, it's also a bug tracker and version control system in one.
For collaborating on code, Backlog provides SVN and Git repositories, a differences viewer and inline comments, plus pull requests, merge requests, and branches. Visually, the app provides burndown charts, Git graphs, and Gantt charts, so project managers and users alike can quickly assess projects at a glance.
Backlog works for a range of team sizes. They have a free account available to teams of up to 10, while also offering a self-hosted Enterprise option for larger companies. They also provide a mobile app on both iOS and Android for collaborating on-the-go. It integrates with Nulab's other apps and provides both Redmine and Jira importers.
Backlog allows you to assign, track, and release work, right in one app while ensuring transparency and accountability across teams. If you're looking for a tool to help manage development projects or working closely with a team of developers, this is the app for you.
Backlog is free for up to 10 users with some feature limitations or $20/month for up to 30 users. For $100/month, your team gets unlimited users, i.e. their Standard Plan.
Score: 9.9
Wrike is an enterprise grade all-in-one and real-time collaboration tool. Wrike's toolkit functions across project planning, collaborating, reporting, workflow automation and 3rd party integrations. Wrike is a good tool if you're looking to create efficiency with workflow management.
Wrike connects tasks, discussions, and emails to your project plan to provide a big picture of project progress with real-time updates and cross-project reports and newsfeed. Wrike helps accelerate project delivery by helping your resources to prioritize their tasks and connects the tasks with discussions, files, and emails to your project plan.
Task management within Wrike is strong, as tasks are handed off, new contributors get the complete context, access to previous decision-making discussions (including proofing), and relevant files are already attached, so they have all the info they need.
Project schedules are pretty powerful within Wrike – they're live and dynamic so that the whole team can see make changes and update their part of the workload at any time and see any changes in real-time. Helpfully, their Dynamic timelines can show cross-project charts, so you can see the whole picture and avoid any clashes between projects. Best of all, people are automatically notified whenever changes to the schedule are made.
Project communication with Wrike is powerful with real-time team collaboration with discussions, files attached to tasks, and a built-in live document editor which enables real-time collaborative text editing right in your workspace.
Wrike helps you see the tasks, projects and project portfolio – with multiple teams and multiple projects running concurrently, Wrike's real-time dashboard keeps you on top of your team's work without extra email and status meetings. There's a handy resourcing overview to show you at a glance, who's working on what, the dependencies and duration for the task, and when it should be completed. It helps you build repeatable processes, streamline operations, and get real-time visibility into the status of specific clients, projects, and key milestones.
Wrike has some pretty powerful project and business reporting built in to give insights with some pretty, and interactive infographics. The reports and helpfully automatically updated with the most recent data every 15 minutes, so you don't have to worry about recreating reports or pulling new information. There are endless options – you can use their reporting tool to get valuable business insights and project snapshots to create highly customizable, detailed, real-time reports very easily.
Wrike costs from $49/5 x users/month.
Score: 10
Teamwork is a powerful and full-featured project management tool that competes with Basecamp, Asana, Mavenlink and Liquid Planner with a suite of tools to manage a project from brief through to invoicing. The suite covers project management, collaboration, time tracking, team management, timesheets, and accounting. With a pricing model that's based on projects, not users, it can be a very cost-effective solution if you're looking for an end-to-end agency powering platform.
With built-in time tracking apps for mobile and desktop, timesheets are a breeze (and they stacks of integrations for third-party time tracking apps including Harvest, Toggl, and Time Doctor too). Financial management and project reporting are very rich and the integration with invoicing is very simple. You can set a project budget and measure an outcome against that budget and include tracking of expenses for a project or work item enabling you to view the financial health of a project in terms of estimate vs actual budget. Reports can be exported and downloaded with the ability to create reports to show the time allocated and/or spent on certain tasks or projects or users within projects.
Teamwork has gone to town with their available integrations – if you're already using lots of other tools, it's likely that Teamwork integrates with them well. They've got integrations that cover everything from file storage, accounting, help desk, CRM, time tracking, communications, productivity, forms, project management, dev tools, charts, marketing, social and collaboration.
Teamwork offers a free PM tool for a couple of projects but paid plans cost from $9/user/month.
Score: 9.8
Currently using spreadsheets to manage projects and looking for something better? If you're looking for a simple project management tool to help you keep track of getting stuff done check out Monday.
Formerly known as Dapulse, it's probably the only project management tool that positions themselves as 'not a project management tool'! The reason for this is because they've done away with a lot of the trimmings of the other project management tools and focused instead on helping bring clarity to the project overview and the sequence of work that needs to be done, to get projects out the door. It includes a great project dashboard tool with a Gantt chart style overview giving a bird's eye view of all the tasks and projects on the go. Check out the full list of features here.
Monday project management takes a slightly different approach to task lists – it's a kanban style project management tool that uses boards, with rows and columns that you can use to organise the process of just about anything. You have to put tasks on a board, and then you add in the steps to get that task done. If you're currently using spreadsheets to manage your projects, you'll be able to transfer your projects over incredibly simply; and you'll have a set of tools that'll send alerts and notifications, and automate the manual processes you've created. Each row on the board is a task, and each column is a configurable step in the process for getting tasks done such as task status, assignee, due date, or hours spent.
So task lists and project schedules are covered well in the core product offering, Monday includes basic file sharing, and project communication can be done within the tool. What it's lacking is built-in timesheets, so while project tracking is good, project reporting with budgets and hours is limited – you'll need to rely on 3rd party integrations. You'll need to set up Zaps, but you'll be able to use their Zapier integration, to integrate Monday with lots of other tools including – Slack, Toggl, Harvest, Jira, Github, Smartsheet, Quickbooks and many more.
Monday costs from $29/5 users/month but use the code MondayDigitalPartner to get 15% off.
Score: 9.8
Mavenlink is a heavy hitter in the world of project management software; it's an enterprise-grade solution with stacks of functionality. Its toolkit spans across project management, resource management, team collaboration, business intelligence and project accounting with invoicing as well as Salesforce integration so could be a great tool if you're looking for an end to end agency project management software solution.
Mavenlink features a powerful project scheduling tools to enabling you create and assign tasks, schedule resources, view on a Gantt chart, and then see in real-time the status of every task and deliverable. Tasks can include deliverables and milestones and can be updated collaboratively to track a project's progress. As projects progress you can then see the impact to your project timeline and project budget the moment a delivery date shifts or resources change.
Mavenlink also includes proofing tools that can be combined into projects so you can share files and receive and share feedback on any file type, including audio and video. With Mavenlink, you can turn your most successful project plans into reusable project plan templates that allow you to re-use create tasks, checklists, schedules, budgets, dependencies, and even role-based resource assignments for rapid project deployment
Mavenlink empowers more effective project communication and contextual team collaboration, enabling project teams to always be clear about what to do next. By linking conversations to tasks and people, everyone stays informed.
With built-in timesheets, reporting is strong within Mavenlink, so you can assess the status of tasks, resources, and client engagement in real-time. With built-in invoicing, you can easily create invoices linked to your project's tasks, deliverables, and milestones. The real-time project analytics provide contextual information to help improve resource utilization, project margins and better forecasting of revenue and costs.
Mavenlink has some great integrations out the box, with Salesforce, Jira, Netsuite, Google Apps, Intacct, Expensify, Quickbooks, Xero and Concur enabling you to create a single source of truth for your agency.
Mavenlink offer a free trial and costs from $19/user/month.
Score: 10
Summary Of The Best Project Management Software Tools
Find below a summary of the best project management software tools available in the market.
Other Project Management Software Tools To Consider
Although not included in this review of project management software, below is a list of additional PM tool options if you're looking for the best project management software for your agency or studio:
Please note, this post contains promoted links.
Best In Breed – The One Trick (Project Software) Ponies
But what is the 'right project management tool?' There are lots of tools out there that do a single project related job, really well. These are the specialist one-trick-pony tools for project management planning, scheduling, milestone tracking, communication, collaboration, task management, file sharing or project reporting; Tools like Slack, Microsoft Project, Harvest and Dropbox are examples of these specialist project tools. Specialist, dedicated, best in breed, tools can be great, especially when you're working in a small team, when you've got niche requirements for your tools, or when you're working with just a few clients or projects.
Project Management Tools Enable You To Work Smarter
However, if you're not careful, you can end up with a collection of unrelated, independent, SaaS online project software, each with their own subscription, that don't talk to each other properly. You can find yourself using one tool for communication, another for file sharing and yet another for task management, and you end up entering the same data into each application .
Maybe there's a better way? Instead of using dedicated tools and manually tying them together or integrating them with API's, there is project management tools on the market with powerful shared-data functionality built-in. This tool facilitates project management tasks within a project to enable better briefing, management of tasks and deadlines, contextual communication and easier sharing to enable a more efficient and straightforward management of a project, project team, and client.
What Makes A Good Project Management Tool?
In defining what makes a good digital project management tool we've mainly focussed on tools that enable and facilitate the 'doing' aspect of a project – getting people together to create something amazing for a digital world.
So what does it take to deliver a digital project? We've identified five key aspects of functionality that we think makes delivering digital projects easier. You can use them to get rid of your post-its, spreadsheets, documents and emails, and to run your project more efficiently.
Project task lists – projects are made up of sub-tasks, and sub-sub-tasks, checklists and to-do's, so being able to brief your team and outline what needs to be done, by when, by who, is critical to delivering a project to meet requirements.
Project schedules – whether it's a timeline, calendar or Gantt chart, knowing where tasks and sub-tasks fit within the broader scheme of a project, as well as the important milestones is key to being able to deliver a project on time.
Project file sharing – No one likes having to waste timing trying to dig around for random files, so the ability to organize and share key project documents, files, and assets among the team and with the client, is important to deliver a project efficiently.
Project communication – Contextual project specific communication to hash things out quickly and the ability to be able to chat with your project team as well as your client is vital to keep tasks on track and on brief.
Project reporting – As project managers, it's our job to know whether or not our project is on track, so it's essential to know how a project's tasks are progressing to know whether or not the project is going to be delivered in full, and on time – or not.
But You're Missing Stuff…
Yes, lots. With any project management software, you have to draw a line between what's essential, and what's not. In our criteria for project management tools we've focused on the 'doing', execution aspect of a project, and not so much on the planning, billing, apps, integrations or other functionality. For that reason, we've not focussed on the pre-project estimating or resourcing, or the post-project timesheets, expenses or billing aspects of some PM software.  Check out our article on the best resource scheduling tools, if you're looking for that. That said, there are many similarities between these tools so we've tried to highlight functionality or features that we think make them unique.
What Do You Think?
What do you think we're missing from this project management tools review? What else is there to these tools that we haven't considered? What do you think of our criteria for selecting a PM tool for your agency or studio? We'd love to hear if you've got any suggestions, tips or thoughts on using this kind of PM software – why not share them using the comments below?