I know reporting can be scary. It is the part of our jobs that, instead of dealing with people, deals with numbers. If you are currently scared of your reports, it means your company has not been able to find the right tool to help display a condensed view of performance information. Right after this quick list of the best tools I have selected, you can find out the reasons behind my selection.
Below you'll find an overview of each of the 10 best reporting tools, with screenshots, feature overviews, and pricing.
You may have dabbled with something like MS reporting/Report Builder in the past. In fact, many of the tools you use in your day-to-day work life probably have some sort of reporting function built-in. As your projects grow, you'll need something more unified and more robust to handle the amount of input and the level of detail required.
This article will help you quickly compare and evaluate the best reporting portals and other BI reporting tools. I will explain how automating reports can decrease your team's administrative load and free up time to explore and create. I've picked some stand-out business intelligence reporting applications and outlined them in the body of this article. Keep reading for a simple comparison of my favorite data reporting tools.
I will answer some FAQs about business intelligence products and how you can best use them to your advantage. Additionally, I'll tell you what you should look for in ad hoc reporting tools and outline the evaluation criteria I use when testing any reporting app.
Quickly Compare & Evaluate The 10 Best Reporting System Apps
Business reporting software takes your scattered, arbitrary data and turns it into something that you can read and interpret to make better decisions. Before you can do that, you need to do some research and find the reporting software that is going to work best for you.
Data Reporting FAQ
There's a lot to know about report writing software. Before you can even begin to narrow down the choices you have to understand the basics. Consider this FAQ as a primer before we jump into the report writer software reviews.
What is a reporting tool?
A reporting tool, or software reporting tool, is a system that takes in data from various sources and extrapolates it in tables, charts, visual presentations, and other styles so that the information is easier to parse. For example, Tableau reporting tools use data blending and drill-down to help users look for variations and/or patterns.
What are the types of reporting tools?
There are many types of reporting tools, such as dashboard software, data visualization software, scorecard tools, and ad-hoc report writers. Dashboard software lets you put the reports that matter most to you front-and-center; data visualization software is all about turning data into something visually-oriented that users can easily read; scorecarding tools are all about performance data so you know who your high achievers are, and ad-hoc report writers create various styles of reports in-the-moment for companies who have ever-changing needs.
What are BI tools?
BI tools pull data from various sources and visualize it in a way that users find useful. BI tools may gather, organize, and analyze data into meaningful reports that can be printed or redistributed in some way.
What are the benefits of reporting tools?
Reporting tools are beneficial because they gather data across sources (inventory, sales, conversion, web traffic, social media impressions, time spent, and so on) and then organize it in a visual way for users to read and interpret. Reports can typically be saved into different formats, printed and distributed, visualized, and presented, so it is a great way to convey large amounts of useful information quickly. Also, reporting allows you to ask big-picture questions and then collect the data you need to make the best decisions.
Not looking for report software at the moment? Check out our other lists of other project management tools you might find useful:
Look at project portfolio management tools, which can help you conduct and communicate your reports on a higher level and across projects.
Communication, communication, communication. If you haven't nailed this, you can't really get started on anything else. Try these 10 Best Communication Tools & Software.
Find reporting tools within other software, such as my list of the best marketing project management software.
Reporting Database Comparison Criteria
What are we looking for when we add items to our BI tools list? Here's a summary of my evaluation criteria:
User Interface (UI): Is it clean and attractive? Are the reports aesthetically pleasing and easy to interpret?
Usability: How easy is it to learn?
Features & Functionality

Robust reporting – Does the software features automatic reporting tools that are flexible, easy to learn, scalable, and visually appealing? Can the data be visualized in a variety of different ways? Can you export, print, share, and project reports with relative ease?
Dashboard customization – Can you build a digital marketing dashboard, finance, and budgets dashboard, or anything else you can think of with relative ease? Are dashboards drag-and-drop or otherwise intuitively built?
Source options – Can the tool pull data easily from a variety of sources? Or is it limited to one or two options? Can it pull data from different types of sources, like web pages to spreadsheets to apps to accounting software?
Deep data search functions – Is data easy to search using both technical and non-technical language and specifications? Are there different ways to "ask questions" of your data, depending on user ability or preference?

Integrations: Is it easy to connect with other tools? Any pre-built integrations?
Value for $: How appropriate is the price for the features, capabilities, and use case? Is pricing clear, transparent, and flexible?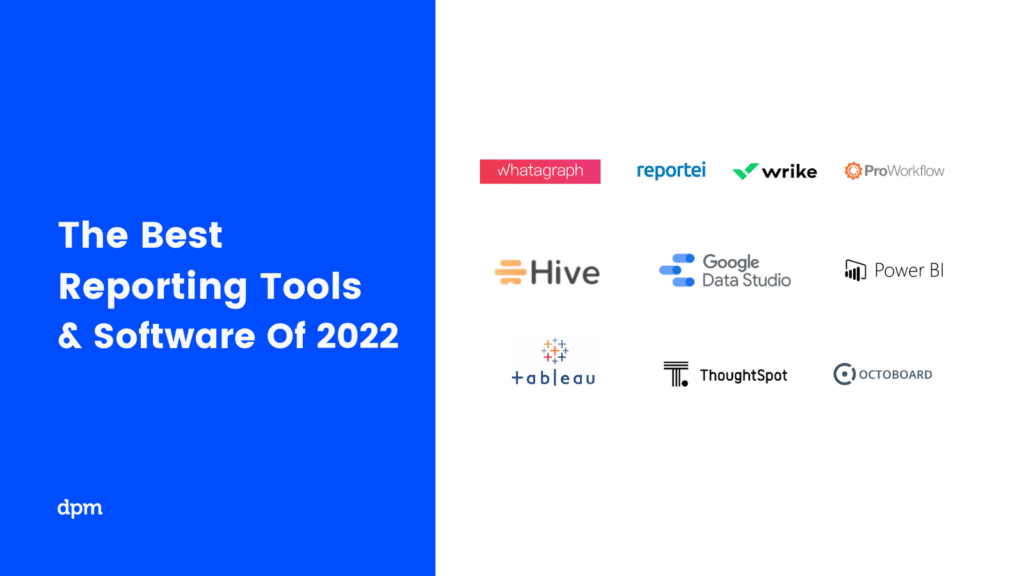 The Digital Project Manager is reader-supported. We may earn a commission when you click through links on our site — learn more about how we aim to stay transparent.
Overviews Of The Top 10 Reporting Tools List
Here's a brief description of each of the reporting apps that are featured on this top 10 list.
Need expert help selecting the right Reporting Dashboard Software?
We've joined up with the software comparison platform Crozdesk.com to assist you in finding the right software. Crozdesk's Reporting Dashboard Software advisors can create a personalized shortlist of software solutions with unbiased recommendations to help you identify the solutions that best suit your business's needs. Through our partnership you get free access to their bespoke software selection advice, removing both time and hassle from the research process.
It only takes a minute to submit your requirements and they will give you a quick call at no cost or commitment. Based on your needs you'll receive customized software shortlists listing the best-fitting solutions from their team of software advisors (via phone or email). They can even connect you with your selected vendor choices along with community negotiated discounts. To get started, please complete the form below:
The Best Reporting Tools Summary Chart
Other Dashboard Reporting Tools Options
Here's a few more auto reporting tools that didn't make the top list. If you need additional suggestions for the handy ad hoc report tool, check these out.
What Do You Think About Our Business Intelligence Tools Comparison?
Have you tried out any business intelligence reporting tools listed above? What automated reporting system would you recommend, and why?
Worth Checking Out: Managing Tasks As A Project Manager: 3 Key Strategies For 2022