You want Microsoft Project for Mac. I get it.
Microsoft Project is one of the most popular project management software programs, and Macs are popular devices.
This is a good news/bad news situation. I'm going to cut straight to the bad news:
MS Project is incompatible with MacOS.
That's probably not what you want to hear, especially if you're reading this on a brand new MacBook Pro.
Wait, you haven't heard the good news yet. There are alternatives, workarounds, and—for the determined—creative solutions to get Microsoft Project on your Mac.
Jump to these sections or read straight through:
Can I Run MS Project For Mac?
No, MS Project does not work on Mac. Microsoft Project won't run on Mac because they can't talk to each other. Unfortunately, it doesn't get more fundamental than that. MS Project was designed and optimized specifically for the Windows operating system.
Building project management software for Macs wasn't Microsoft's concern.
In fact, the last time that there was a version of Microsoft Project for Apple users was back in 1993 with Microsoft Project 4.0 for Mac. Sadly, that doesn't work now!
Lists of The Best MS Project Alternatives for Mac
Before you try any workarounds with MS Project, consider one of the many alternatives that can do the job just as well—or better.
As you look for an alternative to MS Projects, you should determine what it is that makes MS Project so desirable to you. Ask yourself what exactly you're looking for in a tool that replaces MS Project. Here are a few places to start.
The Digital Project Manager is reader-supported. We may earn a commission when you click through links on our site — learn more about how we aim to stay transparent.
Overviews Of The Best Microsoft Project Alternatives For Mac
Below are some Microsoft Project alternatives that, yes, work on Mac! In fact, many of them are browser-based, which means real-time updates across all devices—no matter what you use.
Platform-agnostic project management software is becoming all the rage so you certainly should give it a try. Your team members will appreciate the flexibility to use any device and it will make it so much easier to collaborate together.
Monday.com is a Mac-friendly Microsoft Project alternative that offers unlimited boards (for projects, data, clients, et cetera) even if you are only using the freemium account offer. Monday.com provides many of the features spotlighted on MS Project, like task lists, Gantt charts and timelines, communication features like comments and tagging, the ability for different stakeholders to coauthor items in real-time, reporting and analysis functions, and time tracking.
One thing users will appreciate is monday.com's flexibility, as everything is customizable, adjustable, and editable. Flexible Kanban boards and columns accommodate different data types: status, text, people, timeline, dates, tags, numbers, and more. The text column, for example, can be renamed to encapsulate whatever data is housed there, be it general notes, addresses or names, or keywords.
Monday.com excels with their Standard pricing plan (and above), specifically, which opens up Gantt charts, workflow automations, and multi-project dashboards. This isn't necessarily a huge downside to such a versatile and intuitive tool but it's definitely something to consider before diving in.
Monday.com integrates with hundreds of third-party apps, like Outlook, Microsoft Teams, Dropbox, Slack, Zoom, Google Calendar, Google Drive, Gmail, LinkedIn, OneDrive, Adobe Creative Cloud, and more with a paid account through Zapier.
monday.com costs from $6/user/month and comes with a free 14-day trial. They offer a free plan for up to 2 users.
2
ClickUp
Best for marketing & media teams
ClickUp can handle all of the project management basics that you would expect from MS Project and Microsoft Project Server, like task dependencies, an Agile board view, workload stats, drag-and-drop organization, bulk rescheduling, and dynamic tables. ClickUp is one of the more affordable MS project alternatives, with the freemium plan being quite generous (no user limit) and the paid plan starting at just $5 per user per month.
ClickUp is special in that its freemium plan doesn't limit the number of users you can include on your account, which makes it the best free plan for project management software that works on Mac. Additionally, ClickUp stands out as a very media-friendly option for project management teams, allowing integration with video and streaming services, free-form mind map creation, built-in screen recording, and an interactive map to track work being done globally.
ClickUp's feature list is expansive and, at times, a bit unfocused—trying to do too much, a jack-of-all-trades. Mastering everything ClickUp has to offer would be a huge time commitment and teams who don't need all of the bells and whistles might find navigation and training quite tiresome. Is "too many features" really a con? I'll leave that up to you to decide.
ClickUp integrates with thousands of third-party apps through a paid plan with Zapier and includes free native connections with plenty of tools, as well. Native integrations include Slack, Github, Gitlab, Toggl, Harvest, Google Drive, Dropbox, Outlook, Google Calendar, YouTube, Zoom, Zendesk, Microsoft Teams, Box, Clockify, and many more.
ClickUp costs from $5/user/month and offers a freemium account for up to 5 spaces and 100 custom fields. They also offer a 30-day refund policy if you upgrade to a paid plan and are unsatisfied. They also have an iPhone app.
3
Celoxis
Best for project budgeting
Celoxis boasts many of the features you have come to expect from Microsoft Project and other popular project management tools: project request tracking, project planning with automatic scheduling, tracking and RAG indicators, portfolio management, resource management for workload planning, customizable dynamics and reports, and an iOS app for smartphone access on-the-go.
Along with everything you would expect from project and task planning, Celoxis offers a whole suite of built-in accounting tools, which makes it stand out against competitors. Celoxis can generate reports for budget spends, receivables, and profitability across projects and portfolios. Celoxis can also handle margin tracking, revenue forecasting, and custom financial KPIs. This is all without integrations, too; connecting with QuickBooks Online and Salesforce will open up even more functionality.
Celoxis remains a robust MS Project alternative but falls a smidge short when it comes to certain CRM features, like the exclusion of price and contract fields for a client record. The interface tends to require an excessive number of clicks to do basic items, like removing a preexisting user from a project. They also don't have an iPhone app. These are small gripes overall, though.
Celoxis integrates with over 400 third-party apps like Google Drive, MS Excel, JIRA, QuickBooks Online, Salesforce, Evernote, Slack, Zendesk, G Suite, Trello, Harvest, MailChimp, and more through a paid account with Zapier.
Celoxis costs from $22.50/user/month with a 5 user minimum and offers a free 30-day trial.
4
Wrike
Best for managing contractors
Wrike's homepage has super clean and straightforward access to your inbox, recent and pinned items, your spaces, and the administrative menu bar. Your personalized dashboard lets you add widgets to see the most pertinent information for your workday—items like To-Do Today, My Overdue Tasks, Due: Next 7 Days, and/or Tasks Created by Me. Wrike touches all the most-needed MS Project features, like task and subtask management, Gantt charts, reporting templates, and customizable notifications and alerts.
Wrike handles DIY templates particularly well for project managers that want to standardize everything from processes, projects, and forms. Users are empowered to design their own "template" for almost anything, from client request forms to high-level task blueprints. This set-it-and-forget-it approach means that you can reduce administrative burdens and prevent data input inconsistencies with ease. Higher-level paid plans will start to unlock a ton of cool stuff, too, like time tracking for timesheets, custom work schedule calendars, and workflow automations.
Comparatively speaking, Wrike's interface—though clean and uncluttered—is not as intuitive as others on this list, which makes the learning experience a bit slower. Navigating Wrike comes with a few quirks, like the fact that some menu items have an in-app right-click option and others don't, or that a ton of useful features are buried in the account management menu via your profile settings. This challenge is more than manageable so long as you don't mind memorizing a few UI quirks.
Wrike integrates with dozens of third-party apps, like Salesforce, Tableau, Microsoft Teams, MediaValet, Adobe Creative Cloud, Google Drive, Microsoft OneDrive, MS SharePoint, Github, JIRA, Outlook, Slack, Dropbox, and Box. Wrike also imports Microsoft Project files, if needed.
Wrike costs from $9.80/user/month and offers a freemium account for up to 5 users as well as a 14-day free trial for all paid subscription plans. They also have an iPhone app.
5
GanttPRO
Best for collaborative project planning
GanttPRO is a web-based project management tool for Mac users who need the same features that MS Project offers. It features a Gantt chart-based approach with a minimalist interface that gives users a similar experience to actually working in MS Project but with a more modern interface.
GanttPRO lets you create projects with drag and drop features for adding new tasks, creating dependencies, assigning resources, tracking progress, managing dates, and, if needed, changing data in real time.
Beyond the Gantt charts, GanttPRO offers a board view and enables team communication and collaboration through comments, attachments, real-time notifications, and mentions. In terms of resource management, users can track the performance of team members, as well as a color-coded way to see whether someone is overloaded or available for more work.
GanttPRO offers support information such as a learning center, video tutorials, easy-to-follow onboarding, and a dedicated customer service manager. Access to these features is unlimited and is included in every plan, even the free trial.
GanttPRO integrates with JIRA Cloud but does not list any other native third-party connections.
Basic plans for 1 user start at $7.99/month if billed annually.
Project Plan 365 is a project management tool made for Apple devices (macOS and iOS) that can open, edit and save in .mpp (Microsoft's native file format for MS Project plans). The tool is compatible with the latest version of the MPP file format, as well as several previous versions.
Project Plan 365 looks and feels like MS Project and supports all standard views including Gantt Chart, Task Sheet, Network Diagram, Project Calendar, Task Usage, Resource Usage, Team Planner, and more. Project Plan 365 supports 12 different languages and over 100 different currencies.
Another great feature is the virtual project management assistant Erix AI. Erix is an AI chatbot that simultaneously provides in-app assistance for troubleshooting, a wiki database of project management definitions and knowledge, and Q&A assistance on your current projects. For example, you could ask it what the total cost of a project is or when a current project is expected to finish.
Project Plan 365 offers a Free Viewer for Microsoft Project MPP files and is integrated with all major cloud providers such as Google Drive, iCloud, Dropbox, OneDrive, Box, and SharePoint Online.
Project Plan 365 costs from $9.99/month and offers a 30-day free trial.
7
Hive
Best built-in messaging suite for collaboration
Hive is a robust tool for project management, collaboration, and flexible task coordination that works with MacOS and iOS. It lets users organize projects in a Gantt chart, Kanban board, table, or calendar, and also easily switch between each layout, depending on the communication style they prefer. Updates are reflected across all project views so the whole team is informed no matter what option they use.
Hive enables users to easily collaborate by sending messages directly to individuals or groups. Need to share a document? Upload it directly to a task, project, or message. Hive's Forms feature eliminates constant emails and collects all necessary information through simple fill-in-the-blanks.
It's worth noting that if you're switching to Hive from another tool, you can import tasks from tools including Asana, Trello, Basecamp, Smartsheet, and a few others.
Hive integrates with Google Drive, Salesforce, Jira, Dropbox, Slack, Zoom, One Drive, Box, and more than one thousand other tools through Zapier.
Hive costs from $12/user/month.
Zoho Projects is an award-winning project management software and collaboration tool from Zoho. It offers flexibility and customization options to suit the needs of traditional project managers as well as agile teams. Zoho Projects supports multiple platforms including Mac. Some of the core features include a Gantt chart maker, kanban board, inbuilt chat, and a highly collaborative social feed.
Zoho Projects also packs features that help managers such as resource utilization charts, task automation features, customizable dashboards, baseline, critical path and budgeting features. It integrates with other first-party Zoho software for sales, CRM, HR, marketing, and IT (to name a few). This makes them great for scalability because you can add additional service packages as you grow.
Users can generate and share Gantt charts as PDFs. The tasks in Projects can be exported to XLS or CSV. Zoho Projects also supports importing Microsoft Project MPP files.
The interface and modules are highly customizable. All aspects of the UI from theme colors to arrangement and visibility of the various modules can be changed to suit a user's preferences. Zoho projects also offer free onboarding for its customers and a comprehensive online help guide for all users.
Being part of the Zoho's ecosystem allows Projects to connect to several of Zoho's own services such as Zoho CRM, Zoho Desk and Zoho's finance suite. The new Zoho marketplace allows for several 3rd party integrations as well including iCal sync, Google integrations and much more.
Pricing starts from $4/user/month billed annually. Also has a freemium version upto 3 users for 2 projects No credit card information required.
Need expert help selecting the right Project Management Software?
We've joined up with the software comparison platform Crozdesk.com to assist you in finding the right software. Crozdesk's Project Management Software advisors can create a personalized shortlist of software solutions with unbiased recommendations to help you identify the solutions that best suit your business's needs. Through our partnership you get free access to their bespoke software selection advice, removing both time and hassle from the research process.
It only takes a minute to submit your requirements and they will give you a quick call at no cost or commitment. Based on your needs you'll receive customized software shortlists listing the best-fitting solutions from their team of software advisors (via phone or email). They can even connect you with your selected vendor choices along with community negotiated discounts. To get started, please complete the form below:
The Best Microsoft Project Alternatives For Mac Summary
Other Microsoft Project For Mac
MS Project Alternatives for Mac: Criteria
What do I look for when I select the best MS Project alternatives for MacOS/iOS? Here's a summary of my evaluation criteria:
Project management and task planning: The tool must have a capacity for project management organization that matches or exceeds that of MS Project. This includes Gantt charts, Kanban boards, task lists, notifications, workflow automations, and integrations.
Runs on iOS, MacOS, or both: While the tool might run on PC as well, I'm looking for software with a reliable version for Apple products specifically.
Compatible with .mpp file extension: Tools that can import or export Microsoft Project file formats will be prioritized.
Modern, clean UI expected of a Mac solution: Any MS Project alternatives should look and feel at home on Mac computers.
Pricing comparison: Is the tool comparable in price to MS Project? If it's less expensive, great! If it costs more, does it boast additional features to justify the expense?
Mac-Exclusive MS Project Alternatives
If you're on the Apple train and don't want a sniff of anything Windows related, there are a few dedicated Microsoft Project options that you can install on your Apple Mac or iPad. These are 4 of the best project management software for Macs.
How To Trick Your Mac Into Running MS Project
Working as a digital project manager, it's easy to become familiar with one particular software and not want to change unless absolutely necessary. If you absolutely want to keep working in MS Project, we can make that work. But it'll require some creative solutions.
As a project manager, you're probably used to that.
Here's what I consider to be the best way to run Windows on Mac. To use MS Project on your Mac, you'll need to create a Windows Virtual Machine (VM) on your Mac. There are two VM solutions that would work for digital project managers: Parallels and VirtualBox. I'll walk you through the pros and cons of each VM and explain how to install them.
What is a Virtual Machine?
A VM gives users the functionality of Windows on a Mac. This allows users, like a Mac user that needs MS Projects for their clients, to get their Windows specific work done without buying a new laptop.
Want To Become A Confident Digital Project Manager?
Power up your project management skills with relevant, practical, expert-led training. Our online digital project management course provides expert instruction so you can lead happy teams and deliver high-value projects in the digital world.
Option #1: Parallels
Parallels is the easiest and most intuitive option—it offers seamless transition between MacOS and Windows, and they offer a 14 day free trial to get you started.
Parallels is not free. After your 14 day trial expires, you'll have to pay either $79.99 a year or $99 for perpetual service. You can find more information on the software on their official website.
1. Download Parallels
When you download the application, the startup manager will guide you through the Windows installation process. It's as straightforward as installing any other software. No storage management or partitioning required.
2. Download and install MS Project
Once Parallels is running, the installation of Windows apps works just like it does on PC. Open your browser, go to the website, download the application, and begin the installation process.
All Windows apps that require Parallels to run will be marked with the Parallels logo.
3. Switch between Windows and Mac
Once using Parallels, you can have the Windows operating system open in its own window. It looks like this:
Using Parallels on a Mac, you can have the Windows operating system open in its own window.
Just like with your Mac apps, Windows apps can be saved to your dock and opened with a single click. Opening MS Projects will automatically run Parallels, create your VM, and run the app.
Or, if you prefer Windows to be full screen while you work, you can assign Parallels its own desktop.
Click on the top left of the Windows tab to make it full screen.
Switch between Mac and Windows with a two-finger swipe on your magic mouse or touchpad.
When you're done working, move your cursor to the top of the screen.
A menu will drop down and you'll be able to exit full screen.
Parallels has a video walkthrough here:
Option #2: VirtualBox
For the more tech-savvy, the other option is VirtualBox: a free, open-source VM that anybody can download and use. The downside is that it lacks the easy to use functionality that makes Parallels so attractive. With a little hard work, it can be done. I'll show you how.
Go to VirtualBox.org and click "Download VirtualBox 6.0"
2. Download OS X Hosts
Since you'll be installing Windows on your Mac, you'll want to download the OS X Hosts package.
3. Install VirtualBox on Mac
After clicking continue, you'll be asked to put in your username and password.
After putting in your password, the program will install and you'll be able to set up a Windows VM. Unlike with Parallels, you will have to tell VirtualBox which OS you want to install, and how much of your storage you want to allocate to it.
4. Create Your Virtual Machine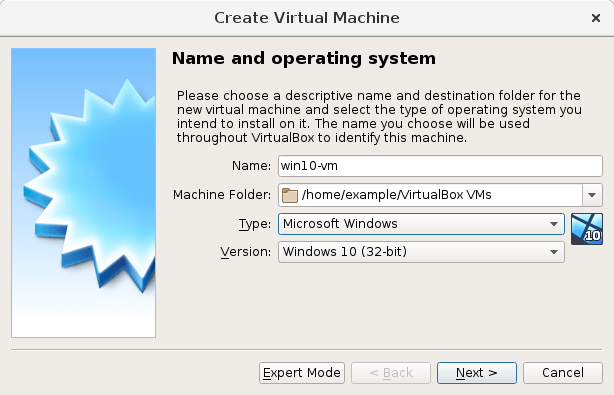 It's recommended that you give the VM the same name as the OS you're creating. So, in our case, you'd want a name similar to the one in the image above.
5. Allocate Storage
This tells VirtualBox how big you want your VM to be. It's best to accept the recommended size.
6. Select Location and Size
This tells VirtualBox where to save the VM and gives users a chance to change the size of their VM. If you're happy with the folder name and storage size, click create.
Then you're all done. You can open your VM at any time by opening VirtualBox, selecting your VM, and clicking start. I know it's a bit of work, but it allows you to run Windows on Mac for free.
For a more in-depth walkthrough, VirtualBox has their own tutorial.
What Will You Use?
Now that you've seen some of the Microsoft Project alternatives for Mac, which one will you choose and why?
Let me know in the comments if you've tried these tools out and which of them deserve the top spot!
You can find more project management tools here.