Managing your agency or studio resources without resource management software or resource scheduling tools can be a total nightmare. And that's probably why you're here. You know there must be a better way to manage your resources and team, right?
Every week you're busy trying to meet everyone's crazy resourcing needs. You've got the PM's with their half-baked resource requests, the agency's management team with conflicting priorities, the primadonnas who'll only work on certain clients, and then try throwing into the confusion contractors, 3rd parties and freelancers too. Trying to get a resource plan into order without some sort of human resource management software is hard enough. Throw into the mix competing projects, insane clients, vacations, and sick leave and you find that getting any work done on schedule begins to get tricky.
First, let's cover a few basics:
What Is Resource Scheduling?
Resource scheduling is an activity in resource management in which resources (staff, space, equipment, etc) are assigned in order to complete tasks, jobs, or projects. This process involves checking the resource's availability, scheduling start and end dates, managing any resourcing conflicts or dependencies, and monitoring over time to adapt to changes.
What Is A Resource Forecast?
Resource forecasting most often occurs in the initial phases of a project, even as early as the sales process. A resource forecast is an estimate of the resources that will be required for the project, which helps determine the project hours, project budget, and the project estimate put forward to the client.
Read more on project estimates, check out our Complete Guide to Project Budget and Cost Estimation.
What Does Resource Scheduling Software Do?
So here are some of the best resource management software tools for agencies and studios if you're looking for a replacement for your excel sheet and resourcing management doom. They've been picked because they're tools that are trying to do one thing well – resource management.
At a minimum to be featured on this list we were looking for tools which had:
Resource planning, scheduling, and management – putting the right people on the right projects and moving them around easily on a simple, collaborative, calendar grid that's as simple as working with Excel or Google Sheets
Clients and project planning – managing client and project details and having a single source of truth to feed all the other features
Analytics and reporting – giving insight into capacity, utilization and performance for projects, clients and individuals
It's worth comparing different resource management software tools as they're set at different price points, different functionality (such as timesheets, expenses, approval workflows, task management), and different 3rd party integrations.
The Best Resource Management Software & Resource Scheduling Software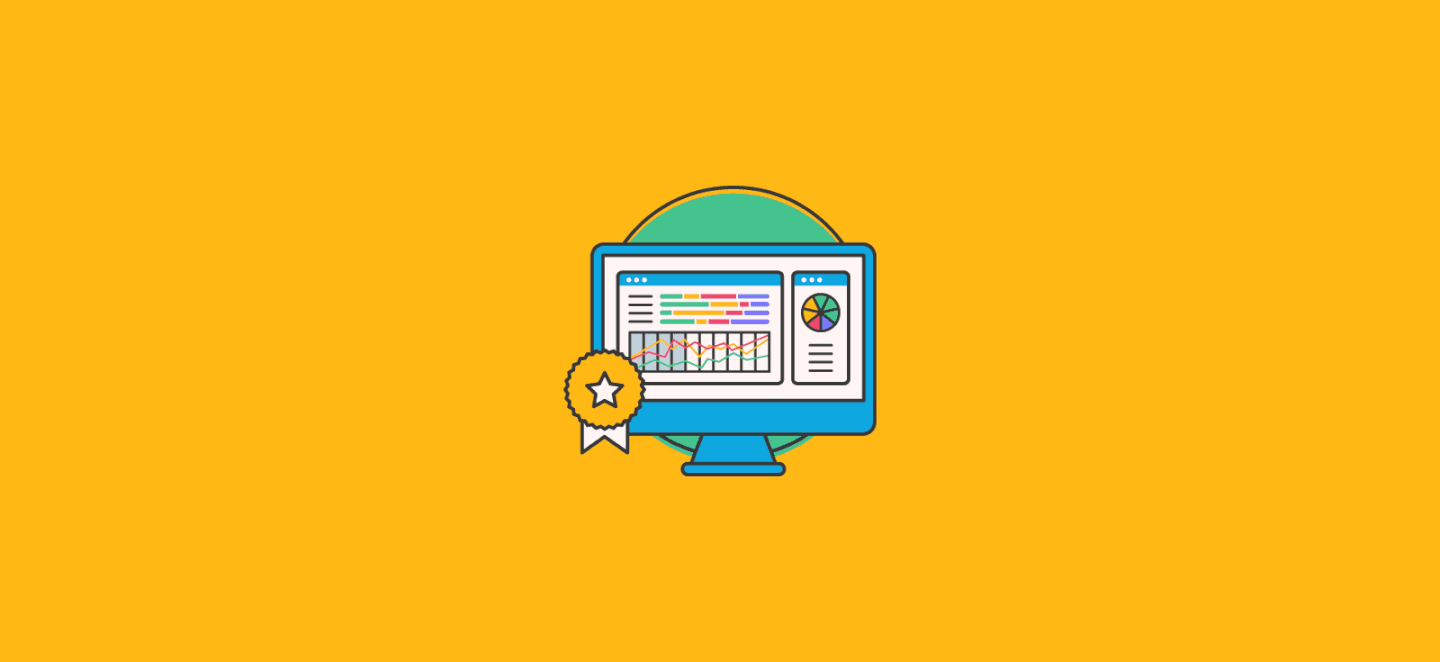 In this post, we've tried to cover a broad spectrum of resource management software tool price points and functionality. But as much as anything, it'll come down to your agency or studio resourcing workflow and what functionality you need to make that function better. Have a look and sign up for some trials to test-drive and find the best resource management software tool for your agency or studio.
In this review, we evaluate the following resource management software and resource scheduling software:
Float is a simple, flexible resource scheduling application used by the world's top agencies and brands including Vice, NASA and RGA since 2012. Float's resource scheduling features include: click and drag resource assignment, different views, live updates, utilization, holidays, sick days, and powerful filtering.
Helpfully, in Float, multiple people can have access to the schedule and make changes at the same time as live updates ensure you and your team are always seeing the latest changes. Resources are updated with their weekly schedule via email and with live notifications so that everyone's always up-to-date. They don't need their own login information, which keeps the system simple. Plus, Float offers an iOS app so you can make updates to your team's schedule on the go.
There's a powerful reporting component that you can view by resource, department, client and project so you can keep track of utilization, compare staff and contractors, drill down t a department and compare billable with non-billable time as well as including holidays and time off.
Float have been evolving their product and so using their API and Zapier you can connect with 100's of your favorite apps including Basecamp, Asana and Trello. Float costs from $5/user/month (they offer a 30-day trial).
Score: 10
Resource Guru is a veteran in the resource management software world and used by some of the world's top agencies with some solid resource management features including: visual calendar style interface, custom views, fields and filters, availability indicator, drag and drop resources, scale view, see utilization, reporting, overtime tracking, data import and phone support.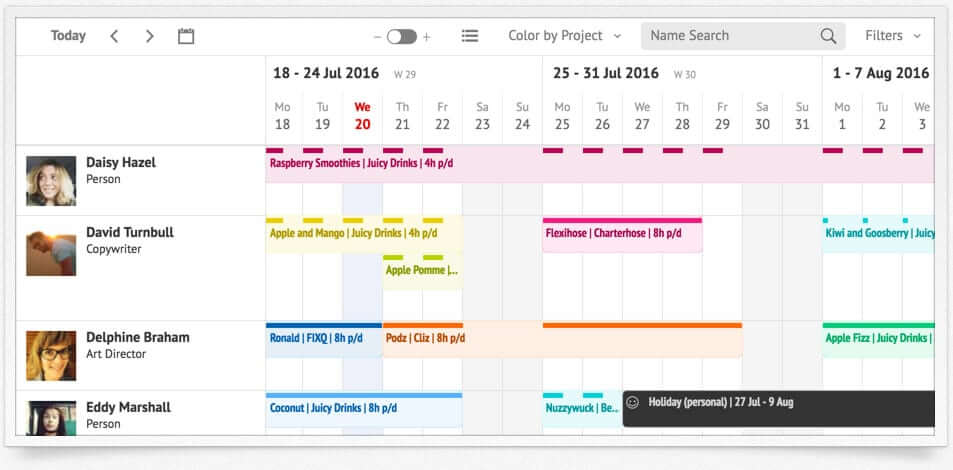 Helpfully Resource Guru tried to make sense of the gong show that can be resource conflict resolution and so resource management and team collaboration is built in to make resource booking more straightforward, with clash management leave management and a waiting list to prevent over-booking. The tool allows Project Managers to make bookings simultaneously with no chance of stepping on each other's toes. Clashes are automatically prevented.
Helpfully, each staff member gets their own resource dashboard so they can log in and know exactly what they should be working on. And to monitor business performance, powerful reports help identify which projects and clients are being over-serviced and help to monitor team utilization and help with future capacity planning. Resource Guru costs from $2.50/user/month (they offer a 30-day free trial).
Score: 10
Hub Planner is a new, versatile and quickly evolving online resource scheduling management software tool with powerful resource management features including: different views (by resource, team or project), drag and drop resources, split tasks, scale view, utilization, check budgets, holidays, sick days, iCal integration, and powerful filtering. Beyond the resource scheduling it also helpfully includes timesheets which integration with a powerful approval workflow, and dynamic dashboard and reporting tools so you can keep track of your projects better and establish progress, billability, and profitability at a glance as well as a tasks module to brief your resources.
What's interesting about Hub Planner is that if you get on board, you get the opportunity to help shape the product roadmap and can even sponsor new features. There've taken a modular approach so you have the option to add or remove extensions to the base product such as timesheet approval workflows or tasks so you can increase functionality or turn off bits you don't need.
They've also developed an API which gives access to projects, resources, timesheets, bookings, events, holidays, groups and milestones in case you want to do something fancy with the data. Hub Planner costs from $7/user/month (they offer a 60-day free trial so you can properly test drive it).
Score: 10
Saviom is a global specialist in software products that boost efficiency and project performance (Saviom reports that users of their product have cut their resourcing spend by 20% or more).
 Saviom's flagship resource management suite comprises several modules, including a smart resource scheduler that instantly corrects work imbalances  Other core features include a  resource planning module (track and schedule resources to make sure they're not over- or under-utilized) and an accompanying dashboard that integrates with other business tools to display key project data. The suite's resource scheduling system syncs resource and project schedules across your enterprise, and its capacity planning tools provide granular reporting and analytics to quickly identify resource clashes and surpluses. The capacity planner also includes a skills repository that makes it easy to profile resources and find skill matches for future work.
Saviom's Enterprise Resource Management software is designed to unify project and resource workflows for resource managers hard pressed for time. Its business intelligence dashboards offer insights into real-time activities across the enterprise, and the Gantt chart view provides visibility into resource and project workflows, enabling managers to make accurate predictions of schedule conflicts and mismanaged resources to accommodate work influxes.
With a tiered pricing model as customizable as the tool, Saviom's power and lite licenses operate under role-based access, ensuring you retain full control over data.
Score: 10
10,000ft brings a refreshingly simple yet powerful approach to project management and resource scheduling. Unlike most tools in its class, 10,000ft helps your team make confident operational decisions without the overly complicated processes or steep learning curve. The value of the tool is centered around a handful of powerful and interconnected features: project planning, resource scheduling, utilization reporting, time tracking, task management, and project analytics reporting.
For integrations,10,000ft connects well with internal workflows and software suites. They provide a flexible API and Zapier integration that can connect with top operational tools for analytics, communications, PM, ERP, and finance.
10,000ft has a unique project and resource matching feature which helps match individual people to the project's requirements by finding team members according to different criteria like disciplines, skills, availability, or custom options to help you maintain consistency on projects.
With built-in timesheets (and mobile time tracking) as well as expense tracking, you can create rich and complex project reports by filtering and customizing project data with just a few clicks. Reports can give you a look back or forecasted view of things like team utilization, actual vs. planned time reports, budget tracking, expense reports, and projects in the pipeline.
Considering the support level, feature set, team scalability, and ease-of-use, 10,000ft is very well priced against other top tools in the industry. Their pricing plans start at $15/user/month for smaller teams, and they offer a Pilot program, as well as customized Enterprise pricing for larger teams.
Companies who use 10,000ft range from 10-person shops, to 100-person teams within global brands, to 1,000+ person professional services firms. Some of the notable companies within their user base include Ogilvy, Accenture, Mercedes Benz, Twitter, AECOM, and SONY
Visit 10,000ft.com to learn more about their software and sign-up for a free trial.
Score: 10
elapseit is an online tool built to offer a secure and complete user experience while allocating and managing company's resources.
Assign resources on multiple projects, phases or task components by using the resourcing planner. The interface is easy to use, just drag & drop an allocation from a person to another, add a new one or modify an existing allocation in seconds. Get the best performance and results from your team and avoid resources over-allocation or under-allocation using the elapseit's planner.
The resource scheduling integrates also vacations and bank holidays. Includes a leave planner with approval workflow and evidence of remaining vacations days. Once a manager approves a vacation request, all the allocations are automatically updated. The timesheet of each person will be pre-filled based on the allocation and you can generate multi-language invoices based on hours submitted and approved.
elapseit is smart enough to let you know in seconds if you have enough resources to take a new project on board based on the "Available Capacity" report. You can check the resource utilization and many other reports.
In a nutshell, elapseit is a powerful online project management software with highly connected features: time-tracking, resource scheduling, task management, invoicing, time-off management, Kanban board, dashboard, reports, document management all together in a secure user experience, through different access levels.  It's the best option for all size companies and it suits perfectly all kind of projects. There is a freemium version which includes all features. The price starts at 5USD/user/month.
Score: 9.7
Using artificial intelligence (AI) Forecast is able to aid with scheduling and finding the right people to book on projects and tasks. The AI learns from the work being performed and helps optimize all parts of people, planning and projects.
Forecast is a full resource & project management solution used by agencies and professional service companies all around the world. For resource management and people scheduling you can book people to projects, shuffle around tasks across multiple projects on a single timeline to make sure no one has too little or too much work at any given time; all using drag&drop to make it intuitive and simple to use. Quick booking lets you find the person with the right role and/or skills that is most likely to be available for performing a given task and/or project, so you don't have to spend time planning, but doing the fun stuff instead.
Timesheets and tracking are built right into the product, and apps for both iOS and Android can be used for planning and working on the go. You can build and filter your own insights and safely share with clients and stakeholders. These enable you to see things such as real-time utilization, compare actual vs scheduled utilization, tracking project progress, profitability, budgets etc. very simply.
Deep integrations make Forecast the ideal resource planning tool for JIRA, and other products listed in Forecast's extensive app catalog. Forecast has a free plan, as well as professional and enterprise plans that cost from $19/user/month (they offer a 14-day free trial).
Score: 9.8
Productive is an all encompassing agency management tool with integrated resource scheduling. It supports time tracking, employee cost rate management, budgeting and profitability reporting (among other features). This makes its resource scheduling even more powerful, as it is integrated with the rest of the necessary business tools. For example, your people will get time tracking suggestions based on their plan. You also get progress reports which show you the future revenue on every project.
Some other, standard resource scheduling features include multiple views (per project / person / team). Booking indicators tell you who's overbooked or underbooked at a glance. You can also schedule people on custom events (vacation, sick leave, education, or anything else). All in all, Productive gives you an amazing, top-down view of your people's capacity that also reflects on the rest of your business (reports, time tracking, profitability).
Productive has very active development and a well defined roadmap. It was built to replace a non-integrated tool stack agencies usually struggle with, both in terms of cost and quality of reporting. It also factors in overheads and employee costs when calculating profitability, ensuring you can focus on improving your metrics without getting burdened by non-billable work.
Score: 9.8
Epicflow is an easy way to manage multiple complex projects with a shared resource pool in MS Project and Jira. The Epicflow value-added extension works in tandem with these PM systems to enable faster and cheaper delivery of multiple projects simultaneously.
Epicflow is used by BIC, De Keizer Marine, Pilz, TKF, CWZ Hospital, KPN, and other globally recognized businesses worldwide to get their projects finished on time and on value. Whether you're a consumer goods producer, an electronics manufacturer, or you're a company in any other industry that requires resource allocation in complex environments, Epicflow will make your projects run smoothly by prioritizing tasks based on demand and workload and constantly identifying bottlenecks.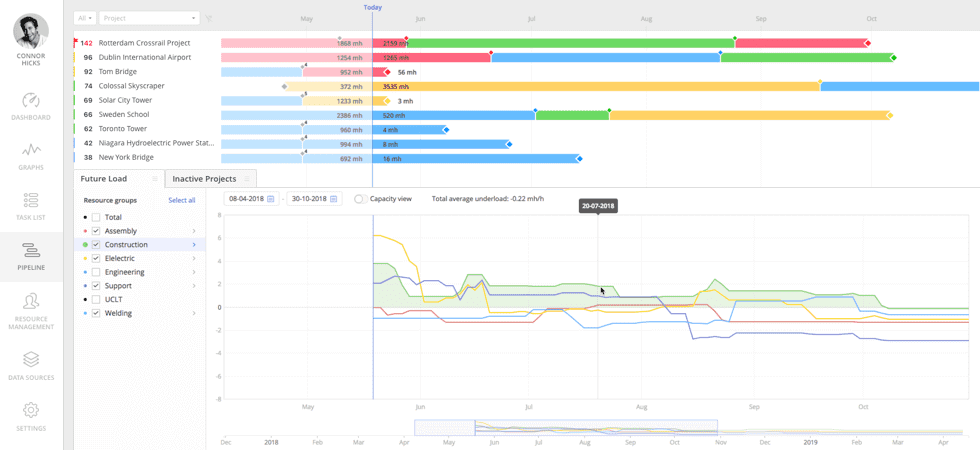 Epicflow's science-based algorithm performs calculations in real time. The pipeline visualizes multiple projects and milestones, predicting future bottlenecks in red so you can release them by adding more resources before the delay comes. The historical load graph presents group performance, capacity, load, and output over time. The future load graph helps you take control of resource planning and predict the impact of additional projects on your pipeline. The task list prioritizes all tasks under one roof based on project needs and available resources. You'll be able to see a real-time overview of all projects in your portfolio, sorted by priority, and identify the most urgent issues on the workfloor in a click.
They offer a free "health check of your organization," an opportunity to check in your projects into the Epicflow system and get analytics regarding your team performance, project statuses, and the best possible combination of priorities to finish your projects on time. A free trial is available after a live product demonstration.
Score: 9.6
eResource Scheduler offers both Cloud and On-Premise versions with configurability & ease of use at core of its design. Used by organizations of all types and sizes including Fortune 500 Cos. since 2011.
Features include dashboard that highlights important information on single screen. Multiple types of user defined fields, that allow capturing complete information (roles, skills, qualifications, certificates, team, office etc.) of resources, projects and bookings in user designed forms.
Scheduling chart offers resource, project and role views and users can create their own scheduling views on the fly. Filters identify qualified resources as per projects requirements and features like drag and drop, availability & overload indicator, extend-shorten, precise split, copy-paste makes scheduling efficient and quick. Option to schedule at project & task level, phases & milestone indicators prove productive. Multiple working calendars with different timings, holidays, exceptions and personal leaves (visible on scheduling chart) ensure correct resource capacity with all working patterns (Full, Part Time, Casual etc.).
Management reports show real-time utilization and availability at different levels (resource, project, role etc.) and users can create new reporting views on the fly. Multiple units (Hours, %, FTE), views and graphs make reports informative and detailed.
User access rights can be defined at screen, resource, project and custom levels (Example: team, office etc.) using advance rules. This ensures data confidentiality at all levels. Import & export and properly documented Open REST API makes integration with existing systems easy.
Timesheets for actuals, Financial module with cost & billing rates and Forecasting report makes eResource Scheduler complete scheduling package. eResource Scheduler costs $5/resource/month and provides annual billing discounts (14-day free trial).
Score: 9.5
Summary Of The Best Resource Management Software & Resource Scheduling Software Tools
It's easy to be overwhelmed by the baffling array of resource management software and resource scheduling software tools out there. Below, we've put together a reader-friendly table neatly summarizing basic info about the tools described in this article. We've investigated the pricing and availability of free trials and demo versions for you to make a side-by-side comparison that much simpler.
Other resource management software tools
None of the above work for you? Check out the list below for additional project resource management software tools:
Do you need resource management software?
You might be on board with trying to find the best resource management software, but getting buy-in to change the status quo and replace it with resource management software tools or project scheduling software for your agency, team or studio can be tricky.
After all, do you really, really need resource scheduling software or resource management tools? A quick google search for  'resource scheduling tool excel' or 'resource scheduling tools free' and you'll find a whole bunch of resource management templates that do the job – well, kind of. Actually, not really. Yes, they're a free resource management tool, but no, they are not great.
When agencies start, it's usually with a handful of resources and so there's no urgent need for resource management or specialist project management software. Usually, everyone simply gets together for a quick huddle, agrees on the resource management priorities, and works out what everyone is going to work on for the day – or if people are feeling really ambitious, for the entire week.
As the agency grows, resource management starts to get really formal and the resource scheduler becomes a whiteboard. Simples, right? Then disaster strikes as someone accidentally wipes the whiteboard clean, or the office grows to the extent that people can't actually see the whiteboard, and everyone realizes it's time for more advanced resource management – it's time to move to the agency gold standard – the infamous resource scheduler of doom – the resource spreadsheet.
Google docs – the free resource scheduler tool
The truth is resource management spreadsheets kind of work. Most agencies are still using them. And suffering for it.
Everyone knows resource management by spreadsheet doesn't really work. It's not really cut out for the job. Everything's a bit of a hack, they're clunky and they're horribly prone to errors. Months pass by and still the resourcing spreadsheet somehow just about manages to keep its head above water.
But everyone feels like they're drowning. Yes, it enables you to keep moving and it kind of works but everyone knows that despite good intention and some fancy formulas, it keeps on slipping under and it's not really fit for purpose at all. Unless you've got the mother of all resource spreadsheets (that I've never laid eyes on) it's missing a few key features and is a disaster waiting to happen.
Resource management software trumps spreadsheets
At a push, your resource management spreadsheet might tell you how under-resourced or under-utilized your teams are, or even include forecasting, but does it include budget tracking, time tracking, project reporting, send staff notifications, help them collaborate or have a built-in process for requesting resources and allocating resources to projects?
And importantly, does it have a change process for when resources get moved around by the resource manager or your rogue project manager colleague? Maybe that's why no one follows it – it's considered more of a rough resource management guide than a true resourcing source of truth.
But there's hope. A growing number of resource management software and resource scheduling software tools have evolved in recent years to fix the problem of the resource management in Excel and actually created something better than the free resource management tools. They've made resource management software that works!
What do you think?
What do you think we're missing? What other resource management software tools or resource scheduling software have you found that we don't know about? We'd love to hear if you've got any suggestions, tips or thoughts on using this kind of software – why not share them using the comments below?