Have you ever put together a project plan, started assigning team members to deliverables, and wished you had a resource allocation spreadsheet example or template in Excel (or Google Sheets) to share with stakeholders at a glance? I hear you. Project resource management probably deserves a more elegant template than the back of the napkin that came with your morning coffee.
In this article, I'll define resource allocation, share a project resource planning template that you can download in Microsoft Excel and customize, and then top it off with a resource management template example to get your project management juices flowing 😎. You'll be an expert resource planner in no time.
Here's what I'll cover:
What Is Resource Allocation?
Resource allocation is a step in the project resource management process, or the activities required to plan for, assemble, and develop your project team.
Specifically, resource allocation involves:
If you need a refresher on the fundamentals, consult The DPM's guide to resource allocation methods. If you understand the basics but wish you had a resource planning tool or an Excel spreadsheet to make this exercise easier, read on!
Resource Allocation Spreadsheet Template
If you're hungry for the free download of our resource allocation template in Google Sheets (that you can also use in Excel), look no further. We've also included an example Google Sheets project so you can get a feel for the finished product.
(You'll need to select "Make A Copy" for each of these before you can download them).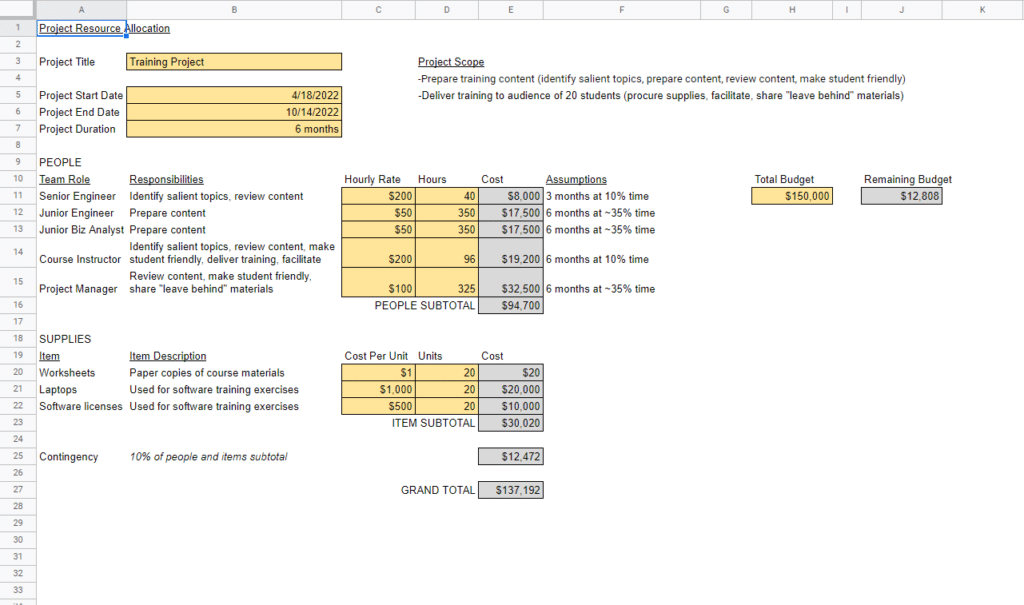 How To Use The Resource Allocation Spreadsheet Template?
Consider these tips when using the resource management Google Sheets template:
Jump Into Resource Planning
Looking for more free resource planning templates? Check out my blog and newsletter, or subscribe to the Digital Project Manager newsletter for additional project management templates.
Find out how to master resource allocation here.
Resource management software should include modules for resource allocation and planning. Find the right option for your needs below: