Time tracking software doesn't have to be painful! As a project manager on a variety of agency teams, I've used my fair share of time tracking software—both for simply tracking time and also for tracking budgets and estimating future projects. Each team is different, so I've chosen a handful of the top time management tools that I recommend, along with summaries of their features, pricing, and main pros and cons to help you choose the right time tracker for your projects.
Quickly Compare The Best Time Tracking Software

As project managers trying to manage project budgets and getting our teams to track their time accurately, we use time-tracking tools for many different purposes aside from simply filling in timesheets.
Time management tools can be expensive, so I've hunted down a good number of the best free, or nearly free time tracking software. Most importantly, though, we're looking for the best in class tools that are so easy to use, people actually want to submit their timesheets. Just imagine that!
Time tracking software – why is it important?
Time tracking software and expense tracking software is no one's idea of a party, but it's a necessary evil in the digital agency world, for professional services and consulting when you're charging time and materials or billing by the hour and you need to track budget burn. Likewise, invoicing is not fun, but it's necessary and requires accurate timesheet detail to function.
Fundamentally, there's budget and financial tracking information that's needed to keep a business alive; we need to know the project budget essentials:
Are we above / below the project budget?
Are we tracking to hit the budget?
How much should be invoiced to the client?
How profitable is the project / job / client?
Accurate timesheet reporting is also important to us as project managers so we can give proper analogous estimates based on past project performance. In order to estimate properly, we need to be able to look back at timesheet data, in the time tracking software and gauge how much should be charged for the next project. We need reliable, accurate time reporting data and people to use time tracking software properly.
Unless you've got no interest in the effort it takes to deliver your project, and the profitability of your projects then there's no avoiding the pain of timesheets, time tracking software and hours reporting.
The problem is, if the time tracking software you're using is more than a bit fugly and a pain to use, then no one wants to use it, and the data you get from it can be almost useless.
But does time tracking and reporting need to be painful? Surely there must be some hot time tracking software tools out there, right?
The best time tracking software?
As a given, the best time tracking software needs to be able to handle large teams, lots of clients and many projects simultaneously. But beyond a product that works well at capturing time, we need to think about what happens with that time-tracked information; how does it start as an estimate, how is it tracked, and once tracked, how is it then invoiced?
In choosing the best time tracking tool, it's worth thinking through your agency or studio workflow, and think about the end to end experience – from the person creating the estimate to the person doing the work, to the person invoicing it; how does it all fit together?
So what does it take to track time well? We've identified five key aspects of time tracking software that we think makes managing digital projects easier.

Will people actually use it? The software needs to look pretty and be really easy to use.
Integrate time tracking easily with projects and tasks? It needs to link to a source of truth of clients, projects and tasks.
Integrate with estimates and tracking? It should easily create a project estimate or quote, and then be able to track estimate vs actuals with visual reporting and analytics.
Integrate well with invoicing? It has to be easy to then turn project reports and actuals into estimates to send to clients.
Integrate well with 3rd party applications? Particularly useful is the ability to integrate with accounting software like Quickbooks or Xero.
The Digital Project Manager is reader-supported. When you click through links on our site, we may earn a commission. Learn more.
1. BeeBole Timesheet – Powerful & flexible time tracking for everyone, everywhere.
BeeBole Timesheet is an employee time tracking software for organizations of all sizes. Businesses can efficiently measure the time spent on clients, projects, and tasks, as well as control budgets, costs, and leaves of absence. With a drag-and-drop interface, it's easy to build the exact dashboard and reports you need.
Every company, organization and department are different, which is why BeeBole Timesheet was built with maximum flexibility in mind. Choose how users can clock in according to your needs with daily, weekly or monthly timekeeping options. There's also a one-click timer to record time real-time. With BeeBole Timesheet, your employees can easily log attendance, vacation and leaves of absence.
Whether you have 2 or 200 employees, timesheets approval is a big task. That's why BeeBole offers approval flow to bulk review and approve timesheets. Managers decide whether users have the ability to edit locked time entries or not, as well as whether those timesheets require automatic or manual approval later on.
BeeBole allows you to go beyond basic timesheets and take advantage of advanced reporting functions to get reports on time, budget, profit, and margin. Along with more than 30 customizable KPI reports, you can also set up your own dashboard with an easy drag-and-drop tool.
BeeBole Timesheet offers a fully documented API for you to easily integrate your application or service, which is free to all BeeBole users. You can export all reports to CSV, PDF or Google Drive, which makes creating a professional-looking report (complete with your logo and graphics) simple. BeeBole Timesheet also integrates with Google Suite so everyone in your organization can log in using their Google credential. It's also compatible with Office 365 and SSO, too.
BeeBole's timesheets are DCAA and GDPR compliant, which is just one more thing you won't need to worry about. You can use BeeBole in multiple currencies, as well as multiple languages, with the option of English, Spanish, French, German, Portuguese, Italian, Polish, Hungarian, Czech, and Dutch.
Beebole Timesheet cost $5.99/user/month.
Forecast takes advantage of Artificial Intelligence (AI) to support your estimates in becoming better and more accurate. Total time spent on tasks will automatically be benchmarked against your estimates and the AI learns from this to improve future estimates, thereby reducing your risk of under- or over-estimating your projects. This will have a significant impact on the effectiveness of your resource planning, enabling you to improve your delivery and profitability.
Forecast is a full resource project management solution that lets you track time using any method you want. Effortlessly track time on the projects and tasks you are assigned, whether on the go using mobile iOS and Android apps or directly on the web. It's great for distributed teams and has both daily and weekly timesheet views so you can track time the way that suits you. Set up weekly or daily reminders to ensure that everyone tracks their time correctly. Keeping track of budgets and estimates becomes second nature with Forecast.
Forecast is fully integrated with the most used web apps and they can seamlessly be installed from the app catalog. For instance, the deep JIRA integration makes Forecast ideal as a time tracking and resource planning add-on, Forecasts functionality covers a large spectrum of the capabilities needed to run and manage projects and people effectively, with as little overhead as possible. Forecast can tell you, if your project is profitable, how much money your team is making and whether or not your favorite client is also bringing in the most for the bottom line.
Forecast is currently used in 40+ countries worldwide, by agencies, consulting companies, and enterprises – has Lite, Pro, and Enterprise options that cost from $29/user/month (14-day free trial).
Hubstaff is a full-featured, free time tracking software tool (with freemium upgrades) that's an excellent tool particularly if you're working with remote or distributed teams. It's a lightweight, native time tracking tool that includes screenshots, time tracking, and project management. It's been designed well with a beautifully simple interface and design that makes it really easy for your team to enter their time and for you to track their progress.
Budget management is straightforward – using Hubstaff you can easily set time limits and budgets for your team to bill against with a maximum number of hours you want a member to be able to work in a week and the app will automatically prevent them from exceeding the limit.
When you're working with a distributed team it can be hard to verify exactly what people are doing and how they're spending their time so Hubstaff has some pretty handy snooping tools to give you insight into what your team is doing in the time they're logging to your project with screenshots and activity levels. Now you can also see which applications your team members are using and what URLs they are browsing while they're tracking time.
Integrations are well supported across stacks of different tools including project management tools Asana, Jira, and Basecamp, payments, accounting and invoicing integrations including QuickBooks, Paypal as well as Salesforce and Zendesk among others.
Hubstaff is a free time tracking software tool although paid versions cost from $5/user/month.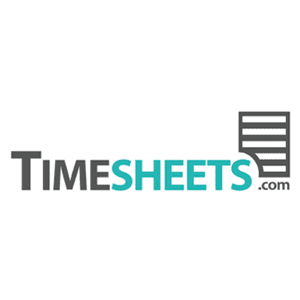 freemium version
14 days free trial
Monthly subscription available at $4.50/user/month. Annual subscription gives users a month free. Nonprofit organizations receive a 20% discount at $3.60/user/month
4. Timesheets – Allows users to track time and expenses in one place.
Timesheets.com allows managers to track employee time and expenses for both payroll and billing. This easy-to-use business tool enables users to track attendance, request time off (with accrual balance tracking), document time spent on projects, record mileage and expenses, schedule shifts and meetings, and store HR documents.
Whether you're using a desktop, tablet, laptop, or mobile device, Timesheets.com offers flexible time entry options for productivity, job-costing, and attendance. Employees can enter time using a time clock, a manual form (for weekly or daily entries), or real-time timers. Reporting gives managers access to real-time data that shows how much time was spent on a project, the cost of the project, and bill rates. Reporting is fully customizable, which gives managers the ability to filter any report by employee, job, customer, job code, date, and more.
Along with that, Timesheets.com has powerful HR tools for those who are looking for a system that does more than just time and expense tracking for payroll and billing. The HR suite includes storage for annual reviews, notes, commendation letters, or basic file storage. Additionally, to keep your business protected, Timesheets.com records detailed audit trails with IP address capturing in case of an audit.
Timesheets.com provides free, ongoing support in English and Spanish via phone, live chat, and email. Along with team support, there are also multiple video walkthroughs if people want to walk themselves through the process. Most customers find it beneficial to speak with the Timesheets.com team members to ensure that their accounts are customized to their specific business needs.
Timesheets.com has PDF and CSV exports for payroll and accounting software such as QuickBooks Online and Desktop, Gusto, Heartland, Paychex, Surepayroll, Right Networks, ADP, Ceridian, Sage, and more. They also provide an exporting tool to QuickBooks Desktop.
Timesheets costs $4.50/user/month with a free version suitable for freelancers.
Bill4time is the full package – a full-featured time tracking software tool with time tracking, expense tracking, billing & invoicing, invoice templates and online payments supported by a client portal, it's more than just time tracking but billing software too.
Bill4time has created some well-designed and good looking tools with mobile and desktop apps to enable some pretty flexible and powerful time tracking; you can simultaneously run timers, record multiple time entries in one screen and automatically convert appointments into time entries. All of this makes time tracking easy.
What's really unique about Bill4time is really the powerful back-end management functionality that allows you to keep better track of users, projects, clients and accounting. Using the rich data and dashboards you can easily track financial performance, identify trends, review payment history, productivity and more so you can more easily optimize performance. Reporting is powerful and flexible so you can be sure to stay on top of the productivity and financial status of your clients and projects.
Bill4time doesn't have a large back-catalog of integrations but they do have the essentials; Quickbooks, PayPal, and Stripe, so if you're using those systems, you're in luck.
Bill4time offers a free 30-day trial and costs from $15/user/month.
10,000ft is known for their simple design and easy-to-use interface for project and resource management. This extends to time tracking, where one-click timesheets are pre-populated with scheduled hours to keep team members focused and help managers set clear expectations.
When logging in to 10,000ft, team members land on the Today View, where they see the current and upcoming assigned projects, phases, and tasks. Timesheets link to corresponding projects for easy access to more detailed information about timelines, deliverables, and budgets.
Team members see a side-by-side of planned hours vs. actual hours spent, so they can self-monitor and communicate overages. This comparison is also visible to managers who track project health to spot potential issues and course correct early on.
Project dashboards update in real time across the app so you have the most accurate information for budget status tracking, project accounting analytics, and company-wide reporting. Data accuracy is key for teams looking to create better project estimates, and 10,000ft delivers in this area.
10,000ft offers two integration options. Through popular third-party tool Zapier, access out-of-the-box interactions with thousands of other tools. For more custom integrations, use 10,000ft's robust API to create specific workflows.
Considering the support level, feature set, team scalability, and ease-of-use, 10,000ft is very well priced against other top tools in the industry. Their pricing plans start at $15/user/month for smaller teams, and they offer a Pilot program, as well as customized Enterprise pricing for larger teams.
Companies who use 10,000ft range from 10-person shops, to 100-person teams within global brands, to 1,000+ person professional services firms. Some of the notable companies within their user base include Ogilvy, Accenture, Mercedes Benz, Twitter, AECOM, and SONY
Visit 10,000ft.com to learn more about their software and sign-up for a free trial
TimeCamp is a great free time tracking software tool (with freemium upgrades) that includes manual and automatic timesheets, a time diary, and automatic task detection capabilities. It's well designed and easy to use with a clean and fresh design.
TimeCamp is based around projects and tasks, and you can set budgets for either so that you can easily track accumulated hours against projects and tasks. Vacation tracking and accrual tracking are supported with attendance and absence analysis so you can track who is in and who is out at any given time, see when they start and finish work and track their holidays.
Timecamp integrates well with invoicing and is able to automatically (or not) produce invoices based on billable hours with worked generated in TimeCamp. There is an integrated payment gateway and helpfully you can get a notification when a client views an invoice.
A great feature within TimeCamp is their pretty unique time management tools which give some great insights on what are people are actually doing; the most time-consuming websites and applications they're using, with productivity analysis and detailed history on how people spend their time by using automatic computer usage tracking – this also enables you to evaluate time spent on documents, even tracking offline activity and the ability to approve or reject timesheets.
TimeCamp has got stacks of powerful integrations which make it a very flexible time tracking software tool. Integrations include project management favorites including, Jira, Wrike, Trello, Podio, Basecamp, and Asana – invoicing including Xero, Quickbooks, and Free Agent, as well as Insightly, Wunderlist, and Zapier.
TimeCamp is free time tracking software although paid versions cost from $6/user/month.
Harvest is a very popular agency time tracking software tool used by thousands of agencies as their time tracking software solution. Its functionality covers everything from timesheets, invoicing, expenses, project budgeting, budget tracking, and reporting.
Harvest is popular because it's easy to use and it's been very well designed with a beautiful and intuitive interface that works across desktop and mobile. Harvest covers time tracking with clients, projects and task tracking which power some powerful reporting so you can easily analyze your data including billable and non-billable time for specific staff, tasks, clients, and projects.
Helpfully, for complete budget tracking solution, Harvest supports expense tracking, invoicing and timesheet approval; it's a fully baked product covering the essential time tracking software tool functionality and stacks more. Harvest also has a sister product, Harvest Forecast, which has resourcing management features so you can schedule a team on projects, know who's working on what and when and then easily compare estimates vs actuals and know exactly when a project hit its budget.
Harvest really excels at its integrations, offering more than 70+ integrations across project management with Jira, Asana, and Basecamp, accounting with Quickbooks, Xero and Stripe as well as many others across issue tracking, CRM, productivity, communication, contracts and proposals, developer tools, and analytics and reporting. If you're using industry-standard tools, you're very likely to be able to plug in the Harvest add-ons to track time across your project workflow.
Harvest offers a 30-day trial and is a free time tracking software tool, although paid versions cost from $12/user/month.
If you're looking for a simple and free time tracking software, Toggl is a great place to start. It's beautifully designed and incredibly easy to use. If you're looking for a solution to get started today and to simply track time against different projects and clients, then Toggl is great.
Toggl allows you to create projects, tasks and track hours using your browser, Chrome extension, mobile or desktop apps. While it allows tracking of accruals, there's no way to set budgets and track against them. If you want to track against an estimate or create an invoice, you'd need to use a 3rd party tool.
Toggl has some good functionality to support helping people do their time tracking properly with automated reminders to keep people on track, and you can create required fields for time entries, so ensure people always add comments or tags to their timesheet entries. You can also enable auditing tools where you can trigger alerts for suspicious-looking timesheet entries, like if someone claims to have worked 10 hrs straight on a single task!
Toggl has some good out the box, which make it one of the best free time tracking software options available with integrations for Jira, Asana, Basecamp, Freshbooks, GitHub, and Teamweek among many others. So even though it's lacking in some of the budget trackings and invoicing functionality, you can easily tie it in with other tools that specialize in reporting and invoicing.
Toggl is a free time tracking software tool although paid versions cost from $9/user/month.
ActiTIME is a great solution that provides a convenient way to manage project scope, assign tasks, track time and analyze business performance based on the collected data. Thousands of companies, from startups, non-profits and family businesses to Fortune 500 organizations,  trust actiTIME in their daily operations. The reason why it suits such a wide range of businesses lies in great flexibility and customizable features. You can make actiTIME as simple and easy to use or as rich in functionality as you'd like!
With easy-to-use intuitive interface actiTIME brings time tracking to a new level. You can track time in one click with a handy timer in an absolutely free mobile app or make time entries manually – whatever way you like better.
Using actiTIME you can easily make project assignments and estimates, manage field and remote workers and establish a transparent process. With personal time reports employees to see exactly how much time is spent on day-to-day tasks and improve personal productivity.
Billing and Invoicing are easy with actiTIME. Keep everything in one place, create reports using collected data and issue invoices to your customers. Use a variety of options to customize your reports and view your data in preferred format: charts, HTML spreadsheets or CSV files.
With actiTIME powerful reporting tools business owners have a better understanding of how workload is distributed across projects, see how costs and revenues stack up and accelerate business growth with data-driven insight.
actiTIME is available both online & on-premise. Flexible subscription options for actiTIME range from 1 month to 1 year and prices are very competitive starting from $1.86/user/month (30-day free trial). Being a socially responsible business actiTIME offers special discounts to non-profit organizations.
Other time tracking software tools worth considering:
None of the above work for you? Check out the list below for 15 additional time tracking software tools:
What Do You Think?
What do you think we're missing? What other time tracking software tools or timesheets software have you found that we don't know about? We'd love to hear if you've got any suggestions, tips or thoughts on using this kind of software – why not share them using the comments below?