Smartsheet vs Mavenlink explained: Similarities, differences, and an overview to find out which is best for you.
Summary
Smartsheet and Mavenlink are two of the most well-known project and resource management software in the market. They share similarities that make deciding between the two of them challenging for some users. In this article, I'll take a closer look at the similarities and differences between the two so you can decide which project management solution you should get.
My goal is to provide you with crucial information, so when it's time to subscribe to a project management tool, you already know which one will suit your needs best.
Smartsheet vs Mavenlink Overview
Jump to side by side comparsion
Expert Summary: Smartsheet vs Mavenlink
Smartsheet and Mavenlink are resource management software with time-tracking, project management, task management, and portfolio management capabilities. They can help make project completion more efficient through issue tracking and real-time task monitoring. Smartsheet and Mavenlink also promote team collaboration with their messaging tools and customizable workspaces. Users can integrate third-party programs and applications to both software to increase productivity, such as Asana, Slack, Trello, Jira, Salesforce, and Basecamp.
Smartsheet would be best for professional service providers, as they have a dedicated solution (Smartsheet Professional Services) just for that.
Mavenlink would be best for complex project portfolio management that needs a robust project accounting suite (built-in!) and strong business intelligence (BI) capabilities.
Side by Side Comparison Of Smartsheet and Mavenlink
Smartsheet is an online project management tool that allows users to assign tasks, track project progress, and manage calendars to increase workplace productivity. Not only do they have a basic project management suite, they also offer add-ons for digital asset management (Brandfolder) and skills-based resource management (10,000ft by Smartsheet). This makes it easy to design a Smartsheet native suite of tools to satisfy any service provider needs.
Smartsheet doesn't have a free plan.
Price: $25/user/month
Trial: 30-day free trial
Go to Smartsheet
Mavenlink is a resource management software that can help users improve their project management through team collaboration, file sharing, and task management features. Mavenlink uses Kanban boards and Gantt charts to visually guide users on their project progress to concentrate on areas that need improvement. Using Mavenlink's API, users can create custom programs that they can use to meet unique business needs that can improve their service delivery.
Mavenlink doesn't have a free plan but has a 14-day free trial for prospective users.
Price: $19/user/month
Trial: 14-day free trial
Go to Mavenlink
Smartsheet vs Mavenlink Comparison Criteria
Aside from their similarities and differences, I considered other factors while comparing Smartsheet and Mavenlink. Here are the criteria I used in creating this article.
Feature list
What do you get, and what do you not get?
Use cases
What are the most effective use cases for this feature set?
Ease of use
Is it easy to learn and master?
Integrations
Is it easy to connect with other tools?
Customer support
Can you get help easily and quickly?
Price
How appropriate is the price for the tool?
Differences Between Smartsheet and Mavenlink
Smartsheet has a generous 30-day trial period giving users more time to study the program before deciding whether to get a paid subscription or not. Mavenlink's free trial is only for 14-days.
Smartsheet has a dedicated healthcare services module for clinical trial protocol, regulatory and compliance management, and even insurance claims approval. Mavenlink does not.
Smartsheet is available in several languages, including English, Spanish, French, and Italian, increasing usability and access for more users. Mavenlink is only available in English.
Smartsheet lets users customize notification settings to prioritize which alerts they want to receive for better work management.
Smartsheet boasts many customizable solutions for dedicated industry niches, like healthcare & life sciences, higher education, financial services, and federal government.
Go to Smartsheet
Mavenlink has a free subscription plan that allows users to add an unlimited number of members, while Hive doesn't have a free plan.
Mavenlink has overtime calculation capabilities so that managers can factor in work done outside of regular business hours. This is not a native feature in Hive.
Mavenlink allows automatic archiving of notifications to get back to them if you need to prioritize one over the other. With Hive, all notifications disappear once you've seen them.
Mavenlink allows you to specify the role for a new user before sending an invite to have proper permissions immediately. Hive allows you to edit permissions only after the new member is inside the system.Mavenlink provides phone support to its users, while phone support is only available in Smartsheet's enterprise plan. Smartsheet business plan subscribers can get phone support as a paid add-on.
Mavenlink has accounting functionality through native QuickBooks integration, whereas Smartsheet doesn't have this functionality.
Mavenlink has timesheet integration enabling users to keep time records for more efficient billing and invoicing, whereas Smartsheet lacks this feature.
Mavenlink's plans include issue tracking so users can capture errors for a faster resolution. This feature is only available in Smartsheet's enterprise plan and is an add-on to its business plan.
Mavenlink allows all users to custom brand their accounts to make them easily recognizable to clients. This feature is available only for Smartsheet business and enterprise users.
Go to Mavenlink
Similarities Between Smartsheet vs Mavenlink
Best Use Cases for Smartsheet vs Mavenlink
Smartsheet Vs Mavenlink Feature Comparison
Smartsheet vs Mavenlink Pricing Comparison
This side-by-side price comparison shows Smartsheet's price compared to Mavenlink.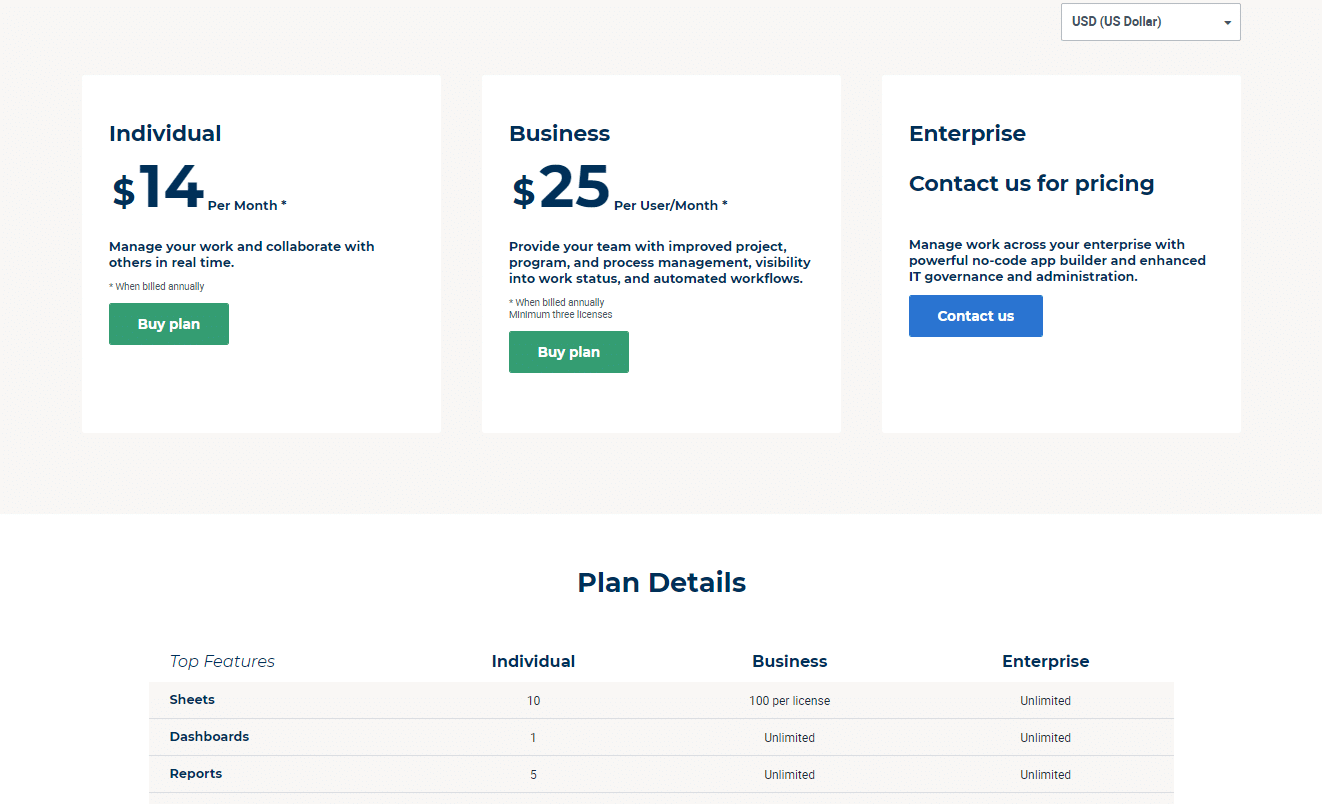 Other Smartsheet and Mavenlink Software Comparisons
If you're still looking at the options for professional services automation software, check out our comparison with other tools.
Other Smartsheet software Comparisons
Here are some other project management software comparisons with Smartsheet:
Other Mavenlink software Comparisons
Here are some other project management software comparisons with Mavenlink:
Conclusion
Smartsheet and Mavenlink are both strong contenders for enterprise-grade project management SaaS platforms. Smartsheet can be deeply customized to a variety of niche industries and professional services, with data security and compliance to handle even healthcare and government needs. Mavenlink is a heavy hitter when it comes to business intelligence and reporting as well as financial and budgeting tools. Which one will you choose? Let me know your thoughts in the comments.