Hive vs Wrike explained: Similarities, differences and find out which is best for you.
Summary
Hive and Wrike are project management software that users often compare because of their similar features. However, although they share some features, they also have differences that make them stand out. In this article, I will walk you through the similarities and differences between the two so you can see what each software has to offer.
My goal is to provide you with everything you need to know to decide which project management software will work best for you.
Jump to side by side comparsion
Expert Summary: Hive vs Wrike
Hive and Wrike are user-friendly project management software users can employ if they need work management, resource management, portfolio management, project planning, proofing, and task management tools. Users of Hive and Wrike can also customize their programs by integrating third-party apps such as Trello, Slack, Asana, Jira, and Microsoft Teams. Tech-savvy teams or those with a dedicated IT department can also develop apps and integrate them into Hive and Wrike using each's flexible API.
Hive would be best for companies or freelancers that work on multiple projects and clients because of its unlimited storage space.
Wrike would be best for companies with many employees because it allows adding an unlimited number of users.
Side by Side Comparison Of Hive and Wrike
Hive is a SaaS project management and productivity platform with specialized in-app messaging to replace the likes of Slack, Google Hangouts, or text messaging. It also acts as a workforce management solution with file sharing, resource scheduling, idea mapping, and project planning capabilities to help users conceptualize and execute projects efficiently. Through Zapier, Hive users have access to a wide range of applications that they can use to augment native apps, ensuring that they have the proper tools in delivering services.
Hive has a free forever plan for up to two users with unlimited storage.
Price: $12/user/month
Trial: 14-day free trial
Go to Hive
Mavenlink is resource management software with collaboration tools, portfolio management, and project management capabilities. This SaaS solution is accessible through desktop computers and mobile devices for teams to use the program wherever they are. Mavenlink also has strong business intelligence and analytics functionality to generate reports around time, budget, and resource allocation. They have an easy-to-use time clock that is accessible right on the homepage. Plus, stakeholders will love their in-app document markup capabilities for fast proofing and approvals.
Mavenlink offers a freemium plan with unlimited users and 500MB of storage space.
Price: $9.80/user/month
Trial: 14-day free trial
Go to Wrike
Hive vs Wrike Comparison Criteria
How did I come up with this comparison article? Here are the criteria I used to provide you with a thorough comparison between Hive and Wrike.
Feature list
What do you get, and what do you not get?
Use cases
What are the most effective use cases for this feature set?
Ease of use
Is it easy to learn and master?
Integrations
Is it easy to connect with other tools?
Customer support
Can you get help easily and quickly?
Price
How appropriate is the price for the tool?
Differences Between Hive and Wrike
Hive users can use focus mode to mute messages and notifications to concentrate on an urgent task or project, whereas this feature is not available in Wrike.
Hive notes can help users take comprehensive notes during meetings and planning sessions and automatically convert those notes into action items. This feature is not available in Wrike.
Hive enables users to activate or deactivate apps or programs by toggling a button, whereas Wrike users cannot disable programs without uninstalling them.
Hive has a native live chat feature that allows users to save time and improve teamwork by immediately connecting. Wrike users need to integrate third-party chat apps.
Hive's enterprise plan provides users with unlimited storage space, while Wrike's enterprise plan only gives 10GB of storage space per user.
Go to Hive
Wrike has ad hoc reporting functionality allowing users to temporarily grant reporting rights to other team members in exceptional cases to ensure business continuance. Hive doesn't have this functionality.
Wrike has a vendor management feature that helps users efficiently complete projects through smooth coordination with contractors and suppliers. This feature is not available in Hive.
Wrike users can still view read notifications to get back at them if they need to prioritize other tasks. Hive notifications disappear after reading.
Wrike has a free plan with unlimited users, making it ideal for large businesses, while Hive's free plan is only for two users.
Wrike has mobile time tracking capability so users can log time spent on fieldwork, ensuring accurate and real-time timekeeping. Hive users need a third-party app for mobile time tracking.
Go to Wrike
Similarities Between Hive vs Wrike
Best Use Cases for Hive vs Wrike
Hive Vs Wrike Feature Comparison
Hive vs Wrike Pricing Comparison
This side-by-side price comparison shows Hive's price compared to Wrike.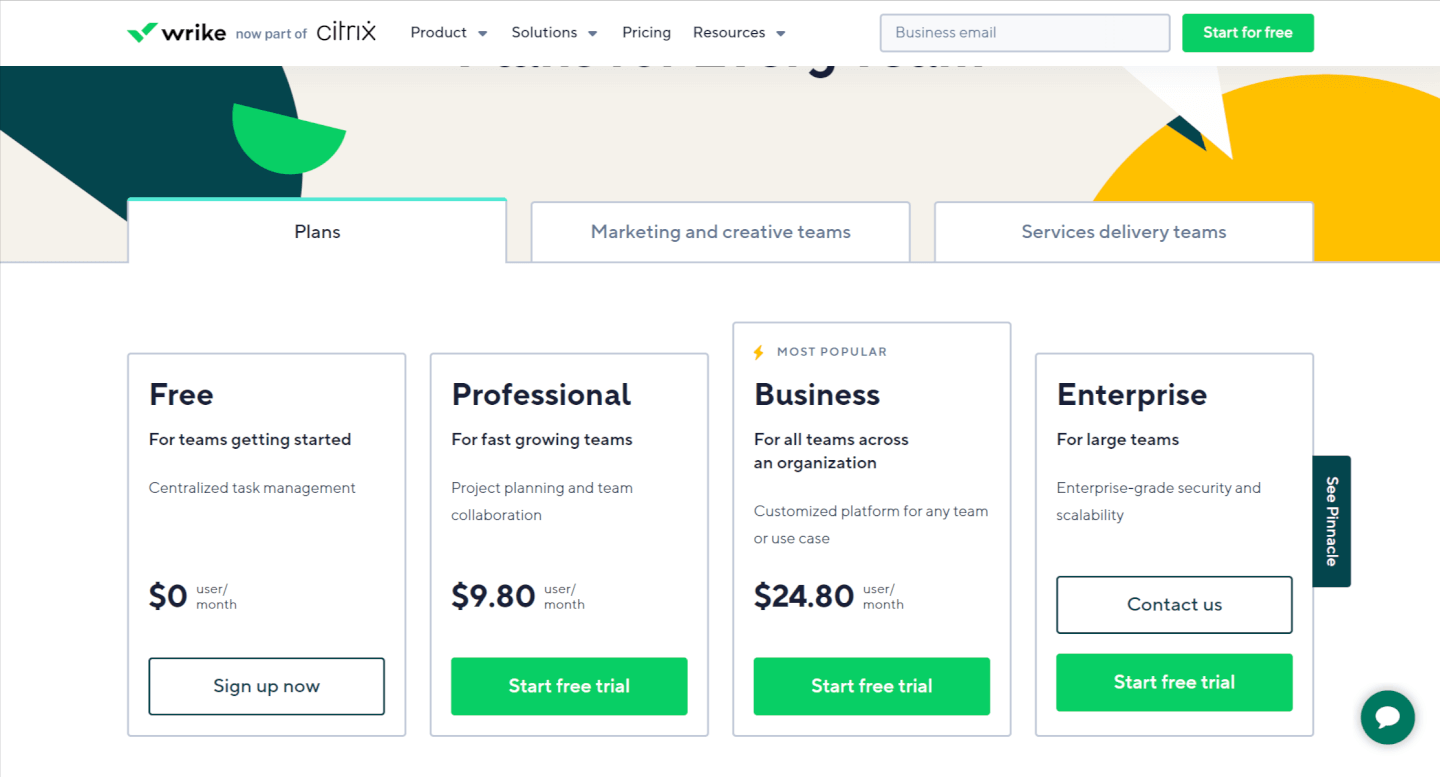 Other Hive and Wrike Software Comparisons
If you're still looking at the options for professional services automation software, check out our comparison with other tools.
Other Hive software Comparisons
Here are some other project management software comparisons with Hive:
Other Wrike software Comparisons
Here are some other project management software comparisons with Wrike:
The Takeaway
In closing, Hive is a project management software ideal for users who deal with multiple clients and projects because it comes with unlimited storage space. On the other hand, Wrike is best for large businesses because of the unlimited number of users that the program can accommodate even on a free plan.