The Best Online Project Management Software List
Here's a shortlist of the best, simple online project management software:
Below you'll find an overview of each of the 10 best online project management software, with screenshots, feature overviews, and pricing.
Jump to online project management software overviews
In this post, I'll help you quickly compare and evaluate the best online project management software.
Web-based online project management software are an alternative to on-premise solutions and are typically packaged as software as a service (SaaS) along with a monthly subscription price.
The price of online PM software often changes based on the number of users you need and the amount of products/services you want.
The benefits of using online project management tools include regular updates, real-time collaboration around the globe, no downloads (work right in your browser), and easy mobile app access.
In this post, I'll share with you some of the top online project management software and provide a simple comparison between them.
There's plenty to look for when you are shopping around the software market. Let's get started.
Comparison Criteria
What are we looking for when we select project planner software for review? Here's a summary of my evaluation criteria:
User Interface (UI):

Is it clean and attractive?

Usability:

Is it easy to learn and master? Does the company offer good tech support, user support, tutorials, and training?

Features & Functionality:

Gantt chart and/or Kanban board –

Does the software have graphs and charts to support task and product timelines, including dependencies and deadlines?

Communication –

Does the tool make it easy to collaborate and communicate with your team? Does it integrate with email and offer direct messaging?

Task lists –

Does the tool make it clear what needs to be done by whom and by what deadline?

Customizable Reporting –

Can you easily pull data from the software and visualize it in a variety of formats?

Integrations:

Is it easy to connect with other tools? Any pre-built integrations?

Value for $:

How appropriate is the price for the features, capabilities, and use case? Is pricing clear, transparent, and flexible?
The Digital Project Manager is reader-supported. We may earn a commission when you click through links on our site — learn more about how we aim to stay transparent.
Overviews Of The Best Online Project Manager Software
Here's a brief description of each of the software that are featured on this top 10 list.
monday.com is a great project management software because of the way the tool has done away with a lot of the trimmings of typical management tools and focused on simple, visually intuitive layouts that help clarify the sequence of work.
monday.com features for managing projects include resource and project management, time tracking, collaboration, and reporting features. For example, users can upload and attach files to cards, make comments, mention teammates, and more. It also offers a great project reporting dashboard that can collect data from multiple boards, allowing better tracking abilities of progress. And while monday.com doesn't offer a complete set of tools for project accounting and invoicing solution as other tools, you can use monday.com to track hours, timelines, and invoices.
Overall, it's a highly customizable tool that lets you work in whatever methodology—kanban or otherwise—that fits your project and team. You'll also find some useful workflow tools for automating parts of your process.
monday.com's integrations include project management apps like Slack, Google Drive, Gmail, Google Calendar, Jira, GitHub, Trello, Dropbox, Typeform and many more, accessible via Zapier.
monday.com is free for up to 2 users. Paid plans cost from $11/user/month and come with a 14-day free trial.
Pros
Huge focus on collaboration
Long list of supported integrations
Easy to customize a workflow or Board
Helpful visual/color coding customization
Cons
Complex pricing rubric
No option to create recurring tasks
Smartsheet is a spreadsheet-like project management tool. It has won a few awards for quickly becoming a favorite business app. It's a nice project management software if you're comfortable working in Excel but wants a break from complicated formulas—Smartsheet performs all the calculations for you across multiple sheets. You can also add customized brand logos and set color themes for individual projects.
Smartsheet has useful project management features such as workflow automation and visualization of tasks in Gantt, calendar and card views. Team members get notified of critical changes in real-time, and the tool provides shared views, detail history, activity logs, automated alerts, reminders, and status reports to keep everyone aligned and informed. The Critical Path feature highlights all the tasks which directly impact your project completion date to keep an eye on important milestones. Reporting is a strong feature of this tool, with editable summary reports that you can easily export to Excel.
Smartsheet integrations include Microsoft and Google apps, as well as development essentials like Jira, and useful business apps like Salesforce, ServiceNow, Slack, Box, and Tableau. The platform is extensible through a REST API and webhooks.
Smartsheet costs from $7/user/month, with a minimum of 3 users and a maximum of 25 users. They also offer a 30-day free trial.
Pros
Sheet-to-sheet linking
Many project templates & resources
Ease of sharing
Easily customizable dashboards
Cons
Jira, Salesforce, Dynamics connector limited to Premier plan
Changes don't update in real-time
Can't customize chart colors
ClickUp is a project management software tool with powerful features for managing and completing all your team's projects in one platform. Users can plan projects, schedule tasks, and manage resources in a centralized workspace, as well as communicate and collaborate with team members and guests.
Task management features include task checklists, subtasks, and task templates, as well as the ability to filter, sort, search for, easily reorder, and view tasks in the manner most convenient for the team. Users can also create Gantt charts, calendars, and timelines to visualize tasks.
ClickUp also includes features for creating, sharing, and collaborative editing for Wikis and documents. Users can comment on documents and tasks, assign comments, and chat with other team members for increased communication and collaboration. Reporting features include the ability to create custom dashboards, as well as six built-in report types for team reporting.
ClickUp offers native integrations with Slack, G Suite, Dropbox, and many more tools, as well as over 1,000+ integrations through Zapier.
ClickUp's free plan is robust and includes all primary features. The unlimited plan starts at $5 a month per user and offers additional functionality.
Pros
Free forever plan allows unlimited members

Unlimited file storage on all paid account tiers

50+ widgets to customize your dashboard

Great interface on both web and mobile app
Cons
Read-only guest permissions are limited to paid account

Reporting suite is limited to paid plans only

Freemium plan limits use of maps, charts, dashboards
Forecast is an online project management software that allows users to manage projects, resources, and finances, and includes capabilities for managing entire portfolios and single project milestones or tasks.
Forecast's auto schedule feature assists with project planning by automatically estimating task durations, assigning resources, and setting deadlines. Other AI capabilities include timesheet suggestions based on historical data, cost and budget estimation, and more. The tool can also automatically calculate utilization rates.
The tool also includes Kanban boards, the ability to organize project tasks into sprints, and a variety of charts and reporting features for measuring task progress, project progress, sprint velocity, and more. The tool can also generate insights and reports on revenue, costs, and profit for each project based on planned and actual work.
Forecast integrates with mainstream project management tools, as well as with Jira, QuickBooks, Xero, and more.
Pricing starts at $35.28/user/month (billed as £29/user/month), and a 14-day free trial is available.
Pros
Includes AI-powered auto-scheduling and time entry suggestions
Easy to use, implement, and get up and running
Highly flexible and customizable
Cons
No browser extension for time tracking
No asset management features
Minimum of 10 seats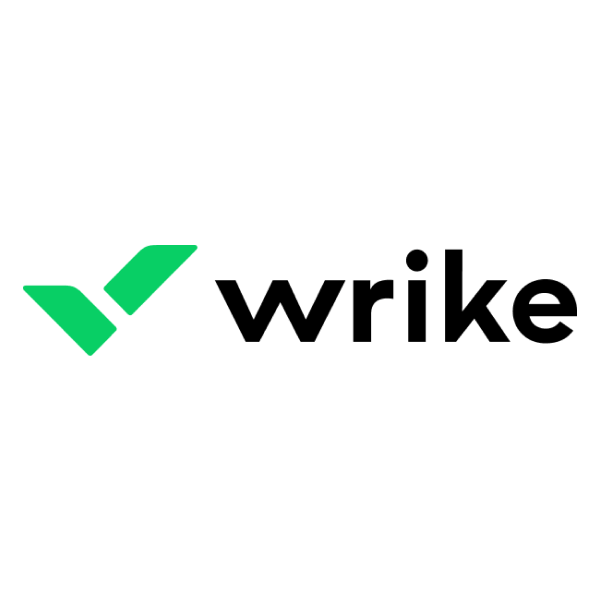 freemium version
14 days free trial
From $9.80/user/month and has a freemium version for up to 5 users
Wrike is an easy-to-use online project management software that is flexible, adaptable, and configurable for teams of anywhere from five to an unlimited number of members. The tool enables users to switch between customizable Kanban boards, Gantt charts, and classic workload views.
Users can view project timelines on a Gantt chart and add dependencies through drag-and-drop, as well as create Kanban boards from several templates. Wrike also features task lists, shared calendars, custom workflows and automations, and file sharing, as well as collaboration features such as live editing, commenting, and instant @mentions.
Wrike allows users to create personal dashboards from task lists, and managers can see team workloads at a glance and adjust resources to maximize employee capabilities and availability. The tool also includes features to create advanced, customizable reports that can be automatically scheduled or exported externally.
Wrike offers 400+ pre-built native integrations, which includes integrations with Zendesk, MediaValet, and QuickBooks, as well as with file management software from Microsoft, Google, and Dropbox.
Wrike starts at $9.80/user/month, with a free version available. Paid plans come with a free 14-day trial.
Pros
Flexible to individual team needs
Excellent automations and Kanban board templates
Helpful support team and resources for onboarding
Cons
Steeper learning curve than other tools on this list
Customization options and range of features can be overwhelming
GanttPRO is an online project management tool based on Gantt charts and useful for managing all kinds of projects and teams from different spheres. It stands out for its intuitive interface and powerful features.
The software includes features for breaking down projects in an efficient manner into subtasks, sibling tasks, and subprojects, as well as set dependencies and milestones. Users can choose between the Gantt chart, Board views, and task dashboards. GanttPRO also offers handy task management features such as statuses, priorities, duration & estimation, progress, dates and deadlines, assignees, and more.
GanttPRO allows teams to collaborate in real-time using comments, mentions, and attachments. Also included are resource management and workload features for monitoring team member workload and tasks.
GanttPRO offers integrations with Jira, Google Drive, Slack, and other applications.
GanttPRO costs from $8.90/user/month for teams or $15/user/month for individuals. The software comes with a 14-day fully-featured free trial.
Pros
Intuitive interface with a short learning curve
Multiple and flexible project views
Professional Gantt chart templates
Cons
Light on integrations
Lack of options to create recurring tasks
Kintone is an all-in-one project management platform that allows managers to track, prioritize, and review their team's tasks for any given project workflow, no matter how complex. This highly-customizable platform gives you the power to create a tailored project management solution using its drag-and-drop interface built for non-coders. Quickly design the workflows you want, then review tasks that move through it in seconds.
Kintone's customization features include the ability to create automated reminders, filter tasks or project phases by data field or team member to generate custom reports or dashboard views, and automate handoffs between team members for multi-step workflows. You can also view, edit, and update workflows from the platform's mobile or desktop applications, so oversight doesn't stop when you leave your desk.
One of the Kintone's most valuable features is its built-in communication channels. These chat tools allow you to discuss projects with your team directly in the database, meaning your conversations and data stay connected. Open the record, see what was discussed. You can also create "spaces" for conversation organized by topic, team, project, or department. The best part is these spaces stay visible to everyone, so teammates who miss a discussion can come back later and catch up on what's been said.
Kintone's project management tool also features integrations including: Slack, Gmail, Google Calendar, Outlook, Tableau, Dropbox, Salesforce, Hubspot, and many more through Zapier.
Kintone costs from $24/user/month with a minimum requirement of 5 users. They offer a 30-day free trial and discounted prices for NGOs and educators.
Pros
Discounts for educators & NGOs
Excellent list of integrations & plug-ins
No- or low-code app development
Cons
No freemium plan
All account types require min. 5 users
Storage above 5GB/user costs extra
PSOhub is professional services automation (PSA) software that provides all-in-one project management, enabling users to maintain visibility into all facets of the process, from deal won to deliverables and all the moving parts in between. PSOhub was designed with marketing and creative agencies in mind, but it can be used by anyone from accounting firms to architects to managed IT services companies and beyond.
Key features include predictive project management, accessible task management, smart contract management, real-time resource management, time and expense tracking, and invoicing. PSOhub's best features are its self-driving tools, which automate project setup, milestone alerts, time tracking, and more. While automated and self-driving features handle repetitive and time-consuming tasks, users can focus less on administration and more on serving clients.
Integrations include CRMs like HubSpot, Salesforce, and Dynamics 365 and accounting software like Quickbooks, Xero, and more. Additional integrations are available via Zapier and PSOhub's API.
PSOhub costs from $8.50/user/month and offers a 30-day free trial.
Pros
Robust time tracking tool built-in
Excellent integration opportunities
User-friendly, easy to onboard
Cons
No freemium plan
Resource management module limited to highest plan
Celoxis is an award-winning all-in-one project management software tool that's backed by over 17 years of company experience and provides solutions for businesses of all sizes. The tool is the platform of choice for brands like HBO, Bombardier, KPMG, Tesla, Adobe, University of Washington, and The World Bank.
Celoxis helps users plan and manage diverse project portfolios. It is customizable to suit a variety of business needs such as time and expense tracking, resource management, financial tracking, and work collaboration. The help centre is packed with easy-to-use self-help resources such as getting started guides, product FAQs and how-tos, short explainer videos, product documentation manual, and community forums.
Celoxis' comprehensive features address the complexities of managing projects across organizations. Functions include planning, delegation, collaboration, tracking, and reporting on a user-friendly platform. Businesses can get rid of multiple applications and spreadsheets to manage schedules, resources, budgets, costs, invoices, communication, approvals, risks, issues, and change requests. You also get access to 24/5 customer support with their paid plan.
Celoxis offers integrations with over 400 business applications including Google Drive, Microsoft Project, Jira, QuickBooks Online, Salesforce, Microsoft Active Directory, Evernote, Slack, Zendesk, Wufoo, Google Forms, Trello, Freshdesk, Survey Monkey, and a growing list of others.
Celoxis costs from $22.50/user/month and offers a free 30-day trial.
Pros
Scheduling accommodates geographically distributed teams
Free client portal
Available in 8 international languages
Support for multiple billing models
Cons
Basic users may find it complicated
Colors used (UI and reports) distract from the data
Substantial updates may require additional training time
No social aspect
Nutcache is an online project management tool with a suite of communication and collaboration tools built into daily workflow processes.
Nutcache features include project management, project budgeting, task management, time tracking, expense tracking, online invoicing, and reporting capabilities. The tool is a collaborative workspace with features for live editing, commenting, and mentions.
Nutcache lets you use custom workflows, divide work into manageable chunks, prioritize tasks, assign multiple members to a task, define budget alerts, set budget tracking by the hour or amount, use KPIs to stay on budget, and has a roadmap of features to come.
Integrations include Dynacom Accounting, PayPal, 2Checkout, Stripe, Authorized.Net, Google Sign In, and GitHub.
Nutcache is free to use for up to 20 users. Paid plans start at $6/user/month with a minimum of 5 users and offer a free trial.
Pros
Easy to set up, short learning curve
Unique time management features
Customizable workflows
Cons
No option to create recurring tasks
Notes can't be quickly added to stopwatch
Gantt chart could be improved
The Best Online Project Management Software Summary Chart
Other To Do List App Options
Here's a few more that didn't make the top list. If you need additional suggestions for another handy to do app, check these out.
What Is Online Project Management Software?
Online project management software is any digital tool that can help the facilitation of day-to-day workflow, including communication tools (direct messaging, social feeds, alerts), task lists (todos, Kanban boards), calendars and schedules (monthly/weekly views, Gantt charts), and reporting and analytics functions.
Examples of online project management software include Trello and Asana, which are both browser-based SaaS designed to do all of the above and more. Both are outlined in more detail later in this article, along with many others.
How Much Does Online Project Management Software Usually Cost?
Discounting freeware, which obviously doesn't have a cost, you can expect to pay anywhere from $5/user/month up to upwards of $100/user/month. The average tends to be between $10-15/user/month for a basic plan.
If You Didn't Find The Right Software Yet…
Have a look at this helpful article comparing the best project management software.
What Do You Think About These Online Work Tools?
Have you tried out any online project portfolio management software listed above? What do you think about the online project management software reviews? Sound off in the comments below.