If you have ever found yourself longing for Microsoft Project for Mac, you're not alone. Project management apps are endlessly useful—and often vital—tools to organize, engage, evaluate, and replicate any successful job. MS Project is particularly ubiquitous, so it's no wonder that many MacOS users are looking for Apple-friendly options.
In this article, I will explore the best PM software that works on Mac devices, including a few good MS Project alternatives for Mac users. I will also answer some common FAQs for any Mac project management tool and outline our evaluation criteria for how we define the "best project management software."
Mac Project Management Software FAQ
Have some questions about PM software for Mac? I try to answer some common queries below. If your question isn't addressed here, try popping into the comments. Our community might be able to help!
What is the best Gantt chart software for Mac?
Microsoft Project is a project management tool used by different types of users, with varying levels of access. The software provides tables, views, filters, fields, calendars, and a database for doing things like:
Many apps offer Gantt chart tools designed for Mac. Some useful options include GanttProject, Wrike, Monday, and OmniPlan 3.
Is there a Mac version of Microsoft Project?
While MS Project is incompatible with MacOS, you still have options for how to use Microsoft project on your Mac. Like most Microsoft-designed software, this particular tools was built specifically for Windows devices. However, Project Online web app is designed by Microsoft, comes with Microsoft 365 for Mac, and is fully functional project management software.
Not looking for project management software for Mac? Check out our other lists of other top project planning software:
Gantt charts are endlessly useful for project management leaders and their teams. Check out this list of my favorite Gantt chart tools.
Here's a post if you're looking wholly for a Microsoft Project alternative. I walk through the avenues you can explore: (1) Install something locally that is compatible with MacOS (2) Use a cloud-based project management platform (3) use a browser-based online app, like MS Project Online.
How do I get MS Project to work on Mac? Find answers in my article: Want Microsoft Project for Mac? Here Are Your Options
Quickly Compare & Evaluate The 10 Best Project Management Software for Mac
This section will help you quickly compare and evaluate the best project management Mac software and other Mac tools (like a task manager for Mac, the best to do list for mac, robust timeline maker for Mac, and so on).
Project Management Software for Mac Comparison Criteria
What are we looking for when we select tools for review? Here's a summary of my evaluation criteria:
User Interface (UI): Is it clean and attractive? Would it appeal to a user who is used to Mac's high level of aesthetic appeal?
Usability: Is it easy to learn and master? Does the company offer good tech support, user support, tutorials, and training? Is it easy to access anywhere through a phone app or a cloud platform?
Features & Functionality:
– Scheduling and allocation: simple calendars, grids, ability to set deadlines and dependencies, and easy drag-and-drop to move resources around. Auto-scheduling features are a great plus.
– Skills tracking: the ability to input employee schedules, create profiles listing their skills, and easily search by skills. Additionally, the better tools offer powerful search functionality that allows you to filter by essentially any project variable: tag, department, client, etc.
– Forecasting: the software collects data on sales, development, launches, schedules (etc) and makes resourcing recommendations to help you anticipate demands. The ability to measure and allocate resources with ease.
– Utilization management: usually takes the form of analytics and reporting features that give insight into capacity, utilization, and performance for projects, clients and individuals.
Integrations: How easy it is to connect with other project tools?
Value for $: How appropriate is the price for the features, capabilities, and use case? Is pricing clear, transparent and flexible?
Overviews Of The Best Mac PM Software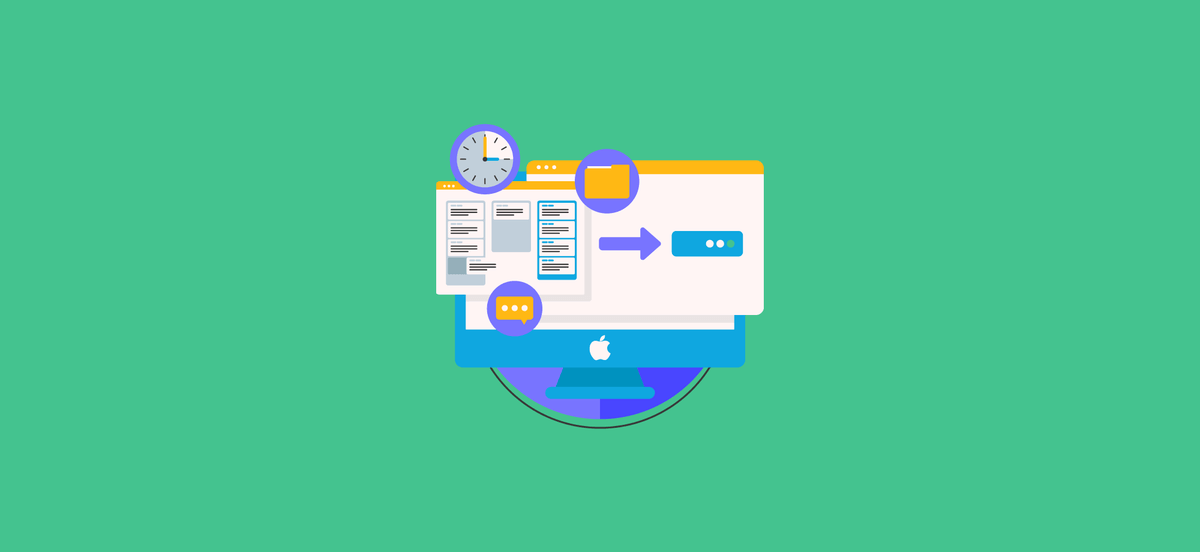 Here's a brief description of each of the project management apps for Mac that are featured on this top 10 list.
The Digital Project Manager is reader-supported. When you click through links on our site, we may earn a commission. Learn more.

1. monday.com – Visually appealing PM solution for Macs with a focus on communication and collaboration between team members and projects.
Monday is a colorful, flexible, jack-of-all-trades PM software that works on Mac as well as PC. Monday lets you pick from a variety of project templates in order to hit the ground running. They encourage customization, letting you use columns to capture and visualize all the info you need and nothing more. Team conversations, files, briefs, checklists, and sheets are all kept in a single location to foster easy collaboration.
In the Features and Functionality section of the evaluation criteria, I mention collaboration. Collaboration capabilities are vital to any successful PM app. No one does collaboration quite like Monday. It's easy and satisfying to contact team members, assign tasks, send and receive notifications, and share pages.
Integrations include DropBox, Excel, Google Calendar, Google Drive, Integromat, Slack, Trello and over a thousand more with a paid plan through Zapier.
Despite its bright and user-friendly look, Monday comes with a bit of a steep learning curve. This is partly because new features are frequently being pushed through, which adds training time when you need to figure them out.
Monday costs from $17/month for 2 users and offers a 7-day free trial.
2. ProjectManager.com – Fully featured, award winning project manager software for Mac features to plan, schedule and update in real-time.
ProjectManager.com is a well-rounded, award-winning project management software for mac used by some big names including NASA, Volvo, Brookstone, and Ralph Lauren. ProjectManager.com's cloud based software runs on both Windows and Mac computers with no downloads or complex installation needed.
This is a project management solution where you can simply plan projects, assign tasks, track progress and collaborate with teams easily. Using this tool, you can create project plans, manage tasks, create reports, and manage timesheets, expenses, and workloads. This Gantt chart application also provides a useful feature that lets you easily switch between views—between Gantt chart, task list, and Kanban board views. You can use in the in-app communication features to comment on tasks and assign to team members.
Their real-time reports are easy to use—get pre-set reports (project status, timesheets, expenses) in a single click, or set up your own custom reports. You can also use the real-time dashboard to get a glimpse of your current project stats. And you can use all of these features to schedule and report across multiple projects, as well.
ProjectManager.com integrations include native integrations with GoogleApps like Drive, Gmail, Calendar, etc. as well as Microsoft Office and Microsoft Project. For all other integrations, you can use Zapier to sync ProjectManager.com with other tools.
Pricing for ProjectManager.com starts at $15/user/month, with their basic "Personal" plan requiring a minimum of 5 users. They offer a 30-day free trial (a credit card is required to sign up for a free trial).
3. FunctionFox – Intuitive web-based project management software for mac with time and expense tracking, team collaboration, and powerful reports.
FunctionFox offers three different platforms with features that range from basic time tracking and estimating to project scheduling and gantt charts, to customized project intake forms. Whether you are a team of five or five hundred, FunctionFox has the tools to fit your business.
FunctionFox is entirely web-based and compatible with all up to date browsers, so users on both Mac and PC can work together seamlessly. FunctionFox allows for team collaboration through project scheduling, the allocation of specific tasks through action assignments and to-do lists and facilitates communication through the project blog. With their availability tool, you can monitor your team's capacity, and utilize everyone's time effectively.
FunctionFox is easy to use and made easier with the tutorials and support provided. Their Service Team provides dedicated onboarding in order to get you up and running, and all customer support is unlimited, ongoing, and included in your subscription cost. If you have account-related questions, or would like to review specific features, the customer success team can assist you over the phone, by email, or via scheduled webinars customized to your needs. Their website also includes a help center, and there are detailed help files included within the software itself.
A dedicated account manager is available to assist you with evaluating each FunctionFox platform, including reviewing features, answering questions, and looking at available customization options in order to best fit your business.
FunctionFox offers a Classic, Premier, and In-House platform. FunctionFox has a free 14-day free demo and starts at $5/user/month. Sign up for a free demo here.
4. Wrike – Csmart, professional project management app that works on Mac and handles anything from CRM to brainstorming to employee scheduling.
Used by companies like AirBnB, Version, Google, Hootsuite, Wrike is a name that you've probably heard before. Their robust feature list includes everything from employee scheduling, campaign management, issue tracking, CRM, collaboration functions, brainstorming, version control, and much more. They boast an offering of real-time reports, status for all of your team's projects, centralized communication with stakeholders for full-context support, all so that you can effectively manage and track your team's approach to work.
Wrike is hugely customizable, giving them top marks in the UI category, which you can adjust to suit any needs. For example, they have customizable dashboards so you only see the information that is pertinent to your immediate concerns. You can also build your own workflows tailored to specific projects and/or teams with remarkable ease.
Integrations include Salesforce, Tableau, MediaValet, MS Projects, Hangouts, Adobe Creative Cloud, Google Drive, Microsoft OneDrive, Gmail, GitHub, JIRA, and more.
Immediate notification of every completed task and subtask would be a huge asset to an otherwise superb collaborative PM platform for Macs. As it stands, ALL subtasks in a group must be marked complete before notifying the assigner. Small tweaks like this could make Wrike A+ software.
Wrike costs from $9.80/user/month and offers a freemium version for up to 5 users.
5. Project Online – cloud-based solution for Mac users that want the MS Project experience.
Project Online is a cloud-based version of MS Projects. While Microsoft asserts that they are different tools, you will still find many familiar features between them. Project Online provides built-in templates and familiar scheduling tools for anyone who has used Microsoft software for project management or adjacent tasks.
Task and time management features, resource tracking, visual task boards that support Scrum and Kanban, timesheet and invoicing management—Projects Online has everything you would expect from a PM app.
If you are looking for top-notch resource allocation and scheduling, then Projects Online is for you. I scored it favorably in the Features & Functions evaluation category specifically for this reason. Drag-and-drop capabilities make modifying schedules and resources easy, too.
Available app integrations include anything from the Microsoft software ecosystem, Power BI, Wrike, Celoxis, WorkOtter, Zoho Projects, Easy Projects, GanntPro, Premier, GamePlan, Replicon TimeBill, Meisterplan, Intellect, Genius Project, RationalPlan, Projectplace, and many more.
Projects Online, much like other Microsoft software solution packages, tends to be on the pricey side of things compared to other apps available on the current market. Furthermore, some nodes of the interface were cumbersome and challenging to master. These are a few cons that potential users should keep in mind.
Projects Online costs from $9/user/month and offers a 30-day free trial.
6. Tom's Planner – PM Software for Mac for those who need more than Excel, but less than comprehensive project management app suites.
Despite being so easy to use, Tom's Planner has a lot of depth. Create and share professional Gantt charts in minutes, zoom in to see who's doing what and when drag-and-drop to make changes quickly, view yearly or by-the-minute schedules, quickly filter and search, and more. With a professional plan, you can have unlimited collaborators and up to 20 live Gantt charts.
Tom's Planner takes the cake when it comes to our evaluation criteria for Usability. For proof, you can watch a tutorial video that shows a Gantt chart being made in 1 minute on their site. Furthermore, the software is simple enough that you only need basic computer knowledge to get started. If you can use Excel, you can use Tom's.
Integrations include Trello, WordPress, Basecamp, SharePoint, Atlassian Confluence, Microsoft Project, and Google Calendar. Tom's Planner also lets you export Gantt charts to Excel, MS Project, PDF, CVS, or image files. They also let you import projects to and from Trello, Basecamp, Excel, MS Project, and more.
Considering that Tom's Planner bills itself as "just enough", they charge about the same as many of the full service, in-depth PM options on this list. Despite being a solid app, this alone might push some users elsewhere.
Tom's Planner costs from $9.95/user/month and offers a 14-day free trial.
7. Teamwork – simple, straightforward project management software for Mac that boasts a high number of third-party integrations.
Used by the likes of PayPal, eBay, Forbes, and Disney, Teamwork focuses on a clean, bright, simple aesthetic that dynamic teams can get behind regardless of their tech familiarity. They put a focus on collaboration, making it easy for everyone to see what they're supposed to be working on, who they're working with, and what should come next. Switching between high- and low-level overviews lets you figure out what to prioritize and when. KPI measurements and advanced reporting help you assess the success or failure of every project.
The combination of their numerous and easy integrations and their user-friendly platform scored them highly in UX and Usability for our evaluation criteria. Teamwork is intuitive to pick up, highly scalable for small or large teams, and visually appealing for the discerning Mac user.
Integrations are numerous and include Google Chrome and GSuite, MS Projects, Gmail, HubSpot, Slack, Float, Harvest, FreshBooks Classic, Chatify, PieSync, and over a thousand more with a paid Zapier plan.
The invoicing system is limited and not as customizable as I work have liked, which is one of the few downfalls of the software. It would be nice to see ways to go in and modify minute details of invoice templates, rather than just relying on basic expense details.
Teamwork costs from $9/user/month and offers a 30-day free trial and has a freemium version for up to 5 users.
8. Rational Plan – portfolio management, collaboration, and resource management rolled into a Mac-friendly PM software that follows the PMBOK.
Project Online s a cloud-based version of MS Projects. While Microsoft asserts that they are different tools, you will still find many familiar features between them. Project Online provides built-in templates and familiar scheduling tools for anyone who has used Microsoft software for project management or adjacent tasks.
Task and time management features, resource tracking, visual task boards that support Scrum and Kanban, timesheet and invoicing management—Projects Online has everything you would expect from a PM app.
Rational Plan's pay-once licensing and a freemium version make it a standout pick in value for the price. For small teams, the free 2 user experience may be more than enough to satisfy needs. For companies wary of subscriptions or ongoing contracts, a one-and-done payment method is refreshing.
With Rational Plan, you can open and edit any version of Microsoft Project files. It also integrates well with Google Drive, Dropbox, and Google Calendar.
The primary con is that the integrations list leaves much to be desired. While MS Project compatibility is great, it would be nice to seem some other helpful tools on this list like Slack, Trello, QuickBooks, and so on.
Rational Plan costs from $70 per license and offers a freemium version for up to 2 users with a maximum of 2 projects.
9. GanttProject – Free Gantt chart software providing Gantt chart Mac tools like tasks, milestones, task trees, and project baseline measurements.
This project management software for Mac is completely free and boasts an assertive feature list considering. You'll find start date and duration for tasks, priority and cost indicators, color and fill patterns for organizational flair, Gantt and PERT charts, monitors for bottlenecking, exporting to PDF and JPEG files, and more. Use WebDAV servers with locks support for concurrent work on the same project and store/share projects amongst your team in the cloud.
GanttProject is free, functions well for what it is, and is universal in that is meshes with MS Project and CSV files, which is why I marked it highly on the evaluation criteria for Value for Price. After all, there is no price that beats "free." While it may not have the complexity of larger, paid programs, it gets the job done well for smaller teams.
If you are looking for easy integration with your favorite PM software, you may want to gander elsewhere. Because GanttProject is primarily free, integrations will have to come through third-party developers—or you can try your hand at building your own code contributions to handle this.
Other than the lack of integration options, some cons to GanttProject include weak reporting features, poor resource allocation and analysis (bars track time spent but not other useful indicators), and collaboration tools could definitely use some beefing up.
GanttProject is free to use, although you can pay to support the project if you so choose.
10. Fast Track Schedule – Scheduling tool for both PC and Mac; great for anyone who needs PM collaboration among users with different devices.
FastTrack Schedule has a sleek interface, powerful planning tools, and eye-catching reports for various tracking needs. The UX allows you to simply click-and-drag to enter and organize tasks, deadlines, and assignments. It's also incredibly easy to consolidate multiple projects into a master schedule. Best part: Mac users can collaborate with team members who use PC so long as they are running the compatible Windows version of FastTrack Schedule.
Easy industry-specific FastTrack Schedule templates, video tutorials, webcasts, training sessions, a product-focused blog, and a robust help center are what poised FastTrack Schedule favorable in the evaluation criteria for Usability. Additionally, they have 1-minute video tutorials for many functions, like exchanging data with MS Project or customizing bar styles and labels.
FastTrack integrates well with other Windows and Apple apps. Exchange data with Outlook, Excel, Apple Calendar, MS Project, and databases.
As you'll see above, one of the cons of the software is that is doesn't seem to offer integration with other popular project management tools, like Slack, Asana, and so on. For some, this may not matter; for others, it may be a deal-breaker.
FastTrack Schedule costs from $349 for a standard license and offers a 21-day free trial.
Summary Of The 10 Best Project Management Software For Mac
Know Any Other Good Project Management Software for Mac?
My personal favorite tools are listed above but I am always interested in hearing what the community uses for their Mac-oriented PM software. Let me know what you think of our selection in the comments below; or, drop a link to your favorite MacOS PM software and let me know why you love it.