What is the best marketing project management software to keep your agency running smoothly? Creative agencies, in-house digital teams and studios all have one thing in common – pumping out the best creative work. But how do you manage the workflow efficiently? What tools can you use to help the process and produce better work, and stop people getting all tied up with painful project administration?
Jump straight to the best marketing project management software tools
Wouldn't it be great if you could find the perfect marketing project management software that can handle everything in your agency? The perfect marketing project management software tool is a more than just a one trick pony, it does everything, replacing the slew of other SaaS tools you rely on.
Take a moment to think about how many project management tool subscriptions you're paying out each month. I bet you're using time tracking tools like Toggl or Timedoctor, project management tools like Basecamp or Asana, project communication tools like Slack or Hipchat, reporting tools like Forecast.it, resourcing tools like Resource Guru, Hubplanner or 10,000ft, and finance tools like Quickbooks. You're probably paying thousands of dollars a month for all your different tools – and they're probably not all working together very well, requiring copying and pasting of the same data across different tools. It's easy to see why just having one tool might be a good idea – but are any of them actually any good?
We decided to take a closer look to find the best creative agency project management software and agency project management tools on the market, and see which ones deliver the goods. If you're looking for one project management tool to rule them all, you need a tool that you can use for everything – from brief to final invoice, you want everything to be contained within the same system so that you don't need to worry about disconnected data points. To enable this holistic view of projects and process, to be included on this list, the marketing project management software that we reviewed had to cover at a minimum, the following functionality:
Time and expense tracking – from quoting to keeping track of hours spent on a project
Project management – enabled with task management and team collaboration tools
Reporting dashboards – easy to see where a project (and the agency) is at with budget, timelines and invoicing
Resource management – making sure you're not understaffing or overstaffing one area of a project
Invoicing – turning project reports into invoices and estimates
Integrations – easily able to work with third-party applications, like accounting software
Below, we review the best marketing agency project management software that we've come across.
Note: if you're looking for marketing software instead of marketing PM software, here's a useful resource: 15+ Best Marketing Software for Your Small Business (2018)
10 Marketing Project Management Software Tools
In this review of the best marketing PM software, we've taken a detailed look at these 10 tools:
Synergist – https://www.synergist.co.uk/
Ravetree – https://www.ravetree.com/
10,000ft – https://10000ft.com/
Clarizen – https://www.clarizen.com/
Admation – https://www.admation.com/
Hive – https://hive.com/
Trigger – https://www.triggerapp.com/
FunctionPoint – https://functionpoint.com/
Workfront- https://www.workfront.com/
Projector PSA – https://www.projectorpsa.com/
Here's Some Of The Best Marketing Project Management Software:
Synergist is a UK based end-to-end agency management system used by leading agencies / in house departments of between 15 and 600 users. Synergist is renowned for its outstanding customer service and its ability to deliver total project visibility and control. It delivers on all the core needs of an agency, but has particular strengths in staff scheduling and work planning.
Coupled with Synergist's flexibility it ensures work flows smoothly through all departments. Project financials are also a strength with clever drag and drop reporting tools along with visual dashboards. Available in the cloud or on premise, it has an intuitive browser UI, native Android / iOS apps, integration to many accounts systems and an extensive API. Choose Synergist if you want a comprehensive and flexible agency management system that will quickly meet your core needs, but scale to support your growth.
Score: 9.0
Ravetree is a full-featured work management software platform used by agencies around the world. Ravetree includes best-in-class project management, resource planning, time & expense tracking, digital asset management, and CRM. Agencies benefit from having a single source of truth from which they can optimize their operations and easily see the big picture.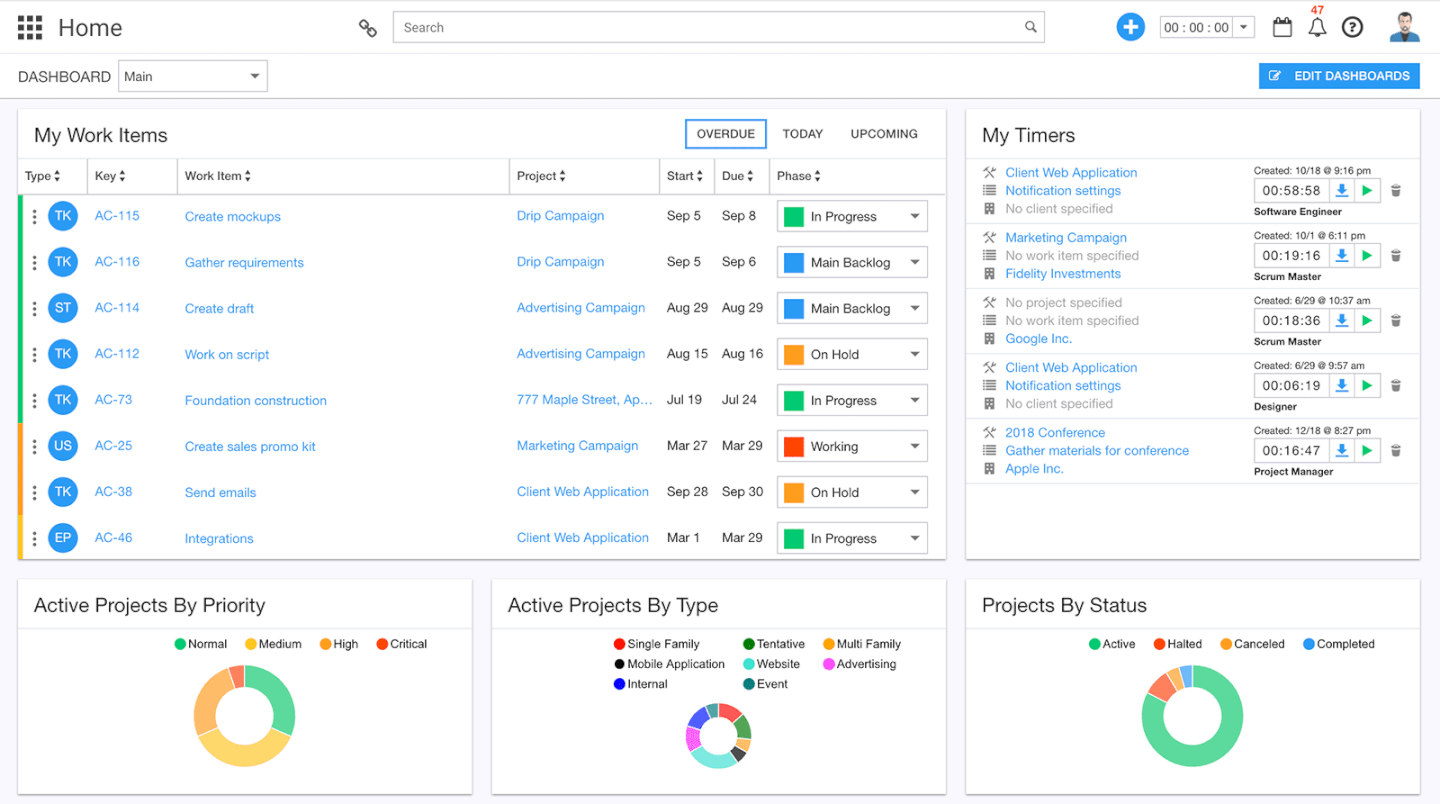 A full array of advanced features are offered including granular permissions roles, customizable notifications, automated alerts, project budgeting, custom fields, custom tables, powerful filtering, and much more. One thing that sets Ravetree apart is the highly intuitive interface that allows users to easily find information, whether it's project managers, executives, or team members. Additionally, Ravetree has a 5-star customer support rating, and takes pride in being a customer focused company, as opposed to being sales-driven.
Score: 9.0
10,000ft brings a refreshingly simple yet powerful approach to project management and resource scheduling. Unlike most tools in its class, 10,000ft helps your team make confident operational decisions without the overly complicated processes or steep learning curve. The value of the tool is centered around a handful of powerful and interconnected features: project planning, resource scheduling, utilization reporting, time tracking, task management, and project analytics reporting.
For integrations,10,000ft connects well with internal workflows and software suites. They provide a flexible API and Zapier integration that can connect with top operational tools for analytics, communications, PM, ERP, and finance.
Considering the support level, feature set, team scalability, and ease-of-use, 10,000ft is very well priced against other top tools in the industry. Their pricing plans start at $15/user/month for smaller teams, and they offer a Pilot program, as well as customized Enterprise pricing for larger teams.
Companies who use 10,000ft range from 10-person shops, to 100-person teams within global brands, to 1,000+ person professional services firms. Some of the notable companies within their user base include Ogilvy, Edelman, Twitter, Swift, and Media Monks.
Visit 10,000ft.com to learn more about their software and sign-up for a free trial.
Score: 9.8
A lot of marketing teams with the best of intentions have not experienced digital transformation success. That's because marketing projects are difficult to manage and often plagued by issues that include: misaligned teams, a lack of visibility and working in multiple ad hoc systems. Overcome these obstacles, manage work and collaborate across the enterprise—all from Clarizen's single, intuitive cloud-based solution.
Clarizen's leading work management solution offers a 360 degree view of projects, greater efficiency through automation and the ability to adapt to your business processes.
Real-time Control: Control your marketing project management, business systems and processes
Business Intelligence: Centralize all activities and gain real-time status on the status of marketing campaigns and projects
Enterprise-wide Transparency: Give your team a "single source of truth" so they can make smarter, faster decisions
Up your team's game and stay competitive with a modern work management that enables a successful marketing digital transformation.
Score: 10
Admation is a project management software made for marketing teams and agencies that want the benefit of multiple features rolled into one comprehensive tool. Combining project, resource and approval workflow management, Admation enables users to manage the full production cycle of their campaigns, from project set up to resourcing to managing the entire approval workflow.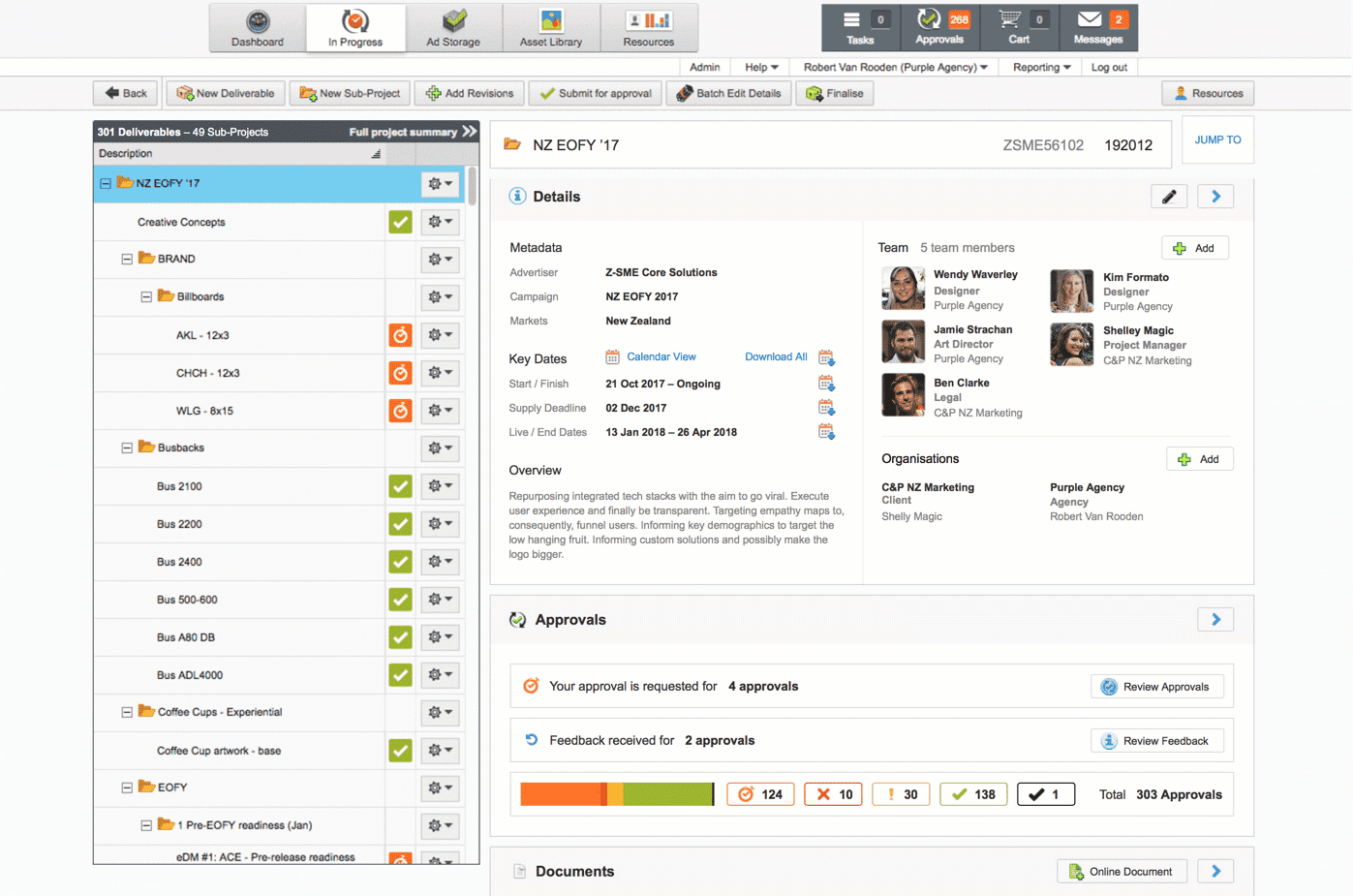 With a user-friendly interface, Admation offers an exceptional range of features and tools. A central dashboard enables you to have complete visibility over your projects and resources, while offering an intuitive framework from which to manage all facets of your work. Brief projects, allocate tasks, manage resources, set approval pathways, manage stakeholder feedback and collaborate more effectively. Admation has an integrated DAM feature for securing all your brand assets and files. Reporting tools deliver the data you need to track and monitor your campaigns.
Score: 9.5
Hive is a project management and collaboration platform that powers companies like Starbucks, Uber, WeWork and IBM. With AI-based analytics, thousands of integrations, flexible project views, and more, Hive streamlines your work in one centralized platform. Used by teams of varying sizes, from 10 people to 1,000, Hive is a great option for a diverse range of companies and work styles.
Hive's time-tracking, analytics and flexible view capabilities allow for transparent understanding of other team-members work and upcoming projects. Choose Hive if you're in the market for a well-laid-out, comprehensive tool that can be scaled up or down based on team needs.
Score: 9.5
Trigger is a very affordable and powerful agency project management tool. Trigger tracks time, manages projects, helps analyse results, and then make sure you get paid with integrations with different accounting tools. This one ticks all the boxes, including project planning and resource allocation, budget and expense tracking, time tracking, collaboration and quick and easy invoicing. Choose trigger for it intuitive and easy-to-use design – and if you want to integrate with other tools like Slack, Zapier, Dropbox, Google Apps or Xero (among many others).
The tool is designed to help improve productivity and streamline your agency's workflow processes, especially when it comes to collaboration, allowing both clients and agency staff to communicate on projects via the platform. It integrates well with other platforms and, because it functions online, can be accessed from anywhere, anytime.  Trigger is provided as free marketing project management software for teams of up to three – so if you're small, it's a great choice.
Score: 9.5
Function Point is a project management software tool built primarily for the needs of digital agencies and the creative industry. Function Point is used by more than 600 agencies including Ogilvy and gives you a good overview of what's happening across your team and tasks.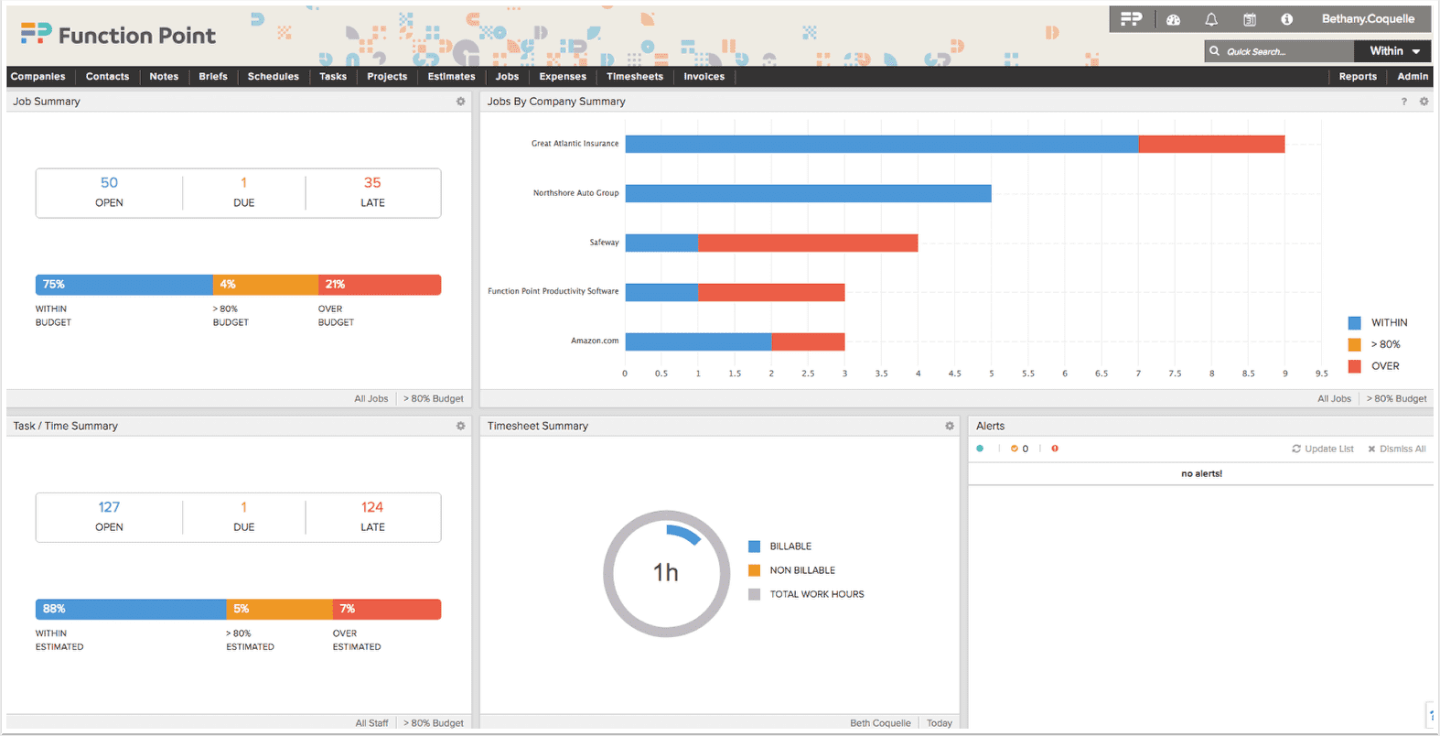 Function Point covers off all of our functionality requirements fully with a tool that includes an all-in-one cloud based workflow for project and task management, traffic and resourcing, project accounting, analytics and insights, and collaboration tools, making it a complete all-rounder. The collaboration tools are excellent, with creative project management, comments and changes happening directly on the platform. Choose Function Point for its slick interface, full features and simplicity of use (including mobile apps) but beware that it doesn't support integration with other systems.
Score: 9.0
Workfront is online project management software designed for agencies, IT teams, service teams, marketing teams and for collaboration between these, internal and external clients. The software allows for full project management, client service, task tracking and prioritisation.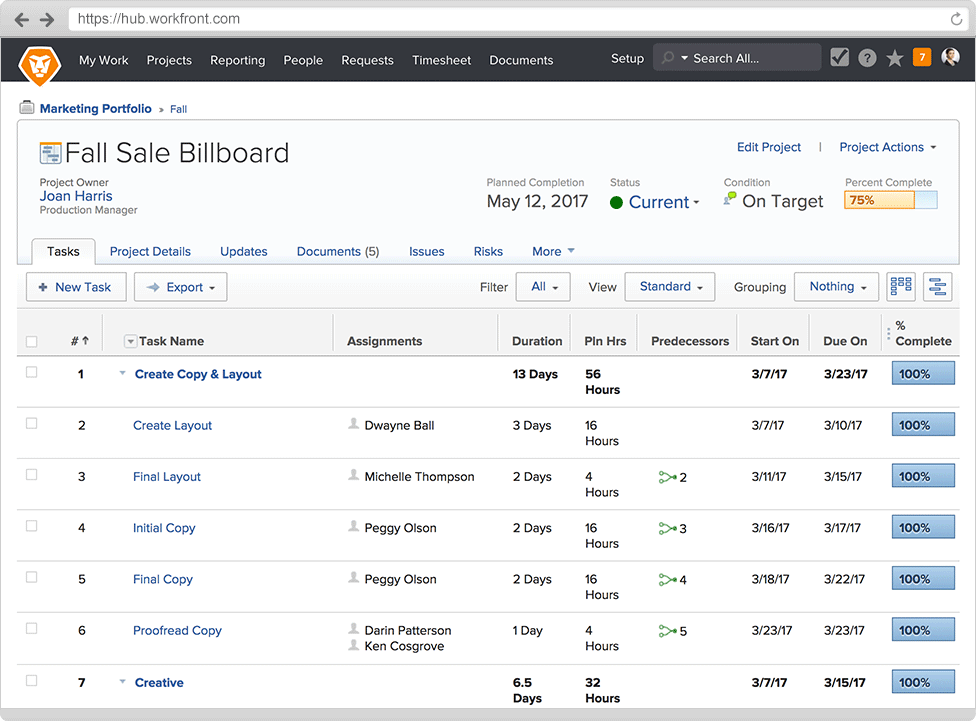 The platform also provides for use of custom data to track projects and related information. Workfront is quite layered, and takes some time to explore all the various aspects. This complexity, however, gives it incredible flexibility. Choose Workfront for an all-in-one solution.
Score: 8.0
Projector's cloud-based professional services automation software is not just designed for creative agencies, but for all professional services organisations. The software is available in various standalone or integratable modules – project accounting, resource scheduling, advanced analytics, and project management.
It's an easy to use platform, although the interface can be somewhat complex and takes some time to fully appreciate. The company offers a range of customer support options, and the software integrates easily with several platforms, including QuickBooks, Salesforce, Intacct, Dynamics GP and MS Project. Choose Projector PSA for its easy integration with other platforms.
Score: 9.0
Summary Of  The Best Marketing Project Management Software
It's easy to be overwhelmed by the baffling array of marketing project management software tools out there. Below, we've put together a reader-friendly table neatly summarizing basic info about the tools described in this article. We've investigated the pricing and availability of free trials and demo versions for you to make a side-by-side comparison that much simpler.
Other Marketing Project Management Software
If you've checked out the list of marketing project management software above and not found anything that works for you, we've found a few other agency project management software solutions you might want to check out.
From simple tools that provide a few quick solutions, to complex products that take some time to fully explore, marketing project management software options are plentiful, which can make choosing one complex. Our suggestion? Look carefully at each product's features and work out which one has the Goldilocks factor for you. Where there is a demo or trial available, we recommend booking it to make absolutely sure the product works for you.