What is the best marketing project management software to keep your agency running smoothly? Creative agencies, in-house digital teams and studios all have one thing in common: pumping out the best creative work. But what tools can you use to produce better work and stop people getting tied up with painful project administration?
Looking for a project management solution to help you manage projects in your marketing department, digital marketing agency, or creative studio?
We decided to take a closer look to find the best creative agency project management software and agency project management tools on the market, and see which ones deliver the goods.
Best Marketing Project Management Software Shortlist
In this review of the best marketing PM software, we've taken a detailed look at these 10 tools:
Below you'll find an overview of these tools, with screenshots, feature overview, pricing and our score.
Jump to the software overviews
Marketing PM Software Basics
Functions that marketing PM software performs
In a marketing context, project management software can help teams plan, communicate, and track projects, all the way from briefing through delivery. They often provide features for project and resource planning, client management, team collaboration, invoicing, time tracking, and reporting.
3 benefits of software for marketing teams
Streamline your invoicing with estimation and billing tools that clients can access
See a big picture view of your team's capacity to prevent overbooking
Keep files and documents in a shared place where it's easy for the team to collaborate, get feedback, and see progress
Types of teams who use marketing PM software
It's common to use marketing PM software in:
In-house marketing departments
Marketing agencies
Content marketing agencies
Digital marketing agencies
Branding firms or studios
Design firms or studios
Advertising agencies or firms
Team like these use marketing project management software to plan marketing campaigns for product launches, run marketing campaigns for clients, manage in-house marketing activities, plan advertising campaigns, and more.
Just realized that you're not looking for marketing project management software? Have a look at other useful tools:
Criteria For The Best Marketing Project Management Software
The perfect marketing and project management software tool should be more than just a one trick pony—it should help replace the slew of other SaaS tools you rely on.
Think about how many subscriptions you're paying out each month. I bet you're using:
You'll pay thousands of dollars a month for these tools—and they often don't work together well, requiring copying and pasting of the same data across different tools. Having one tool might be a good idea—but are any of them any good? If you're looking for one project management tool to rule them all, you need a tool that you can use for everything.
So, when I reviewed the marketing project management software out there, I not only looked at their user interface, usability, and integrations, but also for the following functionality:
Time and expense tracking – from quoting to keeping track of hours spent on a project
Project management – enabled with task management and team collaboration tools
Reporting dashboards – easy to see where a project (and the agency) is at with budget, timelines and invoicing
Resource management – making sure you're not understaffing or overstaffing one area of a project
Invoicing – turning project reports into invoices and estimates
Note: if you're looking for marketing software (tools that help you manage your marketing campaigns themselves) instead of marketing PM software, I'd look here: 15+ Best Marketing Software for Your Small Business (2018).
The Digital Project Manager is reader-supported. When you click through links on our site, we may earn a commission. Learn more.
10 Marketing Project Management Software Tools
The Best Marketing Project Management Software Overviews
Below, we review the best marketing agency project management software that we've come across.
monday.com – Award-winning, visually intuitive tool for planning, tracking, and collaborating on projects.
monday.com is a great marketing project management software because of the way the tool has done away with a lot of the trimmings of typical management tools and focused on simple, visually intuitive layouts that help clarify the sequence of work.
monday.com features for managing marketing projects include resource and project management modules with some great collaboration tools. For example, users can upload and attach files to cards, make comments, mention teammates, and more. It also offers a great project reporting dashboard that can collect data from multiple boards, allowing better tracking abilities of progress. And while monday.com doesn't offer a complete set of tools for project accounting and invoicing solution as other tools, you can use monday.com to track hours, timelines, and invoices.
Overall, it's a highly customizable tool that lets you work in whatever methodology—kanban or otherwise—that fits your project and team. You'll also find some useful workflow tools for automating parts of your process.
monday.com's integrations include project management apps like Slack, Google Drive, Gmail, Google Calendar, Jira, GitHub, Trello, Dropbox, Typeform and many more, accessible via Zapier.
monday.com costs from $17/month for two users. The company's customer support is available 24/7 by phone or email.
Features & Functionalities Rating:
FunctionFox  – Simple online PM tools created by an ad agency for ad agencies, creative teams, and PR, digital, and marketing firms.
FunctionFox  Simple online timesheet and project management tools created by an ad agency for advertising agencies, graphic designers, PR, digital, marketing firms and in-house creative teams. FunctionFox offers an affordable and powerful way to stay on top of essential administrative activities – one that is simple to set up, easy-to-use, and highly effective. Track all your projects accurately from concept to completion, collaborate on work, increase profits, and best of all – free up more time so you can stay creative.
FunctionFox is loved by small firms and Fortune 500 companies worldwide for being easy to use – and the 5-star service and free expert advice. Easily manage and track multiple jobs, budgets and resources with on-demand, actionable reports. Boost your productivity and profitability. FunctionFox has a free 14-day free demo and starts at $5/user/month.
Features & Functionalities Rating:
VOGSY – Sophisticated but simple professional services automation built in the Google Cloud, a natural extension to G Suite.
VOGSY helps marketing teams and agencies take control of their projects with a single, accessible platform. Built for Google's G Suite, VOGSY's intuitiveness helps teams get the job done without weighing them down. You can plan projects and resources, manage milestones and deliverables, communicate across teams, track time and expenses, manage contractors, automate invoice creation and more. With clearer visibility, you can deliver more projects on time and on budget.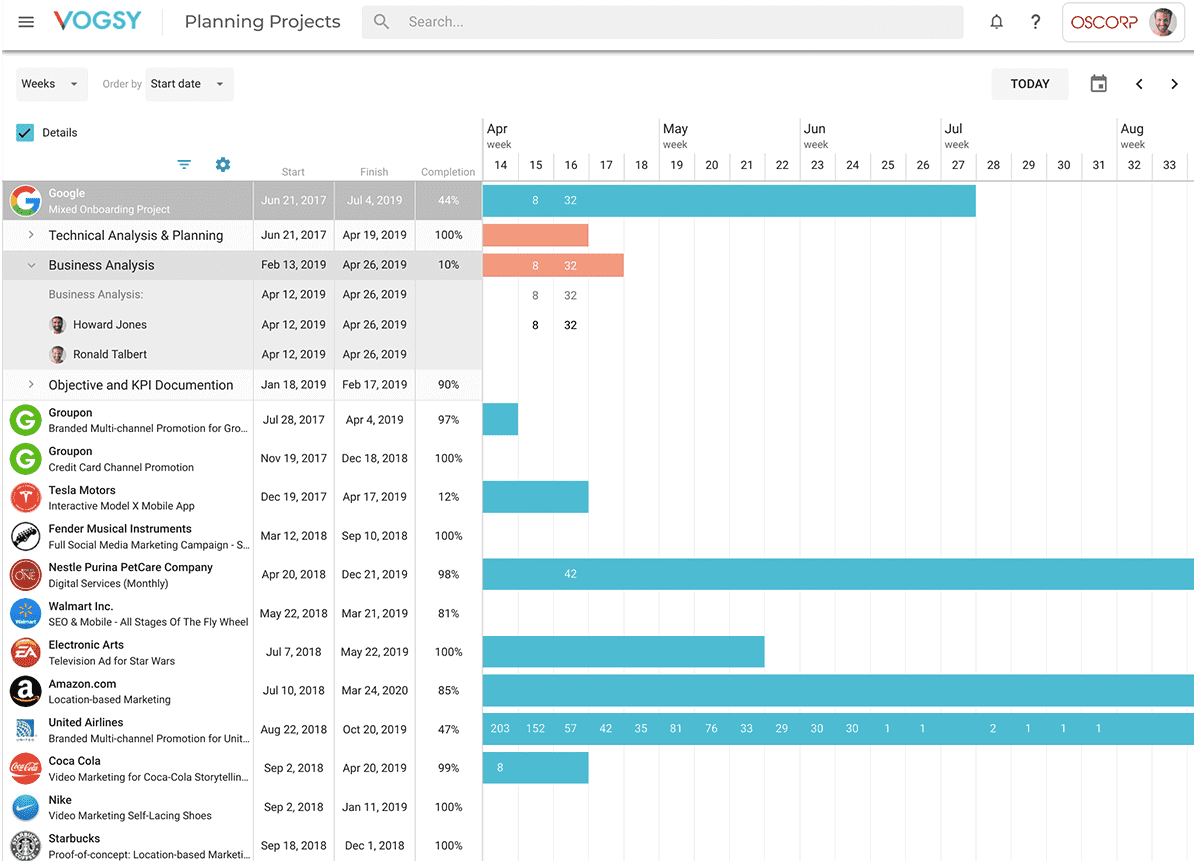 VOGSY brings all project fundamentals under one roof and provides real-time insights across the business. It's a breeze for executive, finance, operations, sales and project teams to get a 360-degree view of the business, streamline project management and drive desirable outcomes. At only $19 per user per month, VOGSY can transform your projects without driving up your costs.
Features & Functionalities Rating:
Clarizen – Fully-featured enterprise software to manage your entire agency process with portfolio, resource, and workflow tools.
A lot of marketing teams with the best of intentions have not experienced digital transformation success. That's because marketing projects are difficult to manage and often plagued by issues that include: misaligned teams, a lack of visibility and working in multiple ad hoc systems. Overcome these obstacles, manage work and collaborate across the enterprise—all from Clarizen's single, intuitive cloud-based solution.
Clarizen's leading work management solution offers a 360 degree view of projects, greater efficiency through automation and the ability to adapt to your business processes.
Real-time Control: Control your marketing project management, business systems and processes
Business Intelligence: Centralize all activities and gain real-time status on the status of marketing campaigns and projects
Enterprise-wide Transparency: Give your team a "single source of truth" so they can make smarter, faster decisions
Up your team's game and stay competitive with a modern work management that enables a successful marketing digital transformation.
Features & Functionalities Rating:
Ravetree – Award-winning project management system for creative and digital agencies.
Ravetree is a full-featured work management software platform used by agencies around the world. It includes best-in-class project management, resource planning, time & expense tracking, digital asset management, and CRM. Agencies benefit from having a single source of truth from which they can optimize their operations and easily see the big picture.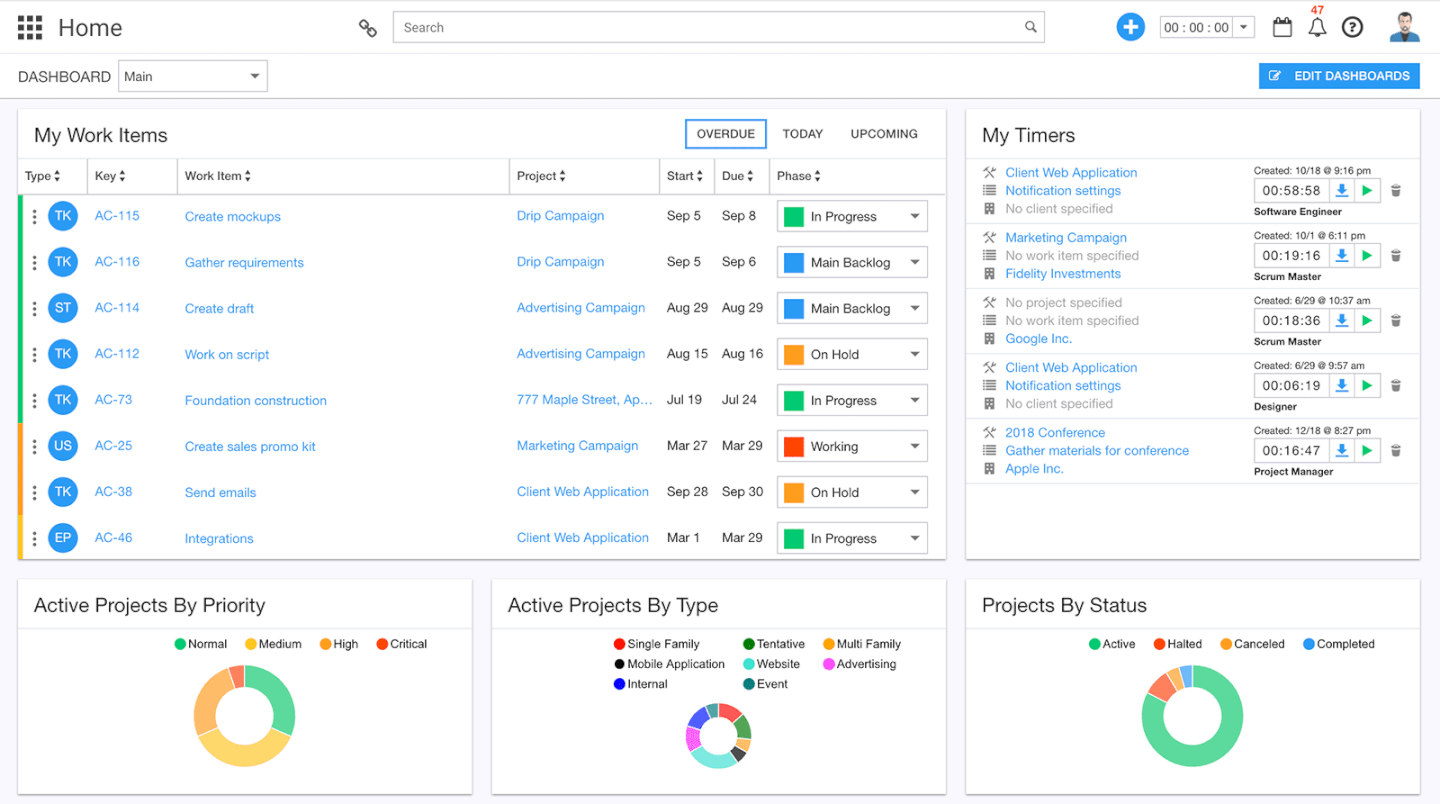 A full array of advanced features are offered including granular permissions roles, customizable notifications, automated alerts, project budgeting, Gantt charts,  fcustom fields, custom tables, powerful filtering, and much more. One thing that sets Ravetree apart is the highly intuitive interface that allows users to easily find information, whether it's project managers, executives, or team members. Additionally, Ravetree has a 5-star customer support rating, and takes pride in being a customer focused company, as opposed to being sales-driven.
Features & Functionalities Rating:
Hive – Highly adaptable project management and collaboration software used by small teams of 10 up to Fortune 500s.
Hive is a project management and collaboration platform that powers companies like Starbucks, Uber, WeWork and IBM. With AI-based analytics, thousands of integrations, flexible project views, and more, Hive streamlines your work in one centralized platform. Used by teams of varying sizes, from 10 people to 1,000, Hive is a great option for a diverse range of companies and work styles.
Hive's time-tracking, analytics and flexible view capabilities allow for transparent understanding of other team-members work and upcoming projects. Choose Hive if you're in the market for a well-laid-out, comprehensive tool that can be scaled up or down based on team needs.
Features & Functionalities Rating:
10,000ft – Robust, affordably-priced PM software that's easy to learn and scale, from 10 person shops to enterprise level
10,000ft brings a refreshingly simple yet powerful approach to project management and resource scheduling. Unlike most tools in its class, 10,000ft helps your team make confident operational decisions without the overly complicated processes or steep learning curve. The value of the tool is centered around a handful of powerful and interconnected features: project planning, resource scheduling, utilization reporting, time tracking, task management, and project analytics reporting.
For integrations,10,000ft connects well with internal workflows and software suites. They provide a flexible API and Zapier integration that can connect with top operational tools for analytics, communications, PM, ERP, and finance.
Considering the support level, feature set, team scalability, and ease-of-use, 10,000ft is very well priced against other top tools in the industry. Their pricing plans start at $15/user/month for smaller teams, and they offer a Pilot program, as well as customized Enterprise pricing for larger teams.
Companies who use 10,000ft range from 10-person shops, to 100-person teams within global brands, to 1,000+ person professional services firms. Some of the notable companies within their user base include Ogilvy, Edelman, Twitter, Swift, and Media Monks.
Visit 10,000ft.com to learn more about their software and sign-up for a free trial.
Features & Functionalities Rating:
Workfront – Work management software designed to streamline workflows in agencies and marketing, service, and IT teams.
Workfront is online project management software designed for agencies, IT teams, service teams, marketing teams and for collaboration between these, internal and external clients. The software allows for full project management, client service, task tracking and prioritisation.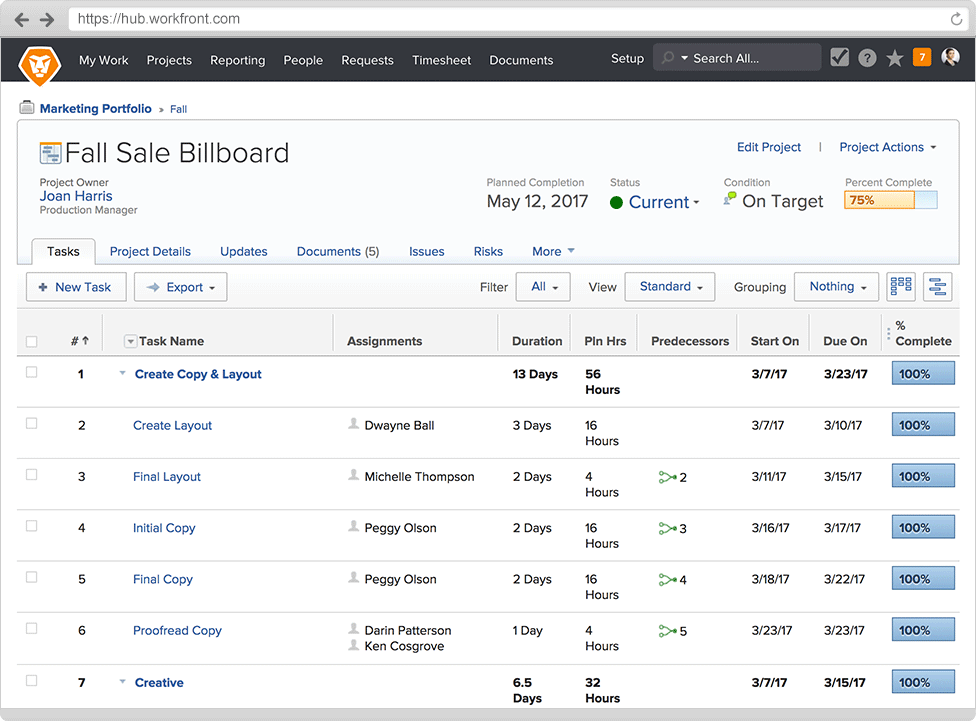 The platform also provides for use of custom data to track projects and related information. Workfront is quite layered, and takes some time to explore all the various aspects. This complexity, however, gives it incredible flexibility. Choose Workfront for an all-in-one solution.
Function Point is a project management software tool built primarily for the needs of digital agencies and the creative industry. Function Point is used by more than 600 agencies including Ogilvy and gives you a good overview of what's happening across your team and tasks.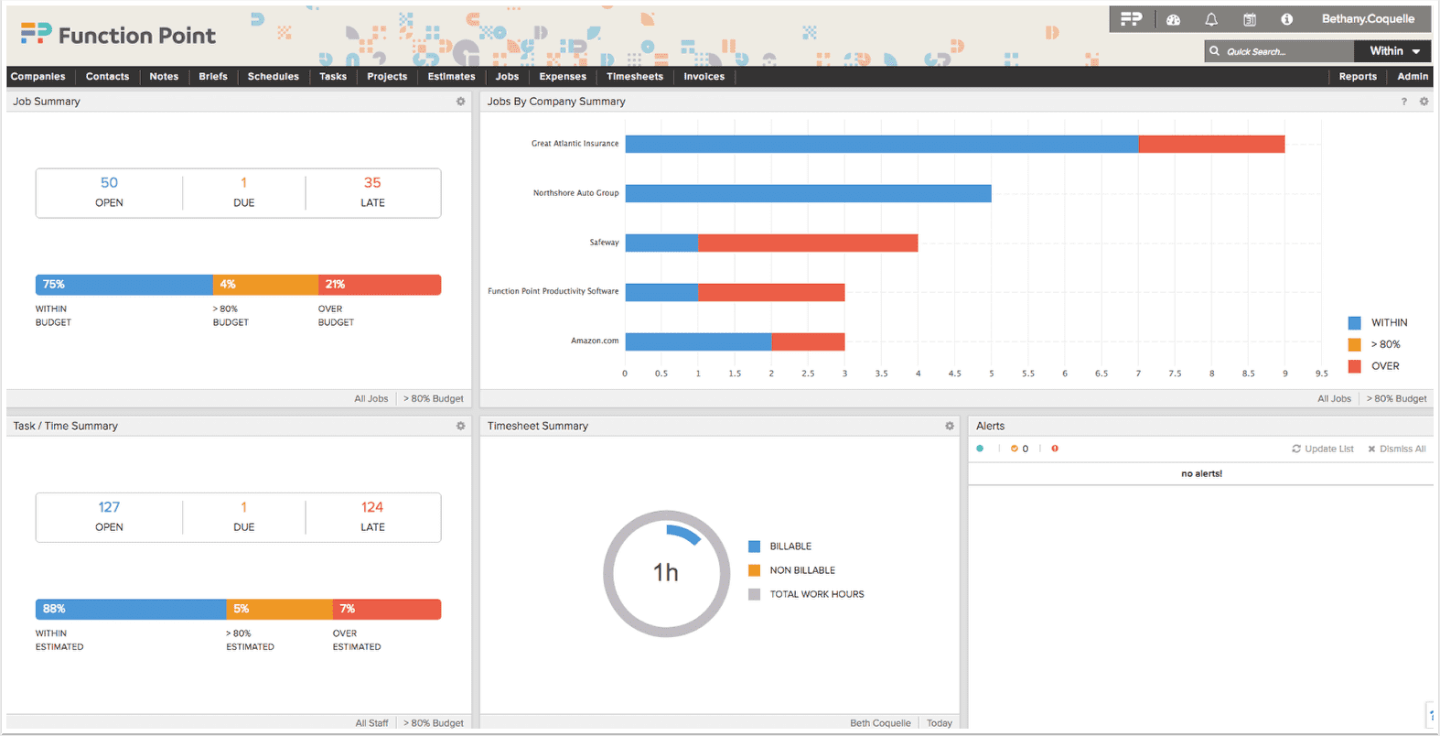 Function Point covers off all of our functionality requirements fully with a tool that includes an all-in-one cloud based workflow for project and task management, traffic and resourcing, project accounting, analytics and insights, and collaboration tools, making it a complete all-rounder. The collaboration tools are excellent, with creative project management, comments and changes happening directly on the platform. Choose Function Point for its slick interface, full features and simplicity of use (including mobile apps) but beware that it doesn't support integration with other systems.
Score: 9.0
DoneDone – Simple issue tracking tool wrapped up with a customer support help desk, task tracking, and workflow management features all in one.
DoneDone is the no-nonsense marketing project management app for teams that want to get things done.
Users access a sleek dashboard that displays all projects, tasks, docs, files – and most importantly – statuses and due dates. Marketing teams can keep track of ad campaigns, website projects, SEO campaigns, video creation, events, and just about anything else you can dream up. You can even create Custom Workflows and Statuses to save you time and energy while creating recurring tasks.
You can assign and reassign tasks to anyone within a project. DoneDone also has a mobile app and pre-built integrations with other applications such as Slack and Glip.
Create projects and unlimited tasks manually in a few simple steps. Tasks can also be automatically created by external parties via DoneDone's "Mailboxes" feature. Mailboxes automatically create tasks in DoneDone when your customers submit web forms or send emails to an email address of your choice (such as help@yourcompany.com). This is great for gathering external feedback.
The app has just about everything most teams need for day-to-day marketing management, yet DoneDone is still known for its simplicity. It's robust enough to handle complex projects and simple enough that it can be used by non-technical employees.
DoneDone starts at $5/user/month. They offer a 20% discount for annual plans.
Features & Functionalities Rating:
Summary Of  The Best Marketing Project Management Software
It's easy to be overwhelmed by the baffling array of marketing project management software tools out there. Below, we've put together a reader-friendly table neatly summarizing basic info about the tools described in this article. We've investigated the pricing and availability of free trials and demo versions for you to make a side-by-side comparison that much simpler.
Other Marketing Project Management Software
If you've checked out the list of marketing project management software above and not found anything that works for you, we've found a few other agency project management software solutions you might want to check out.
Want Help Narrowing Down the Options?
This tool is pretty useful. We've partnered with Crozdesk to give you access to their "Software Finder".
If you input some of the details about your project and the features you're looking for in a project management tool, it will generate a list of tools that match your preferences. You provide your email, and they send over a nice PDF guide with a summary of your best matches.
From simple tools that provide a few quick solutions, to complex products that take some time to fully explore, marketing project management software options are plentiful, which can make choosing one complex. Our suggestion? Look carefully at each product's features and work out which one has the Goldilocks factor for you. Where there is a demo or trial available, we recommend booking it to make absolutely sure the product works for you.