Digital project management is a term that's increasingly thrown around but what is it exactly?
Is digital project management simply a project management specialism? Or does it describe something that's simply akin to project management, IT project management and software project management, but it is really the same thing?
It's been nearly five years since I started this digital project management blog, and although I've offered my 2 cents before on the role of a digital project manager, I've yet to make a distinction as to what I really mean by digital project management. After reading Michael Wood's interesting article, The Digital PM: Specialization Within the Profession? I thought I would write to clarify what I mean when I talk about digital project management.
What is digital project management?
Without wanting to offer too much of a tautological definition, I think that digital project management is making stuff happen in a digital world.

What is digital and 'a digital world'?
For that to be a useful definition, let's first clarify what we mean by 'digital'. This one's a bit nebulous – it's hard to wrap your head around because it's constantly evolving. In the 10 years that I've been working in the industry, while I've always been working in digital project management, the types of projects I've been working on have evolved as technology and consumer behaviour has evolved.
So 'digital' can be understood quite broadly. With reference to digital project management, and the agency or studio world that we live in – if what we're delivering is online, involves pixels, megabytes, and data, then it's probably digital. Digital projects use the internet and web technologies to deliver anything from websites to mobile apps, videos to games, eCommerce to emails, social media campaigns to search engine optimization (SEO), rich media advertising to digital outdoor advertising; We deliver projects in a connected, online world where brands and organizations interact directly with customers.
What is 'making stuff happen'?
In our digital context, 'making stuff happen' is in part classic project management – the planning, organizing and motivating of resources and processes to deliver a project – it's leading a team of people and enabling them to work together to create things.
But it can be a much broader role than a classic PMI project manager role – as a digital project manager, our role is more than simply managing facillitating a team to deliver a project; we often take more of a leadership role on a project, managing clients directly, maintaining the strategic direction of a project, owning the customer experience, and making sure we're cultivating a project that's going to deliver results. Digital project management happens in matrix organizations where we're responsible for the output, and managing the project, but not directly line managing the team.
It's a complex role which requires a unique skillset. The job requires an understanding from a strategic perspective of why you should do a project, what technology could be used to achieve it, what it could look like, how it could work, and importantly, how much it will cost and when it could be delivered. We tend to be digital specialists, but a jack of all trades when it comes to understanding digital strategy, customer experience, user experience, business analysis, design, copywriting, SEO, development, QA, and analytics.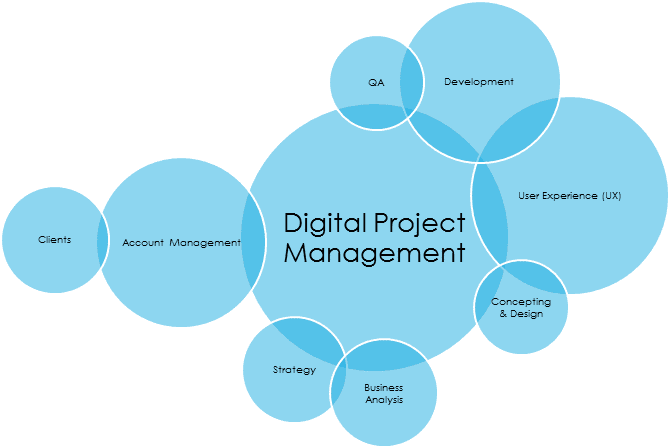 Digital project management is strategic and delivery focussed; as digital project managers, managing digital projects, we're experts in a digital world. Our goal is to find solutions and work out how can we resolve a client need or customer challenge.
So bringing those two elements together – digital + project management – digital project management is the leading, planning, organizing, motivating and delivery of web-enabled projects which use the internet and delivered through screens or connected devices – often within digital agencies, studios, or internal web teams.
Isn't digital project management just the same as IT project management?
There can be a lot of overlap between digital project management and IT project management. Both types of projects can deal with large, complex, technical builds. I'd suggest, (though not exclusively), that IT project managers, working for example for a bank, typically deal more often with enterprise-grade, system integrations projects which are large in scale and budget and last at times, for years in duration.
Conversely, the types of projects that digital project managers work on are more typically for marketing clients, they're smaller in scale, they're quicker in turnaround and they often have a direct consumer focus rather than creating a system or platform. Michael Wood suggests that digital projects are those that are, 'focused on developing and managing digital content' – I think it's much broader than content – but I agree that digital projects usually have a direct customer or user interaction.
Digital project managers are usually not managing pure-play IT projects as a digital studio or digital agency rarely focuses on those types of projects. Instead, digital agencies tend to focus on strategy, communications, advertising or marketing projects where the deliverables are just as likely to be a deck of findings from research, strategy, UX/CX, or design as they are to be a website, a social media campaign or interactive video.
Very often these are rogue, fast and loose projects – a quasi-blue sky world, where crazy clients, tiny budgets and stupid deadlines reign supreme. It's because of this – 'just get it out the door' mentality that standardised processes and methodologies – be that agile or waterfall – don't work so well. It's crazy, and fun!
So is it fundamentally different? No. in many ways, it's no different to IT project management or software project management.
It simply describes a flavour of it. It describes a specific context – often marketing related, within a digital agency, with quicker turnaround and smaller budgets than you'd be working on as a project manager on an enterprise project.
Other perspectives on digital project management
I find Adam Edgerton's explanation on What is a Digital Project Manager's Role?very helpful in understanding the role of digital project management. In his article, he describes that digital project managers undertake different job titles including project manager, account manager (or client manager), digital strategist, web product manager, sales and business development, as well as quality assurance.
"…a project manager needs a much broader skill set than the ability to create Gannt charts, track budgets, and manage scope. Metal Toad project managers are truly directors of their projects, owning them in their entirety from inception to go-live and beyond."
Another interesting take on digital project management is Sam Barnes' article on 'What does project management mean to me?' I find his description helpful in understanding the varied role that digital project management requires:
"Project Managers have to master the art of being the office chameleon, blending into very different environments at the drop of a hat. One minute you're talking to irate developers about server issues and working out how best to help resolve the issue, the next you're in a Director's office talking about financial reporting and finally followed up by briefing a photographer on the creative direction you'd like them to take."
Osman Gani, in his article, What is Digital Project Management? suggests digital project management is:
"It's a streamlined process of managing online projects from concept to execution within budget and in a timely fashion. The end result is ensuring that businesses utilizing the service reach their online marketing goals and other goals that were put forward. This is accomplished by utilizing creative and technical skills, providing proper support and maintenance, as well as closely working with designers, developers, and other specialists as a unified team. Managing web projects involves certain steps to ensure successful completion. Scoping, cost estimation, risk and issue analysis, resourcing, identifying strategies to be employed, quality assurance are just some of the elementary considerations."
Also, check out Brett Harned's interview with Paul Boag on the value of digital project management which helps explain why digital project management is needed and what it means to be a digital project manager.
What do you think?
Does this sound like digital project management to you? What's the same? What's different? Do you think this is really different to IT project management or software project management? Join the conversation below and share what you think digital project management really is!
Our friend and supporter: