Picture this: you are working on a project, and you need to ask the client for feedback. Or send over a proof. Or share a folder with finished assets. Or invoice them.
Where does all this happen? From your email inbox? Inside a Google Folder? A physical meeting?
Not anymore. Enter: Project management software with a client portal.
Client portal software allows agencies to close the communication gap with clients. Instead of holding project update meetings or having back-and-forth email chains, portals give agencies a direct line to share and request files with clients, send invoices, and for feedback.
How well you communicate with clients and manage their expectations can have a massive effect on whether they remain loyal customers or look to a competitor for future projects. Adding a client portal to your tech stack shows clients that you are serious about collaborating with them, listening to their advice, and having a space to share information securely.
This article will help you quickly compare and evaluate the best project management software with client portals and how each tool stacks up.
Client Portal Project Management Software Comparison Criteria
What do I look for when I select the best project management software with client portals? Here's a summary of my evaluation criteria:
User Interface (UI): Is it clean and attractive? Does it provide a client-facing dashboard?
Usability:

Collaboration: Can you share files and documents with clients inside the portal?
Branding: Does it have white-labeling, so you add custom branding and/or watermarking features?
Productivity: Does it allow you to build workflows around content-related procedures?
Security: Can you remotely and securely store data so it can be accessed by clients anywhere? Do tools like encryption secure client files?

Integrations: Does it play well with other tools? Does it have any pre-built integrations?
Value for $: Is it affordable? Does the price tag match the features, capabilities, and use case? Is pricing clear and upfront? Are the plans flexible if your needs change?
Overviews Of The 10 Best Project Management Software With Client Portals
Here's a brief description of each of the software with client portals on my list showing what it does best, plus screenshots to showcase some of the features.
monday.com's client management portal mixes Kanban boards and Gantt charts with a simple CRM to make team collaboration easy.
The portal takes some of monday.com's most recognizable features—boards, reminders, due date notifications—and combines them into a shareable workspace. Once you invite a client in, they can @mention your team members, give feedback, and approve tasks so a project can progress to the next phase.
Much like Slack, the portal's communication feature shows conversations in a thread, like this:

You can embed links in messages and, as each message is given a stamp showing when it was sent/read, it's easy to see if a client has received your messages in real-time.
It's up to you how you manage the portal's layout. You can share project roadmaps or build simple Kanban boards and pipelines so your client can visualize how a project is progressing. As you can split projects into separate tasks—where you can attach notes and links—clients can also have access to these to give feedback or ask questions (if you permit them!)
The most helpful part about sharing project information like this is that your client is constantly kept in the loop. They can see due dates for tasks and milestones, which sets an expectation for when they can expect work to be completed. Instead of emailing you and asking when a task will be finished or when a project will be delivered—they can just log into the portal.
Unlike some other tools on the list, monday.com doesn't have inbuilt features like invoicing or ticketing, but with their list of integrations, you'll likely be able to add tools from your existing tech stack. Some notable integrations include Dropbox, Excel, Google Calendar, Google Drive, Integromat, Slack, Trello. If your tool isn't on the list, Zapier also integrates with monday.com.
monday.com Standard Pricing is $17/month for 2 users. You can use monday.com for free on their "free forever" plan with limited features but unlimited users.
OneDesk's client portal works much like a ticketing support system—with some notable exceptions.
The portal itself is simple: your clients have complete control of their messaging. They can log into their own interface to submit and check the status of support tickets, track progress of tickets, and prioritize issues so the important stuff gets solved first.
OneDesk's portal sets itself apart from just a standard support ticket service because it has space for clients to request new product features or services and share their ideas with your team members. Clients can also submit a ticket using OneDesk's app or import bulk tickets using formats like .mpt, .mmp, or.csv.
You can also integrate the client portal as a widget directly to your website to replace enquiry forms, making it easier for clients to access it and submit tickets.
OneDesk also integrates with a handful of tools like Azure Active Directory, Box, Dropbox, FreshBooks, Mailchimp, Okta, QuickBooks Online, Slack, WordPress as well as Zapier for any additional apps you want to add.
OneDesk's plans start at $9/month/user for up to 5 users, which gives you access to all features, including the client portal.
You can tag projects to make them instantly recognizable, label tasks for internal use only, and add timelines to everything your team is working on.
What's cool about the EasyProject client portal is it doubles as a project management tool. You can add an estimated timeframe to see how long you are spending on each task and even set deadlines for deliverables. It even has a time tracking feature, so you can track everything in real-time.
This is particularly useful when you are charging clients per hour or have them on a retainer, as they can log into the portal and see how your team is using their time and makes it easier to justify billing when invoice time comes around.
You can also assign feedback and approval tasks to clients to make sure they sign off on anything before you move forward.
If you want feedback on a draft, just tag the client and ask them to add their thoughts. When they're done, EasyProjects will automatically notify you so you can jump in and see what the client has added to the document. The whole process makes client projects more collaborative.
The plus side is that all of your client files are kept securely in one place. They can be accessed by everyone on your team instead of getting lost in an email thread.
EasyProjects also integrates with a bunch of tools, including Salesforce, Adobe, Office 365 Outlook, MS Project, Zendesk, JIRA, and InvoiceBerry. If you need more, EasyProjects has a RESTful API to hook up any other apps in your tech stack.
EasyProjects' Team plan starts at $24/user/month, but you must contact them directly to get Enterprise pricing.
I'm (kind of) cheating by putting this tool on the list, but the truth is Client Portal for WordPress isn't really a Project Management Software at all.
The portal itself is a web-based tool that lives inside your WordPress site but acts like a wiki. Instead of sending clients to a separate portal, you embed the client portal onto your website and add/remove "modules" when you need to, and clients can access them at any time.
If they want to submit a ticket, view an invoice, or download a file you've just uploaded for them—they just log in.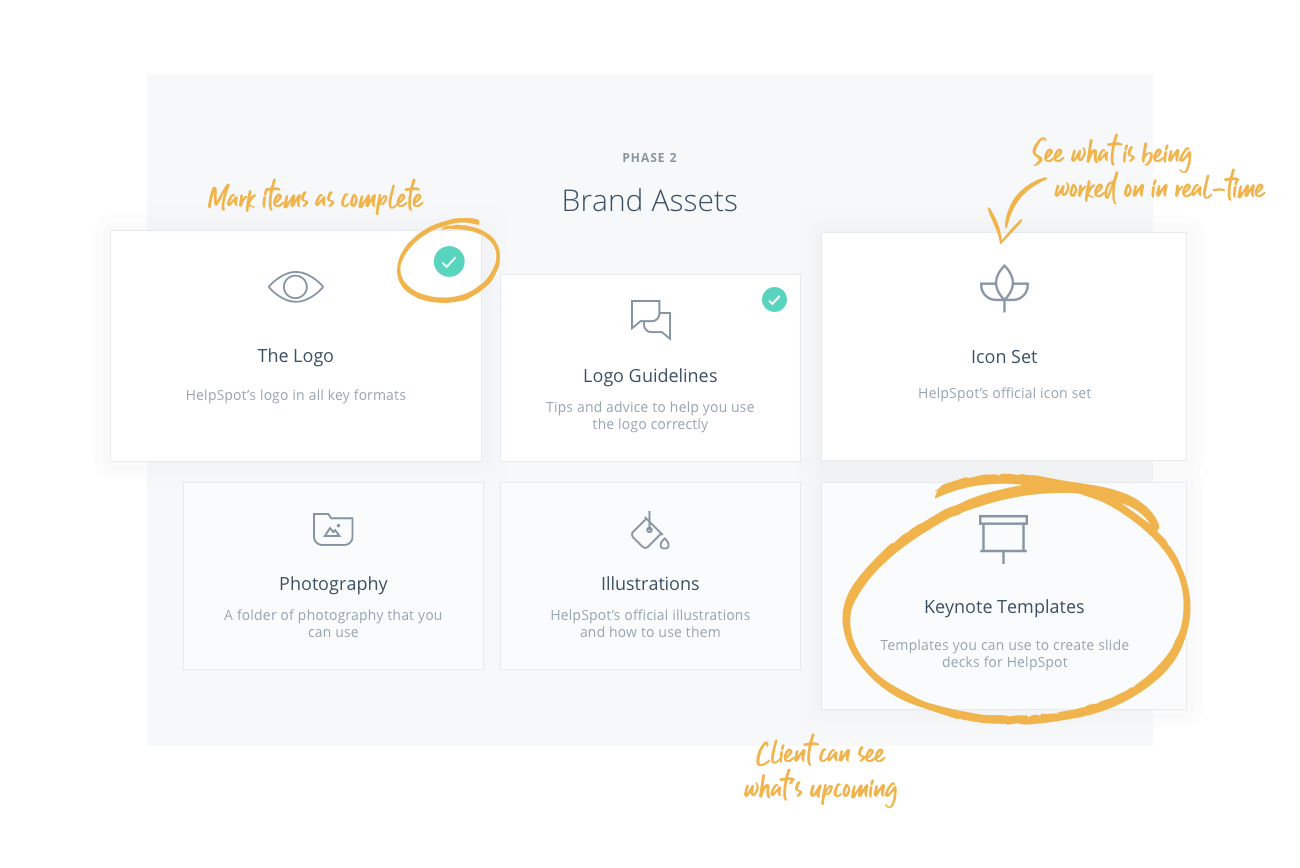 It's also perfect for switching your business hours off. Inside the portal, you can adjust your availability hours, so all your clients know when you'll be responsive. Perfect for stopping those weekend calls or out-of-hours texts.
A single-site license costs $199/year.
It's set up so clients can try and solve problems themselves before submitting a ticket. The search bar scours the knowledge base and forums, and answers are automatically suggested using the inbuilt algorithm.
The portal has a tool to build out the knowledge base yourself that's simple to use—add a title, your text, and some tags, and hit publish. You can also add metadata to articles, giving them a chance to show up in search engine results. Once the article is up, Freshdesk tracks it to see if customers are reading it and its performance.
If your client still doesn't get the answer they're looking for, they can submit a ticket. If they do, each ticket is kept in a database where clients can check its status, and they'll get a notification if you act on it.
What's really cool about Freshdesk's portal is its branding options. You can add a custom domain (like support.yourcompany.com), change the color palette, and even add multiple languages to make it easier for clients to communicate with you.
It has inbuilt integrations like Freshdesk for Slack, Freshdesk Kanban, and Freshsuccess and other integrations with tools like MailChimp, Salesforce, Hubspot, Xero, and PayPal. It even has its own mobile app (iOS and Android), so you can stay on top of your messaging from anywhere.
Freshdesk's Blossom Plan starts at $15/agent/month and includes ticketing and knowledge base.
Clients can log on through the portal and look at any files, documents or emails you upload for them. You can also ask them to approve files or give feedback on a document and, when they do, you'll get an email notification.
One of Accello's client portal's handy features is that it links up with billing, invoicing, and payments. When clients pay an invoice or fulfill a subscription payment, everything is tracked, and billing history is kept. If your client ever wants to retrieve any of this information (like what credit card they have on file), all they have to do is log in.
Accello's client portal should also fit easily into your existing tech stack as it integrates with over 20 tools, including Gsuite, Xero, Quickbooks, Slack, Typeform, Hubspot, and Airtable.
Accello's Projects Plan starts at $39/user/month and gives you client portal access.
You can store all of your client's information in the portal, from overdue payments to tax information and upcoming jobs. You can send quotes and invoices from inside the dashboard, and the documents tab inside the portal also allows you to add in any files for your client so they can look at them or give feedback if you need it.
It's also part CRM—you can store customer information, add notes to client accounts, and attach documents to their profiles. Because you can add custom fields to a client's profile, it's easy to add spaces for your team members to add notes like "client is very happy" or "not satisfied with the last project, work needed to build trust" so your team can stay in the loop.
If you want to collaborate with your client, all you have to do is give them access to their client portal, and they'll be able to view project progress and leave feedback for your team. And because it's a Xero product, it integrates with other tools like Box, Hubspot, Zendesk, Salesforce, and Freshdesk.
Workflow Max's plans start at $15/month for 1 user, and the plan includes invoicing, document management, and timesheets.
The year 2000 called, and it wants its interface design back.
But what it lacks in a clean, modern interface, it more than makes up for in its security chops. The tool's "data rooms" are set up with security measures like role-based permissions, session timeouts, audit trails, and two-factor authentication.
Long story short—you don't have to worry about prying eyes in your client files because it's a very secure portal.
When you add files to the portal, you can share them with a client and set permissions (like viewer, collaborator, or administrator), which is perfect for feedback, approval, and task management. The inbuilt watermark tool can automatically mark any documents and protect them with your logo, and you can change up the portal's colors and branding to suit your own.
Here's the only sticking point about OneHub—its integration list is short. Very short. It only mentions that Microsoft Office and Gsuite tools are on the list, so keep that in mind when deciding if this is the right portal for you and your team.
OneHub's Standard Plan starts at $15/user/month, but doesn't include white-labelling or two-factor authentication.
However, it does more than bundle all your client communication into one place. You can also automate responses to save your team time using templates and canned responses. If your team gets asked lots of common questions, you can use pre-populated responses to answer them quickly—and automatically.
Each question is also timestamped, so you can see when it landed in the portal and when a team member last answered it. If a question is resolved, its status flips to "solved" so you can file it away.
Another cool feature of Teamwork's client portal is its branding features. You can upload your entire stylesheet using the .css file upload feature, add your company favicon, and even use a custom URL.
Teamwork's paid plans start at $10/user/month.
Each client gets password-protected access to the portal, where they can submit support tickets, access documents, and search the knowledge base for answers to questions.
It's also heavily tilted for self-service, so your clients can do as much as they can on their own. Not only can they check their order histories and make new orders from inside the portal, but they can also update their own profiles, check invoicing, and browse their order histories.
For businesses, the portal is a storage hub. You can store contacts, documents, and notes inside the portal, and sales reps can pursue leads and quotes from the same dashboard.
NetSuite doesn't advertise its pricing, so you have to contact them to get a quote.
Other Project Management Software with Client Portal Options
Here are a few more tools that didn't make the top list.
What Do You Think About These Project Management Software Tools with Client Portals?
Finding the right client portal can take time.
I want to know, have you tried out any of the 20 client portals I've mentioned? If you have, what did you think? And did I miss any out?
If you're already using a portal on the list but thinking of switching up, what's pushing you to make the change? Is the tool you are using a freemium product or a paid subscription? Did it have all the features you were expecting from a client portal?
We want to hear your thoughts in the comments below 👇and if you want updates when we publish new articles and podcasts from our project manager community, sign up The Digital Project Manager newsletter here.
Our friend and supporter: