You've got visions of growth for your team and your business, but in order to turn those visions into reality, you've got to have the right PPM tools to effectively manage projects and resources as you scale.
Growing your team—and your enterprise in general—through bigger and bigger projects is paramount in order to be a competitive company in today's market. With project portfolio management tools, you can collect and consolidate data about your projects in order to manage risks, resources, timelines, budgets, and much more.
There's no shortage of great PPM tools out there, which is why we're providing a detailed evaluation of the best ones in this PPM tool review. Learn what PPM tools do, how the best PPM tools compare, and how to know that you're picking the ideal software for your project portfolio and business goals.
But first, a few basics:
What Is PPM?
In project management, PPM is project portfolio management. In PPM, a project portfolio manager take a high-level look at the pool of projects and programs (some of which may be directly related, and some not) in a business's portfolio.
A single project is the elementary cell of an organization. Zoom out, and we have project management, which is concerned with the execution needed for completing projects. Zoom out more, and we see the various projects that an organization takes on. PPM is concerned with making sure these distinct projects are undertaken in a way that complement one another in terms of resources, timelines, and overall business goals.
What Does A Project Portfolio Manager Do?
A project portfolio manager oversees, controls, and leads the tasks associated with managing a project portfolio. This person needs the skills of a chess master to adequately lead the team and finish projects, ideally on time and under budget. The responsibility range of this position is immense and often deals with researchers, analysts and clients as they manage the high-level coordination of projects, following current market trends and anticipating future ones.
What Do PPM Tools Do And How Can They Help You?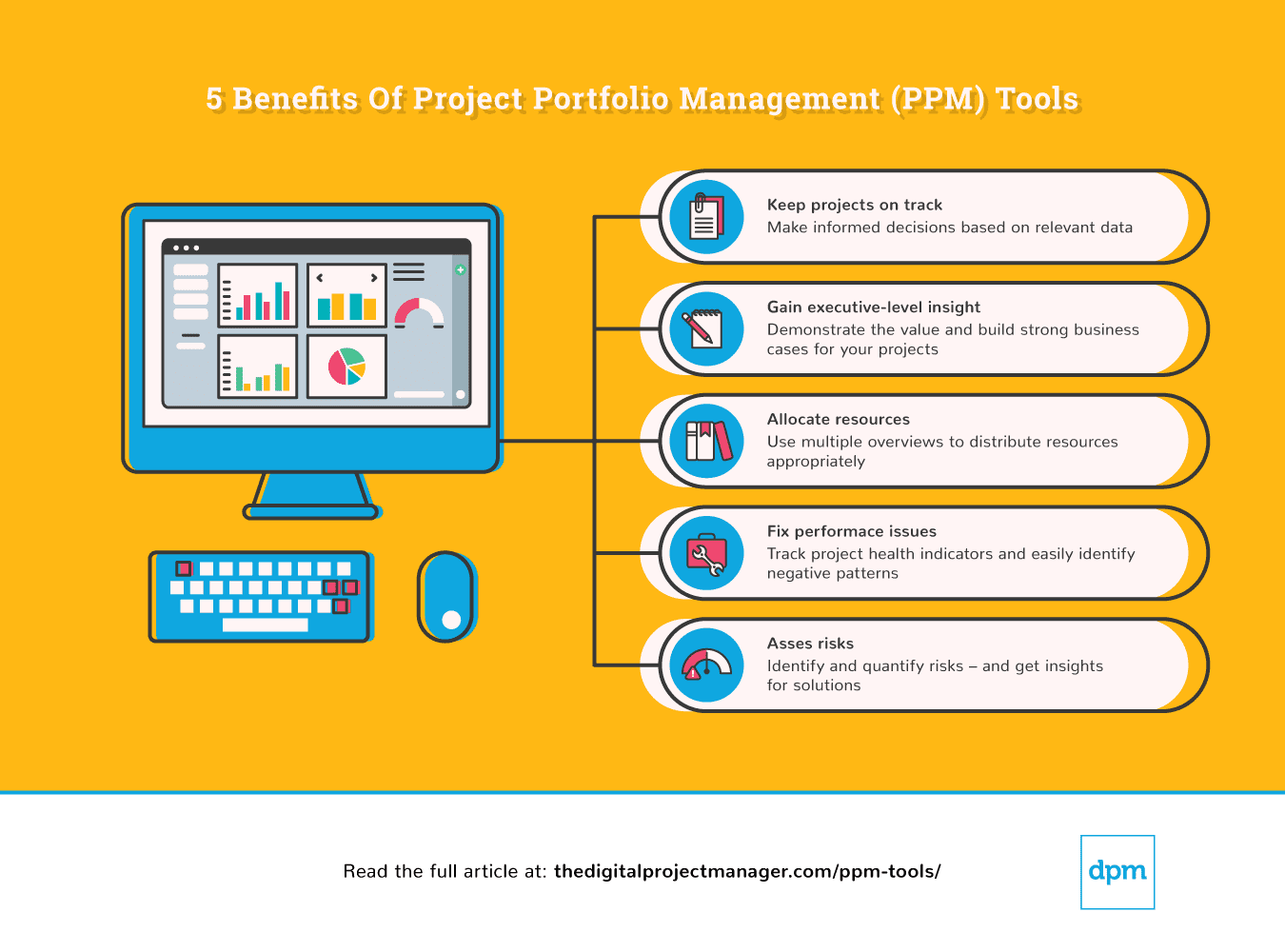 Keep your project on the right track: You're as good as the data you have. Use PPM software to avoid the trap of making poor decisions based on outdated or irrelevant information.
Provide executive-level business insight: Detailed project stats are simply impossible to store in your head. When managing multiple projects, you need software that is able to provide more advanced data—and executives will love you because of it! Proving to stakeholders the value and rationale behind decisions in a concise manner will help you build strong business cases for your projects.
Allocate resources: Driving better business decisions is at the top of every successful business' priority list. PPM software shows you who's working on what and for how long, allowing you to allocate and redistribute resources accordingly.
Fix performance issues: When managing a project portfolio, you might start to identify places where the same problems arise on a recurring basis. An effective PPM tool helps you track project's health indicators (such as Return on Investment) and identify any unhealthy patterns.
Assess risks: PPM software provides data and transparency into your projects for not only identifying risks, but for quantifying them and exploring solutions by way of your portfolio data.
The Best PPM Tools
We've seen a lot of great project portfolio management software, but these are a cut above the rest. We take an in-depth look at the pros & cons of the following tools in this review:
At the bottom of the post, we include a table summarizing basic info about the tools described in this article as well as an explanation of our selection criteria, so you can understand how we made this list of workflow management software.
Overview Of The Best Project Portfolio Management Software (PPM Tools)
Synergist is the leading project portfolio management and job costing solution in the UK. It's a complete system, tracking the entire project lifecycle. Ideal for teams of 15 to 600, who need to manage multiple projects simultaneously.
Key strengths are: Resource scheduling, Task management and project financials.
Drag-and-drop scheduling functionality, with attachment options and Kanban boards makes scheduling work, communicating project information and prioritising and managing work slick and simple.
Synergist offers powerful reporting and forecasting tools. Live financial reports can be pulled off quickly, using drag-and-drop report building functionality, or scheduled. Alarms can be triggered at specific financial milestones. Gantt charts, offer built-in dependencies, with changes fed straight into financial forecasts/reports.
Seeing your projects as completely as you do in Synergist means that any slipping elements, over-servicing or financial concerns/anomalies can be spotted quickly. It also makes for consistently-accurate project/financial reporting. And you see clear, whole-project patterns, so you learn from every project.
Synergist has a UK-based user help desk.
Summary of Synergist:
Resource management:

Pass

Financial administration:

Pass

Risk management:

Pass

Reporting & analytics:

Pass

Integrations:

Pass
Score: 9.0
Celoxis is an all-in-one project portfolio management software and work collaboration platform that is successfully adopted by brand like HBO, Rolex, Virgin Care, Adobe, Staples, LG and Deloitte. Being a full-featured project portfolio management system, Celoxis is still very intuitive and easy to use for teams of all sizes.
With Celoxis, you get comprehensive resource management capabilities. It lets you easily allocate resources based on skills, roles and availability as well as view cross-portfolio resource workload to optimally utilize your workforce. You will find tools for capacity planning, demand management and project requests. When it comes to tracking project financials, you can automatically get cost/revenue estimates from your plans. You can also track budgets, costs and profits in real-time as well as plug billing leaks by timely invoicing your clients. Celoxis' reporting features let you slice, dice and visualize data your way. You can get aggregated information about your projects with fully customizable portfolio dashboards. Celoxis comes pre-built with common workflows to help bug/issue tracking, and risk management. These workflows are very adaptable to suit your organizational processes without having to resort to emails and spreadsheets.
Celoxis integrates seamlessly with hundreds of popular business applications through first-class integration connectors and web-based API. This include critical platforms like Jira, Salesforce, QuickBooks Online, Excel, Slack, Google Apps and more.
Celoxis is one of the few tools that offer SaaS and On-Premise deployment options. Celoxis costs $25/user/month with additional commitment discounts.
Summary of Celoxis:
Resource management:

Pass

Financial administration:

Pass

Risk management:

Pass

Reporting & analytics:

Pass

Integrations:

Pass
Score: 10
Workfront is an online platform designed for a slightly narrower niche, working well for agencies, IT teams, service teams, and marketing teams. One great aspect of this tool is their offering of in-depth courses for learning and mastering the software, in addition to 24/7 online support.
Workfront's resource management functionality lets you organize time and expenses, track milestones, and see an overview of projects' progress on a simple dashboard. You'll find tools for demand management and Gantt charts, as well as financial reporting that give insight into actual vs. planned resource hours, budget spend, contracted revenue, and more. Workfront's reporting features allow you to automatically send scheduled reports to stakeholders, with simplified visualizations that make them easy-to-read on the client-facing side.
Workfront has a unique solution when it comes to integrations. They've built an integration platform to accompany the Workfront solution (called Workfront Fusion). Through the platform,  you can sync information from more than 150 applications, including Airtable, Dropbox, Google Analytics, Excel Online, Harvest, GoToMeeting, Mailchimp, Mavenlink, Marketo, Jira, Amazon SNS, and dozens more—code-free.
Workfront costs from $30/user/month.
Summary of Workfront:
Resource management:

Pass

Financial administration:

Pass

Risk management:

Pass

Reporting & analytics:

Pass

Integrations:

Pass
Score: 8.9
Wrike has achieved international renown as a PM tool. With a focus on managing tasks and group collaboration, Wrike is similar to platforms like JIRA, Clarizen or Asana.
Wrike's resource management capabilities are powered by lots of live-tracking, with a simplified overview of team workloads making it easy to track and balance resources. The Gantt chart feature also provides a visual timeline for setting dependencies and making real-time adjustments. Time and budget tracking features allow for financial administration, and you can use Wrike's report-building wizard to create real-time, interactive reports (with graphs, status updates, etc). There's also a feature for scheduling notifications that it's time for a regular report update or review.
Wrike's integrations and accessibility is one of the most favored aspects of this platform: not only is it supported on Mac, Windows, Android and iOS, it integrates with a variety of apps like Jira, Box, Adobe Creative Cloud, GitHub, Microsoft, Zapier, and many more.
Wrike costs from $9.80/user/month.
Summary of Wrike:
Resource management:

Pass

Financial administration:

Pass

Risk management:

Pass

Reporting & analytics:

Pass

Integrations:

Pass
Score: 9.0
Oracle has been in the game of software development for a long time, and they deliver enormous value and variety in their suite of project and portfolio management tools. The Primavera Portfolio Management solution has nearly unlimited configurability and is built to scale to an enterprise level. Of the PPM tools, Oracle Primavera is capable of higher complexity analysis—while some organizations require the deep levels of configuratibility and granularity, for others, the advanced nature of this tool could make it cumbersome. It's a robust tool, and it comes with a learning curve.
Primavera's resource management features include progress tracking, workflow configuration, tools for performing "What if" scenarios, tools for comparing past projects and projecting future ones. The financial administration features allow you to review projects and portfolios to identify where to assign and withdraw investment, with insights on business case, funding, and staffing that let you select the best investments. The reporting and analytics are highly configurable, and the platform offers a multitude of ways to analyze the projects in your portfolio—comparing sets of project metrics, high-level Gantt charts, investment dependencies, and much more.
Primavera's integrations are more focused on enterprise organizations than on lean agencies who want to hook up all their time-tracking apps and Kanban tools. Instead, Primavera integrates with enterprise names like Oracle's Autovue, SAP, an Oracle E-Business Suite, PeopleSoft Projects, and several more.
Oracle Primavera costs $2,750.00
Summary of Oracle Primavera:
Resource management:

Pass

Financial administration:

Pass

Risk management:

Pass

Reporting & analytics:

Pass

Integrations:

Pass
Score: 9.2
Deltek's strong suit is in data analysis and resource management. Additionally, their project and portfolio management platform is known for being really easy to learn and use, being simple without sacrificing efficiency.
Deltek's intuitive framework enables you to track the status of your team members, the distribution of funds (current, past and future investments) and create detailed reports with ease, extrapolating upon your projects' data.
This PPM tool works only on Windows OS as its native platform. It integrates with the whole MS toolset, including online and offline tools. It's also offered as a cloud solution and syncs with Adobe toolset.
Deltek costs from $19/user/month.
Summary of Deltek:
Resource management:

Pass

Financial administration:

Pass

Risk management:

Pass

Reporting & analytics:

Pass

Integrations:

Pass
Score: 9.0
Changepoint offers a well-rounded tool for managing multiple aspects of a project portfolio—financial, contract, resource, project, time and expense, and revenue management. Financial analysis is a strong point of this tool, making it a good choice for project portfolio managers who need to be able to improve cash flow and accurately forecast revenue, margins, and costs.
The variety of PPM tasks that Changepoint facilitates is impressive. It offers Gantt charts, task management and workflow tools, in addition to real-time financial analysis tools with multi-currency support. It doesn't offer as much in terms of reporting as some of the other tools (like Workfront or Wrike with their easily configurable reporting dashboards) but it does offer some essential financial reporting features.
Changepoint is a flexible tool that can be deployed via web, cloud and/or SaaS, and it integrates with a large number of additional tools: JIRA, the MS suite, SAP, Google, Dropbox, and many others.
Changepoint costs from $24/user/month.
Summary of Changepoint:
Resource management:

Pass

Financial administration:

Pass

Risk management:

Pass

Reporting & analytics:

Fail

Integrations:

Pass
Score: 8.5
First up, we have Clarizen, a veteran in the PM software game. Clarizen offers an enterprise-grade PM platform. It's great for managing extra-large projects, and supports work on distinct, simultaneous projects. A strong point in favor of Clarizen is the tool's learning curve, which is usefully designed to get you into the PPM tool step-by-step.
Clarizen's features enable centralized project and portfolio management—organize complex projects, automate workflows, track, manage and prioritize change requests, and optimize resources in real time. Clarizen also offers financial administration insight, with metrics for managing budget, contracted revenue, planned benefits, ROI, and more. The platform offers a detailed reporting dashboard where you can use a built-in wizard to quickly display your data on a custom dashboard and branded, customer-facing reports.
Clarizen integrations include critical platforms like Jira, Salesforce, Box, Slack, Netsuite, Sharepoint, Microsoft Teams, Excel, SAP, and several more. It's supported on Android and iOS, and the database has cloud support.
Clarizen costs from $45/user/month.
Summary of Clarizen:
Resource management:

Pass

Financial administration:

Pass

Risk management:

Pass

Reporting & analytics:

Pass

Integrations:

Pass
Score: 9.5
Mavenlink offers a great documenting system and resource management module, delivered through straightforward and minimalistic design. Additionally, unlike some PPM tools, Mavenlink rounds out its offers with a document management system.
Another well-rounded tool, Mavenlink has modules for project management, accounting, resource management, business intelligence, and team collaboration. It offers a system of dashboards and live time and expense tracking features, making it a great financial administration tool for enterprises of any size.
Mavenlink has pre-built integrations with a number of standard tools, including Xero, the Google Suite, JIRA, Expensify, Salesforce, Quickbooks, Oracle, Intacct, and several others. For additional integrations, you can use the Mavenlink REST API.
Mavenlink costs from $19/user/month.
Summary of Mavenlink:
Resource management:

Pass

Financial administration:

Pass

Risk management:

Fail

Reporting & analytics:

Pass

Integrations: 

Pass
Score: 9.0
Last, but certainly not least, we have Liquid Planner. For portfolio managers who are looking for a rich, clean visual experience, Liquid Planner delivers with its customizable dashboards and multiple views showing simple, clear visualizations of your project data.
Liquid Planner's whole system is quite visual and minimalistic, making it easy to learn and understand. It's cross-project visibility module makes it ideal for project portfolio management, with additional modules for smart scheduling, resource management, collaboration, time-tracking. On top of this, Liquid Planner provides a robust set of advanced analytics features to analyze project performance, costs, provides, client portfolios, baseline trends, and more.
Liquid Planner integrates with JIRA, Trello, Slack, Google Sheets, Zendesk—just to name a few.
Liquid Planner costs from $45/user/month.
Summary of Liquid Planner:
Resource management:

Pass

Financial administration:

Pass

Risk management:

Pass

Reporting & analytics:

Pass

Integrations: 

Pass
Score: 9.4
The Best PPM Tools Summary Chart
Here's a summary chart with essential info: easily compare free trials and demos and pricing, along with a score showing how we rate the tool.
Project Portfolio Management Software Selection Criteria
In our selection of PPM tools, we narrowed down our criteria to a few key points. Let's go through some of the most important criteria for choosing the best PPM tool fit for your team.
Resource management – Like project management tools with resource scheduling software, PPM software with resource management functionality will help you make better decisions and better workflow patterns. This includes features for scheduling resources and managing timelines. Projections and "What if?" scenarios are part of managing a project portfolio, and PPM tools must provide support for these projections.
Financial administration – A dollar saved is a dollar earned. PPM tools should help improve your accuracy in managing financial projections, with functionality for estimating costs and managing budgets. Nowadays, almost every software has the option to manage payrolls, and payment invoicing in general. This feature is ideal for enterprises that deal with a moderate number of employees/clients, so doing everything from a single platform is more than welcome.
Risk management – Whether we like it or not, every portfolio we make, and work on, will have sensitive data. Often the funds and data we deal with are sensitive in more than one way (usually time and cost are the focus). Having the upper hand in time-sensitive or budget-sensitive projects can be, and usually is, a major part of risk management. Additionally, better risk management tools enable us to plan accordingly, even to make risk response plans, and have them ready if the "What if?" goes wrong.
Reporting & analytics – With a robust, streamlined reports that allow you to see what works and what doesn't, you set yourself up for future success. Modern portfolio management software must provide multiple options for generating reports. Spreadsheets are a baseline, for a simple and useful report, but there are plenty of modern PPM tools with great graphic representations that make it easy to visualize and communicate resource comparisons, breakdowns, and so much more.
Integrations – Because there is no perfect PPM software out there (if there was, this list wouldn`t be obsolete), we need to combine multiple tools to cover our project needs. Getting to know these tools is sometimes half of the job, hence this analysis.
Price – Last, but not least, we need to know how much will it cost your organization to sustain such a level of internal information flow. Some of the tools comes pretty cheap, but that is a rarity in this domain, and with a good reason at that.
How To Choose The Best Portfolio Management Software For Your Projects?
Now, you have the insight into the most popular PPM tools out there. At this point, we'll walk you through the final steps on how to choose the best PPM solution for your organization. Ask yourself these questions when choosing PPM software:
What Is Your PPM Maturity Level?
According to the Gartner model, you can determine your enterprise's maturity by placing it into one of the 5 models (in ascending order of maturity):
Reactive – this accounts for all organizations with an ad-hoc approach to projects. There is a minimal requirement for high-end PPM tools, although they'll prove necessary for growth
Emerging Discipline – next level of management and approach to projects. It involves the use of basic PPM tools but on a more frequent and advanced level.
Initial Integration – follows a more holistic approach to PPM. This is the point where a larger organization pattern is needed. Risky decisions could surface, and data tracking must be on point.
Effective Integration – This is the point where automation become necessary, and a manager needs as much help as possible in order to execute everything on time, and under budget.
Effective innovation – This is the end-game everyone strives for. PPMs are fully utilized on multiple levels, and an Enterprise Project Management Office is installed to facilitate the execution.
What Are The Main Requirements?
Take the time to carefully plan out the requirements that your team has for a PPM tool. Analyze the past work and the potential future projects, and try to make an assessment as objectively as possible. Use this article as a cheat sheet and consult as many sources you can before deciding on your ideal PPM tool.
How Would The PPM Tool Fit Into Your Workflow?
Think about every tool you and your team use besides a PPM tool. Check for integration compatibility and see in which part of the project cycle you are going to integrate the newly acquired tool first.
How Long To Set It Up?
Just keep in mind that your current projects might need to come to a short halt in order to fully integrate a new PPM tool. Besides, think about the support for different native platforms, like Android an iOS, and fit it into your team accordingly.
Ease Of Onboarding
Your team will need some time to learn and adapt to the new set of PPM tools that are going to be presented to them. Account for every factor like: time to learn, availability of learning material, training, and support from the software provider, etc.
Cost
Last, but certainly not least, these PPM tools come at a price. After you calculate in the budget you have to afford them, do not forget that every PPM tool pays off multifold with the service it provides.
Other PPM tools
We've prepared a list of additional PPM tools that you might consider:
What Do You Think?
Do you agree with our list? How would you approach to this topic? There are a ton of factors into the project portfolio management equation, and new input is always welcome.