Having managed teams and resources with a keen focus on optimizing project timelines and resource allocation, I understand the critical role that resource management software plays in ensuring project success. In this comprehensive review of Float, a leading SaaS tool for resource management, I will leverage my extensive project management expertise to provide an insightful analysis of the platform's features, usability, and impact on project outcomes.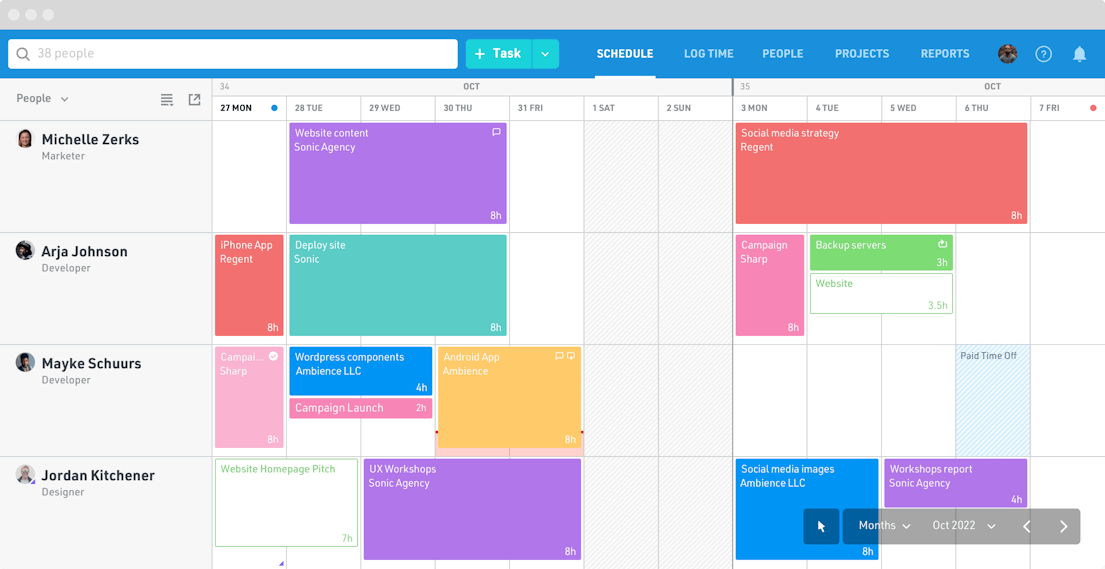 Float Product Overview
Float serves as a scheduling and resource management tool tailored for project teams and agencies. Its primary audience includes project managers, team leads, and agencies looking to streamline their scheduling process. This tool offers efficient resource allocation, ensuring every team member is adequately funded and utilized. With Float, common challenges like overbookings, resource conflicts, and the need for more transparency in team availability are reduced.
Pros
Visual Interface: Float provides an intuitive visual timeline, making understanding team schedules and project timelines easier.
Capacity Heatmap: This feature visualizes color-codes team members' availability and capacity, ensuring optimal allocation.
Time Tracking Integration: Float syncs with time tracking tools, enhancing accuracy in resource planning.
Cons
Learning Curve: New users might take time to navigate and understand the platform's full features.
Limited Integrations: While Float integrates with some tools, it has less than ten native integrations, depending on Zapier to do the heavy lifting.
Customization Constraints: Compared to some competitors, the software might offer less flexibility in terms of interface and report customization.
Expert Opinion
Having assessed numerous resource management software options over the years, I can confidently say that Float exhibits distinct advantages and some limitations. Float's visual timeline and capacity heatmap give it a distinct edge in terms of functionality and interface. These features simplify resource allocation and task visualization, an aspect many competitors need help perfecting.
However, Float falls a tad short when we discuss integrations and customization. The limited native integrations mean that teams might find themselves needing supplementary tools or workarounds. Onboarding, though mostly smooth, does come with a slight learning curve. Choosing the right tool often involves aligning software strengths with user needs. This app serves best in environments where visual clarity and real-time resource allocation are paramount.
Float: The Bottom Line
Float stands out with its visual interface for resource management. This optical clarity, combined with features like the capacity heatmap, sets Float apart, offering teams a clear and concise view of their resources and schedules.
While many tools might provide resource management, the intuitive drag-and-drop scheduling and the integration with time-tracking tools give Float a distinctive advantage. The platform's emphasis on real-time adjustments and clear visualization makes it particularly noteworthy. These unique offerings position Float as a strong contender in the resource management domain.
Float Deep Dive
Product Specifications
Visual Timeline Scheduling - Yes
Capacity Heatmap - Yes
Time Tracking Integration - Yes
Real-time Collaboration - Yes
Reporting & Analytics - Yes
Role-based Access Control - Yes
Multi-project Management - Yes
Budget Tracking - No
Task Dependencies - Yes
Mobile Application - Yes
Drag-and-Drop Scheduling - Yes
Resource Conflict Alerts - Yes
Customizable Views - Yes
Prioritization of Tasks - Yes
Integration with Third-party Apps - Yes
Offline Mode - No
Customizable Fields - Yes
Document Attachment - Yes
Calendar Sync - Yes
Time-off Management - Yes
Skill-based Assignment - Yes
Automated Notifications - Yes
Forecasting - Yes
Milestone Tracking - No
Client Portal - No
Float Feature Overview
Visual Timeline Scheduling: Float's visual timeline scheduling offers users a clear and organized view of all their tasks and resources, ensuring a quick grasp of team schedules and allocations.
Time Tracking Integration: With this, Float allows seamless syncing with various time-tracking tools, ensuring that resource planning remains accurate and consistent.
Role-based Access Control: Float ensures security and hierarchy by allowing managers to determine who gets access to what information, essential for larger teams or sensitive projects.
Multi-project Management: This feature allows teams to handle multiple projects simultaneously, enabling managers to juggle diverse assignments efficiently.
Drag-and-Drop Scheduling: Streamlining the scheduling process, this feature offers a hassle-free experience when allocating tasks and adjusting timelines.
Resource Conflict Alerts: An essential tool to avoid double bookings or over-allocations, Float instantly alerts managers to resource conflicts.
Customizable Views: Each team member can adjust their view based on preferences, ensuring that they access information most relevant to their role.
Standout Functionality
Capacity Heatmap: Float's Capacity Heatmap offers an instantaneous visual representation of team availability and workload. Unlike many other resource management tools, this heatmap provides a color-coded system that quickly indicates when team members are underutilized or at risk of burnout, aiding in preventative workload management.
Real-time Collaboration: This functionality sets Float apart by allowing changes to be viewed instantaneously by all team members. As schedules are updated or tasks reassigned, every team member sees the changes in real-time, which is not a standard offering in many traditional resource management tools.
Skill-based Assignment: Float's nuanced approach to resource allocation through skill-based assignment allows for an intelligent and efficient distribution of tasks. It categorizes team members by their skills and matches them to relevant tasks, a feature that is often more rudimentary or altogether absent in similar software solutions.
Integrations
Float comes with a set of native integrations that enhance its functionality. It seamlessly integrates with popular calendars like Google Calendar and Outlook, allowing users to sync their Float schedules with personal or company calendars. There's integration with Slack, which facilitates quick communication and updates within teams. Integration with project management tools such as Asana and Trello ensures that task and project tracking is synchronized between the platforms.
Additionally, Float offers an API that developers can use to build custom integrations and workflows. This API extends Float's capabilities, allowing for a more tailored experience that can fit into various business systems and processes.
To further extend the platform's capabilities, Float also has add-ons, such as the Float Resource Guru and Float Slackbot, which provide more specialized functionality like enhanced notifications and direct messaging updates on task allocations. These add-ons work to make Float an even more comprehensive resource management solution.
Keep in mind that the tool only has a few integrations. Therefore, you might require to pay an additional subscription to Zapier. This will allow you to access thousands of additional integrations.
Pricing
Float's pricing structure is competitive when compared to other resource management tools, leaning towards a mid-range cost considering the features it offers. It does not have a free tier, which some competitors offer, but the depth of its features may justify the cost for many businesses. Consider the lack of a free tier when comparing to other tools that offer limited free access.
Starter Plan: Priced at $6/user/month (billed annually), this tier provides basic scheduling, project planning, and reporting features. However, lacks time tracking features. It's suitable for small teams looking for fundamental resource management capabilities.
Pro Plan: This plan costs $10/user/month (billed annually) and includes everything in the Starter plan, plus added features such as time tracking, estimates vs actuals reports, and security features like SSO, making it a fit for businesses needing more financial management of projects.
Enterprise Plan: For larger organizations that need extensive controls and support, Float offers an Enterprise plan with custom pricing upon request. It includes all features from the Pro plan, along with priority support, dedicated account management, and enhanced security features.
Ease of Use
In terms of user interface and ease of use, Float stands out with its clean and intuitive design. Other than the initial learning curve, I find navigation within the tool straightforward, with scheduling, time tracking, and other features well-organized and easily accessible. However, the depth of features, while a strength, does introduce complexity in the onboarding process. It can take some time for new users to become fully adept at leveraging all the capabilities the tool offers.
Users with less experience in resource management software may need a more time learning how to use it, but Float does provide ample resources and support to help with this process. The visual components like the timeline and capacity heatmap are intuitive, but mastering the more complex features like custom field creation or reporting might require a deeper dive into their documentation or customer support resources.
Customer Support
I consider Float's customer support as robust, with various channels and resources at the user's disposal. They provide prompt response times via email, and their live chat offers quick solutions during business hours. Their documentation is comprehensive, including a range of tutorials that are helpful for both new and existing users. Webinars are also available, offering deeper dives into specific features and best practices.
One thing I'd like to bring your attention to is the 24/5 customer support schedule. You'll have to take this into consideration for urgent issues that may occur during those off-hours.
Float Use Case
Who Would Be A Good Fit For Float?
The ideal context for using Float involves small to medium-sized businesses, particularly in creative industries such as marketing, design, and architecture, where visual project planning and resource management are essential. Teams that benefit most are those looking for a streamlined tool to manage multiple projects and require a solid visual representation of their resources' availability.
Companies that have a diverse set of skills within their teams and value the ability to match tasks to specific skill sets will find Float especially useful. Agencies with a need to manage freelance resources or with fluctuating workloads will appreciate the flexibility and clarity Float provides.
Who Would Be A Bad Fit For Float?
Float might not be the best fit for huge enterprises that require highly granular control over project management and resource allocation or those who need in-depth budget tracking integrated directly within their resource management tool.
Also, businesses looking for a free tool or only require essential task management without the need for detailed scheduling and reporting are not a good fit.
Companies that operate around the clock might find the lack of 24/7 customer support a significant drawback. Furthermore, industries that rely heavily on real-time data updates from the field, such as construction or logistics, might need a solution that supports offline mode functionality, which Float does not provide.
Float FAQs
Can Float handle scheduling for multiple projects simultaneously?
Yes, Float allows users to schedule resources across multiple projects, providing a clear view of availability and workload.
Is there a limit to the number of users I can add to Float?
No, Float can support an unlimited number of users across its various pricing plans, starting with a minimum of five seats.
Does Float integrate with other project management tools?
Yes, Float integrates with popular tools like Asana, Trello, Jira, and more, allowing for streamlined workflows.
Can Float track time as well as schedule resources?
Yes, Float includes time-tracking capabilities, enabling teams to log hours directly within the platform.
Is Float suitable for remote and distributed teams?
Yes, Float is cloud-based and designed to support the dynamic scheduling needs of remote and distributed teams.
Does Float offer data export and reporting functionalities?
Yes, Float provides comprehensive reporting features, and data can be exported for further analysis.
Are there customizable fields available in Float?
Yes, the Pro and Enterprise plans offer custom fields, allowing users to tailor Float to their specific workflow needs.
How does Float secure user data?
Float employs industry-standard security measures, including encryption, regular audits, and compliance with privacy laws to protect user data.
Alternatives to Float
Monday.com: Ideal for those who need a broader project management tool with solid resource management features.
Wrike: Better suited for large enterprises looking for extensive customization and robust workflow automation.
Runn: Resource management with forecast capacity, projects, scenarios, and financials.
Float Company Overview & History
Float specializes in resource management software for project planning and team resource allocation. It is widely used by creative agencies, design firms, architecture studios, and technology companies for efficient project workflow and team capacity management.
As a privately held company, Float maintains a level of operational autonomy. Details on ownership are not widely publicized, indicating that it may still be founder-led or owned by a select group of private investors. The company's headquarters are in New York City, positioning it at the heart of one of the world's most dynamic business and tech communities.
While Float doesn't publicly list notable employees or board members, the team promotes a culture of expertise in both software development and customer support, driven by a mission to simplify the way teams schedule their time.
Float has come a long way since its inception. It started as a scheduling tool and now it's a comprehensive resource management platform. It has a global user base and continuously improves its product based on user feedback, remaining a competitive player in the resource management field.
Summary
Reflecting on the comprehensive Float review, it stands out as a solid, well-designed resource management tool tailored especially for small to medium-sized businesses in creative and tech sectors. Its intuitive interface, coupled with powerful scheduling features, makes it a viable option for teams looking to streamline their project planning and resource allocation processes. While it may not suit huge enterprises or those needing 24/7 support, its mid-range pricing and comprehensive features make it suitable for proper resource management.
I would like you to share your experiences with Float or ask any further questions in the comments. Your insights and discussions will benefit others considering Float as their resource management solution.