As you've probably heard many project managers say, there's never a dull moment in this field. Everyday brings something new—whether that's a splashy new website project or an out-of-left-field comment on your app wireframes that sends the whole project back to the planning stage.
When the going is good, it's good—your teams are happy, clients are happy, and your projects are launching on time and on budget (mostly!).
But when it's bad, you're likely to find yourself wishing you were doing something a little bit different. Or maybe a lot different.
Lucky for you, the skills you have as a project manager can transfer to a wealth of different industries and roles (and if you think about it, a lot of these roles are just project managers by another name).
So, if you're looking for a bit of a career change (or maybe just daydreaming about it), here's 8 cool jobs you can do with your existing project management skills.
1. Film Producer
Film production roles can vary widely on different sets (sound familiar?). You might be involved in casting roles, securing budget, negotiating distribution deals, making edits to the script, and finalizing details before launch (sorry, I mean release).
You'll be involved in both creative decisions and business decisions, determining anything from whether that comedic set piece works with the rest of the film's tone to whether there's enough budget for a high-octane car chase.
Project managers are shoe-ins for film producer roles. According to Michelle LaBrosse, CEO & Founder of Cheetah Learning, the innate people skills of project managers are a huge plus. "There [are] a myriad of people to work with…the director, producer, screen talent (i.e., actors), and the film crew," she says, "...PMs are excellent communicators and collaborators—key for working with this diverse set of personalities."
Risk management is also a critical skill in both project management and film production, especially when "...filming on location and often outside," says LaBrosse. She notes that mitigation plans ensure that producers and project managers have "all the equipment to handle the routine and not-so-routine challenges" of film production.
There aren't any required qualifications for this role (and film school is often expensive and time-consuming, especially if you already have a 4 year degree), but it wouldn't hurt to consider online courses in screenwriting, cinematography, camera operation, and sound design. There's plenty of these out there, and you can find ones specific to your interests.
Salary can fluctuate widely depending on which productions you're working on, where you're based, and which production company you're working for, but it averages out around $70,000 USD. It can run upwards of $160,000 USD if you're working for a big company like Netflix.
2. Director of Events
Many project managers have likely done some event management in their day—there's no shortage of clients wanting to put on conferences and trade shows. But have you ever imagined yourself directing events like the Met Gala or the final game of the Stanley Cup Playoffs? What about the White House Correspondents Dinner or Coachella?
This job description is probably pretty familiar to you—booking venues, organizing catering, and negotiating pricing with vendors. What might be less familiar is corralling performers, athletes, or guests; setting up ticketing; and organizing security.
Courses or diplomas in things like event management or special event planning aren't strictly necessary, but they can help you get a leg up. When it comes to salary, you're looking at an average of $73,000 USD per year, but there really isn't a ceiling, especially for those big name events.
3. Luxury Travel Consultant
A luxury travel consultant's responsibilities are what you might expect—making itineraries, organizing and booking accommodation and flights, and documenting everything for the client.
When it comes to luxury travel, all bets are off. There's no limit to what you can suggest for clients (other than their budget, which is likely to be exorbitant), and you won't generally be picking from a set list of trip options, as other travel agents might.
Plus, planning a bespoke vacation without any budgetary restrictions is just a fun thing to do—use this opportunity to live vicariously a little, or steal some ideas for your own vacations.
No additional qualifications needed here either, although you may need to learn an internal software system—but you're a project manager, so you probably already know just about every software system known to humankind.
You can expect $75,000 USD as a base salary for this role, but depending on which company you get in with, you can expect north of $100,000 USD (see: American Airlines).
4. Band Tour Manager
Picture this: you're working for your favorite band. They're heading out on a 6 month world tour, and you get to be at the show every single night.
In return, all you have to do is put your battle-tested project management skills to use—arranging flights, buses, and transport; booking accommodations; liaising with the venue to make sure the show sounds & looks just right; and connecting with media and journalists.
Sounds pretty great, right? As long as you're okay with virtually no work-life balance for the duration of the tour, being a tour manager sounds like a ball. And project managers are already equipped to do it well.
The main qualification for this role is that you have to know what you're getting yourself into. If you haven't toured before, you might be in for a shock. You'll want to have a test run before you start seriously looking for gigs—join a friend or their band on tour, if you can.
Generally, tour managers tend to be freelance, but if you can get in with a record label or a tour production company, you're golden. You might start out around the $44,000 USD mark, but there's not really a ceiling for this type of role.
5. Political Chief of Staff
Political chiefs of staff often have a wide purview—you might be doing anything from providing policy advice to implementing said policies, managing the day to day operations of the political office, hiring (or firing) interns, assigning work to said interns, speaking to the media, or conducting staff meetings.
While you might be picturing a high stakes role in a presidential office, keep in mind that your local city councilors and mayors need chiefs of staff too, which can be just as enticing, especially if you're particularly invested in making a difference where you live (always a noble pursuit).
As Ordonna Sargeant, a PMP-certified project manager, adjunct professor, and PMI chapter member, says: "Working as a political chief of staff requires building relationships, delegating, and leading by example," all of which are skills that are required for project managers.
Project managers are also masters of managing stress, a quality which is quite the boon in a political environment. Sargeant says: "These roles often require working under immense uncertainty, complexity, and volatility, so the ability to manage stress—both internally and within a team—is crucial."
Experience in politics is a bit of a must here. If you don't mind working your way up from the bottom and putting up with the often cruel and capricious process that entails (if you couldn't tell, my only experience of this is Veep), this is the role for you.
Salary will depend on the level of the office you're working in (and keep in mind that many enterprise orgs with C-suites will also hire chiefs of staff, which is a slightly different function). This averages out around $115,000 USD, but smaller offices such as mayoral officers in smaller cities might be well below this.
6. Urban Planner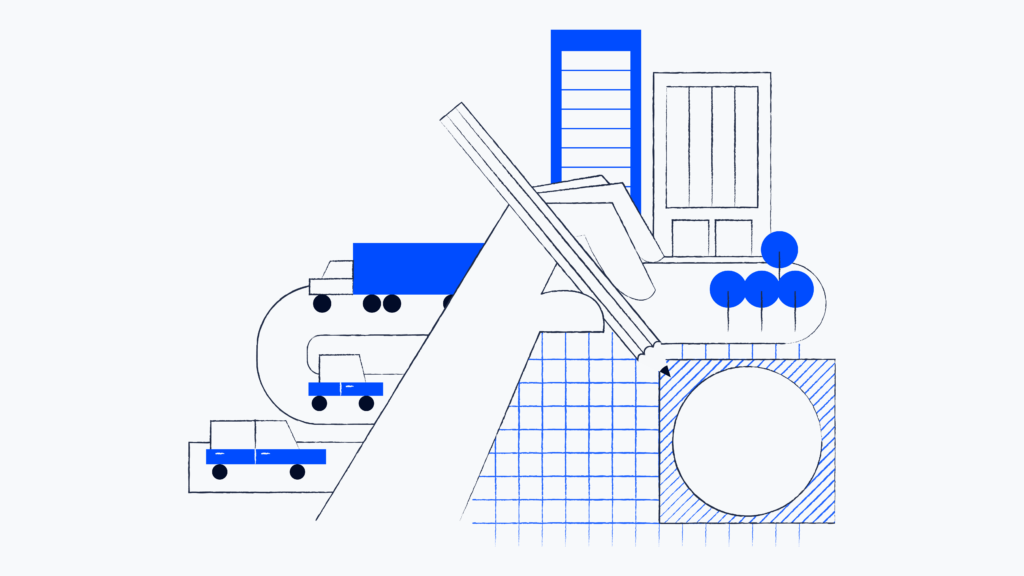 It's in the name—planner. This is something you've done many many times as a project manager, and urban planners just do it in a slightly different context. Instead of documenting deliverables, budgets, and deadlines, urban planners plan highway routes, parks spaces, and rapid transit systems.
There's plenty of ways to specialize in urban planning as well, with roles like transportation planner, infrastructure planner, environmental planner, parks planner, and urban designer.
On any given day, you might be creating maps and diagrams, meeting with other departments of the city, collecting and implementing feedback from the public (another PM specialty), and coordinating inspections.
In addition to already being well-versed in things like gathering and implementing feedback, running cross-functional meetings, and, well, planning, project managers are also ready-made urban planners due to one other critical skill. "An urban planner working on infrastructure or transportation projects must be adept in risk management," says Sargeant.
It's true—while some urban planning jobs might be as low-stakes as determining whether a particular park gets a swing set or not, jobs that involve things like rapid transit and vehicles involve way higher stakes. A slip up here could cost life and/or limb, so make sure you have a good handle on managing risks (and the associated stress!).
For this role, most organizations typically look for master's degrees in urban planning or regional planning. These programs usually need to be accredited by the Planning Accreditation Board, but other programs in urban design or related fields might be good enough, depending on the organization that's hiring you.
Salaries for urban planners hover around $70,000 USD on average, but there's a few important factors that affect salary for this role—namely, location. You'll get paid way in big, sprawling cities than you would in smaller, more rural towns. It's also worth considering specializations. As with project management, the more specialized you are, the more you're worth.
7. Fashion Show Manager
If you think of a fashion show as an event, the job description of the fashion show manager is a lot like that of the director of events: finding a venue, creating a schedule, booking vendors for things like the runway and chairs, and corralling a crew of stage managers, models, and production assistants.
You'll also be working directly with the designer—likely a big personality with very specific opinions and asks that you'll need to execute on. This can also be a high stress role, especially if you're involved in big events like Fashion Week or the aforementioned Met Gala.
According to Sargeant, "Working in a creative field—as a…fashion show manager, for example—requires being able to rally a team around a shared vision, something project managers are highly skilled at." You're likely to have a large team assisting you too, which means regular check-ins with team members is crucial for making sure every single person is aligned.
Sargeant also emphasizes the importance of both communication skills and the ability to adapt: "Those who work in these roles must be able to express ideas clearly, be receptive to feedback, and pivot quickly based on new information or directives," she says. Even if you've only spent a bit of time as a project manager, these qualities are ones you've already built up.
There's tons of accredited university and college fashion programs out there, but they aren't strictly necessary. The education you received in pursuit of project management is enough, but in this industry (as with film production) networking is often the name of the game when it comes to getting hired.
According to Indeed, the average salary for fashion show managers is sub $40,000 USD on average, but this is not representative of bigger (read: more expensive) brands that have a lot more budget to burn on their fashion shows.
8. Museum Curator
What's great about museums is that there's one for pretty much any subject you could imagine—fine art, history, instant noodles, breakups, and dog collars. Point is, there's bound to be a museum out there that speaks to your passion.
Whatever that is, you'll be tasked with finding and acquiring unique objects and art pieces, researching their background (who made them, when, why, how, etc.), categorizing them into themes and collections, and organizing them in storage when they are not in use.
You'll also likely be working closely with a conservator and other members of the museum staff to coordinate displays and exhibitions. This could include overseeing and supervising them, or just collaborating to get things set up.
A master's degree or above is a requirement in this field—look into programs in history, archeology, museums studies, art history, or similar programs. Smaller or less 'serious' museums likely don't require as much as education, but you'll want to confirm this with whichever museum you might be interested in working for.
There's a wide range of salaries in this profession as well—according to Indeed you're looking at an average of around $62,000 USD. A quick look at curator salaries at The Smithsonian or The Metropolitan Museum of Art puts you closer to (or above) $100,000 USD.
What's Next?
Inspired to make a career change? Bust out your resume and give a once-over—does it communicate that you're qualified for that new career path?
Thinking about a career I didn't cover here? I'd love to hear about it! Leave a comment below.
For more on project management career paths and transferable skills, subscribe to The Digital Project Manager newsletter.