Top 10 GoToMeeting Alternatives
Here are my top alternatives to GoToMeeting:
Below you'll find an overview of each of the 10 best gotomeeting alternatives, with screenshots, feature overviews, and pricing.
Jump to gotomeeting alternatives overviews
This article will help you quickly compare and evaluate the best GoToMeeting alternatives and other online meeting software.
Is GoToMeeting (GTM) not working for you as a web conferencing tool anymore? It happens! Users regularly outgrow whatever platform they started on and move on to bigger, better solutions.
In this post, I'll talk a bit about the process of finding a GoToMeeting replacement and compare GTM to different video conference software before giving my suggestion for the best GoToMeeting alternative.
GoToMeeting Alternatives: Comparison Criteria
What do I look for when I select the best GoToMeeting alternatives? Here's a summary of my evaluation criteria:
User Interface (UI): Is it clean and attractive?
Usability: Is it easy to learn and master? Does the company offer good tech support, user support, tutorials, and training?
Key Features: Does the tool offer all the basic features that you would have access to with GoToMeeting, like one-click meetings, turnkey room equipment, business webinar tools, user diagnostics reports, an admin center, and voice commands?
Integrations: Is it easy to connect with other tools? Any pre-built integrations?
Value for $: How appropriate is the price for the features, capabilities, and use case? Is pricing clear, transparent and flexible?
What Is GoToMeeting?
GoToMeeting is a web meeting tool that allows users to join, host, or manage a video, audio, or web meeting from a conference room, their office desk, or a remote location via your Mac, PC, or mobile device.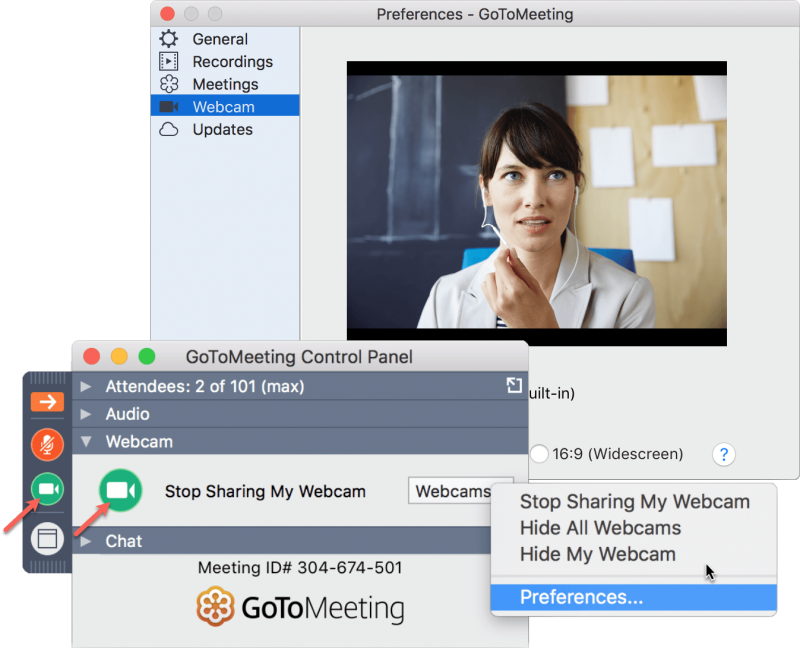 The GoToMeeting cost varies depending on the subscription plan you need; the GoToMeeting attendee limit may encourage you to upgrade your plan if you are finding you don't have enough room. $16.25/month for the Professional Plan will allow 150 participants, while the $21.67/month price tag for the Business Plan opens it up to 250 users. GoToMeeting pricing for enterprises (up to 3000 participants) is provided upon request by contacting the company's sales team.
GoToWebinar vs GoToMeeting
If you're looking to host a meeting with 500, 1000 or even 3000 participants you'll want to check out GoToWebinar. GoToWebinar works as more of an online presentation stage, as opposed to the GoToMeeting ecosystem which is designed for all those logged-in to collaborate.
GoToMeeting reviews hover around 7.9/10 according to TrustRadius, 4.5/5 per Capterra, and PCMag gave them a 4/5. GoToMeeting features include Event Management tools, flexible scheduling, webinar templates, custom registration, and your own channel page.
Further Reading: what is a webinar and how do they work?
Some noteworthy GoToMeeting pros are that the dashboard reveals exactly what your users see, preventing confusion or error, and how easy the tool makes it to provide users with a permanent meeting URL that can be reused. GoToMeeting cons include mobile login limitations (it can be quite complicated, particularly if you're on-the-go), and that GoToMeeting limits who has administrative powers to create, change, and launch meetings.
Common GoToMeeting Problems
Common GoToMeeting problems that users experience include:
A lack of advanced collaborative meeting features like polling or whiteboard/notes
GoToMeeting troubleshooting around connection issues and audio problems
Inability to change a meeting when the original meeting owner is away/unavailable
This all being said, GoToMeeting may not be the best meeting solution for you and your team. If that's the case, the following alternatives are always an option.
The Digital Project Manager is reader-supported. We may earn a commission when you click through links on our site — learn more about how we aim to stay transparent.
Overviews Of The Top 10 GoToMeeting Alternatives
Here's a brief description of each of the video conferencing tools that are featured on this top 10 list.
Livestorm is a web-based communication and conferencing platform that enables teams to create a complete video communication strategy.
The tool is geared towards marketing, sales, customer success, or HR teams, and allows teams to create online events for their audiences. Livestorm can accommodate meetings, webinars, conferences, online training courses, podcast interviews, product demos, and more.
The tool is browser-based and teams can access it from a variety of devices. Other notable features include the ability to create custom landing pages; send promotional emails and reminders; host engaging online events with integrated chat, polls, and Q & A functionalities; and analyze event performance through an advanced analytics dashboard.
Livestorm offers a free plan that includes limited functionality, and paid plans start at €89 (~$108 USD).
Pros
Can be used on desktop and mobile without download
Advanced dashboard with features for promoting, hosting, and analyzing events
Integrates with a variety of apps including HubSpot, Salesforce, Pipedrive, and more
Cons
Performance is dependent on a stable internet connection
Price point is higher than others on this list
Cyberlink uMeeting vs GoToMeeting
Cyberlink uMeeting has a free plan for up to 25 participants
GoToMeeting can host more participants per meeting, up to 3000
Cyberlink uMeeting has 5 interactive laser pointers for participants
Skype for Business vs GoToMeeting
Skype has a freemium plan for 300 users
Skype for Business allows unlimited users with its most expensive plan; GTM has 3000
GoToMeeting doesn't require an annual commitment to plans
Adobe Connect vs GoToMeeting
GoToMeeting is quite a bit cheaper
Adobe Connect offers regular webinars for training and Q&A
Adobe Connect has a "backstage mode" for users to collaborate behind-the-scenes during a live session
Google Hangouts vs GoToMeeting
Google Hangouts is completely free
Google Hangouts integrates with the rest of G-Suite, opening up more functionality
GoToMeeting was named a Leader in Gartner's 2019 Magic Quadrant for Meeting Solutions
Join.me vs GoToMeeting
Join.me is a smidge cheaper but has way stricter user limits
GoToMeeting can host more participants, up to 3000 with the most expensive plan
Join.me gives you a personalized URL and backdrop for your meetings
Sococo vs GoToMeeting
Sococo is a bit cheaper than GoToMeeting
GoToMeeting has more meeting seats per subscription tier
Sococo's "digital office space" with employe avatars is a wholly unique feature compared to other video meeting tools
Intermedia vs GoToMeeting
GoToMeeting is less expensive than Intermedia's basic plan
Intermedia has 30+ app integrations to expand your service as you grow
Intermedia offers J.D. Power-certified 24/7 customer support
ClickMeeting vs GoToMeeting
GoToMeeting is quite a bit cheaper
ClickMeeting lets you stream on Facebook or YouTube as you go
ClickMeeting has simultaneous chat translation for international viewers (via Google translate)
Webex vs GoToMeeting
Webex has a free plan for up to 50 participants per meeting
GoToMeeting can host more participants per meeting, up to 3000
Webex lets you assign alternate meeting hosts with the plus plan and above
Summary Of The Best GoToMeeting Alternative Options
With so many options for alternatives to GoToMeeting out there, we created this comparison chart to help you quickly scan and evaluate the options listed above.
The chart includes pricing and information on the availability of free trials.
Other GoToMeeting Alternative Options
Here's a few more that didn't make the top list. If you need additional suggestions for a handy online meeting app, check these out. Additionally, we have other resources for if you are more looking for screen sharing software.
What Do You Think About These GoToMeeting Alternatives?
Have you tried out any web conferencing software listed above? Do you have an alternative to GoToMeeting that you would recommend? Let us know in the comments below.