I've summed up my top favorite PM tools that I consider to be the best project management tools on the market today. You'll find them in a quick, short list, followed by a selection of types of tools that project managers might use.
You can check out the software on the "best of" list, or scroll through our list to find more about a specific type of tool you're looking for, such as Gantt chart tools, kanban board tools, tools to track time, agile PM tools, and more.
List Of The Best Project Management Tools

Search By Types Of Project Management Tools
I've written overviews of many types of project management tools that I've used in my projects, from task management software to collaboration tools to full-blown project management systems.
Below, I've listed the software overviews I've written according to the type of project management tools they cover so you can check out the other project management platform lists on The Digital Project Manager site and find the best project management software for your needs:
Software for managing projects can range from project management tools that simply help with project scheduling and project planning to enterprise-grade on-premise project management systems that include portfolio management and program management as well. Common features include charts and reporting, document and deliverable sharing and proofing, budget tracking, communication, collaboration features, and project dashboards.
Some PM tools are designed specifically for agency environments—check out the agency management systems list to discover some great general tools for managing agency teams and projects, or find specialized tools built for marketing, advertising, and creative teams below.
In marketing teams or agencies, project management tools can help teams plan, communicate, and track marketing projects from briefing through delivery. They usually provide customizable features for project and resource planning, client management, team collaboration, invoicing, time tracking, and reporting.
Ad agencies have a lot of moving parts—lots of clients, customers, and internal needs. Advertising agency software helps integrate and organize the moving parts, offering features like project management, resource allocation, CRM, accounting and billing, digital marketing tools, and reporting.
Creative project management involves navigating the needs and workflow of a team that has been assigned a creative-oriented task. Software for creative teams enhances collaboration and brainstorming in addition to automating some more technical or administrative tasks to free up employee brain power for things computers just can't do.
Scheduling software helps you not only plan your projects and create a project roadmap, but to also get a grip on what's currently happening as the project unfolds. It also allows you to centralize all work-related activities such as planning, task allocation, resource management, and reporting. Finally, project scheduling tools create transparency, not only for stakeholders, but also for team members who want to know what's expected of them.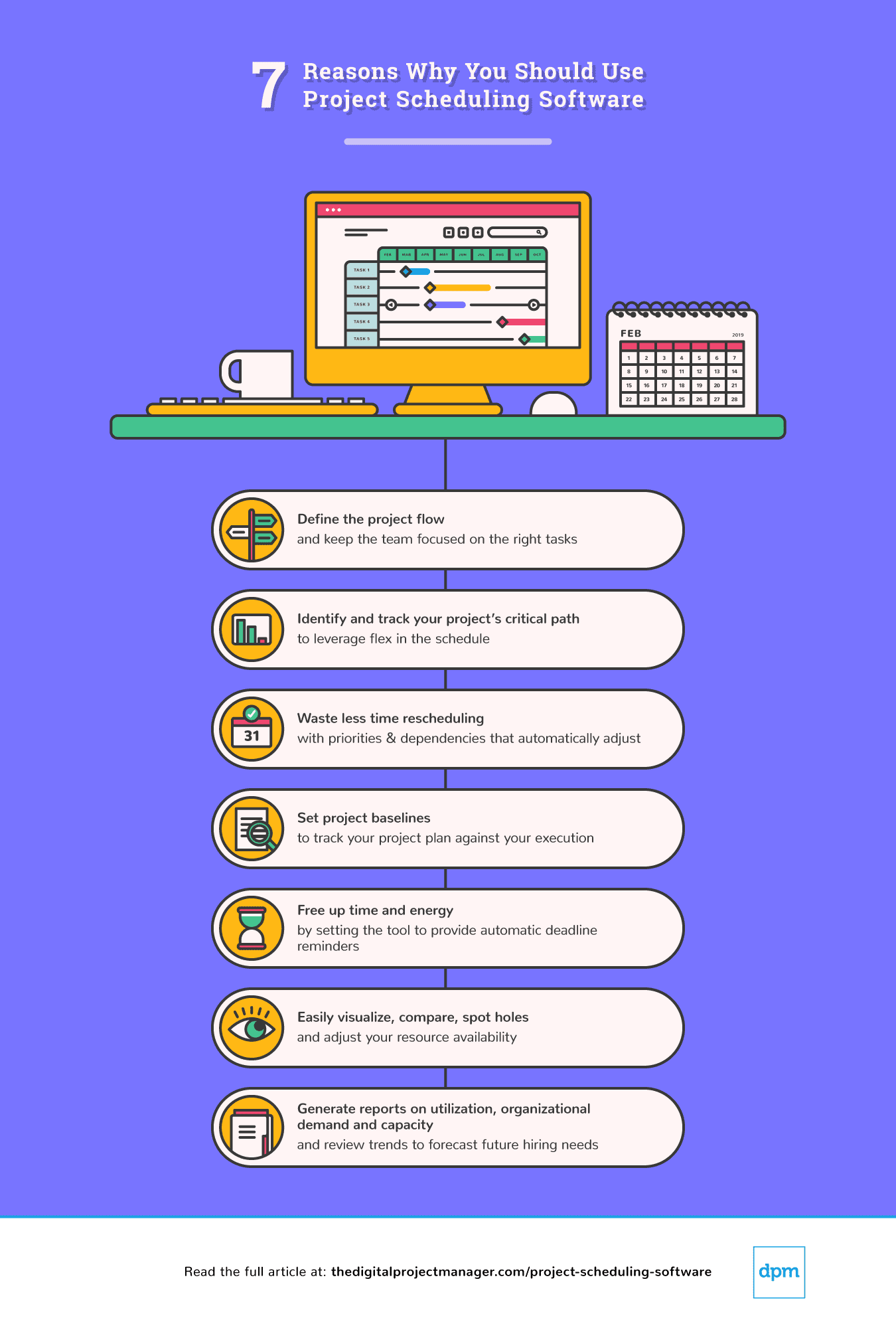 Resource scheduling software can help plan, organize, and manage your projects as well as your agency resources – whether they're people, rooms, or phone lines. They can be used to develop resource plans and create resource requirement forecasts. Resource scheduling software is known by a lot of other names, too, including resource allocation software and workload management software.
Resource management software makes it easy to plan, schedule (and reschedule) projects. Sometimes referred to as resource capacity planning software, it's a type of project management tool that enables you to plan, allocate, and then track who's working on what project, when, and for how long. Resource management software makes it easy to see the capacity of the organization, the available skills, and then schedule and provide reporting to show historical and forecasted resource utilization.
As a project manager, there's a good chance that you've come across a Gantt chart or two in your time. Popularized by Henry Gantt in the early 1900s, the Gantt chart has long been a favorite tool for planning activities, building timelines, and seeing all aspects of a project from a macro perspective. The best Gantt chart software will include the project timeline and schedule, the overlay of interdependent tasks and subtasks (ie. Task B cannot start until Task A is finished), time estimates, a schedule for project progress status reports, team assignments, and more.
Scrum tools aren't just for agile software development offices, even though that's where Scrum originated. The Scrum framework can be used in many production settings—from marketing agencies to construction firms. Scrum software is designed to facilitate the Scrum framework, encouraging collaboration, transparency, and efficiency among project team members. Scrum software can prove beneficial for almost any organization, as it facilitates communication, organizes workload, and helps members to plan for multiple iterations.
Agile is everyone's favorite project management and delivery buzzword, but what agile tools can you use to help successfully run an agile project? There are an incredible number of agile tool options that help you manage projects with popular methods like Scrum and Kanban collaborate closely with cross-functional teams and track the metrics that matter when working with agile-based methodologies.
Communication tools are apps that act as a virtual, online meeting room for team members. Team or interoffice communication tools include familiar tools like mail, email, and phones, as well as mobile apps and software for web conferencing, screen sharing, sharing files, group messaging, and collaborative work management. These are some of the most important project management tools, as they help your team have conversations, exchange vital project data, update others with progress, share files, and create work collaboratively.
Trello is a collaboration software based on the Kanban method. It helps you manage tasks with cards on boards. It's renowned for being highly user-friendly and having a simple user interface, allowing users to get started within a few minutes and offering straightforward, easily understood tools and functionality. Because it offers a free version, it's often the go-to Kanban tool. However, when you need a little more oomph from your Kanban tools, such as the extra functionality or integrations that don't come with Trello's free version, you're going to need to pay for those "Power-Ups".
Microsoft Project is a project management tool used by different types of users, with varying levels of access. The software provides tables, views, filters, fields, calendars, and a database for doing things like developing project plans, managing budgets, and scheduling resources. If you're looking for an alternative because your system requirements or budget doesn't allow for using MS Project, there are dozens of paid and free MS Project alternatives that can do the job.
MS Project does not work on Macs—but there are workarounds as well as alternative tools that perform the same functions. This post explains how you can run MS Project on a Mac device and also suggests some alternatives for making Gantt charts, viewing MPP files, collaborating on project schedules, and more.
Basecamp is one of the most popular collaboration and project management solutions. It enables a team of any size to discuss and share their ideas, schedules, to-dos and task lists, and files. However, Basecamp lacks in some areas where Basecamp alternatives have jumped in with their solutions. In this post, you'll find an in-depth analysis of 10 Basecamp alternatives, including their strengths and weaknesses, pricing, and unique features.
As project managers trying to manage project budgets and getting our teams to track their time accurately, we use time-tracking tools for many different purposes aside from simply filling in timesheets. Time tracking tools not only include trackers for your team to log their time and improve their time management, but also features that help you understand if you're tracking above or below budget, how much you should invoice your clients, and how profitable your projects are.
In PPM, a project portfolio manager takes a high-level look at the pool of projects and programs (some of which may be directly related, and some not) in a business's portfolio. PPM software can help you use project data to make decisions, allocate resources, create executive reports, fix performance issues, and assess risks to optimize a portfolio of projects.
An online collaboration tool enables a more coordinated workflow by providing a unified platform for team discussion, file sharing, online storage for documentation, task assignments, and real-time project collaboration. They can include features such as task status updates, file sharing and file management, video conferencing, live sharing on co-created documents, and client-facing portals.
Business intelligence tools are any software that collects, processes, analyzes, and displays large volumes of otherwise scattered data, which may come from sources like documents, forms, images, files, emails, videos, website code, and more.
Workflow management software goes by many names—you might hear it referred to as including BPM software, or simply process management software. No matter what you call it, all workflow tools offer an interface for visually representing your workflow and optimizing its many moving parts. These tools support you as you schedule tasks, collaborate with others, manage workloads, create and share documentation, and evaluate progress.
Change management tools are anything that can be used to alleviate tensions that arise during a shift in process, staff, or software. Change management tools might be needed for collecting feedback, implementing plans, structuring training programs, and more.
ALM tools are generally sold as software suites with several modules or components. These can be integrated to provide a standardized environment that supports your organization through all of the phases of the software development lifecycle (from concept through deployment and eventual retirement), in addition to supplying business management and software engineering tools for the functions listed in the previous section.
Whether you call them defect tracking tools or bug reporting tools, these tools are designed to bring bugs to your attention in a systematic way, providing as much environment data about the bug as possible so it's easier to isolate, backtrack, categorize, prioritize, and fix. Most defect trackers also provide features to help your teams unify and streamline the communication/collaboration that's part of the bug fixing process.
Helpdesk software is a digital hub where customers can send queries to be logged, organized, and resolved. This may involve elements such as ticket management, automation suite, reporting, and optimization. It may also provide a knowledge forum for the self-serve resolution of repeat or ongoing requests.
The best CRM platform will help your business navigate relationship-building (and maintaining) with both current and potential customers through tracking relationships over time, launching marketing touchpoints, and assisting with customer service. These tools enable small teams to track customer details, collect feedback from customer-brand interactions, trace the sales cycle from lead to sale, develop marketing campaigns, and more.
Requirements management tools are any tools that help you remove ambiguity—assumptions, wishful thinking, gray areas, interpretations—from a project's requirements. As such, the end goal of requirements management (RM) is to operate with clear, realistic, and agreed-upon requirements. You use these throughout the development process so you can easily test a product or project to ensure it does what it's supposed to do.
Digital asset management systems make the process of storing, sharing, and tracking digital assets much easier. It provides a centralized library to store and share digital assets and allows people to access the files they need no matter where they are in the world—without being connected to an onsite server.
To truly do impactful work, we have to reposition our thoughts on productivity: it's actually about making better use of your time. I've chosen a few tools that can help you carry out the important work of being effective with your time by automating, tracking, syncing, and reminding—leaving you with more time to do the work that matters most!
Wireframe software is software that is designed to help you mock up a wireframe layout as quickly and easily as possible. Many web wireframing tools will let you drag and drop placeholder elements for images, text, banners, and logos to help you get a feel for your first draft design.
Mind mapping software isn't often counted among project management tools, but it should be. Also called concept mapping software, this is a brainstorming tool that enables you to create visual diagrams of your ideas. Using a mind map maker, you can create an idea map—a conceptual map that illustrates the hierarchy and connections between different ideas.
Flowchart software is a program or app that can create a sequence diagram, often of interconnected shapes, that outlines the flow, hierarchy, order, or structure of a plan or idea. Flowcharts can be great tools for project management—use them as project management tools to present ideas, jumpstart your thinking, keep your flow of work or communication organized, or map a product from conception to launch.
This type of software is usually found in enterprise environments. It's a set of tools that can help an organization estimate, plan for, measure, and mitigate risks by plotting potential risks, calculating potential costs, and keeping a risk database.
GRC tools are most often used in publicly-held enterprises. It helps organizations manage their IT-related operations that require regulation to ensure they meet compliance and risk standards like IPAA, FEDRAMP, NIST, ISO, PCIDSS, SOC 2, GDPR, and CCPA.
Join The DPM Community For More Project Management Tools & Techniques
Stay updated with the latest tricks, tips, project management tools, and techniques that leading project managers are using today—subscribe to the DPM newsletter, or join our exclusive Membership program to get ongoing training, templates, and mentorship to grow your career.
Our friend and supporter: