Workflow management software channels the flow of a project's work, directing its course from A to Z. A solid workflow tool serves as a guide for the current of project tasks that need to happen along the way, with the project outcomes being fully formed as they flow through different processes, check, and balances.
The sheer variety of BPM tools is enough to overwhelm you! We examine the following tools:
Workflow management software adds a layer of structure and visibility to your workflow, helping you turn ideas into products, and concepts into processes. These tools helps you ensure that the project is delivered properly and that the quality of the project is maintained. These tools support you as you schedule tasks, collaborate with others, manage workloads, create and share documentation, and evaluate progress. Today, workflow management software is a must-have for keeping teams unified, especially with the growing complexity and fast pace of our multi-taking, distributed workforce.
Taking advantage of the new capabilities offered by automation and the availability of useful data for decision-making, you can do so much better than a to-do list—you can support your team with an entire ecosystem of business process management tools (BPM tools) for creating efficient, optimized workflows.
The trick is in knowing how to choose best workflow management software for your team, your business goals, and your budget. Here's a break-down of the best workflow management software along with key criteria to consider in choosing a workflow tool.
What Does A Workflow Management Software Do? (And How It Can Help You)
What Is Workflow Software?
At its core, a workflow management system (WMS) is a set of functions for setting up, doing, and monitoring business tasks.
What Does Workflow Software Do?
Workflow management software goes by many names—you might hear it referred to as including BPM software, or simply process management software. No matter what you call it, all workflow tools offer an interface for visually representing a your workflow and optimizing its many moving parts.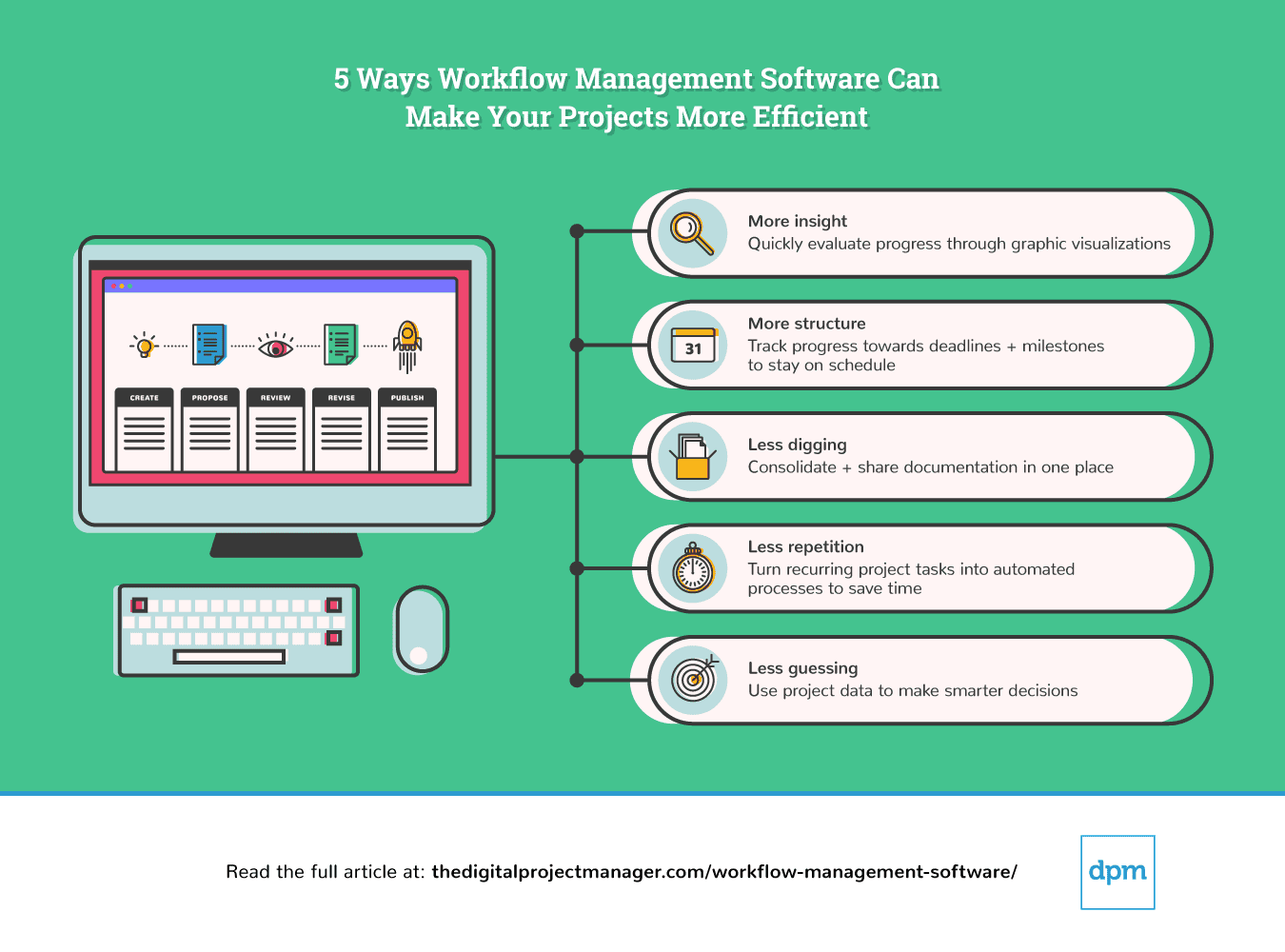 Freelancers, agencies, enterprises, and everyone in between can benefit from some kind of workflow tool, with the aim of increased productivity, reduced costs, better communication, and a fluid exchange of information within a project. You can use workflow management software for anything from monitoring deadlines at an individual level, to automating recurring tasks on a project level, to evaluating and optimizing projects' performance on a business level.
Workflow software automates these processes. It contributes to a BPM framework or methodology.
What Is BPM Framework?
A BPM framework (business process management) framework is a process-centric framework that provides definition for and visibility into an organization's sets of coordinated tasks.
What Is BPM Methodology?
BPM methodology aims to simplify businesses processes from end to end in order to increase productivity and efficiency. BPM methodology includes analyzing business processes, creating new frameworks, and monitoring processes for continuous optimization.
The Digital Project Manager is reader-supported. When you click through links on our site, we may earn a commission. Learn more.
The Best Workflow Management Software To Boost Your Team's Efficiency
At the bottom of the post, we include a table summarizing basic info about the tools described in this article as well as an explanation of our selection criteria, so you can understand how we made this list of workflow management software.
The Best Workflow Management Software To Boost Your Team's Efficiency
monday.com, an award winning platform, is one of the few workflow tools that prides itself in 'not being a project management tool'! They've done away with a lot of the trimmings of typical workflow tools and focused instead on a structure and views that help clarify the sequence of work that needs to be done.
You put tasks on a board, and then you add in the steps you'll need to take to get it done. It's vaguely similar to a spreadsheet (a nicer-looking one)— if you're currently using spreadsheets for project management, monday.com is a good choice because it can round out your workflow with alerts, notifications, integrations and automated processes. monday.com's features include a customizable task board for managing task status, assignee, due date, hours spent, etc.
The tool offers multiple views of work—view by list, by geographical map, on a Kanban board, and others. It also offers a great project dashboard with a Gantt chart style overview for checking all projects that are underway. Apart from that, monday.com enable big picture view using dashboards that collect data from multiple boards, allowing better tracking abilities of progress. It doesn't offer much in the way of financial reporting, though, so for budget-related reports you'd want to look at 3rd party integrations.
monday.com's integrations include Slack, Google Drive, Gmail, Google Calendar, Jira, GitHub, Trello, Dropbox, Typeform and many more, accessible via Zapier. For help setting up integrations, the company's customer support is available 24/7 by phone or email.
monday.com pricing starts at $17/month for two users.
Summary of monday.com:
Automation:

Pass

KPI Reports:

Pass

Deadline Tracking:

Pass

Integrations:

Pass
Hive is a project management tool, collaboration platform and workflow management software that powers companies like Starbucks, Uber, WeWork and IBM. With AI-based analytics, thousands of integrations, flexible project views, and more, Hive streamlines your workflow in one centralized platform. Used by teams of varying sizes, from 10 people to 1,000, Hive is a great option for a diverse range of companies and work styles.
Hive's time-tracking, analytics and flexible view capabilities allow for transparent understanding of other team-members work and upcoming projects. Hive also has one of the first full email integrations in any project management tool, which allows you to send and receive Gmail and Outlook messages from the app. Choose Hive if you're in the market for a well-laid-out, comprehensive workflow management tool that can be scaled up or down based on team needs.
The tool costs $12 per user per month when billed annually.
Summary of Hive:
Automation:

Pass

KPI Reports:

Pass

Deadline Tracking:

Pass

Integration:

Pass
It's hard to draw a comparison between lightweight tools like Asana with enterprise-grade tools like Wrike. If Asana were a bicycle, Wrike would be an SUV. They both get you from A to B, but the scenario and the user are clearly different. While Wrike offers several versions that are well-suited to small teams, this workflow management software comes equipped to quickly scale to an enterprise-grade solution.
Wrike simplifies managing your workflows with auto-assigned workflows that can be set to various folders, projects, and templates. In addition to task management, Wrike comes with a resource management suite of features, including Gantt charts, time-tracking, and budgeting. In fact, many of these are included in the Professional version ($9.80/user/month), offering a bit more than most other platforms for the typical price we often see hover around $10/user/month.
For reporting, Wrike has a leading edge. Among the reporting features, users can choose from report templates or use the report-building wizard to create custom reports and schedule notifications for any report updates. One major advantage of Wrike is its real-time reporting function, which can automatically share real-time reports with clients, stakeholders, etc.
In terms of integrations, Wrike also offers a distinct advantage, especially for teams using GitHub and Jira: as an add-on they offer a two-way sync with these platforms for better collaboration between technical teams. Wrike also integrates with dozens of other CMS, IT, automation, customer support, and file storage platforms.
Wrike costs from $9.80/user/month for the Professional plan (up to 15 users). There's also a free plan for up to 5 users with simple task management functionality.
Summary of Wrike:
Automation:

Pass

KPI Reports:

Pass

Deadline Tracking:

Pass

Integrations:

Pass
Clarizen is not your high school prom date—this is marriage material, here.
This software has been in the game for a while (since 2006), and it shows: this is a well-developed, well-supported tool offering a wealth of business process management tools. These include dynamic reports and dashboards, automated repeatable processes and alerts, project and portfolio optimization features, resource management tools, and real-time visibility. In short: what's not to like? This one's a keeper. The only caveat to this robust, enterprise-grade solution is that, well, it's priced like one. It isn't designed or priced for smaller teams, offering only two versions: "Enterprise" and "Unlimited".
This platform offers just about every tool or feature you could dream of: a well-rounded library of add-ons, as well as integrations, a flexible interface, and configurable workflows. On top of this, it's reporting features are cutting edge, with a built-in report wizard for automatically generating presentations of your data. They even have a bot that integrates with Slack so you can keep up with events happening in Clarizen from inside your Slack account.
Clarizen integrations include essentials like Jira, Box, Salesforce, SAP, Slack, Google Drive, NetSuite, Oracle, and others.
Clarizen costs from $29.95/user/month.
Summary of Clarizen:
Automation:

Pass

KPI Reports:

Pass

Deadline Tracking:

Pass

Integrations:

Pass
ProcessMaker is a business process management software designed for enterprise corporations and government organizations. This tool's framework is more aligned with the structured hierarchies of larger organizations in healthcare, education, manufacturing (etc) with a variety of management features for structuring roles, groups, departments, and chains of command. A major benefit of ProcessMaker is its open-source model—you're not locked in to a single vendor or system, and you can easily connect ProcessMaker to other databases and systems (Oracle, MySQL, SQL, DMS, BI, CMS, ERP). The free open source version is available for download and includes basic workflow functionality, which is a decent workflow tool for developers who work in a non-mission-critical environment.
ProcessMaker integrations are accessed through RESTful APIs that integrate ProcessMaker with other standalone or web applications. The Enterprise version also include a useful Gmail, Google Calendar, and Google Sheets integration for integrating emails and events with tasks.
Summary of ProcessMaker:
Automation:

Pass

KPI Reports:

Pass

Deadline Tracking:

Pass

Integrations:

Pass
For teams who are used to Trello, Asana will appear familiar. Like Trello, Asana's workflow is visually simple and intuitive, based off of kanban-style cards. In fact, if you're already using Trello but looking to add some important functions to your workflow, you can sync your Trello boards with Asana so your teams can work in the app of their choice. Really, the use case for both of these workflow apps is the same: they're both great for small-to-mid-sized teams who work closely together and who need all of their project deadlines, reports, communication, and tasks all in one organized place. For small, growing teams who don't require a ton of features at the start, Asana's free version might do the trick—at least for the first couple of months—with unlimited projects and basic dashboards for up to 15 team members.
Flexible and lightweight, Asana is a simpler tool with fewer features than the other workflow management software tools in this list (which could be ideal, especially if you know you're not going to want loads of ultra-configurable workflows). While it doesn't include a ton of advanced features, it does offer a straightforward, functional task management tool that is easy to learn how to use. There are some reporting features, including a customizable dashboard and visual progress chart. You'll also find some basic automation, such as turning processes into templates, creating task dependencies, and setting up automatic status updates.
Asana integrations include 100+ applications that you can use to round out the tool with further time-tracking, reporting, and communication functionality.
Asana costs from $9.99/user/month. There's also a free version for up to 15 team members.
Summary of Asana:
Automation:

Pass

KPI Reports:

Pass

Deadline Tracking:

Pass

Integrations:

Pass
ProWorkFlow is similar to tools like GetFlow or Pipefy. It's designed to provide project and task management in a simple, streamlined interface for small- to mid-sized teams. If you're new to the layout of workflow management software, ProWorkFlow is a good starting point—their straightforward, thorough explanation of their platform's features is easy to digest, even for non-technical readers. Likewise, their pricing is straightforward and comparable to the industry average at $10/user/month for the basic version.
This is a well-rounded tool that's easy to learn how to use, with a complete suite of time-tracking (as an add-on widget), reporting, file sharing, communication, invoicing, resource management, and template-building tools. ProWorkFlow also offers a template library to quickly create invoices, quotes, and tasks.
In terms of integrations, ProWorkFlow is mostly DIY. They have a library of their own apps, including a kanban-style board, scheduling app, time tracker, customer map, productivity dashboard (and more). Otherwise, their API allows you to build your own reports, apps, and integrations. Of course this does require a bit of work from someone on your team who knows their way around APIs.
ProWorkFlow costs from $10/user/month.
Summary of ProWorkFlow:
Automation:

Pass

KPI Reports:

Pass

Deadline Tracking:

Pass

Integrations:

Pass
If the slick, colorful GetFlow is the millennial of workflow tools, MetaTask is the baby boomer. Not to say that it's old fashioned by any means—simply that MetaTask means business. It's a highly practical tool that's not looking to impress (and clutter) with flashy, sexy features. As well, this tool doesn't attempt to reinvent the wheel by using its own vocabulary for already established concepts (looking at you, Pipefy, no offense). No trendy proprietary lingo: MetaTask just calls it like it is. It's a good choice for someone who wants a highly functional, straightforward tool.
MetaTask offers process templates, approval workflows, and a real-time dashboard that automatically organizes and displays tasks by the due date for each user. Within their process forms, you can create invoices, expense reports, timesheets, and other data-based tables by simply choosing a table form. The tool also offers multiple options for setting and triggering deadlines: setting deadlines on a day, week, month, or based on completion of a previous task, the start of a new process, etc. MetaTask clearly has the tools for a smooth workflow—however, the platform does lack some of the reporting functionality included in other tools (namely, it lacks customizable, visual data reports).
MetaTask's integration library isn't extensive, but it includes essentials like Microsoft Flow, Google, and Zapier for connecting to hundreds of other apps.
MetaTask costs $5/user/month and offers a free 14-day trial. In alignment with its no-fuss approach, MetaTask takes the cake for the absolute simplest pricing in the workflow management game. No complicated paywalls or user limits. Pricing is the simplest: $5/user/month. Period.
Summary of MetaTask:
Automation:

Pass

KPI Reports:

Pass

Deadline Tracking:

Pass

Integrations:

Pass
Avaza is the Swiss army knife of workflow management software, providing resource management, workflow management, time-tracking, and invoicing tools. It also integrates with an array of online payment systems.  In use cases where expenses, estimates, payments, and invoicing feature strongly, this tool offers a major advantage over other tools with its many features for managing a business's financial tasks. That said, Avaza is a good choice if you're currently not happy using multiple disjointed platforms for handling finances and managing tasks.  In some use cases, Avaza's comprehensive suite of features is overkill (perhaps you run a small business or work as a freelancer). However, for the reasonable $9.95/month for the Startup Plan, Avaza's above-average functionality—at a very average price—is hard to say "no" to.
As a workflow tool, Avaza enables you to create tasks in integrated workflows, invite customers, and set up triggers to automate your processes. You can toggle between different project views, including Kanban boards, Gantt charts, and task list views, which is a helpful feature for quickly surveying the status of your projects and resources. Because it's a comprehensive project, resource, and task management tool, Avaza's reporting features can provide insight into multiple aspects of your business' performance, and this is a strong selling point. For example, in addition to status and time reports, you can view reports on overall project profitability, your team's expenses, unpaid invoices, and more.
Avaza integrations include essentials like GitHub, Jira, Salesforce; through Zapier it can integrate with hundreds of other apps.
Avaza costs $9.95/month for 2 users and unlimited collaborators. It's free for 1 user and unlimited collaborators.
Summary of Avaza:
Automation:

Pass

KPI Reports:

Pass

Deadline Tracking:

Pass

Integrations:

Pass
If Kissflow is a buffet, Formstack is a tiramisu: we're talking layers. Forms upon forms!
Formstack's workflow management is centered around an easy-to-use form builder. They offer an impressive template library with over 200 pre-built business forms to customize. For users who are launching a business or nonprofit or using workflow management software for the first time, Formstack is a solid choice. It is an abundant, well-rounded resource full of pre-made documentation that saves your team time. For the same reason, Formstack is a smart choice for teams who are running a bit lean—it offers pre-built templates for HR, marketing, customer service, IT, business operations, and more. This document workflow software is good for small agencies, as it's a bit of a "one-stop" admin shop. Overall, it's a higher price-per-user than many of the other workflow tools, but if your processes are documentation-heavy, this tool pays for itself in those time-saving templates.
Formstack features include some workflow automation, such as automatically collecting payments or collecting data and routing it to people who need it. The dashboard provides a visual display of your data and KPIs, and even in basic versions, you can access custom visual reports of metrics like unique views, conversion rates, and abandonment rates to assess your campaigns.
Formstack integrations include business applications like Salesforce, PayPal, MailChimp, Slack, ZenDesk, and 40 others. These integrations allow you to round out this tool; expanding it from a "one-stop admin shop" to provide workflow management as well.
Formstack costs from $19/month for 1 user, which allows you to create online forms. Note: the caveat with using Formstack for workflow management specifically is that you don't really access many of the workflow features until you upgrade to the Gold plan ($82.50/month for 5 users).
Summary of Formstack:
Automation:

Pass

KPI Reports:

Pass

Deadline Tracking:

Pass

Integration:

Pass
Summary Of The Best Workflow Management Software
Here's a table summarizing basic info about the tools described in this article. View pricing as well as availability of free trials to make a quick side-by-side comparison.
Other Workflow Management Software Worth Considering
I haven't had a chance to review these properly, but if the tools included in the review aren't working for you, consider checking out these additional BPM tools:
Want Help Narrowing Down the Options?
This tool is pretty useful. We've partnered with Crozdesk to give you access to their "Software Finder".
If you input some of the details about your project and the features you're looking for in a project management tool, it will generate a list of tools that match your preferences. You provide your email, and they send over a nice PDF guide with a summary of your best matches.
Workflow Management Software Selection Criteria
Some workflow automation software is more comprehensive than others—some are focused on managing the workflow itself (assigning tasks, creating dependencies, tracking deadlines). This type of application might also go by the name of workflow diagram software or workflow diagrams software. Others offer a more robust workflow management system as part of a broader resource management software or project management software. As such, they offer a suite of additional business features for creating process forms, handling invoices and payments, modeling data, managing a project portfolio, and more.
In our selection of workflow management software, we narrowed down our criteria to a few key points. These are the essential functions of a useful workflow tool:
1. Automation
This is the whole point of using a workflow software. We examine the tools' time-saving automation functionalities, such as automatically assigning tasks, sending push notifications, routing documentation, sending status updates, and generating reports.
2. KPI reports
This is usually some type of dashboard with graphic displays of your workflow stats. KPI reporting not only gives team members insight into their task or project status, but also gives management insight into where inefficiencies are occurring so you can optimize your business processes.
3. Deadline tracking
Even with a dashboard, when you're running dozens of workflows, it's easy to lose sight of deadlines. To be useful, a workflow tool has to offer a clear system for SLA indicators. Tools use notifications, color-coding, and dashboard views that display tasks by due date in order to help you manage deadlines.
4. Integrations
Nowadays, all projects require multiple tools. Your workflow management software absolutely must integrate with other apps that you use for your business. This includes calendars, CMS, development tools, databases, email and communication tools, payment processing apps, etc
5. Price
The value that you get from a workflow tool has to align with the price you're paying. The best workflow software for you won't require you to pay for features you don't need or users you don't have. We evaluate tool's pricing based on its simplicity, transparency, and value offered at the price.
How To Choose The Best Workflow Management Software?
The best workflow software out there is one that aligns closely with the requirements of your business processes. When choosing, ask yourself:
What Do You Need It For?
When asking this, you're really trying to identify: are my processes human- or system-centric? A human-centric workflow focuses more on bringing people and their tasks, documents, and progress into one place. A system-centric workflow focuses on bringing different business processes or systems together, integrating their functions to create a unified workflow in one space.
Who Is Going To Use It?
How many people are on your team? Who is going to use the tool, and do you require role-based access control? You'll also need to ask yourself what types of people will be using the tool in order to decide if you require something code-based or with low/no code.
When thinking of your team, it's easy to assume that a large team necessarily needs more complex workflow functions. However, keep in mind that even large projects can work best with simple workflows where all that's really necessary is  the ability to assign tasks, share documentation, and track deadlines. On the flip-side, even very small teams can have complex workflows that benefit from advanced reporting, resource management, and optimization features.
How Would That Fit Into Your Process?
Does this tool fit in with your existing toolkit and integrate with the right tools? If this is one of the first tools you're adding, will it scale and expand in order to meet your needs as you grow? Ask yourself whether your team will use it online, or if they need something that works offline as well.
How Long To Get It Running Smoothly?
Is it easy to implement? Along with this, look at the ease of onboarding: is it a tool that your team can easily learn to use? Many tools offer different levels of support based on your pricing tier—does it offer technical support, or will you be left hanging? Finally, is the solution hosted, or will you maintain the infrastructure behind it?
How Much Does It Cost?
Prices fall into a wide range from $0-$40 per user per month. Most workflow tools are priced per user, which highlights the importance of considering how many team members will use it—as well as how many team members are going to be using it in the future. Make sure you look at how the cost will increase as you scale—not only will your costs increase with each team member, but you may also need to bump up your plan to a more expensive tier as your business needs expand.
What Do You Think?
What did you consider when choosing a workflow management software? What's your experience with choosing and using workflow software? Share with our community what you think is the most important considerations in selecting a workflow tool.