Here's a shortlist of the workflow management software I review in this post. Click to visit their sites, or read more about each tool below.
Below you'll find an overview of each of the 10 best workflow management software, with screenshots, feature overviews, and pricing.
Jump to workflow management software overviews
Workflow management software channels the flow of a project's work, directing its course from A to Z. A solid workflow tool serves as a guide for the flood of project tasks that need to happen along the way, with project outcomes becoming fully formed as they flow through different processes, checks, and balances.
Workflow management software adds a layer of structure and visibility to your workflow process, helping you turn ideas into products, and concepts into processes. These tools help you ensure that the project is delivered properly and that the quality of the project is maintained.
These tools support you as you schedule tasks, collaborate with others, manage workloads, create and share documentation, and evaluate progress. Today, workflow management solutions are a must-have for keeping teams unified, especially with the growing complexity and fast pace of our multi-tasking, distributed workforce.
Taking advantage of the new capabilities offered by automation and the availability of useful data for decision-making, you can do so much better than a to-do list—you can support your team with an entire ecosystem of business process management tools (BPM tools) for creating efficient, optimized workflows.
The trick is in knowing how to choose the best workflow management software for your team, your business goals, and your budget. Here's a break-down of the best workflow management software along with key criteria to consider when choosing a workflow tool.
The Digital Project Manager is reader-supported. We may earn a commission when you click through links on our site — learn more about how we aim to stay transparent.
The 10 Best Workflow Management Software
At the bottom of the post, we include a table summarizing basic info about the tools described in this article as well as an explanation of our selection criteria, so you can understand how we made this list of workflow management software.
monday.com, an award winning platform, is one of the few workflow tools that prides itself on 'not being a project management tool'! They've done away with a lot of the trimmings of typical workflow tools and focused instead on a structure and views that help clarify the sequence of work that needs to be done.
You put tasks on a board, and then you add in the steps you'll need to take to get it done. It's vaguely similar to a spreadsheet (a nicer-looking one)— if you're currently using spreadsheets for project management, monday.com is a good choice because it can round out your workflow with alerts, notifications, integrations, and automated processes. monday.com's features include a customizable task board for managing task status, assignee, due date, hours spent, and more.
The tool offers multiple views of work—view by list, by geographical map, on a Kanban board, and others. It also offers a great project dashboard with a Gantt chart style overview for checking all projects that are underway.
Apart from that, monday.com enables big picture views using dashboards that collect data from multiple boards, allowing better tracking abilities of progress. It doesn't offer much in the way of financial reporting, though, so for budget-related reports you'd want to look at 3rd party integrations.
monday.com's integrations include Slack, Google Drive, Gmail, Google Calendar, Jira, GitHub, Trello, Dropbox, Typeform, and many more that are accessible via Zapier. For help setting up integrations, the company's customer support is available 24/7 by phone or email.
monday.com pricing starts at $17/month for two users.
Pros
Huge focus on collaboration

Long list of supported integrations

Spreadsheet-style pulses for task progress
Cons
Complex pricing rubric

No single-user plan
Smartsheet is based on spreadsheets and allows users to organize tasks, schedules, processes, and more on spreadsheets.
Smartsheet is a spreadsheet-like project management tool. It has won a few awards for quickly becoming a favorite business app. It's a nice workflow management software if you're comfortable working in Excel but want a break from complicated formulas—Smartsheet performs all the calculations for you across multiple sheets. You can also add customized brand logos and set color themes for individual projects.
Smartsheet has useful features such as workflow automation and visualization of tasks in Gantt, calendar, and card views. Team members get notified of critical changes in real-time, and the tool provides shared views, detail history, activity logs, automated alerts, reminder, and status reports to keep everyone aligned and informed.
The Critical Path feature highlights all the tasks which directly impact your project completion date to keep an eye on important milestones. Reporting is a strong feature of this workflow tool, with editable summary reports that you can easily export to Excel.
Smartsheet integrations include Microsoft and Google apps, as well as development essentials like Jira, and useful business apps like Salesforce, ServiceNow, Slack, Box, and Tableau. The platform is extensible through a REST API and webhooks.
Smartsheet costs from $7/user/month, with a minimum of 3 users and a maximum of 25 users. They also offer a 30-day free trial.
Summary of Smartsheet:
Automation:

Pass

KPI Reports:

Pass

Deadline Tracking:

Pass

Integration:

Pass
Pros
Easy to pull data from multiple sources
Great alternative to Excel spreadsheets
Well-communicated prepared-by-client (PBC) requests
Cons
Advanced training recommended
Paid plans start at a higher pricing tier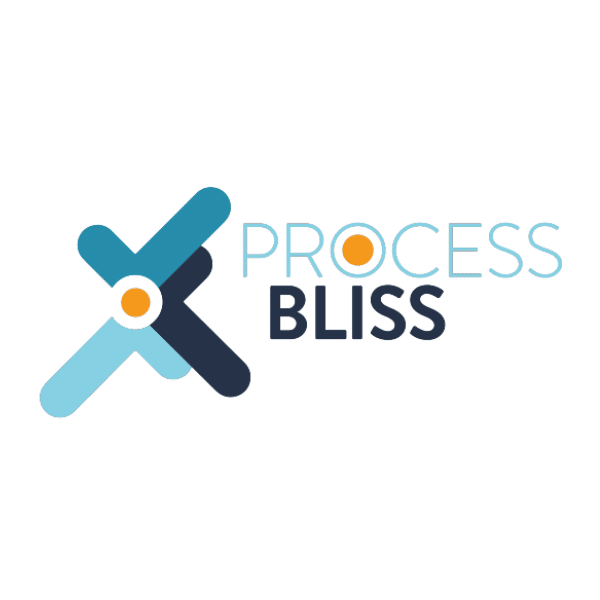 14 days free trial, no credit card needed.
From $10/user/month. Yearly subscribers receive two months free. Further discounts for Good Causes.
Process Bliss is a powerful workflow management system for teams and small to medium businesses. The tool includes strong template features and an excellent workflow builder that supports decision branching, loops, dependent due dates, and data and file capture within a familiar process flowchart view.
Templates are centralised in an easy to navigate folder structure that supports permissions. Users can also build their own templates using the workflow builder. Tasks can be created one-off or from templates, and teams can set different owners for each step in a task, as well as customize notifications for owners. Tasks can also be automatically scheduled as recurring to ensure they're not missed.
The tool also includes built-in process improvement, which is achieved by features for process quality analytics and template feedback, as well as the ability to record when steps can't be done and why, which assists in improving workflows on an ongoing basis.
Pricing starts at $10 per user per month.
Pros
Powerful task workflow builder
Built-in process improvement capabilities
Great workflow progress reports
Amazing support team and implementation help
Cons
Can't batch export data
Time tracking not built in
No custom branding (is on the roadmap)
No public API (is on the roadmap)
Kintone is an all-in-one project management platform and workflow management software that allows managers to track, prioritize, and review their team's tasks for any given workflow—no matter how complex.
This highly-customizable platform gives you the power to create tailored workflows for every circumstance using its drag-and-drop interface built for non-coders. Quickly design the workflows you want, then review tasks that move through it easily.
Kintone's customization features include the ability to create automated reminders, filter tasks or project phases by data field or team member to generate custom reports or dashboard views, and automate handoffs between team members for multi-step workflows. You can also view, edit, and update workflows from the platform's mobile or desktop applications, so oversight doesn't stop when you leave your desk.
One of the Kintone's most valuable features is its built-in communication channels. These chat tools allow you to discuss projects with your team directly in the database, meaning your conversations and data stay connected. Open the record, see what was discussed. You can also create "spaces" for conversation organized by topic, team, project, or department. The best part is these spaces stay visible to everyone, so teammates who miss a discussion can come back later and catch up on what's been said.
Kintone's business process management tools also feature integrations including: Slack, Gmail, Google Calendar, Outlook, Tableau, Dropbox, Salesforce, Hubspot, and many more through a paid plan with Zapier.
Kintone costs from $24/user/month with a minimum of 5 users onboard. They offer a 30-day free trial (no credit card required).
Wrike is an intuitive workflow management software suitable for teams of five or more, and offers an unlimited number of users. As a highly configurable software, users can customize workflows, dashboards, reports, and request forms.
Wrike's simple interface enables users to switch between Kanban boards, interactive drag-and-drop Gantt charts, and traditional workload views for visualizing priorities. Wrike also features powerful automation, with custom request forms that auto-assign tasks, push notifications, and deadline tracking.
Users can get advanced insights with KPI reports, resource management and allocation, and more. The tool also offers a variety of different solutions depending on the type of team or organization, including marketing teams and professional service teams.
Wrike offers more than 400 native integrations, including popular file management software from Microsoft, Google, and Dropbox, along with sales and marketing software from Salesforce and Marketo.
Wrike costs $9.80/user/month. There are four different price points, including a free version and plans with the option to invite free external collaborators to a paid account.
Pros
Holistic, comprehensive task modeling
Loads of configurable features
Many different ways to view the same data
Cons
Not tailored for small organizations
Could use a high-level roadmap tool
This is the buffet of workflow management software. Combining projects, cases, and collaboration with its core functionality, workflows, Kissflow offers a unified digital workplace for all forms of work, both manual and automated. The visual interface lets users drag and drop elements to create any number of apps without any coding. Users can either build on top of apps spanning across multiple categories like HR, Finance, or Procurement in their gallery or build one from scratch.
The platform is highly intuitive and requires little to no effort to learn. The customizable workflows and dynamic routing let users adapt when requirements change or as teams scale. Users can prioritize work and easily delegate work to team members. Users get instant notifications when an item is complete or requires action.
Further, users can identify bottlenecks, track task flows, and drastically improve efficiency. Kissflow is intrinsically connected with G-suite and users can make use of its open API to integrate with any other tool.
There's nothing else quite like Kissflow on the market. This tool offers highly configurable, trigger-based workflows and advanced reporting features like KPI dashboards and ad-hoc reports configuration. Kissflow is a good tool for teams or projects whose makeup, processes, or framework can experience change at the drop of a hat.
However, for users who are building workflows that require more system-integrations rather than human tasks, Kissflow may not have all the features required.
Kissflow starts at $360/month for up to 30 users and offers a 14-day free trial.
Pros
Holistic, comprehensive task modeling
Loads of configurable features
Community feedback voting for roadmap features
Cons
Not tailored for small organizations
Could use a better commenting system
Nifty automates project updates and resource insights with automated workflow management. Manage tasks, track project milestones, communicate with teammates, create collaborative documents, share and discuss files, and more in a centralized workspace! With the best of communication, cloud storage, and workflow collaboration in one tool, you can consolidate your workday as well as your subscriptions into one browser tab.
Admation is a project management software made for marketing teams and agencies that want the benefit of multiple features rolled into one comprehensive tool. Combining project, resource, and approval workflow management, Admation enables users to manage the full production cycle of their campaigns, from project set up to resourcing to managing the entire approval workflow.
With a user-friendly interface, Admation offers an exceptional range of project tracking software features and tools. A central dashboard enables you to have complete visibility over your projects and resources while offering an intuitive framework from which to manage all facets of your work.
Features include briefing templates, project resource templates, project timelines, scheduling and assigning tasks, document approval, capacity planning, department dashboard & calendar, resource allocation, timesheets and time tracking, a complete brand archive, permissions & access levels, tags & keywords, a secure digital storage system for your finalized ads, and more. Integrations include email systems and Mediaocean, formally BCC, which is ad agency finance software.
Admation costs from $30 per user per month and offers a free demo and free trial upon request.
Pros
View extensive history for each job
Great for proofing material
Track reviews and approvals
Easily manage updates and changes
Cons
Custom reporting tools limited to Enterprise Plan
Can't batch download a project
Orchestly is a workflow management software that helps automate, manage, and optimize routine business workflows and standard operating procedures on a drag and drop platform. Built for medium and enterprise businesses in any industry, it helps automate workflows across departments like HR, Marketing, Finance, IT, and Legal.
Customizable forms make it easy to capture business information. Both simple and complex workflows can be mapped as flowcharts in a few minutes on a drag and drop workflow builder that doesn't require in-depth technical knowledge.
You can ensure accountability by assigning the right people to the right stages of a process. Contextual data like comments and attachments can be requested from users during the process. Decision making can be automated by setting if-then conditions to route the flow. Manual labour can be eliminated by automating stages based on condition or time. Process exceptions can be handled through business rules.
Requesters can track everything in real time, and stay updated on requests. Employees know exactly what should be done, and when. Ready-made reports give you powerful insights on your process bottlenecks and redundancies, and you can create your own process-specific reports to analyze and improve your operational KPIs.
Orchestly has an Active Directory and role-based access control. You can integrate with your other tools and build your own third party app extensions as widgets. You can also connect to other tools via Zapier and Zoho Flow. There is a marketplace with several pre-built extensions like Slack, Dropbox, Google Drive, and Zoho Sign as well.
Orchestly offers a 15-day free trial and has flexible user-based pricing that starts at $8/user per month. There is also an implementation team that can help you automate your organization's workflows.
Pros
Modest per-user price
Native integration with Zoho
Great workflow visualizations ("Blueprints")
Webhooks can send notifications to third-party applications
Cons
Dashboards aren't customizable
Complex feature set has a learning curve
Quixy is a user-friendly no-code business application platform that empowers users with no coding skills to automate workflows and processes. Users can assess, design, model, implement, monitor, and modify any processes using simple and efficient drag and drop design.
Quixy provides dozens of pre-built workflow applications for a variety of use cases such as CRM, project management, HRMS, travel and expense management, helpdesk and incident management, and much more. Quixy also offers automation options, and users can build custom workflows and processes to fit the needs of their team or department. The tool also includes capabilities for tracking project and task milestones.
The platform is rated Leader – Asia Pacific for No-Code Application Development on G2. The platform is ISO 27001 and SOC 2 Type 2 certified. Quixy's API allows integration with other third-party apps and tools.
Pricing starts at $10/user/month.
Pros
Simple drag and drop workflow design
Excellent data tables and app referencing
Workflow building requires zero coding skills
Cons
No in app collaboration with other users in the workflow
More online help content welcomed
Could benefit from larger variety of app templates
Summary Of The Best Workflow Management Software
Here's a table summarizing basic info about the tools described in this article. View pricing as well as availability of free trials to make a quick side-by-side comparison.
Other Workflow Management Software Worth Considering
I haven't had a chance to review these properly, but if the tools included in the review aren't working for you, consider checking out these additional BPM tools:
Need expert help finding the right Workflow Management Software?
We've partnered with the software comparison portal Crozdesk.com to help you find the right solution. Crozdesk's Workflow Management Software advisors can give you independent advice and shortlist software products that best fit your specific needs. Our partnership gives you free access to their tailored software selection advice and community negotiated discounts, taking the hassle out of the research process.
It takes just a minute to submit your requirements and they will give you a call at no cost or commitment. You'll get custom product shortlists covering the top solutions that best fit your specific needs from their team of software experts (via phone or email) and they can even connect you to your choice of the selected vendors. To get started, please submit the form below:
Workflow Management Software Selection Criteria
Some workflow automation software is more comprehensive than others—some are focused on managing the workflow itself (assigning tasks, creating dependencies, tracking deadlines). This type of application might also go by the name of workflow diagram software or flowchart software.
Others offer a more robust workflow management system as part of a broader resource management software or project management software. As such, they offer a suite of additional business features for creating process forms, handling invoices and payments, modeling data, managing a project portfolio, and more.
In our selection of workflow management software, we narrowed down our criteria to a few key points. These are the essential functions of a useful workflow tool:
1. Automation
This is the whole point of using workflow software. We examine the tools' time-saving automation functionalities, such as automatically assigning tasks, sending push notifications, routing documentation, reducing repetitive processes, sending status updates, and generating reports.
The best software should include automation tools and full customization for automations, including custom workflows, automated notifications, business rules, process automation, and more.
2. KPI reports
This is usually some type of dashboard with graphic displays of your workflow stats. KPI and metrics reporting not only gives team members insight into their task or project status, but also gives management insight into where inefficiencies are occurring so you can optimize your business processes.
3. Deadline tracking
Even with a dashboard, when you're running dozens of workflows, it's easy to lose sight of deadlines. To be useful, a workflow tool has to offer a clear system for SLA indicators. Tools use notifications, color-coding, and dashboard views that display tasks by due date in order to help you manage deadlines.
4. Integrations
Nowadays, all projects require multiple tools. Your workflow management software absolutely must integrate with other apps that you use for your business. This includes calendars, CMS, development tools, databases, email and communication tools, payment processing apps, and more.
5. Price
The value that you get from a workflow tool has to align with the price you're paying. The best workflow software for you won't require you to pay for features you don't need or users you don't have. We evaluate a tool's pricing based on its simplicity, transparency, and value offered at the price.
What Does Workflow Management Software Do? (And How It Can Help You)
What Is Workflow Software?
At its core, a workflow management system (WMS) is a set of functions for setting up, doing, and monitoring business tasks.
What Does Workflow Software Do?
Workflow management software goes by many names—you might hear it referred to as including BPM software, or simply process management software. No matter what you call it, all workflow tools offer an interface for visually representing your workflow and optimizing its many moving parts.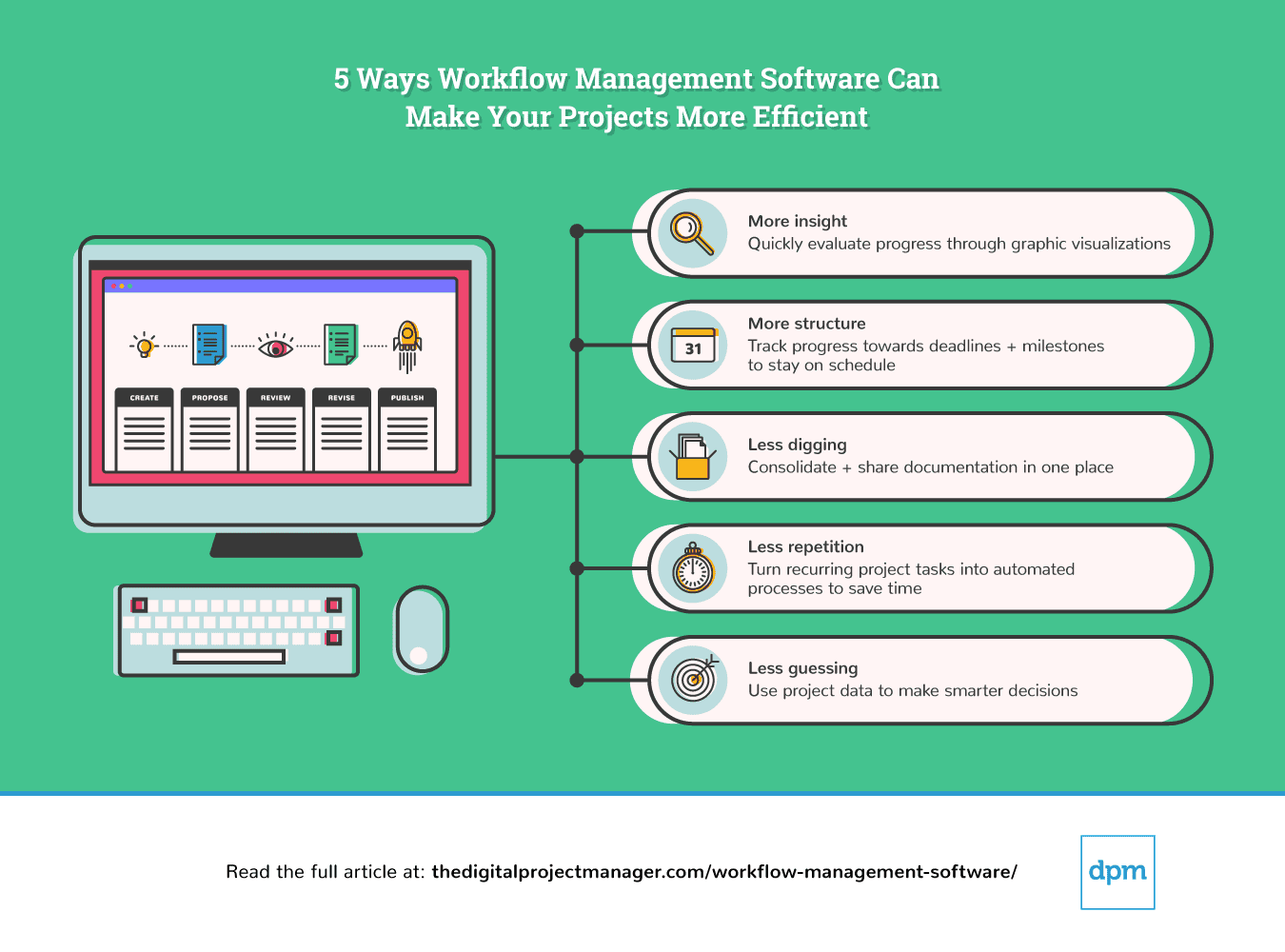 Freelancers, agencies, enterprises, and everyone in between can benefit from some kind of workflow tool, with the aim of increased productivity, reduced costs, better communication, and a fluid exchange of information within a project.
You can use workflow management software for anything from monitoring deadlines at an individual level, to automating recurring tasks and setting up automated processes on a project level, to evaluating and optimizing project performance on a business level.
Workflow software automates these processes. It contributes to a BPM framework or methodology.
What Is BPM Framework?
A BPM framework (business process management) framework is a process-centric framework that provides definition for and visibility into an organization's sets of coordinated tasks.
What Is BPM Methodology?
BPM methodology aims to simplify business processes from end to end in order to increase productivity and efficiency. BPM methodology includes analyzing business processes, creating new frameworks, and monitoring processes for continuous optimization.
How To Choose The Best Workflow Management Software?
The best workflow software out there is one that aligns closely with the requirements of your business processes. When choosing, ask yourself:
What Do You Need It For?
When asking this, you're really trying to identify: are my processes human- or system-centric? A human-centric workflow focuses more on bringing people and their tasks, documents, timesheets, and progress into one place, as well as increasing team collaboration. A system-centric workflow focuses on bringing different business processes or systems together, integrating their functions to create a unified workflow in one space.
Who Is Going To Use It?
How many people are on your team? Who is going to use the tool, and do you require role-based access control? What other stakeholders will be involved in using or accessing the tool (ex. clients, management, and others). You'll also need to ask yourself what types of people will be using the tool in order to decide if you require something code-based or with low code or no code.
When thinking of your team, it's easy to assume that a large team necessarily needs more complex workflow functions. However, keep in mind that even large projects can work best with simple workflows where all that's really necessary is the ability to assign tasks, share documentation, and track deadlines. On the flip-side, even very small teams can have complex workflows that benefit from advanced reporting, resource management, and optimization features.
When thinking of your team, it's easy to assume that a large team necessarily needs more complex workflow functions. However, keep in mind that even large projects can work best with simple workflows where all that's really necessary is the ability to assign tasks, share documentation, and track deadlines. On the flip-side, even very small teams can have complex workflows that benefit from advanced reporting, resource management, and optimization features.
How Would That Fit Into Your Process?
Does this tool fit in with your existing toolkit and integrate with the right tools? Does it align with your use cases? If this is one of the first tools you're adding, will it scale and expand in order to meet your needs as you grow? Ask yourself whether your team will use it online, or if they need something that works offline as well.
How Long To Get It Running Smoothly?
Is it easy to implement? Along with this, look at the ease of team member and employee onboarding, as well as the ease of use: is it a tool that your team can easily learn to use? Does it require coding to use or does it provide a drag and drop interface for making changes?
Also consider the customer experience from your end. Many tools offer different levels of support based on your pricing tier—does it offer technical support, or will you be left hanging? Finally, is the solution hosted, or will you maintain the infrastructure behind it?
How Much Does It Cost?
Prices fall into a wide range from $0-$40 per user per month. Most SaaS workflow tools are priced per user, which highlights the importance of considering how many team members will use it—as well as how many team members are going to be using it in the future.
Make sure you look at how the cost will increase as you scale—not only will your costs increase with each team member, but you may also need to bump up your plan to a more expensive tier as your business needs expand.
What Do You Think?
What did you consider when choosing a workflow management software? What's your experience with choosing and using workflow software? Share with our community what you think is the most important consideration in selecting a workflow tool.