Scenario 1: Scattered sticky notes, rogue Google documents, Excel spreadsheets for days, budgeting books, email follow-ups galore, deadlines scrawled on personal calendars. (Probably sounds like a nightmare, huh?)
Scenario 2: Everything you need to know about the progress and resources of a project visualized on a portfolio dashboard that your whole team can view. (Much better, right?)
Tracking projects is vital to success in any industry. Project dashboards can help you do this. Visual project management is not just about making things look pretty—you need project management tracking tools to keep yourself and your team organized, informed, and on course.
This article will help you quickly compare and evaluate the best PM tools that specialize in or otherwise emphasize a project status dashboard as a primary component of the software.
Quickly Compare & Evaluate The 10 Best Dashboard Tools
A good project management dashboard will be clean, intuitive, aesthetically pleasing, and rich with customizable data detailing. You should quickly and easily be able to evaluate project health, costs and budgets, task progress, workload division, project portfolio overview, and whatever else you need for your day-to-day.
The Best Dashboard Software List
Here's a shortlist of the best project tracker tools:
Program Management Software FAQ
Program management software will almost always include a dashboard of some type. The better, more in-depth, more intuitive the dashboard, the easier it will be for your team to find the information they need to do their best work.
What is a project dashboard?
A project dashboard will make use of your data tracking software in order to present you with information surrounding your key performance indicators (KPIs.). Whether you are tracking metrics for conversion rate, click-through rate, resource scheduling, or employee log time, a project dashboard will display a summary of the relevant data on a single page for you to peruse quickly and easily. This is a "project dashboard."
What to put on a project management dashboard?
Building a dashboard can be a challenging first step. Good dashboard design will be data rich, thorough, clean, easy to read, and contains summaries of all of your key performance indicators (KPIs). You will want to create dashboards that include items that pertain to your long-term and short-term goals, like customer conversion, lead collection, page views, social impressions, time-spent per task, resource allocation, error/bug reports, and more.
What is a portfolio dashboard?
A project portfolio dashboard is meant to help you with tracking multiple projects at once. It will most likely display a birds-eye-view of every account you have on the go with options to narrow-in on specific clients, projects, tasks, and goals. A portfolio dashboard is particularly helpful for agencies that have an ever-changing list of clients and projects at any given time.
What are the different types of dashboards?
Different types of dashboards will specialize in different types of data display (sales versus impression, for example) and also might specialize in different types of industries (a marketing dashboard will look much different than an accounting dashboard, for example). You might encounter dashboards like: marketing dashboard, task management dashboard, business intelligence (BI) dashboard, team workload dashboard, and more.
Not looking for dashboard reporting tools? Check out our other lists of useful project tools:
If you are looking to grow your business and/or expand your audience, Project Marketing Tools are something you should look into ASAP.
If you need communication software, but are looking to stray away from the obvious, take a read through these 10 Basecamp Alternatives for Team Collaboration.
Are you a Mac user? You might want to focus on the different PM tools that are iOS compatible.
Dashboard Reporting Software Comparison Criteria
What are we looking for when we select dashboard reporting software for review? Here's a summary of my evaluation criteria:
User Interface (UI): Is the office team dashboard UX clean, attractive, and easy to navigate?
Usability: Is it easy to learn and master? Does the company offer good tech support, user support, tutorials, and training.
Features & Functionality:
Instant Data Updates – The dashboard connects to and displays real time data with nmo manual effort or exporting from a project manager; the real time data should be highly accessible so that no out-of-date stats are being shared.
Customizable Interface – The user can decide what, when, where, and how they want to view different areas of their data dashboard; customization should be drag-and-drop or something similarly intuitive.
Interactive Charts or Graphs – The best dashboard software will have their visual elements incorporate some element of interactiveness, be it point-and-click for text explanations or zoom-in and -out for micro or macro POV.
Project Health Analysis – Users can quickly and easily spot bottlenecks, delays, problems, missed deadlines, resource warnings, and other low health indicators for their projects.
4. Integrations: Is it easy to connect with other tools? Any pre-built integrations?
5. Value for $: How appropriate is the price for the features, capabilities, and use case? Is pricing clear, transparent and flexible?
The HR Manager is reader-supported. When you click through links on our site, we may earn a commission. Learn more.
Overviews of the Project Dashboard Software
Here's a brief description of each of the dashboard tools that are featured on this top 10 list.
1. monday.com – Award-winning, intuitive planning tool with kanban boards, project tracker, collaboration features, and workflow automation.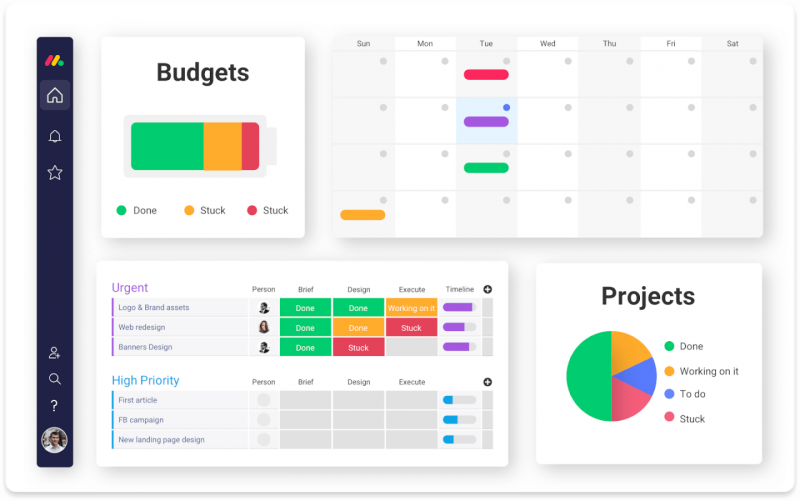 2. Wrike – Creating a dashboard is intuitive with this cloud-based tool that offers real-time reports, centralized communication, customized workflows, and more.
3. ITM Platform – Set project goals and assess results through robust reporting features on this real-time information task dashboard.
4. Acuity PPM – Easy to implement PPM software with a dashboard designed to quickly communicate the value of each of your projects.
5. Deltek Project & Portfolio Management – Deltek wInsight Analytics and other PM tools offer multiple project tracking and reporting capabilities.
6. Project Insight – Work management software that help you with tracking project progress, unifying data, and more.
7. KeyedIn – A top-down, strategy-led portfolio management solution that can help you improve utilization, margins, and forecast accuracy.
8. Genius Project – Dashboards that include reports, charts, and documents that can be customized to your project-specific requirements.
9. Bubble – Live data and automated reporting tools designed to be highly configurable and supportive of your existing processes.
10. Changepoint – Configurable PM dashboards for real-time data visibility across enterprise resources, projects, capacity, and technology.
Other Project Management Tracking Tools
Here are a few more that didn't make the top list. If you need additional suggestions for handy status dashboards, check these out:
What Do You Think About These Dashboard Tools?
Have you tried out any of the PMO dashboards listed above? Do you prefer the free project tracking tools that are available on the web or do you require the more robust functions of their paid counterparts? Do you have any software that we missed that you might add to a list for dashboard tools? Let us know your thoughts in the comments below.