There's a lot of free Gantt chart software out there—I've analyzed them and made a list of the best ones in this post. I explain which free Gantt chart tools have limitations to their functionality and what the limitations are (these types of accounts are known as freemiums and are usually a great fit for small teams or people who only need to manage a few projects). I also go over what to look for in a tool, and what each program does best so it's easy for you to find the right fit.
Ready to take your Gantt charts out of Excel and put them into a dynamic tool made specifically for this purpose? Not looking to spend a ton on costly online Gantt chart software? In this article, I go over free project management software options that include Gantt chart functionality as a primary project planning feature.
The Best Free Gantt Chart Software List
Here's a shortlist of the best free Gantt chart software:
Below you'll find an overview of each of the 10 best gantt chart software, with screenshots, feature overviews, and pricing.
Jump to free gantt chart software overviews
Free Gantt Chart Software Comparison Criteria
What do I look for in the best free Gantt chart software? Here's a summary of my evaluation criteria:
User Interface (UI): Is the Gantt chart creator aesthetically pleasing, interactive, and easy to use? Can you color-code or otherwise group tasks easily? Can you zoom in and zoom out on the chart data?
Usability: Are there Gantt chart templates, drag-and-drop features, and point-and-click simplicity when it comes to building a chart? Do they offer a mobile app, iOS and Android, for workflow charting on-the-go? Does the project management solution come with adequate (free) training and tutorials?
Integrations: Does the Gantt tool connect with other common online project management or online team collaboration workplace software? For example: Microsoft Project, Bitrix24, Redbooth, Google Docs, Slack, Asana, Jira Agile, and so on.
Software Value: Is the free version of the Gantt software feature-rich enough to justify onboarding your team? Are there stringent user limits that might prevent widespread adoption? How many charts can you store at one time? Are any key features missing or limited to a paid plan?
Key Free Gantt Chart Features
Clearly designated milestones (easily movable/adjustable)
Task dependencies using vertical line markers or another method
Task progress indicators or task health status
Drag-and-drop project items for easy chart building and later adjustments
Collaboration with at least 2 users (and more is preferred)
Gantt chart templates so that you don't have to start each document from scratch
Overviews Of The 10 Best Free Gantt Chart Software
Here's a brief description of each of the free Gantt chart software on my list showing what it does best, plus screenshots to showcase some of the features.
ProjectLibre Cloud bills itself as a Microsoft Project alternative with a free desktop version. They are currently in beta but you can sign up to be an early adopter using the email link on their website. Their Gantt charts are fully functional with everything you would expect and then some, like resource usage indicators and a histogram.
Pros
Usable in 27 languages
Streamlined, no-fluff interface
Easy to shift the whole timeline back and forth if due dates change
Cons
Cloud version currently in beta
Desktop version is free, cloud is paid (at this time)
No client portal
freemium version
Per member per month. Billed monthly or annually.
From $5.60/member/month (Free community edition)
2. OpenProject – Best for Linux or Mac users
OpenProject is an open-source Gantt chart app with excellent collaboration features built into the platform. OpenProject is specifically designed to work well with Linux and Mac (the Enterprise plan doesn't even work elsewhere). OpenProject has a free community edition with some premium features removed; however, freemium users will have complete access to Gantt charts and timeline management.
Pros
Great level of organization with sub-projects and sub-tasks
No limit on the number of projects or team members
Highly configurable for the needs of different departments
Cons
No mobile app available at this time
Technical knowledge is required to install
No resource availability percentage
3. Agantty – Best for small- or medium-sized teams
Agantty is a free, easy, and clear project management tool that can be used for an unlimited amount of projects, tasks, and teams. Users will appreciate being able to administer an unlimited number of teams and tasks with a single account, as well as look up your To-Dos on a clean, comprehensive dashboard.
Pros
Super clear delineated responsibilities and milestone dates
Easy to view the chart by team member, calendar date, etc.
Easy to share and distribute charts
Cons
Can't export in .PDF currently
Better for long-term goals, not daily/weekly tasks
No autosave for the Notes feature
4. GanttProject – Best for robust export options
GanttProject lets you break down your daily and weekly work, build a Gantt chart timeline, assign resources, calculate project costs, and then export the results easily to PDF, CSV, or PNG. You can import and export data directly into/out of MS Project and Excel, as well. GanttProject serves over 25 languages at this time.
Pros
Reads and writes MS Project files
Can export to CSV, PDF, HTML, and PNG
Offers resource management with conflict checks
Cons
You can only open one project at a time
Reporting could be more customizable/editable
Zooming and scrolling across large projects can be jumpy
5. dotProject – Best for DIY community support
DotProject is a free, volunteer-supported Gantt chart and planning application that is managed, maintained, developed, and supported by a volunteer group of users. This means that there is no corporate headquarters to whom you can reach out to for support. However, PMs will have access to a large community of volunteer developers and very active online support forums—something DIYers will love.
Pros
Granular task management and details available
Easy movement of a task from one project to another
Many add-on modules for additional functionality
Cons
No rich-text (bold, italics, etc.)
No default export or print functionality for Gantt charts
Several documented bugs at this time
6. TeamGantt – Best for planned VS actual reporting
Team Gantt is a Gantt chart tool with a freemium plan available for smaller teams. Team leads will be able to manage resources, stay on budget, and ensure everyone is working but not overloaded with an easy-to-access availability tab. Gantt charts can be easily compared between planned and actual timelines with a baseline report, which helps with future forecasting
Pros
Thorough permissions and assigning tasks
Regular emails for upcoming/coming due tasks
Can track how much time is spent on each task
Cons
More third-party app integrations would be welcome
Can't share via URL, only export and email
The timeline is fixed in the free version
7. Tom's Planner – Best free Gantt chart software for individuals or freelancers
Tom's Planner is a free project management app that is super quick and easy to use, making it great for users who don't have a ton of time or resources to play with. You can easily drag and drop color-coded time blocks, stretch and contract individual task bars, and zoom in and out from hourly to monthly views.
Tom's Planner costs from $9.95/user/month and offers a 14-day free trial.
Pros
Very quick and simple to build a basic chart
Has chart templates for construction, web design, business, and events
Track status with percentages, traffic lights, icons, or colored time blocks
Cons
Lack of 3rd-party integrations available
Best for small to medium project sizes
Only 1 user can edit a document at a time
8. RationalPlan – Best for fast onboarding
RationalPlan is a user-friendly, incredibly intuitive project management software designed to help teams create project plans, allocate resources, analyze workload, track work progress, estimate project costs, and manage budgets. Their free Gantt chart tool is a very easy way to quickly highlight dependencies, baselines, and critical paths.
RationalPlan costs from $70 per license and offers a freemium version for up to 2 users with a maximum of 2 projects.
Pros
Excellent critical path highlighting
Can read Microsoft Project files
Runs natively on Mac OS
Cons
Free plan only includes max 2 users and 2 project
No mobile app available
Not intended for large teams
9. Zoho Projects – Best for customization options
Zoho Projects is a cloud-based project management tool that helps you plan your work and collaborate with your team on Gantt charts and more. Zoho Projects is hugely customizable, if you don't mind putting in the time and effort, and will allow users to create personalized fields, layouts, statuses, and workflows with minimal fuss.
Pros
Great CRM integrations
Easy to set and track milestones
An intuitive, interactive calendar view
Cons
User interface takes some time getting used to
Can't easily share charts with external users
Can't export charts to Excel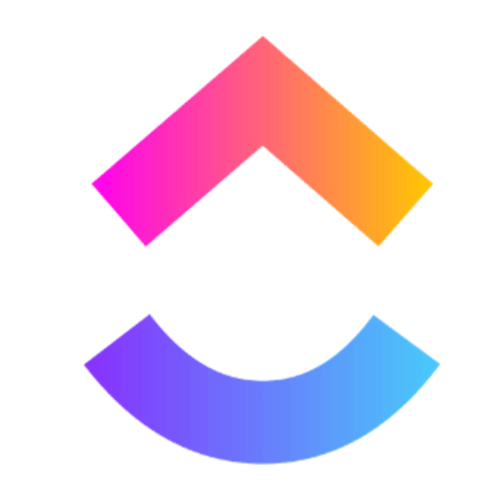 freemium version
100 Gantt chart uses for free
Free forever with paid plans starting at $5/month
10. ClickUp – Best for creative teams
ClickUp offers Gantt charts along with Kanban boards, calendars, conversations, and reminders in a bright, user-friendly interface that creative professionals will enjoy. Users can create Spaces dedicated to certain departments or projects (customer service, graphic design, marketing, etc.) and get a bird's eye view of what's going on at all times.
Pros
Easily tag or assign comments within tasks
Task creation is super flexible/customizable
Ability to attach tasks to emails
Cons
Starting a new project has a bit of a learning curve
Emails send the entire chat history, not streamlined data
Frequent app updates may require ongoing support/training
Summary Of The Best Remote Project Management Tools
Other Gantt Chart Options
Need more features than a freemium Gantt tool allows? You might want to check out these fuller-featured, paid Gantt software options:
Any Other Free Gantt Chart Programs To Add?
Have you tried any of the free online Gantt chart makers? What is your go-to tool when you are getting ready to schedule tasks? Are there any Gantt charts for project scheduling that you would add to this list if you could? Sound off in the comments.
Check out our other list of online Gantt chart makers (not necessarily free!) for more options.
For updates on our latest articles and podcasts from project management experts, sign up for the DPM newsletter.
You can also share tool recommendations and best practices with other digital PMs in our online community—get involved with our community in DPM Membership.