Administrar tu equipo y tus recursos sin un software de programación de proyectos puede ser una pesadilla para cualquier gerente de proyecto. Tu trabajo como gerente de proyectos es garantizar que todo funcione como debe ser: reunir el equipo, asignar recursos, organizar reuniones, planificar el presupuesto y pronosticar.
El Mejor Software de Programación de Proyectos
Aquí están las 10 principales herramientas de programación de proyectos que incluí en esta reseña:
A continuación, encontrarás descripciones generales de cada herramienta, junto con capturas de pantalla, características, precios, y integraciones.
Ir a reseñas de software de programacón de proyectos
Software de Programación de Proyectos – Preguntas Frecuentes
¿Acabas de darte cuenta de que buscas algo diferente? Prueba con estas otras herramientas:
Dado que muchas tareas se repiten continuamente durante horas o incluso días, lo lógico sería automatizar estas tareas que consumen mucho tiempo. Y esta es la razón por la que escoger las herramientas de gestión de proyectos adecuadas puede ahorrarte mucho tiempo. Es especialmente crítico si estás trabajando en un gran proyecto y tienes un gran equipo para administrar.
Aquí, te ayudaremos a evaluar el mejor software de programación de proyectos: profundizamos para ayudarte a encontrar una buena opción para tu organización y tus proyectos, explicando cómo debe funcionar la herramienta y cómo sus características difieren de las demás herramientas en el mercado.
7 Razones Por las Cuales Debes Utilizar el Software de Programación de Proyectos
Las herramientas de programación de gestión de proyectos son imprescindibles, especialmente si tu organización se encuentra en proceso de escala. Aquí puedes ver algunos beneficios clave del uso de software de programación de proyectos:
Te permite definir el flujo de trabajo del proyecto y mantener al equipo enfocado en las tareas correctas.
Te permite identificar y realizar un seguimiento de la ruta crítica de tu proyecto para aprovechar la flexibilidad del cronograma.
Te permite perder menos tiempo reprogrammando, a través de prioridades y dependencias que ajustan automáticamente.
Te permite establecer líneas de base para rastrear tu plan de proyecto en contraste con la ejecución.
Te permite liberar tiempo y energía al configurar la herramienta para proporcionar recordatorios automáticos de fechas límite.
Te permite visualizar, comparar, detectar vacíos y ajustar fácilmente la disponibilidad de tus recursos.
Te permite generar informes sobre la utilización, la demanda y la capacidad de la organización y revisar las tendencias para pronosticar las futuras necesidades de contratación.
Hay muchos más beneficios, y continuarán creciendo a medida que la tecnología evoluciona, brindando más oportunidades para automatizar tareas y así tomar decisiones más inteligentes.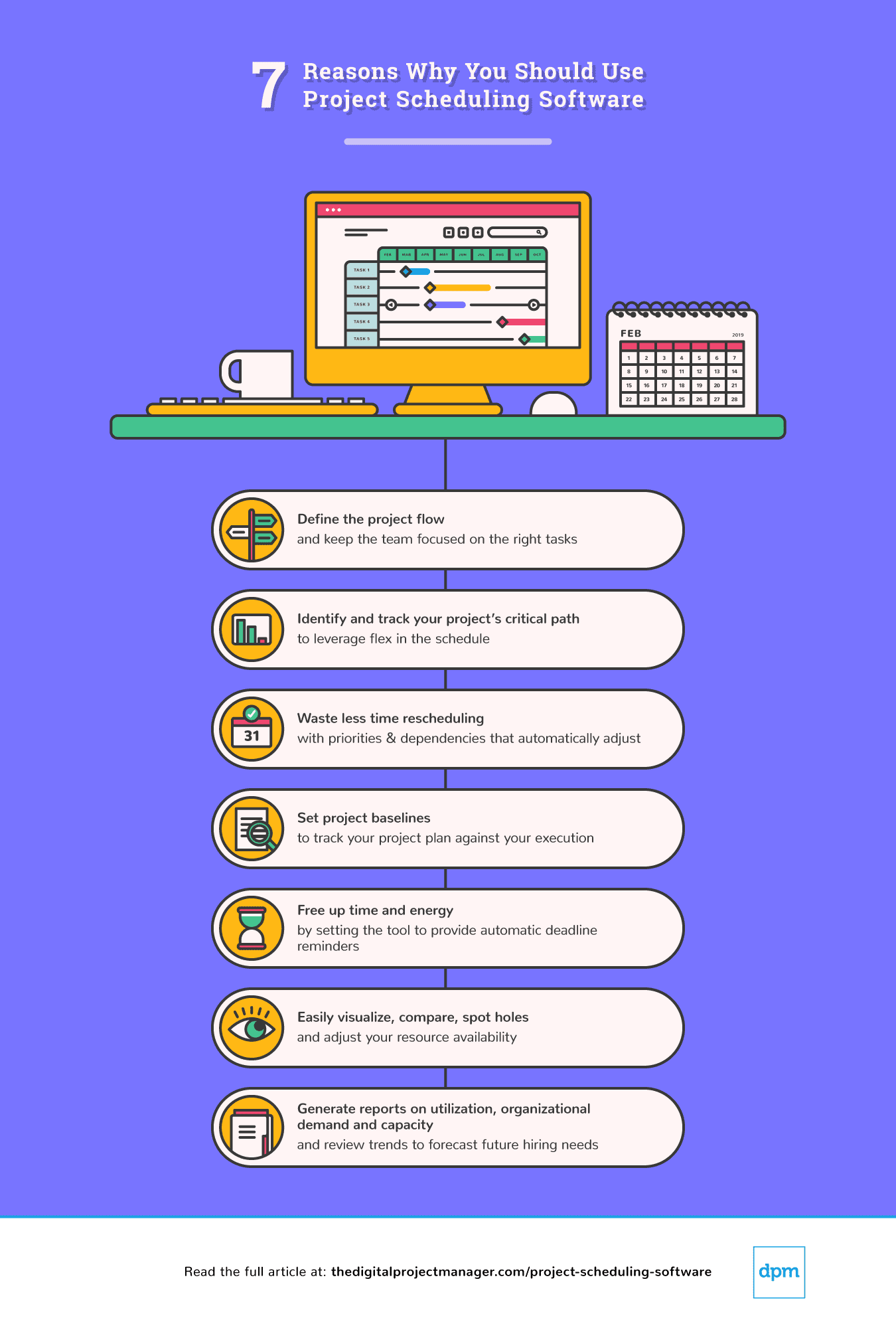 The Digital Project Manager es financiado por sus lectores. Cuando haces clic en los enlaces de nuestro sitio, podríamos ganar una comisión. Más información.
Las Mejores Herramientas para la Programación de Proyectos
1. monday.com – best project scheduling tool for customization
monday.com is a scheduling tool with intuitive collaboration features that's easy to learn and quickly understand. It's a highly customizable tool that helps you clarify the sequence of work and see the progress and status of your projects at a glance.
Most of the project scheduling features in monday.com are in the "timelines" feature—this is where you can plan projects, set deadlines, assign team members, break down tasks, and set dependencies. You can reassign tasks by simply clicking and dragging, and you can view your timelines as spreadsheets, as lists, on a map, on a Kanban board, and other views.
monday.com offers the ability to create summary charts as well as export and share project plans in a variety of formats (XML, PDF, etc). Apart from that, monday.com enables big picture views using reporting dashboards that collect data from multiple boards, allowing better progress tracking.
All said and done, monday.com technically doesn't enable you to make Gantt charts in the very traditional sense (nor can you import or export MPP files). However, it's a flexible, intuitive schedule management software tool that helps you see where tasks are bottlenecking, understand who's currently working on what, etc. What's more, the customizable fields and the drag-and-drop functionality makes it easy to quickly set up and start using.
monday.com's integrates with apps like Slack, Excel, Google Drive, Gmail, Google Calendar, Jira, GitHub, Trello, Dropbox, Typeform, and others, accessible via Zapier.
monday.com costs from $17/month for two users.
Pros
Colorful, graphically pleasant schedule interface
Easy to use calendar and task scheduling
Resource scheduling tools included
Simple timeline sharing
Cons
UI navigation can lag
Complicated pricing structure
2. Celoxis – best for complex project scheduling
When it comes to project scheduling, Celoxis comes packed with powerful planning and scheduling tools to help you build dynamic project plans that automatically adjust to changing real-world conditions. Armed with one of the most flexible, fast, and responsive interactive Gantt charts, Celoxis can effortlessly handle large project plans involving multiple levels of sub-tasks, inter-project dependencies and even multiple resources per task.
Its automatic scheduling feature accommodates almost every real-world scenario to provide a robust and reliable project schedule. With features like automatic email alerts, RAG health indicators, and critical path analysis, Celoxis makes project tracking a breeze. Celoxis provides visibility into what every member is doing and gives you the ability to track resource loads in real-time. With built-in team and client collaboration features, one can effortlessly share files, discuss, and exchange comments not just with other team members but also with your clients. Several best-practice and custom reports including drill-down charts that let you gather 360-degree real-time insights around your projects and resources.
Celoxis integrates out-of-the-box with popular apps likes Google Drive, Excel, MS Project, Jira, Salesforce, and Quickbooks Online. It is also fully integrated with Zapier, which allows you to use sync with thousands of apps. It also has an easy-to-use web-based API to connect with other services and legacy business apps.
Celoxis is one of the few tools that offer SaaS and On-Premise deployment options. Celoxis costs $25/user/month with additional commitment discounts.
Pros
Pre-built project matrix report
Has resource management and loading
Supports advanced predecessor conditions
Great value for small teams
Cons
Heavy, complex interface
Clients cannot be assigned tasks
3. 10,000ft by Smartsheet – best for matching resources and team members to specific projects
10,000ft, a high-level resource management and scheduling software, helps modern teams make confident decisions about project planning, team capacity, budget forecasting, team utilization, and hiring needs in real time.
Built-in timesheets, mobile time tracking, and expense tracking, enables you to create rich project reports by filtering project data with just a few clicks. Reports can give insight into historical data or offer a forecasted view of team utilization, actual vs. planned time reports, budget tracking, expense reports, and projects in the pipeline.
Over 1,000 of the most innovative companies in the world rely on 10,000ft, from 10-person shops and 100-person teams within global brands to 1,000+ person professional services firms. 10,000ft has been recognized for its design excellence with awards from FastCo, SXSW, IxDA + IDSA.
10,000ft easily integrates with a variety of internal workflows and software suites. Additionally, it provides a flexible API and Zapier integration that can connect with top operational tools for analytics, communications, PM, ERP, and finance.
With a unique project and resource matching feature, 10,000ft helps match team members to the project's requirements according to different criteria like disciplines, skills, availability, and more.
Pros
Combines time tracking and resourcing
Able to forecast resource utilization
Skills database helps resource allocation
Intuitive for keeping timesheets and assigning hours
Cons
Initial resource set-up takes time
Could use better data visualization
Bulk project edits don't apply to resource field
4. Mavenlink – best project scheduling tool for workflow automation
Mavenlink is a well-rounded tool with modules for project scheduling and management, accounting, resource management, business intelligence, and team collaboration—all in one. On top of this, it offers a system of dashboards, live time and expense tracking features, and a great document management system. All of these best-in-class features are delivered through straightforward and minimalistic design.
For project scheduling specifically, Mavenlink offers a complete set of useful features. As you make detailed project plans, the tool support a multi-level work breakdown structure that lets you define the project by a series of granular tasks and subtasks. Other scheduling features include: Gantt chart-based project plan capabilities, schedule management, multi-level WBS, workflow planning, task assignment and scheduling, and critical path and variance analysis.
Mavenlink is really much more than a project plan software, as it offers some resource management features (real-time utilization, resource forecasting, capacity management), analytics (built-in reports, custom reporting, trend analysis) and accounting tools (project costing, budget management, invoicing). It also has some good contextual collaboration features to communicate around tasks, projects, and many other project objects. It's a full suite that takes time to truly master, but the simple, streamlined UI shortens the learning curve significantly.
Mavenlink takes a unique approach to integrations. As part of their "API-first strategy", they've built a solution that doesn't require a third party in order to integrate with any apps. They provide an integration platform (called M-Bridge) that's designed to simplify integration between Mavenlink and other business apps like CRM, HCM, and financial software. On top of the M-Bridge platform, Mavenlink provides several pre-built integrations with these tools: Expensify, G Suite, Xero, Salesforce, Netsuite, Jira, Hubspot, Slack, Concur, Dynamics 365, Qualtrics, Quickbooks, and Sage Intacct.
Mavenlink costs from $19/user/month and offers a 10-day free trial.
Pros
Aesthetic, simplistic calendaring
Various scheduling data views
Drag-and-drop Gantt chart timeline
Improved task tracking since older versions of the software
Cons
Lack of global search function
No schedule sharing without log-in
5. ProjectManager – best project scheduling software for multiple projects
ProjectManager.com is a well-rounded, award-winning software used by some big names like including NASA, Volvo, Brookstone, and Ralph Lauren. This is a great solution, especially for managing multiple projects at once.
This tool delivers a ton of useful project planning and scheduling features: using this tool, you can create project plans (Gantt charts), manage tasks, create reports, and manage timesheets, expenses, and workloads. This project planning application also provides a useful feature that lets you easily switch between views—between gantt chart, task list, and Kanban board views. You can use the in-app communication features to comment on tasks and assign them to team members.
Their real-time reports are easy to use—get pre-set reports (project status, timesheets, expenses) in a single click, or set up your own custom reports. You can also use the real-time dashboard to get a glimpse of your current project stats. And you can use all of these features to schedule and report across multiple projects, as well.
ProjectManager.com integrations include native integrations with GoogleApps like Drive, Gmail, Calendar, etc. as well as Microsoft Office and Microsoft Project. For 400 other integrations, you can use Zapier to connect with additional tools.
Pricing for ProjectManager.com starts at $15/user/month, with their basic "Personal" plan requiring a minimum of 5 users. They offer a 30 day free trial (a credit card is required to sign up for a free trial).
Pros
Excellent high level view of project
Customizable schedule templates
Time and expense tracking
Multilingual and very flexible
Cons
No mobile app
No way to update partially complete tasks
Doesn't output schedule files to .mpp
6. Resource Guru – best project scheduling software for optimizing resource utilization
Resource Guru is a dedicated resource scheduling software tool. The tool allows team members to visualize tasks on calendars, shows what everyone is working on, and clearly displays availability so project managers can maximize utilization. Project managers can make resource bookings simultaneously while ensuring they aren't overbooking resources.
Resource and project clashes are automatically prevented. Bookings can be added to a waiting list and used for capacity planning later. Each staff member gets their own resource dashboard so they can log in and know exactly what they should be working on. Powerful reporting features allow users to monitor utilization and business performance, as well as help with capacity planning.
Resource Guru costs from $2.50/user/month.
Pros
Availability bar feature for capacity planning
Clash management capabilities to prevent overbooking
Powerful resource filters
Cons
Integrations are mainly via Zapier, rather than as native integrations
No copy-paste of resource tasks
7. Runn – best project scheduling tool with integrated variance reporting and financial forecasting
Runn is a modern project scheduling and capacity planning tool that combines resource planning with time tracking, forecasting, and reporting capabilities so you can react to changes and adjust plans as projects unfold.
Runn's Planner interface provides a bird's-eye view of all the projects and people in your organization, allowing you to quickly spot overbookings and manage scheduling conflicts. The Planner interface also allows users to plan out assignments and phases (through simple drag-and-drop), create milestones, and assign people and placeholders. Switch between monthly, quarterly, and half-yearly views to quickly schedule projects across the short and long term. You can also collaborate with co-workers in real-time without refreshing the browser, making it especially useful for remote teams.
Runn offers a number of charts and reports that update as users schedule projects. These reports provide an organization-wide overview of planned and tentative workload, resource availability, utilization rates, and more. Runn also generates easy-to-understand financial forecasts and surfaces relevant KPIs for each person, client, and project from their own dashboard. Their built-in timesheets and variance reports let you compare actual and planned time spent on work so you can adjust your plans quickly when things change.
Runn integrates with Harvest, WorkflowMax, and Clockify for importing project, client, and people data, and syncing timesheet entries. Their REST API allows you to build out your own integrations and send data to and from your favorite tools.
Runn is free for businesses of 5 or fewer people, or costs from $10/person/month for the Pro and Enterprise plans. Runn also offers a 14 day free trial, no credit card required.
Pros
Easy drag-and-drop resource scheduling
Over-budget predictions and utilization forecasting
Ability to assign placeholder resources to projects
Cons
No task-level management and scheduling
No offline or mobile time tracking
8. Teamwork – best for team workload management
Teamwork is a work and project management software that helps in-house teams and agencies improve collaboration, visibility, accountability, and results. It is a flexible project management solution that helps you to schedule projects and manage the entire project lifecycle from start to finish.
Teamwork includes features that help you structure your projects and milestones: create task lists, tasks, and subtasks to break down the work into action items for your team. You can add due dates, priority, description, supporting documents, or tags to help mark up your tasks with useful information and track deadlines. Team members can track time on tasks, so project managers can analyze time spent.
There's also a useful "Workload" feature that provides a big picture of your team's capacity. The collaboration features in this project management software are great—collaborate and communicate with clients and/or your internal team with comments on tasks.
Overall, Teamwork is an intuitive and highly customizable tool. It has a lot of features, so it does come with a learning curve to get up to speed. However this is made much easier with ongoing webinars, access to help docs, an online resource center, and a dedicated customer support team.
Teamwork integrates easily with other tools including Gmail, Harvest, HubSpot, QuickBooks, Slack, Dropbox, and more.
Teamwork costs from $10/user/month. They also offer a 30-day free trial.
Pros
Features can be turned on/off (tasks, messages, time, risks, billing)
Easy zoom in/zoom out on project plans
Easy to communicate task status with clients or team
Cons
No CSS template option for advanced customizability
No industry-specialized project templates or formats
No way to measure your team's capacity
9. Paymo – best project scheduling tool for creative and marketing teams
Paymo is a work management tool designed to help creative and marketing teams own their entire project cycle. Besides planning and resource scheduling, they also offer task management, time tracking, and invoicing modules that are well integrated with each other.
When it comes to project scheduling, the tool allows you to define the critical path by also taking lead and lag time into account. Project scheduling wise, you can get a bird's-eye view of your entire team's workload across several projects – thanks to the different user/project/ungrouped views. Instead of manually setting up bookings, Paymo creates them automatically based on your previously entered task details to cut the data entry process in half. The built-in leave planner can also be used to mark leave days directly from the scheduler and save your company precious time and money.
Paymo lacks the possibility to attribute people skills and filter after them, which leaves you at the mercy of the user filter. The same workaround applies since there's no team functionality available.
Paymo integrates natively with popular apps such as Slack, Adobe Creative Cloud, Google Drive, QuickBooks Online, Xero, JotForm, Shift, to name a few. Other integrations are available through Zapier or by syncing with their fully-documented API.
There are two paid plans, the lowest one starting at $11.95/user/month – no seat cap. Yearly subscribers are also eligible at a 20% discount. Free trial available.
Pros
Option to pay for one user only
View all projects on a single Kanban board
List, table, board, and Gantt schedule views
Easy to use task scheduling filters
Drag and drop scheduling timeline
Cons
No way to invite collaborators/reviewers
Task calendar view is still on the roadmap
Team scheduling module only available in Business Plan
10. Forecast.app – best project scheduling software for capacity planning
Forecast is a brilliantly simple combination of resource management and project management tool built on the foundation that successful projects require a combination of short and long term planning. It does not dictate how you work so you can mix Scrum, Kanban, and traditional Gantt scheduling.
The Artificial Intelligence (AI) built into Forecast enables you to easily spot projects that are at risk of delay or veering off track. Build and share your own powerful dashboards, reports, and insights so you can put real-time information right at your team or clients' fingertips. Effortless resource planning enables you to track utilization and capacity. In the upcoming work view, the connection between prioritization and scheduling easily lets team members focus on the most important tasks.
Forecast is currently used in 40+ countries worldwide, by agencies, consulting companies, and enterprises – has Lite, Pro, and Enterprise options that cost from $29/user/month (14-day free trial).
Pros
Intuitive design of scheduling tool
Allows both retainer and project based scheduling
Schedule on high level as well as on task basis
Easy to add notes to specific tasks
Combines project management and resource scheduling
Cons
Designed for minimum of 10 employees
Milestone data is lumped together rather than separated
Resumen del Mejor Software de Programación de Proyectos
Entramos en detalles sobre los pros y los contras y las características principales de cada una de las herramientas de programación de software de proyectos basándonos en nuestros criterios. Aquí tienes la información resumida en una tabla sencilla:
Otras Herramientas que Pueden Resultarte Útiles
Hay muchas herramientas de programación de proyectos y aquí, por lo que aquí tienes un par de menciones honoríficas que no incluimos en esta reseña. ¡Echa un vistazo!
¿Necesitas Ayuda Para Reducir las Opciones?
Esta herramienta es bastante útil. Nos hemos asociado con Crozdesk para brindarte acceso a su «Buscador de software».
Si ingresas algunos de los detalles sobre tu proyecto y las funciones que buscas en una herramienta de administración de proyectos, generará una lista de herramientas que coinciden con tus preferencias. Sólo debes proporcionar tu correo electrónico y te enviarán una bonita guía en PDF con un resumen de las mejores coincidencias.
Criterios Para la Selección del Software de Programación de Proyectos
Ningún software de programación de proyectos cumple con los requisitos que exigen todos los tipos de proyectos, pero tomé los criterios generales a continuación para evaluar el software y los apliqué al software de programación de proyectos. Los he usado para calificar las herramientas de la lista de acuerdo con lo que es más importante en una herramienta de programación de proyectos:
Interfaz de usuario (IU): ¿Son intuitivas y claras sus vistas? En las herramientas de programación, también busco interfaces de 'arrastrar y soltar' que permitan mover recursos rápidamente con un solo clic.
Usabilidad: ¿es fácil de aprender? ¿Qué tan buenos son los tutoriales y la capacitación? ¿La empresa ofrece una buena atención al usuario?
Características y funcionalidad: en estas herramientas, me concentré en las características y funciones de programación de proyectos más importantes, que explico a continuación.

Planificación y programación: en su forma más básica, la programación de proyectos requiere algún tipo de software de calendario para la gestión de proyectos. Las características de planificación y programación pueden incluir: calendarios, tableros de tareas y tarjetas, listas de tareas, vistas múltiples para las cargas de trabajo diarias y mensuales, diagramas de Gantt, líneas de tiempo, 'arrastrar y soltar' para los recursos, filtros para encontrar tareas específicas y control de tiempo y fecha límite.
Comunicación: una gran cantidad de software de gestión de proyectos tiene algún tipo de herramienta de comunicación incorporada. Estas incluyen chat en equipo, integraciones con correo electrónico para notificaciones automáticas, un flujo de actividad en vivo o un feed de notificaciones y comentarios sobre tareas.
Análisis e informes: uno de los principales beneficios del software de programación de proyectos es su capacidad para proporcionar fácilmente una gran cantidad de datos del proyecto y compilarlos en informes. El mejor software de planificación de proyectos ofrece funciones de análisis e informes, tales como informes configurables, funciones de informes interactivos y en tiempo real, generación automática de informes y análisis avanzados que rastrean el tiempo, la utilización de recursos, los costos y otras métricas clave del proyecto.

Integraciones: como mínimo, la mayoría del software de programación de proyectos tendrá integraciones por defecto con Google Suite, Dropbox y Box. Algo a tener en cuenta son las integraciones o la sincronización con las aplicaciones de calendario, aunque puede parecer algo obvio, no todas las herramientas tienen integraciones por defecto con aplicaciones las de calendario que podrías estar utilizando actualmente (o su plan podría necesitar una actualización para obtener acceso a dicha funcionalidad).
Relación calidad-precio: ¿Cómo se compara el precio de esta herramienta con otras herramientas de características similares? Un comentario acerca del precio: para equipos pequeños con necesidades más simples de programación de proyectos, es posible que puedas sobrevivir con un software de programación de proyectos gratuito. Busca las versiones básicas y gratuitas de herramientas como Wrike y Asana. En cuanto a las versiones pagas, la mayoría de las herramientas se encuentran en el rango de $6- $10 por usuario. Encontrarás algunas herramientas como Forecast y Celoxis, que cuestan más de $20 por usuario y proporcionan un conjunto más sólido y amplio de herramientas que incluyen administración de cartera.
¿Qué Opinas?
¿Qué utilizas para armar los cronogramas de tus proyectos? ¿Existe una herramienta que, en tu opinión lo hace todo? ¿Has descubierto una combinación de herramientas que funciona de lo mejor? Compártelo con nuestra comunidad en los comentarios.
Our friend and supporter: