Agile is everyone's favorite project management and delivery buzzword, but what agile tools can you use to help successfully run an agile project? In this agile tools comparison article, we're going to explore some of our favorite agile development tools and platforms for managing agile projects.
Best Agile Project Management Tools List
Check out 10 of the best agile tools of 2020.
Below you'll find an overview of each of the 10 best agile project management software, with screenshots, feature overviews, and pricing.
Jump to agile tools reviews
Just realized that you're looking for a different breed of agile tool? Have a look at these reviews:
Quickly Compare & Evaluate The Best Agile Tools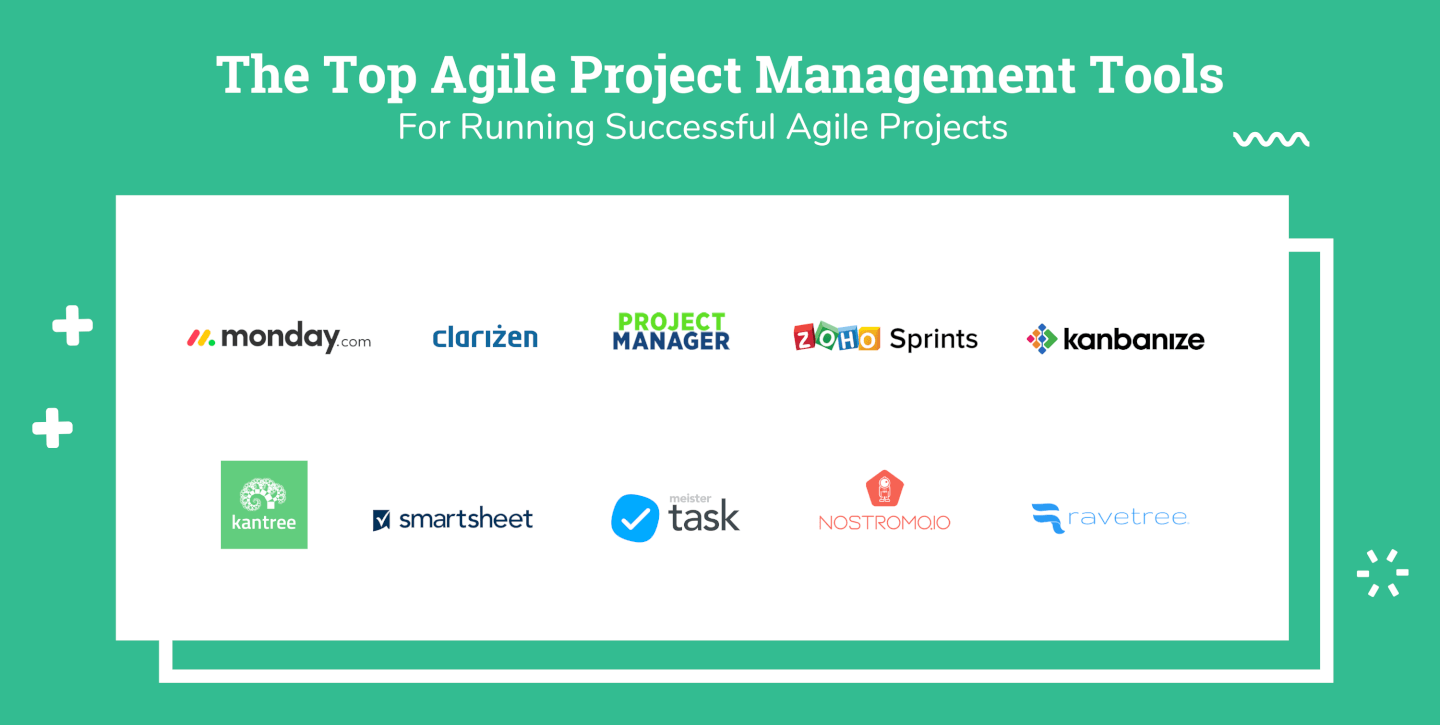 The Digital Project Manager is reader-supported. When you click through links on our site, we may earn a commission. Learn more.
The 10 Best Agile Tools Overviews
Everyone loves the idea of "being agile", but how do you actually apply agile in your agency? And how do you make sure your toolset actually supports your intended processes and methods?
There are an incredible number of agile tool options. Perhaps too many. Everyone likes to manage their projects slightly differently so it's important to try some tools to find what works for you.
Although there are dozens of great agile PM tools out there, here's a detailed review of each agile project management tool that made it onto our list:
1. monday.com – Best agile planning tool
monday.com is a flexible tool that provides a structure that can easily be configured to suit teams working to agile and various hybrid methodologies. Because they've done away with some of the extra trimmings of typical PM tools, monday.com is a great choice for teams who want a simple, unobstructed focus on the work that needs to be done.
When using this tool, you put tasks on a board, and then you add in the steps you'll need to take to get it done. It's vaguely similar to a spreadsheet—but a much nicer-looking one that comes with multiple views (Kanban board, Gantt-style charts, list views) alerts, notifications, assignees, automated processes, and a lot more. Other features include a customizable task board for managing task status, assignee, due date, etc.
You can track your agile projects with monday.com's project dashboards that collect data from multiple boards to easily see work in progress. You'll also find easy file sharing and communication features such as mentions, comments, and hashtags.
Overall, this is an adaptable, easy-to-learn tool with a strong emphasis on customer service (the company's customer support is available 24/7 by phone or email).
monday.com integrations include Slack, Google Drive, Gmail, Google Calendar, Jira, GitHub, Trello, Dropbox, Typeform, and many more that are accessible via Zapier.
monday.com pricing starts at $17/month for two users.
Pros
Huge focus on collaboration
Long list of supported integrations
Spreadsheet-style pulses for task progress
Cons
Complex pricing rubric
Focus goes beyond Agile only
2. ProjectManager – Best agile reporting tool
The award-winning software ProjectManager.com is a well-rounded PM tool used by some big-name brands, including NASA and Ralph Lauren.
It's not a pure-bred agile tool, but it offers a couple of flexible features that agile teams in various settings can take advantage of. For example, Kanban boards with real-time reports and collaboration features. You can attach files to cards, make comments, assign tasks, and check your real-time project stats in the dashboard view. For reporting, it doesn't specifically have agile reports (for instance, a burndown chart). However, the real-time dashboard serves the same purpose—and you can set up your own custom reports in addition to pre-set reports on expenses, timesheets, team availability, workloads, tasks, and more.
One of the coolest things about this tool is that it lets you seamlessly switch between views. It's a great tool for teams who have adopted some agile principles into a hybrid methodology because you can easily toggle between Gantt chart, task list, and Kanban board views, adapting the tool to what makes the most sense for the task at hand.
ProjectManager.com integrations include native integrations with Google Apps like Drive, Gmail, Calendar, etc. as well as Microsoft Office and Microsoft Project. For all other integrations, you can use Zapier to sync ProjectManager.com with other tools.
Pricing for ProjectManager.com starts at $15/user/month, with their basic "Personal" plan requiring a minimum of 5 users. They offer a 30-day free trial (a credit card is required to sign up for a free trial).
Pros
Excellent high level view of project
Customizable schedule templates
Time and expense tracking
Multilingual and very flexible
Cons
No mobile app
No way to update partially complete tasks
Doesn't output schedule files to .mpp
3. Smartsheet – Best agile workflow tool
Smartsheet is an entire online project management suite, but in the suite, they also offer some customizable features for agile teams. You start by setting up a pre-built Kanban sheet template, to which you can import any existing kanban board data from Trello, Microsoft Excel, or Microsoft Project.
Smartsheet helps you organize projects, grids, calendars, dashboards, portals, forms, and more all from a unified control center. They have pre-built Gantt chart templates with customizable fonts and colors, "% Complete" and "Assigned To" columns, and more.
A useful feature of Smartsheet's Kanban tool is that you can switch between traditional, grid, Gantt, and calendar views, helping you to see tasks in different ways. It offers all the Kanban essentials like attachments, custom fields, and searching for or filtering cards based on different criteria.
Smartsheet offers most of the integrations you'd need in a Kanban tool: integrations include Microsoft and Google apps, as well as development essentials like Jira, and useful business apps like Salesforce, ServiceNow, Slack, Box, and Tableau. The platform is extensible through a REST API and webhooks.
Smartsheet costs from $14/user/month and offers a 30-day trial.
Pros
Easy to pull data from multiple sources
Great alternative to Excel spreadsheets
Well-communicated prepared-by-client (PBC) requests
Cons
Advanced training recommended
Could use more formatting options for data columns
Max. number of lines may be insufficient for complex projects
4. Forecast – Best agile tool for scrum methodologies
Forecast is perfect for agile teams, as it ensures optimal project deliveries through an adaptive work process and workflow automation to save project managers time and maintain visibility on projects, tasks, and milestones.
The platform uses AI to help make estimates, so you can effectively plan for a more accurate view of your sprint capacity and monitor velocity. Everything is in one place so you can reduce the amount of rework and improve efficiency while grooming the backlog, planning the sprint, tracking progress and velocity, and discerning where processes can be improved.
Forecast also integrates with the tools your developers love, such as Azure DevOps, GitHub, GitLab, as well as two-way sync with Jira, so you can collaborate with ease and deliver value faster.
Forecast is currently used in 40+ countries worldwide, by agencies, consulting companies, and enterprises. Paid plans start at $29/user/month. Forecast has a 14-day free trial.
Pros
Predictive tasks for spreadsheets
Great UI
Includes resource management
Good for RFP processes
Cons
Additional fee for onboarding/training
Higher learning curve than some other tools
Caters more to agencies
5. Wrike – Best for scaling organizations
Wrike is an award-winning collection of agile tools for project management suitable for teams of five or more. This highly configurable agile project management software allows users to customize workflows, dashboards, and reports.
Wrike's simple interface enables users to switch between Kanban boards, interactive drag-and-drop Gantt charts, and workload views to visualize priorities. Wrike features a number of easy-to-use agile templates, backlog management functionalities, spaces for collaboration and feedback, and agile reporting and analytics. Other features include agile folder organization and automated task management.
Wrike's features can be configured for each individual team's needs, and the tool also offers a variety of different yet specific solutions depending on the type of team or organization, including solutions for marketing teams and professional service teams.
The software offers more than 400 pre-built native integrations, including popular file management software from Microsoft, Google, and Dropbox, along with sales and marketing software from Salesforce and Marketo.
Pricing for Wrike starts at $9.80/user/month. There are four different price points, including a free version and plans which offer the ability to invite free external collaborators to a paid account.
Pros
Holistic, comprehensive task modeling
Loads of configurable features
Community feedback voting for roadmap features
Cons
Not tailored for small organizations
Commenting system could be better
6. Zoho Sprints – Best for beginner agile practitioners and agile veterans
Zoho Sprints is an agile project management tool that aims to provide an iterative and collaborative approach to work. It can be used equally well by seasoned agile practitioners as well as by teams that are starting our their journey of agile transformation.
An intuitive backlog makes it easy to plan and prioritize work items that are in the format of user stories, tasks, and bugs. Scrumban teams can also set WIP limits, sort and view progress in swimlanes, and track sprint summaries on dashboards. Incomplete work items can be moved back to the backlog or moved across other active and upcoming sprints.
The Global View helps in tracking progress across all projects. Each project gets a project dashboard that provides project managers and Scrum masters a birds-eye view of project progress. Actionable insights from velocity charts, burnup and burndown reports, and cumulative flow diagrams help teams iterate their sprint planning.
Teams get live updates about all project activities with the project feed. The Meetings module lets teams schedule sprint planning, review, and retrospective meetings. All users can log billable and non-billable hours while the global timer can be used to start a timer for any work item. The timesheet reports provide a summary of log hours distributed across parameters like duration, sprint, work item type, and user.
Issues from Jira can be imported using the built-in Jira Import wizard. Software development teams can use built-in integrations with tools like GitHub, GitLab, and Bitbucket. There is also a Marketplace that has several pre-built extensions. You can also build and sell extensions as well.
Zoho Sprints offers a free trial for 15 days (no credit card required). Zoho Sprints has one paid plan starting at $12/12 users and every additional user costs $5, billed monthly.
Pros
Robust customization options
Easily schedule meetings for sprint reviews and daily stand-ups
Easily turn feed messages into a work item
Cons
No cumulative by-project timesheets for a user
Doesn't integrate well with other Zoho apps
No Kanban boards
7. Nutcache – Best for flexibility to various agile methodologies
Nutcache is a project management tool designed to plan, track, and manage all aspects of your project using a sophisticated toolbox of color-coded schedules, task organization queues, and data reporting. Users can organize with Agile or Scrum project management, depending on your preferences.
Use the Gantt chart to plan, track, and visually organize your tasks with easy drag-drop-and-click editing techniques. Nutcache offers tools to prioritize and focus on critical tasks: build custom workflows and attach multiple assignees to a task, break down each phase of your project, make adjustments to reschedule your tasks, and visualize project deadlines.
Integrations include Dynacom Accounting, PayPal, 2Checkout, Stripe, Authorized.Net, QuickBooks Online, Google Sign In, Google Drive, GitHub, Slack, and hundreds of other apps through Zapier.
Nutcache costs from $6/user/month with a "Pro" plan that requires 5 users.
Pros
Easy to use
Great time tracking functionality
Easy to integrate new employees
Cons
Complicated security levels for employees
Need more third party integrations
8. Ravetree – Best agile tool for enterprises
Ravetree is a full-featured Agile Work Management ® software platform that includes best-in-class Agile project management, resource planning, time and expense tracking, digital asset management, and CRM.
Unlike other Agile project management tools that are built primarily for software teams, Ravetree is built for Agile organizations. This makes it especially well-suited for marketing & advertising, engineering, architecture, management consulting, legal accounting, higher education, non-profits, and government.
The Agile tools are built directly into Ravetree, without the need for 3rd party integrations or add-ons – including the ability to create Kanban and Scrum teams, epics and user stories, plan sprints, and story point sizing. Teams can easily communicate and collaborate, share files, view burndown charts and much more. Organizations that use Ravetree benefit from having a single source of truth from which they can optimize their operations and see the big picture.
One thing that sets Ravetree apart is the highly intuitive interface that allows everyone to easily find information, whether it's project managers, executives, or team members. Ravetree also has a great support system, which has given them excellent customer support ratings.
Ravetree costs $29/user/month (with annual agreement — $39/user/month if paid month-to-month) and $20/user/month for non-profits.
Pros
Easily track multiple projects
Robust budgeting features
Distinction between billable and non-billable hours
Cons
Reporting tools are lacking
No public API
Home board not customizable
9. Pivotal Tracker – Best agile tool for software development projects
Pivotal Tracker is a very simple agile development tool that works well if you're doing development Kanban style. This tool nails task management and helps to manage projects, track velocity, and predict for the future. It's great for managing multiple projects with workspaces that enable you to clearly understand your priorities, view projects side-by-side, and move stories across projects.
Pivotal Tracker has some great analytics and reporting that provide quick snapshots of the overall project health, with a birds-eye-view of how well your team's performing with Burnup, Cumulative Flow, and Cycle Time reports and then drill down for a closer look at project health by iterations, epics, releases, and more.
Pivotal Tracker takes integrations seriously and has more than 140 extensions including GitHub, Slack, and Zendesk, to extend the functionality across productivity, project management, issue tracking, analytics, time tracking and more. They also have a well-documented API so you can integrate with pretty much whatever you want.
Pivotal Tracker is a free agile tool (for teams up to 3) but paid versions cost from $12.50/5 users/month.
Pros
Easy to review previous projects
Nice analytics features
Departmentalized stories for tasks/tickets
Tailor-made for Agile development
Cons
Limited functionality relative to competition
Information overload on some screens
Mobile app sometimes runs slowly
10. Nostromo – Best agile tool for user experience and usability
Nostromo is the new kid on the block, an all-in-one project management tool for teams who work on digital projects. With features including task management, time administration, to-do's, reporting and analytics, and design collaboration, it's a well-rounded Kanban board tool – like Trello on steroids!
If you're already using Trello and are ready for a more powerful task management Kanban tool with additional functionality around time tracking and reporting out the box, Nostromo could be a good choice. Helpfully, they include a tool to import existing Trello boards and data into their tool so the onboarding process is very easy.
As a lite and simple tool with task management, team collaboration and project metrics out the box, it's a good choice for teams that have outgrown Trello. It's weak on integrations, with Slack being the only integration currently on offer. It's a new tool though, so keep an eye on Nostromo as they continue to add more features and functionality.
Nostromo costs from $10/2 users/month.
Pros
Easily import from Trello/spreadsheets
Award-winning UX
Cons
Few third party integrations
Small user base, minimal online presence
Summary Of The Best Agile Tools
Criteria For Choosing Agile Tools
The best agile management tools supply the following most important elements for agile project management. I look at elements outside of their feature set, such as their user interface, their usability (how easy is it to learn?). I also evaluate how much value the tool offers for the price—how its price stacks up against other tools with similar features and functionality.
I looked for the following features when evaluating the best agile tools in this review:
Task management – Kanban or Scrum boards with projects, task lists and everything else that goes with it – from files and discussions to time records and expenses.
Backlog management tools – Features to vote on, label, prioritize, and re-prioritize user stories and bugs.
User story tools – Basic tools consist of cards on boards, which all online project management software offer. However, more comprehensive agile platforms include more user story tools such as dedicated boards for user story mapping and dedicated features for estimating user stories.
Team collaboration – Communicate updates with local and distributed teams, and share task lists, feedback, and assignments
Agile reporting & analytics – Tools should, at the very least, offer an agile dashboard displaying common agile charts like burndown and velocity. More advanced agile reporting features include progress reports for stakeholders, team performance evaluation features, and financial reporting tools.
And finally, I check for integrations. I want to make sure the tool plays well with the right tools. In the case of agile tools, which are often used for developing software, I treat integrations with software development and issue management tools with higher priority. However, keep in mind teams in non-development environments won't need this type of integration and would benefit more from integrations with other work apps like Slack, Google Apps, Adobe, and others.
Other agile tools worth considering:
None of the above work for you? Check out our list of other agile tools worth having a gander at:
Want Help Finding The Right Solution?
This is pretty useful. We've partnered with the software comparison portal Crozdesk to give you access to free software advice – taking the hassle out of the research process.
Submit your requirements to get custom product shortlists from their team of software experts (via phone or email) with zero obligations. It's quick and you'll get a free comparison report at the end covering the top solutions that best fit your needs. Give it a try below.
Our friend and supporter: