This list will help you quickly compare and evaluate the best digital asset management software (often called a DAM).
If you ever find yourself thinking, "I know we had that file a year or so ago that we could use for this project—if only I could find it…" then you should think about getting a DAM.
It's a media asset management system for storing and managing digital assets that can speed up production and ensure you're using the most appropriate file for your projects.
The Best Digital Asset Management Software List
Digital asset management software allows users to store and organize files and protect their assets from being stolen. DAM software can improve project workflow and help with common project challenges. All your files are in one place, no more spending hours looking for that one image buried in the recesses of a hard drive.

Below you'll find an overview of these digital asset management software, with screenshots, feature overview, and pricing.
Jump to digital asset management software reviews
Digital Asset Management FAQ
Start here to cover the basics of digital media asset management software, like what it is and what you can use it for.
The Digital Project Manager is reader-supported. We may earn a commission when you click through links on our site — learn more about how we aim to stay transparent.
Digital Asset Management Software Comparison Criteria
How do I evaluate DAM software? Here's a breakdown of some on my considerations. Keep in mind that I tried to focus on general cloud digital asset management systems that store all kinds of files—not tools with a single focus like video asset management software or photo asset management software.
User Interface (UI): Does it offer clear displays and intuitive navigation? This is especially important when distributed teams and multiple departments all need to be able to easily navigate the tool.
Usability: Is this easy to learn and use? For my ranking, digital asset management solutions with better tutorials, knowledge centers, and customer support get a higher score.
Features & Functionality: How many of the key features and functions does it provide, and how powerful are they? In DAM software, features like searchable databases, version control, proofing and approval workflows, rights management, and permission-based access are important.
Integrations: Pre-built integrations with Adobe's Creative Suite is ideal for many teams. Likewise, the better digital asset management vendors supply integrations with project management software, content management systems, social media platforms, content delivery networks, ecommerce software, and analytics tools.
The Best Digital Asset Management Software Overviews
Widen Collective is a really useful tool to organize, share, and distribute your brand assets and product content across the web. In the end, it helps empower your marketers, salespeople, and partners to get the content they need on demand.
Something notable about this tool is its powerful search functionality and flexible metadata models. In this sense, Widen Collective stands out in our features and functionality evaluation, where searchability and flexibility reign supreme. And in addition to using metadata to classify your assets, you can also assign different roles and permissions to different user groups to control access levels.
You don't see this in every digital asset manager, but in Widen Collective you'll find an analytics feature. This means you can understand who is using your content, which can in turn inform more effective creative deliverables.
It's worth mentioning that you could use this tool as a standalone digital asset management tool or you could build it out into a larger management system. In addition to the core DAM offering (Widen Assets and Insights), several add-on applications are available to construct your brand management, marketing resource management, or product information management system that works for your use case. For example, you can use Entries to assemble product content for e-commerce distribution, or Portals to share curated collections within branded webpages. You could also leverage Templates to build localized ads and brochures or use their Workflow add-on to manage work-in-process review and approval.
The Widen Collective integrates with dozens of platforms spanning content management, project management, marketing automation, customer relationship management, social media, sales enablement, and more.
Widen offers pricing upon request and has a free demo.
MediaValet aims to empower sales and channel teams to find up-to-date, relevant collateral and content on any device, anywhere. They allow users to create, collaborate and preview Office documents, visuals, PDFs, videos, even 3D files within MediaValet library. Streamline the sorting and search process with AI-driven object, text, color and face recognition.
The searchability of assets is pristine with MediaValets automatic tagging features. Files are organized for easy retrievable by grouping into categories and subcategories in order to amplify the user experience. This is why I was compelled to score them highly in the UX and Usability categories within our evaluation criteria guidelines.
MediaValet has an app for iOS, Android and Windows. Software integrations include Wrike, Workfront, Slack, OKTA, Active Directory, WordPress. Drupal 8, Adobe Creative Cloud, Sharepoint, Office 365, Hootsuite, and more.
A noticeable con was the duplication (or otherwise troubling result) of attempting to have two users access or work on the same file. This stifled collaboration somewhat.
MediaValet costs from $6,000/year and offers a free demo.
monday.com is a great digital asset management software because of the way the tool has done away with a lot of the trimmings of typical management tools and focused on simple, visually intuitive layouts that help clarify the sequence of work.
monday.com allows you to allocate & prioritize tasks, use various views in order to see where everything stands, and track multiple projects using dashboards that provide high-level insights in a visual and intuitive way. It has client management capabilities that let you do everything from setting up automatic reminders, due date notifications, and assign teammates to new tasks automatically. The platform also provides powerful and customizable notifications and automation so you and your team can focus on what's important.
With monday.com you can plan, manage and track your budgets in an intuitive interface. You can track expenses, income, their dates, and attach needed files to each item. And thanks to the various columns, you can filter items by many different variables such as status, people, text, time, location and others. Formula columns are also available.
While monday.com doesn't offer traditional automated reporting, it is built to show the big picture at a glance to help you analyze various aspects of your projects and processes.
monday.com's integrations include project management apps like Slack, Google Drive, Gmail, Google Calendar, Jira, GitHub, Trello, Dropbox, Typeform and many more, accessible via Zapier.
You can try monday.com for free.
Wedia is a provider of Digital Asset Management software solutions for large organizations.
They need to produce and manage an ever-growing number of diverse assets that must be rendered in hundreds of variations (size, quality, format, crop). They face external regulatory compliance, third-party licensing compliance, and intrinsic brand consistency issues that constrain their marketing and communication functions. They must deal with multiple technical challenges
resulting from heterogeneous tools and legacy software solutions that produce, manage and consume content and rich media. And above all, they need to adapt and distribute these visuals over multiple channels, physical or digital, all with a single objective: to continuously improve the effectiveness of these visuals and the user experience they help
create.
Wedia helps its clients manage this complexity and convert their marketing visuals into sales by providing them with a central hub to manage, organize, securely share and repurpose their digital assets and media files, whatever the format, and according to their specific organization and business expectations.
Wedia pricing is available upon request. They offer a free demo.
Swivle DAM is an intuitive digital asset management system made by WoodWing and used by the likes of Forbes and TopGear. The tool lets users share assets in a public or password-protected portal to easily collaborate with audience, clients, or resellers. Each portal you use has unique content, unique branding, and a unique subdomain.
Swivel excels in easy collaboration with a one-click share option as well as plenty of UI room for comments, design recommendations, and approvals. Swivel comes with image editor features, like resizing, so you won't have to worry about external software for those purposes.
Higher-level plans come with an inDesign plugin and an API for additional integrations. Other app plugins are not included in the product details or demo.
Typical customers of Swivle tend to be freelancers and small-to-midsize businesses; it's not built for large companies and enterprises, however, which may be a bit of a drawback.
Swivle DAM costs from $487/month and offers a 14-day free trial.
MediaBeacon empowers users to drive asset creation, easily find assets, and distribute those assets across teams and departments. Features include a 3D asset view, enforced asset usage and licensing with DRM, searches by Pantone color, asset use and reuse for social posting and branded portals, and more.
The ability to establish custom metadata fields that work with your unique data makes MediaBeacon a flexible digital asset management (DAM) companion for large or small corporations alike. This, plus easy merging with pre-existing systems, is why MediaBeacon excels in the Integration evaluation category of our evaluation criteria segment.
MediaBeacon integrates with Adobe, Sitecore, and Brightcove.
Better branding throughout the UI of MediaBeacon would really take this software up a notch. Also, as noted above, further expanding the list of possible software integrations would definitely make this software more valuable to many enterprises.
MediaBeacon offers customized pricing quotes and offers a free demo.
Libris specializes in website design, WordPress development, and Product Information Management—one of their many characteristics includes the storage and dissemination of digital assets. Their strategy ensures that assets are stored, structured and distributed from a central point for global access.
This tool offers great digital asset management for photographers and other creatives. In this system, photos can be cataloged and searched by keywords, uploaded via phone, protected by passwords, sorted into permission-oriented groups, easily download and share files. In naming all of these perks, the Usability (one of our evaluation criteria flags) is quite nice for Libris.
There aren't any integrations at this time.
The search functionality could be more robust; in fact, locating and selecting an image came with a variety of difficulties outside of troublesome navigation. Other cons to watch out for include digging through menus to find what you need, inability to tell photo quality until full download, trouble transferring images to Lightbox, and so on.
Libris costs from $3999.00/year and offers a free demo.
Brandfolder helps marketers and creatives manage and distribute all of their assets, and understand how they're performing. Some notable features include proprietary AI and ML technologies to pinpoint high-performing assets, the ability to organize and share unlimited files from one secure location, customizable UX to match your brand, and more.
Brandfolder deservedly scored high in our Integrations evaluation criteria section, as they provide a robust list of integration-friendly software and are the only product on my list here that mentions a link-up with Zapier as an option to open even more doors to other app hookups.
Integrations include Adobe Creative Suite, CRM software, Google products, Highspot. IBM, Hubspot, PrintUI, Jira, Microsoft 365, Salesforce, SAML, Sketch, WordPress, Wrike, Shopify, Workfront, Marketo, and over 1000 more through a paid Zapier plan.
Minor troubles I encountered during my test run include a few minor glitches with the templating feature(s), a slight learning curve due to the robust nature of the app, and the lack of deep-dive reporting and data analysis.
Brandfolder offers pricing upon request and has a free demo.
Canto helps to organize all visual content with a digital asset management system that emphasizes ease of use and collaboration. Robust search mechanics, smart sharing between different groups of stakeholders, and ample support (online tutorials or customer helpline) are just a few of the features they offer.
The flexibility of deployment and implementation are just a few of the reasons Canto scored so highly in the Usability evaluation criteria section. Overall, the software was pleasurable to navigate, easy to tune into and customize to individual use cases, and welcoming to new users.
Integrations include Box, Google products, Dropbox, Drupal, Egnyte, Facebook, Adobe Creative Cloud, Mailchimp, Pinterest, Slack, Twitter, TYPO3, Vimeo, WordPress, YouTube, and more.
A minor grip was the amount of data required to satisfy upload forms, which became a bit tiresome. Additionally, the loading of preview images tends to lag quite a bit.
Canto Digital Asset Management offers a quote-based plan upon request and has a 15-day free trial.
Smartsheet is really more than a digital asset management tool—it's an online project management tool with collaboration features, reporting, and some workflow automation.
It's a cloud-based tool so it's great for distributed teams who want real-time updates and who need access to files on the go.
It's got most of the DAM essential features: searchable databases, version control, and proofing and approval workflows. It also has permission-based access which allows you to set permission levels to Owner, Admin, Editor, and Viewer. Similarly, you can create portals that give you customized views of your projects depending on what you want to track for each one, and then it generates dynamic reports based on those criteria. So it's a lot more than a simple asset database tool.
Smartsheet integrations include Microsoft and Google apps, as well as development essentials like Jira, and useful business apps like Salesforce, ServiceNow, Slack, Box, and Tableau. The platform is extensible through a REST API and webhooks.
Smartsheet costs from $14/user/month and offers a 30-day trial.
The Best Digital Asset Management Software Comparison Chart
Free Digital Asset Management Software
Several DAM software companies offer a free version of their software with some features restricted. Here's a brief list of DAM software you can try for free.
Other Digital Asset Management Software
There's a few more DAM options that I haven't had the chance to fully review, but check these out if the above aren't making the cut:
Do I Need A Digital Asset Manager?
I'll answer that question with three more questions. Do you…
…manage creative teams?
…work on a decentralized team?
…work with multiple vendors, clients, or partners?
If you answered "Yes" to any of these three questions, you could likely benefit from digital asset management software. Here are some of the benefits it can provide:
Everyone can access the same file versions. Using media management software means that everyone has access to the most up-to-date version that's stored and shared on the cloud. Without a digital assets management system, you're emailing files back and forth, which makes it hard to keep everyone up to date on the latest changes.
You can refer to the version history and track revisions. Take advantage of how digital assets management systems store previous versions of your work—it's all backed up in the system, so you can revert back to a previous version. This is useful when new changes don't get approval and you'd like to quickly revert to the older version.
You can use metadata to organize and locate assets. Media assets management software stores images, logos, video, and other files along with their metadata (embedded/enriched info, tech specs, copyright, origin, etc.). This means you can search for and quickly locate a file based on metadata, and you can use custom field to help label and organize assets.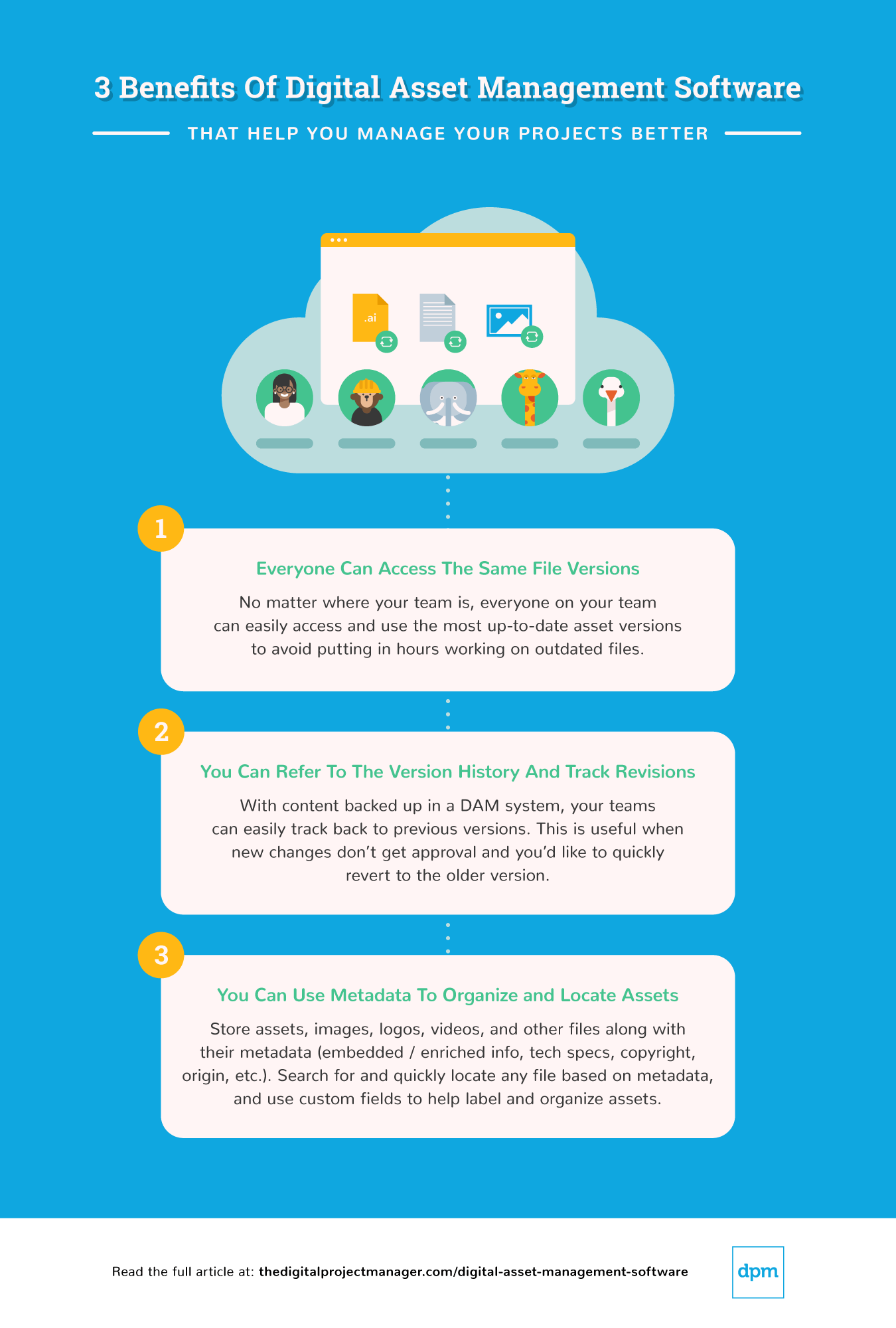 Need expert help finding the right Digital Asset Management software?
We've partnered with the software comparison portal Crozdesk.com to help you find the right solution. Crozdesk's Digital Asset Management software advisors can give you independent advice and shortlist software products that best fit your specific needs. Our partnership gives you free access to their tailored software selection advice and community negotiated discounts, taking the hassle out of the research process.
It takes just a minute to submit your requirements and they will give you a call at no cost or commitment. You'll get custom product shortlists covering the top solutions that best fit your specific needs from their team of software experts (via phone or email) and they can even connect you to your choice of the selected vendors. To get started, please submit the form below:
What's Your Favorite Digital Asset Management Software?
In the modern age, managing digital assets is a big part of managing projects. The above are some suggestions but, as always, not a comprehensive list. What tools or software do you use for creative project management that are missing from my asset management tools comparison? I'd love to see your suggestions in the comments.
Our friend and supporter: