So you're a Project Manager. You've landed a great job at a digital advertising agency (or maybe you're in the digital arm of your corporation's marketing team, or you're working on projects for a non-profit, or you're working on website projects for an educational institution) and you're all set for your first project! Now it's time to show everyone what you're made of. Now's also the time that many project managers start to wonder what…exactly…to do first.
Project managers typically keep projects on the right track, interacting both with the internal team and the client. We are the sponges that absorb impact from all sides and make sure the project keeps moving forward steadily. So what now? Don't worry – we've got you covered. You'll read about what you REALLY need to do in order to shine!
What Does A Project Manager Do?
A project manager's responsibilities have changed a lot in the last 5-10 years. In the past, project managers were tasked with simply executing directives. We had to fight to show our worth, and we often didn't get a seat at the strategy table.
Today, project managers have a much wider purview, one that includes a lot more strategy and leadership – which is great not only for a PM's growing skillset, but for their paycheck. PM salaries have been increasing as they take on more project leadership.
But with that wider purview comes a lot more expectation on how to do your job, often without the benefit of step-by-step instructions. Here is how to ensure that you hit the ground running and go above and beyond the typical PM role.
Key Project Manager Responsibilities & Duties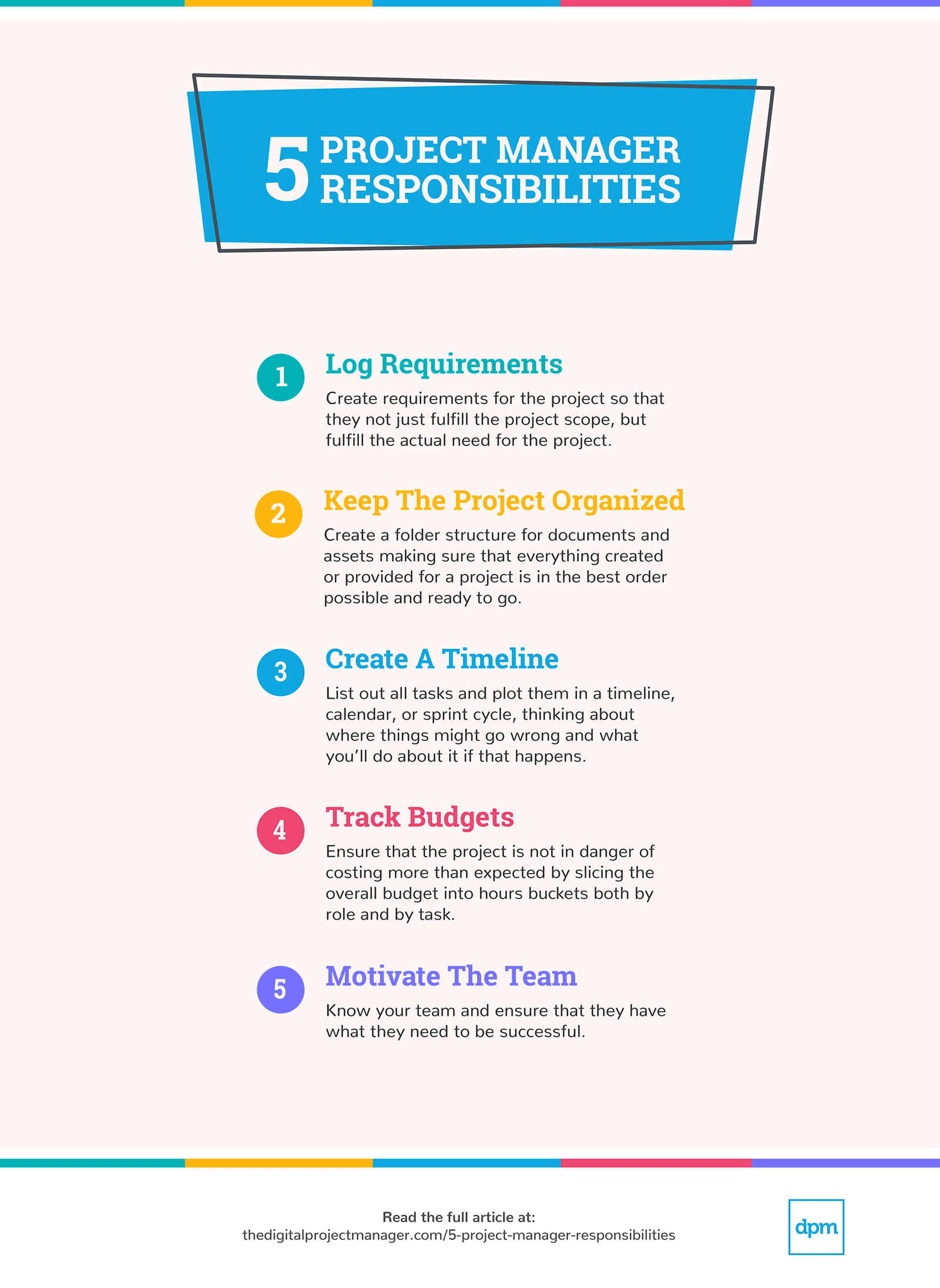 If you look at any job description for a project manager, you'll find some similar things: keep the project on time, organized, and on budget. And you do those things by logging requirements, creating timelines, and segmenting out and tracking the budget. You also know you have to motivate the team and make sure everything flows.
But what is going to separate you from the pack is how you do each of these things – what you should REALLY be doing. So let's go over these by tactic:
1. Log Requirements
Create requirements for the project either in a project requirements document, or in user stories.
We do this by taking the basics from the Statement of Work (SOW) or from client notes and putting them together to show all the must-haves, details, and pertinent information that any stakeholder or project team member would need to understand if they were to be working on that project. This is the "blueprint" of the project.
What You Should Really Be Doing:
You definitely need to be keeping track of what it's going to take to do the project you've been assigned to. But you also need to understand the overall business needs of the project. You want to be able to write your requirements/user stories so that they not just fulfill the project scope, but fulfill the actual need for the project. The best way to ensure you understand the project strategy is to be included in project discovery and upfront planning, but not every project manager is able to do this. The next best thing is to immerse yourself in the output of discovery and to ask strategic questions about the end product.
Once you have a really good grasp of the project strategy, you can then answer most questions that will come up during the course of the project. You need to be able to run that interference – provide strategic guidance that helps a project continue forward without waiting for additional input for items that don't require a customer decision. When I started doing this for my projects, I went from being the project manager to being The Project Manager – and the projects I managed afterwards became more and more strategic.
2. Keep The Project Organized
Creating a folder structure for documents and assets.
We project managers know that we have to keep all the information pertaining to the project in a single place that everyone has access to, so that stakeholders and project teams can find the information they need easily. Usually, this lives either on a shared drive, a Google drive, Dropbox, or some other way that the team at large can find assets and information.
What You Should Really Be Doing:
While categorizing and creating meaningful folder structures are a definite need, you also need to be checking to make sure that everything created or provided for a project is in the best order possible, so that when it's needed, it is ready to go. This might mean making sure that the graphic assets are the right file type and structure, that any copy that's being provided is free of additional formatting that can interfere with CSS rules, or ensuring that other entity's code is packaged correctly. Doing this at the beginning of the project is the best way to ensure you don't lose time or money later on trying to fix something you can prevent.
I once managed a project that required transferring upwards of 400 PDF files to a new document tree on a website. I thought that it was as easy as just cataloging them and making sure they were ready for our developers to add, but I took some additional time and opened some to take a closer look. When I did, I realized that there were 3 different branding iterations for the documents. Because I caught it early, the client had time to address it and provide properly branded PDFs well before we needed to add them to the site. That would have been caught in QA at the end of the project – giving very little time for the client to fix the issue before launch date.
3. Creating A Timeline
Listing out all tasks and plotting them in a timeline, calendar, or sprint cycle.
As a project manager, one of the first things we ask ourselves is "what has to happen right now, and what has to happen next, in order for this project to launch on time?" How you create this really depends on the project deadline. If it is immovable, you would create a timeline from that immovable end date backwards. If it is flexible, you would create a timeline starting from the present time, and working out until a suitable launch date.
What You Should Really Be Doing:
This is the time to start thinking about contingencies. Yes, you have to create your usual timeline – whether that's on a calendar, a Gantt, or a sprint plan. But it's also the perfect time to start thinking about where things might go wrong and what you'll do about it if that happens. If you're working on a waterfall project and you're building your timeline with items basically happening in a serial format, start looking for places where – if you had to – you could do some parallel work. Start looking at what would be an MVP – Minimum Viable Product – if you have a project with an immovable end date. That means figuring out what, at a minimum, would work to get a project done on time. You want a few options that you've thought out well ahead of time, when you're level headed and not under the immense pressure that usually surrounds timeline crises.
One of my favorite options to keep at the ready is the "Phase 2". It's a good way to get to an MVP without actually using the word "minimum", since that sometimes induces panic in some stakeholders. I figure out what we can do as our initial launch, and what could be launched soon after to fulfill the project scope. Whatever tactics you choose, just ensure you've identified where in your timeline you'd be able to execute them. These don't have to be shared with your client – or even your team – they are mainly for you to have "in your back pocket" should something happen.
4. Tracking Budget
Ensuring that the project is not in danger of costing more than expected.
It's usually the most basic question for team leadership: do we have enough money to do this project? Most times, budgets are fixed by the time the project manager takes over, so the process is to take that budget and spread it out over the timeline you've created, and tracking to the requirements you've laid out. The numbers have to work, or the project is in danger of costing more than it is bringing in.
What You Should Really Be Doing:
This is your first and best shot to ensure you have enough budget to get the job done. The more a project progresses, the harder it will be to reasonably bring up budget issues (unless there are obvious out-of-scope requests).
Once you feel comfortable that you have the right amount of budget, you should be slicing the overall budget into hours buckets both by role and by task. Your budget doesn't just track the spending on a project, it sets boundaries for each person on your project team. Together with your requirements or user stories, it gives your team the guidelines they need to succeed. It's not enough to just tell someone what you need and when you need it by, you need to tell them how many hours they have to do it. After all, if you have to get something done in 3 days, taking 16 hours to do it is much different than taking 4 hours. I make sure to give my team directives for tasks that have "calendar time" as well as "hours budget". Not only does that give them parameters to be successful, it helps them to choose the best way to complete a task. If a developer knows she has 3 hours to complete a task instead of 6, she might decide to use an existing plug-in. That's invaluable information to have upfront, before work even begins.
Read more about how to estimate projects (and therefore, accurately parse budget) at The Digital Project Manager.
5. Motivating The Team
Ensuring the team has what they need to be successful.
Creating all of the documentation and timelines and budgets is great, but your project team (and your clients) are going to need guidance to continue moving the project forward. It's not enough to set up the project for success – once those items are in place, you have to make sure things keep happening according to plan, and everyone has what they need for the task at hand.
What You Should Really Be Doing:
Making sure the team has the correct wireframes or asset library is definitely important. What's going to make you a fantastic motivator – and a successful PM – is to know your team. Every one of us has something that really makes us tick. Some people are deadline-driven. Some people hate to talk on the phone. Some people need a lot of praise to keep moving forward. As a project manager, your job is not to squash these quirks, it's to work with these quirks to get the best out of your team. The first step is to get to know what these little idiosyncrasies are. As time and workload permits, make the effort to get to know everyone on a more personal level. As they become more comfortable with you, start probing about what it is that makes them work well, and what usually makes it harder for them to produce quality output. Write these things down for yourself, and then as your project progresses, use that knowledge to tailor your communication or motivational style to suit your team.
I've worked for quite a few pharmaceutical advertising agencies, which I think are probably the most brutal in terms of demanding, unpredictable projects. It is exceedingly hard to keep yourself motivated with some of the improbable deadlines and inexplicable red tape necessary to get a good pharma ad campaign off the ground, let alone keep your team motivated. It was difficult to carve out time, but I managed to get to know my lead dev, and I found out that he hates being interrupted in person at his desk when he's working, and he loooooooves candy. The interruptions weren't always something I had the luxury of avoiding, so what I did instead was to knock softly, and immediately ask if it was a good time to talk. If it wasn't, I would say "I'll follow up with you to figure out when we can talk, as long as it's today." I'd also slide over a Kit-Kat bar. I'd drop off a few Hershey's Kisses randomly, not when I needed to discuss something. Our working relationship quickly cemented, and I feel like I was able to bring out the best in him. It was all about knowing what made him tick.
Conclusion
If you always look to go deeper than basic project management tasks and make sure you know what you should REALLY be doing, you'll be grooming yourself to take on the most complex and rewarding projects. You'll have the basics down, plus the skills that often don't get articulated on job descriptions but that command the salary of a top PM. And you'll find that you're less stressed, because you've mitigated a lot of typical pitfalls that a project can throw your way.
Here are some additional skills that project managers can use to manage projects with even more skill and leadership (including presentation skills, which PMs now need in order to show their strategic worth). And find more valuable PM skills you should cultivate.
What Do You Think?
I am always on the prowl for tips and tricks on what I should be doing when I manage projects, so if you have anything for me to ponder, make sure to comment below!