Yes, it's only July. But that doesn't mean it's not a good time to gift your project manager a little something (after all, projects can wrap up anytime of year).
Now, I already know what every project manager wants: happy teams, happy clients, and projects that finish on time. However, that's a pretty tall order.
In the spirit of some mid-year merriment, here's a list of project manager gift ideas for a holiday gift or a just because gift.
Some are project management themed, but many are good work gifts in general—gifts for coworkers or office managers (or maybe something you want to cop for yourself, especially if you've got an office or lifestyle budget to spend).
15 Gifts For The Project Manager In Your Life
I've organized my list of the best gifts for project managers by price range to help you out.
If you're going in on a gift with a group of people (say, the whole project team), a higher budget item in the $300-$500 range may be appropriate. I've also got a number of inexpensive present ideas if you're shopping for a more personal gift that's under $50.
Our reviewers evaluate products independently. Clicks may earn a commission, which supports our publication. Learn how we stay transparent.
6 Best Project Manager Gifts Under $50
Here's some project manager gift ideas for smaller budgets. No one's stopping you from bundling a few of these together either!
1. Set of Colored Pens
No one grows out of writing with fun colored pens! Project managers especially love to color-coordinate things, making this the perfect gift. This is quite a big set, and you can pair it with a nice notebook (dotted notebooks are all the rage right now) for an easy, but still thoughtful gift.
2. Funny Project Manager Mug
Enough said. If you're looking for funny project manager gifts, this coffee cup has you covered. Your project manager will get a kick out of the joke, and this one in particular can even provide a bit of an ego boost. After all, everyone likes to be flattered, even if in jest.
3. Weekly Tear Off Planner
Project managers are famously organized, and many love using planners and journals to keep track of deadlines, stakeholder meetings, to-dos, and more. Why not buy their next one for them?
This one has almost a year's worth of pages, so it will last them a while, and it's letter size, making it fairly easy to carry around with the rest of their various papers and notebooks.
4. Relaxing Scented Candle
Project management is a high stress job, and candles are a well-known way to help reduce it. This one is a blend of basil, jasmine, and lavender, a common culprit in stress-reducing aromatherapy. It has a burning time of 50 hours, which might last a project or two, depending on your project manager's stress levels!
5. Chamomile Lavender Tea
Tea is another great relaxation item, and this one in particular is great for stress reduction. It again features lavender, along with chamomile, which is thought to help sleep. This one is also caffeine-free, so it's a great anytime tea.
6. Stardew Valley Video Game
This one is great for project managers that like to unwind with video games in their free time. The plot of the game involves the main character (you) inheriting a farm from a family member, and it's your job to get the farm up and running and making profit. Project managers are sure to be up for the challenge in this one!
4 Best Project Manager Gifts Under $200
If you're planning to spend a little bit more on a gift for your project manager, check out these options!
7. Yoga Mat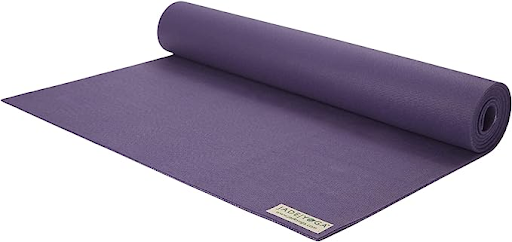 Help support your project manager's mental and physical health with a yoga kit, and let them know that you care about their work life balance.
If you'd like to get away from office gifts and work-related gifts, a yoga accessory is a smart choice. It's also a good gift idea for a manager leaving, a sabbatical gift, or a gift for a colleague going on maternity or paternity leave.
8. Light Therapy Lamp
If your project manager is based somewhere that doesn't get much light in the winter (ie. the Northern Hemisphere), this is a great option.
There are many benefits to sunlight—increased Vitamin D, better mood, and more energy—which your project manager won't be getting when the sun sets at 3:30 PM in the depths of winter. This will help them improve their mental health.
9. Standing Desk
This convertible two-tier design provides space for your monitor as well as a deck for a keyboard and mouse, which can be configured into different positions to help your PM keep their body and mind rejuvenated at work. It sits on top of their existing desk for added convenience. It's perfect for a home office or an in-office desk.
10. Weighted Blanket
Another great item for reducing stress and anxiety, the weighted blanket feels like a full-body hug. If you're familiar enough with your project manager that they'd accept a hug from you, this is a great option. It's also another mood booster and mental health booster.
3 Best Project Manager Gifts Under $500
Want to splurge on your project manager? Try these options.
11. Deluxe Coffee Maker
Of all the thank you gifts for managers, a coffee machine is at the top. Why? Because a PM with a coffee machine on their desk is everyone's best friend.
Not only will your project manager enjoy the gift of a good cuppa joe, but they'll also have an excuse to connect with their team members over a quick cup of coffee for friendly status updates.
12. Wireless Noise Canceling Headphones
Busy open office? A great pair of noise cancellation headphones can be a sanity-saver for anyone working in the digital industry. Block out distractions in a loud office setting.
Noise-canceling headphones work well as a practical thank you gift for managers, but they make especially great gifts for construction managers who often have site noise to drown out.
13. Curved Monitor
Not your everyday monitor—an ultrawide, curved 21:9 monitor is a luxurious upgrade from your typical flat screen! Senior project managers are notorious for having a lot of tabs and windows open, and this gift will help them get a bird's eye view of what needs to be done (and whether they can actually close that tab they've had open for 6 weeks).
2 Best Project Manager Gifts $500+
Let's be honest—you're giving either of these to anyone; you're keeping them for yourself.
14. New Office Chair
The right office chair makes a huge difference in your comfort at work. This one is just about as luxurious as they come.
It's got 6 points of adjustment, the cushion is made from high-density foam, and it's been rated for more than 8 hours of continuous use, for the times when you don't have even a second to stand up from your desk. It comes in other colors, but I'm partial to the coral.
15. Apple iPad Pro
A great gift for project managers who are always on the go, this iPad Pro (with 12.9-inch Liquid Retina XDR display, all day battery life, and powered by the Apple M2 chip) is a versatile gift that will come in handy during meetings time and time again.
Outside of the (Gift) Box Ideas
Looking for something a little more personal or off the beaten track from coffee mugs and laptop stickers? Here's a few other ideas:
A box of their favorite snacks: cookies, candies, chips, chocolates (or some of each!)
A spa day: massages, plush robes, hot tubs, the works!
Company SWAG: this is a great option if you're an external client and you want to show some extra appreciation
A hand-written note of gratitude or appreciation: cheap but always appreciated
Virtual or in person cooking class: This is especially great if you know they like to cook (or what they've never tried to cook)
A trip: find out where they want to go and buy them a plane ticket or hotel room
A nice meal: treat them to an upscale restaurant or a treat at their favorite dessert spot
What's On Your Wishlist?
We hope you've found a project manager gift that's a good fit, whether it's a Christmas gift, birthday gift, or otherwise! For more ideas, try this list of project management books—project managers are always keen to learn something new, so these make a great gift.
Feel free to comment with your gift ideas for managers—what is on your project manager gift list?