monday.com vs ClickUp explained: Similarities, differences and find out which is best for you
Summary
Whenever people talk about project management software, monday.com and ClickUp are two names that frequently get mentioned. Both tools share common features that can help you with task management and workflow automation. However, monday.com has certain features that distinguish it from ClickUp and vice versa, and I'm going to take a closer look at what makes each software unique. This article will discuss each software's noteworthy features, strongest use case, similarities, and differences.
My objective is to help you better understand each software so you can choose which is the better option for you and your company.
monday.com vs. ClickUp Overview
Jump to side by side comparsion
Expert Summary: monday.com vs. ClickUp
Both ClickUp and monday.com are available not just as a browser-based program but as mobile apps that users can use on both Android and iOS devices so they can work on the go. Each software supports integrating most third-party programs or apps that you use, including HubSpot CRM, Trello, Jira, Asana, Slack, Wrike, Basecamp, Microsoft Teams, Salesforce, and others that are integral to your business. ClickUp and monday.com support calendar management, allowing you to use the calendar view to quickly see your team's schedule and workload so you can efficiently manage human resources.
ClickUp's pricing model makes it best for managing small teams and start-ups because of its generous free plan and user-friendly interface.
monday.com is best for larger companies and those belonging to an industry that thrives on a high volume of projects, such as marketing companies.
Side by Side Comparison Of monday.com and ClickUp
monday.com is a project management software that allows users to create custom workflows to simplify project implementation and work processes. You can use monday.com in creating product roadmaps, business planning, marketing campaigns, conduct webinars, and a host of other business projects. The software also has invoicing and billing capability, making it ideal for companies in commerce-focused industries.
monday.com offers a free plan for up to 2 users.
Price: Costs from $10/user/month
Trial: 14-day free trial
Go to monday.com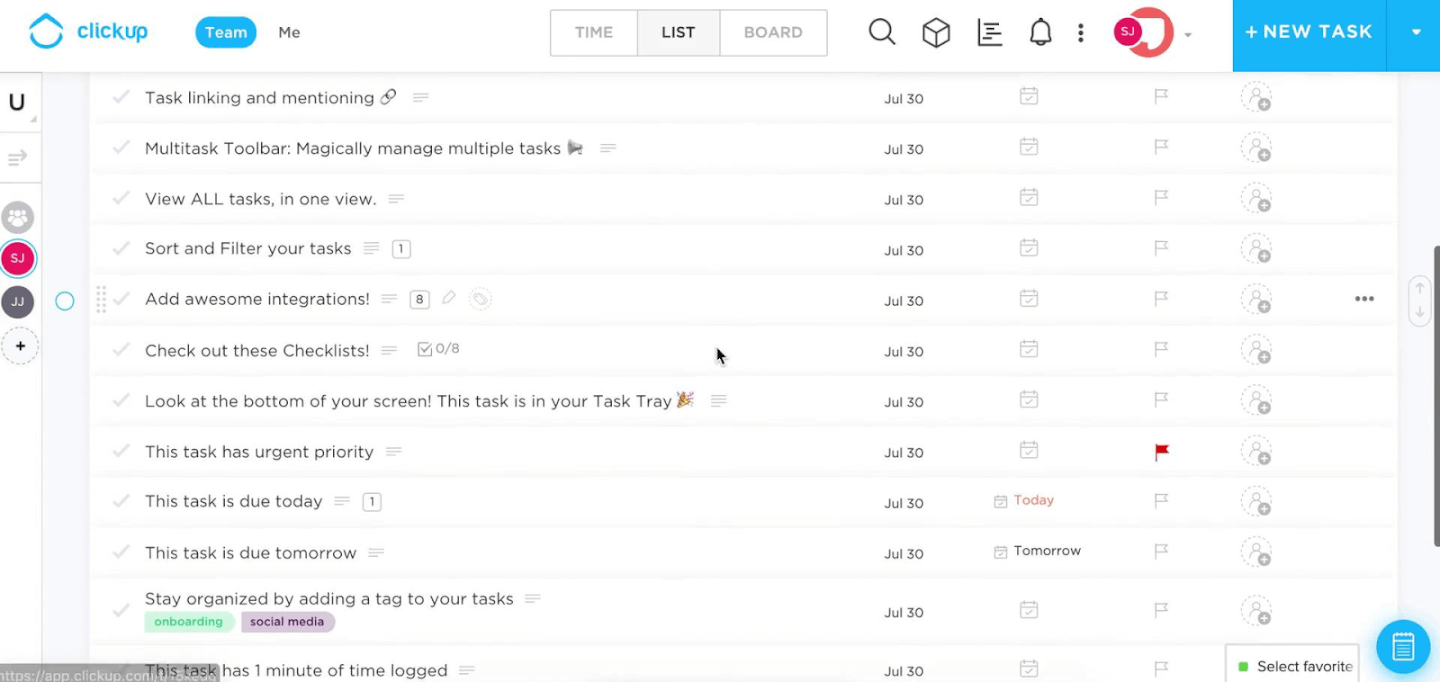 ClickUp is a cloud-based project management tool that also acts as a team collaboration and resource management tool. Users of ClickUp can use the tool to create custom workspaces, plan, implement, and assess projects, and implement workflow automation. The software also contains embedded tools crucial to any workplace, such as spreadsheets, reminders, emails, screenshots, and recordings. ClickUp also receives favorable user reviews for its customizable dashboards and templates to make it ideal for a wide range of projects.
ClickUp offers a free plan for unlimited users with a maximum of 100MB of storage space.
Price: Start from $9/user/month
Trial: 14-day free trial
Go to ClickUp
monday.com vs. ClickUp Comparison Criteria
How did I come up with my comparison between ClickUp and monday.com? Here are the things I considered while determining the pros and cons of each software.
Feature list
What do you get, and what do you not get?
Use cases
What are the most effective use cases for this feature set?
Ease of use
Is it easy to learn and master?
Integrations
Is it easy to connect with other tools?
Customer support
Can you get help easily and quickly?
Price
How appropriate is the price for the tool?
Differences Between monday.com and ClickUp
monday.com has video conferencing capabilities, so you can easily sync up with team members remotely; with ClickUp, you need to use a third-party video conferencing tool.
monday.com has a robust onboarding tool so you can make the transition of new employees a smooth and satisfying experience, whereas ClickUp is lacking in this department.
monday.com has a wide array of lead generation and management tools, making it ideal for companies engaged in marketing or sales; ClickUp does not offer the same.
monday.com lets users create private boards that are unsearchable and invisible even to company admins so users can have a safe place to conduct confidential discussions with other users; ClickUp does not do this.
monday.com's dashboard is more streamlined and intuitive; ClickUp's dashboard can be overwhelming because of the amount of information it presents.
Go to monday.com
ClickUp has a super generous freemium plan that allows for unlimited users and projects and 100MB of storage; monday.com is only free for 2 users, though they do offer 500MB of storage.
ClickUp's lowest paid plan ($5/user/month) opens up unlimited integrations, unlimited storage, and unlimited dashboards, which is a very competitive offer in the project management app market.
ClickUp users can take advantage of more than 300 native integrations that they can use to boost productivity, while monday.com has around 50 native integrations.
ClickUp uses a gamification strategy to leverage team members' inclinations toward competition and achievements as a way of increasing productivity. This is not available on monday.com.
ClickUp offers a free account without an expiration date and unlimited number of guests included making it ideal for a start-up or a small business, monday.com's free account is for individuals only.
Go to ClickUp
Similarities Between monday.com and ClickUp
Best Use Cases for monday.com vs. ClickUp
monday.com vs ClickUp Feature Comparison
monday.com vs. ClickUp Pricing Comparison
This side-by-side price comparison shows monday.com's price compared to ClickUp.
Other monday.com and ClickUp Software Comparisons
If you're still looking at the options for professional services automation software, check out our comparison with other tools.
Other monday.com software Comparisons
Here are some other project management software comparisons with monday.com:
Other ClickUp software Comparisons
Here are some other project management software comparisons with ClickUp:
Conclusion
monday.com and clickUp are both great project management tools with tons of features that prioritie ease-of-use for your team. Which one you choose will come down to personal preference for interface and visuals. What do you think about monday.com and ClickUp? Let us know in the comments?