List Of The 10 Best Helpdesk Software
Here's our top helpdesk software list:

Below you'll find an overview of these helpdesk software tools, with screenshots, feature overview, and pricing.
Jump to helpdesk software reviews
Helpdesk Software FAQ
Don't know where to start? Browse our FAQ to get the lowdown on helpdesk software basics.
Helpdesk software is a digital hub where customers can send queries to be logged, organized, and resolved. This may involve elements such as ticket management, automation suite, reporting and optimization. It may also provide a knowledge forum for the self-serve resolution of repeat or ongoing requests.
The benefits of helpdesk software include faster turnover for technological issues, customer satisfaction, increased revenue, increased productivity, and better job satisfaction.
Helpdesk software is important because it unifies all of the communication and records about your support issues, providing a single system to effectively communicate about, track, manage, and analyze issues.
Not looking for a helpdesk tool? Check out our other lists of top software to manage teams, resources, and projects.
Bug Tracking: If a lot of your help desk traffic is about bug reports, maybe it's time to start investing in bug-tracking tools like DoneDone, Trackduck or DebugMe.
CRMs: Many customer relationship management tools offer modules for customer support—see if you can cut down on the number of tools you're using by getting a CRM that has helpdesk features included.
Collaboration Software: you could also look at using online collaboration tools to manage communication between departments in order to resolve issues and keep a searchable record of communication.
This will help you quickly compare and evaluate the best helpdesk software, including helpdesk ticketing software and IT helpdesk software.
As our workplaces become more interconnected, help desk software is more useful than ever across a wide range of applications. Product teams, development studios, ecommerce companies, and many other types of teams are adopting ticketing systems that streamline the way they handle customer service and IT support.
There are two main kinds of service desk software: those intended to help your employees and those intended to help your customers.
Depending on your needs, you may find yourself drawn to tools that address one, the other, or both types. Improving the "customer journey" has proven to increase revenue up to 15% while also boosting customer satisfaction by around 20%. On the other hand, your internal employees may be losing up to two weeks of work time per year to technology and computer issues.
Knowing this, it's easy to see the importance of support desk software for your customers, staff or both. A robust IT help desk can help keep your customers happy, help you identify issues and route them to the correct people to resolve them, and help your support team manage their workload.
You might be wondering: Okay, so…what are the top helpdesk software? What does my team need? How can I best make these decisions? While we can't definitely match every group with the ideal help desk solution, we can give a concise review of the best help desk management software available today.
In this post I'll:
Share with you the best service management tools to include on your help desk support software shortlist.
Explain what IT service desk tools are.
Explain how service desk software tools can help you streamline customer and/or employee service.
Answer some FAQs about helpdesk system tools.
Tell you what you should look for in IT support software tools and our evaluation criteria.
By the end of this article, you should have a well-rounded list of some of the best helpdesk software on the market. That way, you can make the best call for your company and your team.
Helpdesk Software Comparison Criteria
What criteria do we use to determine the best IT help desk software? What does it mean to have support desk software that stands a cut above the rest? How do we evaluate help desk ticket systems in our ticketing system comparison?
We like to be completely transparent in our evaluation methods so we have broken down the who, what, where, why, and how for you here.
User Interface (UI): How well-designed is the support desk software? Does it offer clear displays and intuitive navigation? Is it aesthetically pleasing or all-business? Who does the UI cater to and do they succeed in addressing their target user?
Usability: Is this easy to learn and master? Are there tutorials and training? What tech and user support is offered by the software company?
Integrations: Is it easy to connect with other tools? Any pre-built integrations? How many different integrations are available and how easy (or costly) are they to implement?
Value for $: How much does it cost? Are there different tiers? What features do you have access to at each stage?
Features & Functionality: How many of the key helpdesk software features and functions does it provide, and how powerful are they? Specifically, I looked for:

Multi-Channel Ticketing System: Tools should have a robust ticket management software. They should streamline tickets from multiple sources so you can communicate across channels (email, phone, etc) from one place. It should help you manage this stream tickets by providing the ability to automatically tag, categorize, prioritize and assign incoming tickets from any channel. Help desk ticketing system comparison between product tiers.
Collaboration: Tools should keep users informed of ticket owners, statuses, responses and priorities to help sync your team efforts.
Automations: Helpdesk systems should offer the ability to set time-based and event-based triggers, as well as custom workflows with automations that route tickets to the right user for the best response.
Reporting and Analytics: The helpdesk system should offer configurable dashboards that display key helpdesk data as well as live reporting to get a bird's eye view of current operations.
Knowledge Management System: ITSM utilizes a repository of previously resolved problems. Could be a public customer self-service website, or an internal repository for customer service reps and technicians. Should incorporate advanced search technologies (such as auto-suggest) to help users find answers quickly.
Self-service: This includes things like product documentation, downloadable patches, and forums or user communities that help customers solve their problems. Tools should provide a way to submit issues when customers can't resolve through self-service.
The Digital Project Manager is reader-supported. We may earn a commission when you click through links on our site — learn more about how we aim to stay transparent.
The 10 Best Help Desk Software Overviews
LiveAgent is for customer support teams of all sizes. The software collects and organizes customer queries from multiple channels, and enables agents to collaborate to resolve them.
The software has tons of useful help desk features. LiveAgent's multi-channel ticketing system converts all received messages from social media, email, phone and live chat into tickets, and then organizes them according to importance. The software is collaborative, and eliminates account sharing, device and account monitoring, duplicate answers, and confusion. The software has powerful automation rules that can be either time-triggered, SLA triggered, or action triggered.
LiveAgent's reporting and analytics features enable users to create comprehensive reports on agent availability, resolution times, rebukes, and more. The software also recognizes the need for self-service in customer support and enables users to create internal and external knowledge bases that are fully customizable and equipped with FAQs, feedback, suggestions, and forums.
The software's UI is very clean and minimalistic, however, it does have quite a learning curve. Not to worry though, LiveAgent provides integrated guides so you can utilize the software in no time. The biggest pro of using LiveAgent is its price to value ratio. LiveAgent offers over 179 advanced help desk features and integrates with over 40 third party applications. The software is fully customizable– from general appearance and sounds to specific feature customization. The cons include a steep learning curve and limited mobile app capabilities.
LiveAgent supports both native and third-party integrations. Native integrations include but are not limited to Braintree, Slack, Instagram, Shopify and more. LiveAgent also provides built-in migration plugins that enable you to migrate data from your old help desk software into LiveAgent.
LiveAgent costs from $15/user/month. They also offer a free trial, a forever free account, and a product demo.
HaloITSM is a help desk solution that helps businesses streamline the incident lifecycle, from ticket creation to issue resolution. It enables professionals to update the status of incidents and view details including ticket ID, priority level, issue summary, and date created.
HaloITSM allows organizations to link new incidents with existing requests and share potential solutions with team members or end-users through the knowledge base. Managers can specify default values such as categories, priority, service-level agreements, or mailboxes before creating requests. Customer service agents can view upcoming tasks on a calendar and streamline approval processes by requesting validation on ticket creation or modifications.
HaloITSM facilitates integration with various third-party applications such as Microsoft Office 365, Azure DevOps, Microsoft Teams, Lansweeper, and more. Other features of HaloITSM include reporting, compliance management, status tracking, a self-service portal, collaboration, and auditing. It also helps businesses generate maintenance requests, store asset details, and set validation rules across configuration fields using IP addresses or numeric passwords.
In addition, HaloITSM can serve as an enterprise service management solution allowing you to extend your workflows beyond IT and experience the benefits throughout the organization. HaloITSM enables teams to join together siloed service areas to create seamless processes and a great experience for users.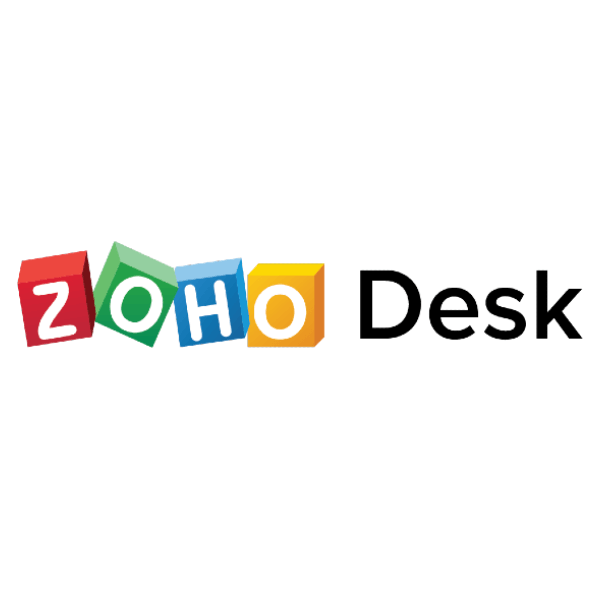 freemium version
15 days free trial
From $14/agent/month billed annually. Also has a freemium version upto 3 agents
Zoho Desk is a cloud-based customer service application with contextual AI that helps your company build stronger relationships with customers.
Zoho Desk has great features for prioritizing, managing, and closing customer support tickets. Users have control over tickets submitted to the support team via email, phone, chat, social media, a self-service portal, forums, and web forms. All tickets are presented in one place, and team members can set priorities and close tickets in the preferred order.
The tool allows teams to create a Knowledge Base of customer support articles, so your team can quickly find appropriate solutions for customer tickets. Zoho Desk's Help Center features also allow customers to create a ticket and track it online themselves.
Zoho Desk's AI and automation features take into account an appropriate resolution time based on your business hours when a customer ticket is created. If those parameters are missed, the ticket will be escalated automatically. Tasks such as ticket assignment, service escalations, notification rules, live chat widget and time-based actions can be automated by setting workflow rules.
The tool provides detailed reports and analytics about your support center performance, such as the average resolution time, the number of tickets closed per agent per day, the number of tickets opened per product and more.
The platform integrates with Zoho customer relationship management (CRM), as well as other Zoho Apps. The tool also offers an API for further integrations.
Pricing starts at $14/agent/month billed annually. Also has a freemium version up to 3 agents.
Zendesk is an easy-to-use customer service solution that's sophisticated enough to meet complex needs and simple enough to let you get set up and running immediately. Zendesk serves more than 160,000 customers across a multitude of industries in over 40+ languages.
Zendesk's reporting solution integrates data from every channel, even third-party systems, so you can measure how customers interact with your brand. Access real-time and historical data, analyze your performance using pre-built dashboards that are pre-populated with best-practice customer service metrics, customize your dashboards and charts, and share and schedule relevant dashboards to keep stakeholders in the loop about key insights and trends.
Zendesk allows your team to connect to all of your data sources and automatically bring the right information up about your customers. It's a unified agent workspace where agents can communicate with customers through email, SMS, chat, voice, and even social messaging apps like Facebook, WhatsApp, Apple Business Chat among others, in just one place.
Your team can customize the support environment based on use case or channel, no code required. Easily collaborate across teams and connect with external partners – such as Slack – to ease the burden of an agent looking for answers. Leverage built-in routing and intelligence to collect critical details and reduce data entry, and escalate issues to the agent best suited to help.
Empower customers to help themselves with knowledge base content and a customized, mobile responsive help center. Use automation and AI-powered bots to ensure customers never have to repeat themselves. With integrated knowledge management, agents can help content managers and contribute expertise directly from their agent workspace.
Zendesk integrates with key email providers such as Gmail, G Suite, Office 365, and many more. Sell can be connected with out-of-the-box integrations with over 50 apps such as MailChimp, Zapier, Hubspot, with the option to display or update external data, or even build a custom solution. Sell APIs and SDKs also provide the foundation to set your integration project up for success with sync services and pre-built code libraries.
Zendesk starts at $19/user/month and offers a 14-day free trial.
freemium version
21 days free trial for paid versions, free version available
From $18/user/month
Used by over 150,000 businesses, including Panasonic, HP, and Pearson, Freshdesk lets you streamline your support channels (email, phone, chat and more) so that you can then notice trends and assign tickets accordingly. Some features include: automation of repetitive tasks, dissemination of tutorials to customers, and form and community management.
The ability to set service-level agreements (SLAs) and check on them via advanced reporting features stands out as a highlight-worthy features in our features and functions evaluation criteria section. File this under knowledge management, reporting, collaboration—it's an extraordinarily helpful tool.
Integrations listed include Google Apps, JIRA, various live chat apps, Zoho CRM, FreshBooks, QuickBooks, DropBox, Box, OneDrive, MailChimp, iContact, SurveyMonkey, and many more, including a whole host of selection through a paid Zapier plan.
The app would not accommodate the uploading of larger documents or files, which may not be ideal in many circumstances. Additionally, having the ability to set reminders on tickets would be an asset for anyone whose workload is particularly demanding.
Freshdesk starts at $18/user/month
21 days Free Trial, No Credit card required
Also has a freemium version
OneDesk combines help desk and project management software and allows users to access all work, collaboration, and communication in one place so users can avoid having to buy, learn, integrate, and switch between multiple applications.
OneDesk includes a multi-channel ticketing system that gives users the flexibility to create tickets for issues noted through email, support portals, live chat, and more. Collaborate with your team and your customers in resolving issues. Automations are customizable and allow you to set up complex workflows. The tool's knowledge management system includes the use of knowledge bases which lets you publish self-service articles for your users and customers.
OneDesk also includes project management features, including multiple view layouts that allow you to filter and group tasks the way you choose. Views include the task list flat view, which is especially useful for assignees when keeping track of their workload; and roadmap, Gantt, and status board (Kanban) views, which provide project managers with visual and functional flexibility when planning or managing projects. Other project management features include scheduling tasks, sharing files, and real-time communication between team members.
The interface is clean, and the navigation makes it easy to find applications and project levels, as well as change views and layout. OneDesk is also quick to set up — the learning curve depends on the complexity of the workflows you create. There are tutorials, videos and live-chat support options which are all accessible within the OneDesk web application.
OneDesk currently has native integrations for Box, Dropbox, FreshBooks, Mailchimp, Okta, QuickBooks, Microsoft Visual Studio, WordPress, and Azure Active Directory. Integrations with 100s of other web apps are also available via Zapier.
Pricing for OneDesk starts at $9 per user per month.
Wrike is a help desk tool trusted by 20,000+ organizations worldwide and is suitable for any size team. Wrike's powerful automation engine promises to improve engagement, lead to better customer support, and foster good relationships with clients and other team members. Easily set up request forms that auto-assign tasks, allowing each ticket to be tracked through to completion.
Wrike's simple interface updates in real-time, so your help desk team can stay on top of new tasks and adjusted information at all times. Instant @mentions and live editing capabilities mean any queries are ironed out quickly, and issues can be resolved in an efficient manner. Customizable workload views allow each team member to choose the way of working that suits them best.
Wrike has an easy-to-use, intuitive interface that allows team members to start helping clients without having to avail of in-person training themselves. Wrike also simplifies team collaboration with instinctive navigation between distinct spaces, folders, and tasks. Wrike has a dedicated help center with interactive training, videos, a 'getting started' guide, and a thriving community.
Wrike includes over 400 integrations, including the most popular file management software from Microsoft, Slack, Google Drive, and Dropbox, as well as Microsoft Excel and Project. You can check if the application your team needs is in Wrike's app directory for seamless integration.
Start free with Wrike, no matter how big your team is. Or, try a free 14-day trial of Wrike's more advanced features and customization. Paid plans start at $9.80/user/month.
Jitbit Helpdesk is a help desk software that was built to help you provide email support for your customers and users. With its pricing, Jitbit is a great fit for medium and large businesses across different industries. If you want to host the app on your own server and use it internally, Jitbit also offers an on-premise version.
Although email is the primary channel, Jitbit supports various other channels, like live chat, web-portal, API and multiple built-in integrations with third-party apps. Jitbit updates in real-time and offers ways to collaborate on user issues with your team; for example, you can see when other techs are looking at a ticket or typing a reply. You can also assign multiple people to a single ticket.
Automation Rules is a pretty slick feature in this tool, designed to carry out the more boring parts of the job. You can do simple things like "if a ticket comes from this company assign it to this agent" all the way up to something more sophisticated like "if ticket subject contains 'word', send an HTTP request to this URL".
This helpdesk software offers more than 10 built-in reports and a custom report builder on all aspects of customer support. You can see various metrics, including response speeds, the number of tickets you get per day, and your team performance is broken down by individual techs. Most reports allow you to export data to Excel, too.
They also offer a Knowledge Base with some AI-powered self-service features. So, this means that if you take your time to fill out your Knowledge Base with helpful articles, Jitbit will suggest those articles to your users as they are submitting the tickets. I'm sure you've seen this type of support feature on a couple of the sites you have accounts with, and it can be useful as it sometimes takes care of the issue without even needing to open a support ticket.
I'd say that Jitbit has a very small learning curve, thanks to clean design and easy-to-use UI. You can customize both the public-facing and the private parts of your help desk to match your company branding—so you can change colors and add your logo and a favicon. For more customization, you can change pretty much anything else through CSS and JS code.
Jitbit integrates with a lot of apps out of the box. Apps like Slack, Jira, Github, Dropbox and a lot of others are really easy to set up and start using. If that's not enough you can use Zapier to integrate with 500+ other apps.
Jitbit Helpdesk costs from $29/month. They also offer a free trial and an on-premise version.
ServiceDesk Plus is a complete IT Service Management (ITSM) suite with built-in IT Asset Management (ITAM) and Configuration Management Database (CMDB) capabilities. With advanced ITSM functions, powerful automations, smart customizations, and easy-to-use capabilities, ServiceDesk Plus helps IT support teams easily deliver world-class service to end users at lower costs.
Features include strong incident management processes that help resolve incidents swiftly and improve agent productivity; comprehensive problem management features that enable IT teams to classify, analyze, and close issues as well as identify repetitive issues to close tickets faster; and a change management system that allows IT teams to implement IT changes with minimal risk through streamlined planning, approval, and implementation.
The tool also provides integrated knowledge management, virtual assistant, and AI capabilities, as well as effective SLA management with proactive and reactive escalations and escalation actions.
It offers various integration options, including Microsoft Outlook, Microsoft 365, Microsoft Teams, Jira, and more through REST APIs.
Pricing for ManageEngine ServiceDesk Plus starts at $12/per user/month for the standard plan. See further pricing plans on their pricing page.
EngageBay offers help desk software in the form of their Service Bay tool. Users can answer unlimited tickets in one place, as well as create a personalized ticket view to suit their needs.
The tool also offers advanced service automation tools so users can automate routine customer service processes and tasks. Users can also create canned responses to common queries and questions to save time and increase productivity.
EngageBay also includes capabilities for grouping and organizing tickets in order to boost efficiency. You can also manage tickets like tasks in order to keep track of closed and open tickets. The tool offers custom reporting and analytics to ensure you make informed decisions about the support process and specific tickets.
EngageBay's Service Bay software is free to use.
The Best Help Desk Software Comparison Chart
Other Helpdesk Software
Not keen on any of the above resources? You're in luck. There are always dozens of other IT support software and helpdesk tools clattering for your business. The helpdesk software options below are just a few of your options but a little bit of digging is sure to uncover more. Don't be afraid to spend time on research and development. You only want to settle for the tool that is absolutely right for you and your team.

What Do You Think About These Top Help Desk Solutions?
There are plenty of help desk systems to choose from—the real trouble is finding the best one for you. Once you have a list of Must-Haves, you can start narrowing down your choices by comparing it to the selection above.
Is there anything that should be on our list that you think we missed? Do you have personal experience with any of these softwares that you would like to share? Sound off in the comments of this article. We would love to hear from you.