If you want your team to be more productive and motivated to do their best work, you need software that helps make project goals, decisions, and processes more transparent.
That software is monday.com.

What Is monday.com?
monday.com is a cloud-based work operating system offering a simplified way for you to manage any team and any project while creating a more transparent work culture.
According to HBR, teams are much more productive and engaged when managers are transparent. Greater transparency leads to greater trust which, in turn, leads to greater engagement and long-term success.
What Can You Use monday.com For?
What's great about monday.com is it works for more than just digital project management.
You can also use monday.com software for:
Sales pipelines
Marketing campaigns
Recruitment processes
Video production planning
Progress tracking
Product roadmaps
Business processes
Design planning
Event management
Construction planning
… and the list goes on and on.
More than 100,000 teams in diverse industries around the world rely on monday.com, from big companies like Wix and The Discovery Channel to small businesses just getting started.
What Are The Main Benefits Of Using monday.com?
1. Total Customization And Control
monday.com is totally customizable to fit your needs. This means you can build your workflows in any way that works for you and your team. This is one of the main reasons why so many teams across industries and oceans have embraced this platform.
So, how does it work?
It all drills down to monday.com's core components: Boards, Groups, Columns, and Items.
A Board is like a spreadsheet, but flexible, intuitive, and easily shareable – all of which traditional spreadsheets are not.
A Group is one or more sections on your board that represent anything you want, like "Weekly action items." Each group has one or more Columns that you choose how to label, such as Owner, Status, and Priority.
Each Group also has rows which are called Items, and you can add as many as you want. Inside each Item contains "whatever needs to get done" in that Group, i.e., your project's tasks.
monday.com is flexible enough to accommodate any changes to your project plans. You can easily add, edit, remove, and drag-and-drop Items, Columns, and Groups in your Board since few things are ever really set in stone.
If you rather not start from scratch, monday.com has 100+ different pre-made templates to help you manage anything from your budget to your sales pipeline. You can also customize these templates too, making them your very own!
2. Intuitive And Easy To Use
Transitioning your team to new work software, especially if it's the first time, can feel overwhelming. With monday.com, you can put your mind at ease.
Aside from featuring effortless drag-and-drop functionality, monday.com has an extremely intuitive interface with color-coded labels. The colors make your work visual in a way that's easy to digest and understand. And you get to decide what each color represents whether it's Green for the 'Done' status or blue for 'High' priority, and so on.
The best part is you don't have to be a techie to feel confident getting started. It's a genuinely painless experience for anyone. And this is key because if everyone feels confident navigating the platform from the get-go, chances are everyone will love it and actually want to use it.
Once you start using monday.com, you get to discover all of the amazing ways the platform makes your workday more enjoyable.
3. Better Communication, Collaboration, And Visibility
Say goodbye to daily sync meetings and endless email threads; And to the frustration of not knowing where the right files and assets are; And to asking someone for the umpteenth time what the status is.
You know these are all time-consuming and inefficient ways of pushing things forward. Instead, you can have all your work live inside monday.com, making everyone's life so much easier, especially yours.
monday.com brings your team and work together in one organized place. You can also add team members to your Boards and delegate the work that needs to get done by assigning one or more team members to each Item.
Having all your team's workload centralized makes it easy for you to keep track of where things stand. You have full visibility into who's working on what and what's done, in progress, or stuck waiting for your approval.
At the same time, your team has full visibility into the high-level goals, milestones, timelines, and updates so everyone is always on the same page and in the loop.
Each Item has a dedicated space for communicating in the context of that specific Item. There, you can give approvals, provide feedback, mention relevant team members, share files, briefs, and updates, and even post emojis – we have a great selection!
We love adding elements that make people smile. After all, we're about the people, and it's important to have a bit of fun while you work (wait until you see the Llama Farm)!
6 Most Useful monday.com Features

Beyond customizable workflows, task prioritization, file sharing, drag-and-drop, communication in context, progress and milestone tracking, monday.com also offers:
1. Work Allocation
It's difficult to balance your team's workload without complete visibility into their capacity. Accurately assign and schedule team members at any given time with Workload. See who's available and who's not so you can reschedule or re-allocate work as necessary to ensure you meet all your project deadlines.

2.Time Tracking
Knowing where your time goes is critical, especially if you're billing clients by the hour. According to a survey, 40% of the 500 respondents reported that they never track time spent on emails which takes up a significant amount of their time.
Having a real understanding of how much time is spent on each task leads to greater accuracy. This also helps you make better, smarter decisions on how you spend your time.
3. Dashboards
Dashboards are a great way to see what's important at a glance. It makes it easy to gain valuable insights, track project progress, estimate workload, and monitor budgets. It also keeps your team focused and motivated on the high-level goals that push work forward.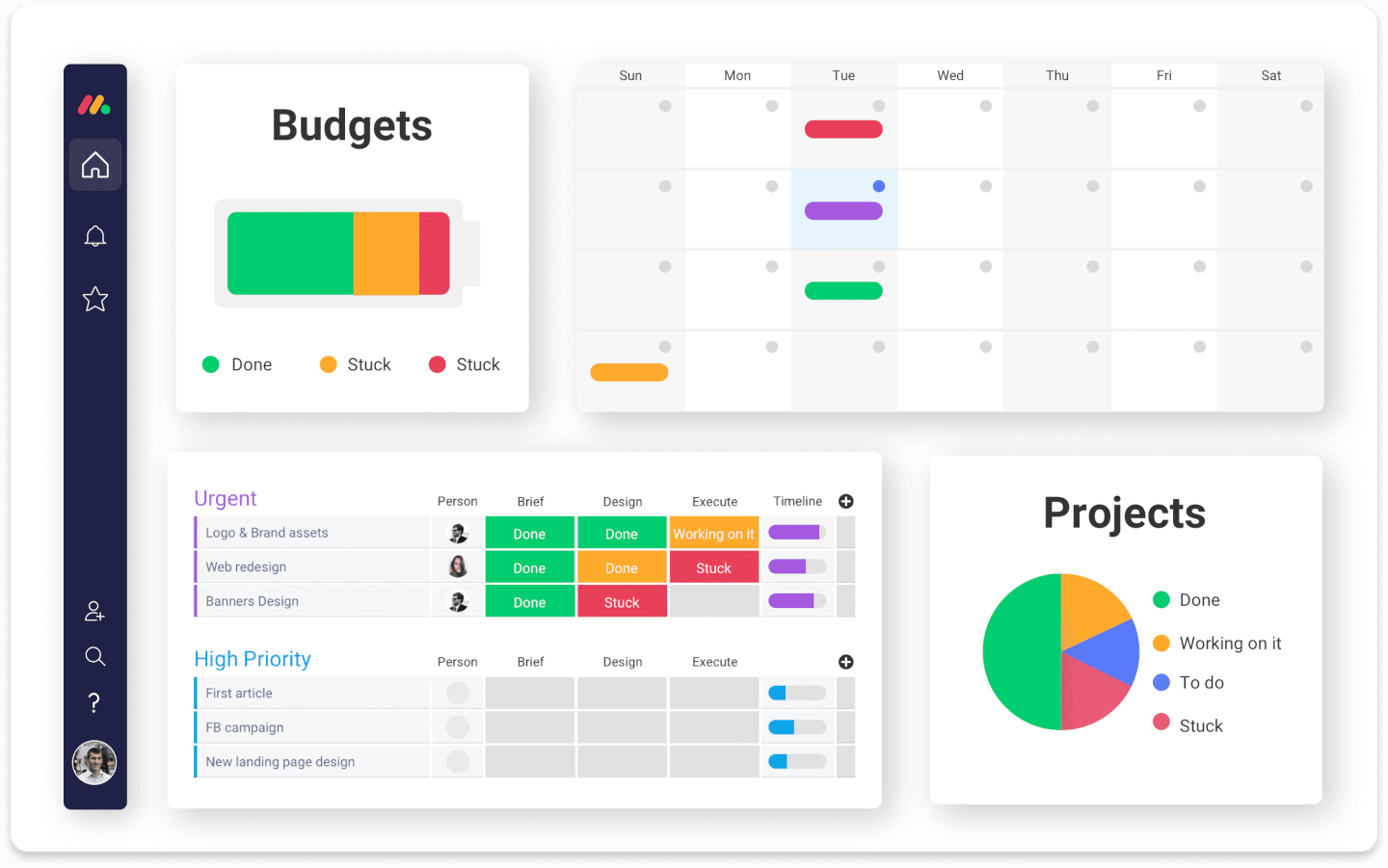 4. Integrations
Are you juggling multiple different tools to get the job done? Easily make monday.com your primary work hub with two-click integrations. Seamlessly integrate popular external tools from Jira and Slack to Gmail and Mailchimp, and further streamline your workflow.
5. Views
monday.com offers several ways to view the data in your boards from Gantt Chart View for your project plans to Chart View for tracking progress. Views allows you to see things a bit differently and gather valuable insights that you may not have gained otherwise.
6. Automations
Automations take care of the manual work involved in completing repetitive tasks. Need to notify someone every time a task is complete? monday.com takes that task off your hands so you can be more productive on the work that really needs your time and attention.
How Much Does monday.com Cost And How Can I Get Started?
If you're ready to transform the way you work and manage, monday.com offers a 14-day free trial, no strings attached. After, there are a variety of plans to choose from, starting from $17/month for 2 users on a Basic plan. You can see all our pricing plans here.
monday.com Reviews
Looking for a monday.com review? Check out some monday.com reviews among other project management software reviews here:
If you've used monday.com and have some advice to share with the DPM community, please share your insight in the comments below!
Also Worth Checking Out:
Related List of Tools: monday.com Competitors And Alternatives
The Digital Project Manager is reader-supported. When you click through links on our site, we may earn a commission. Learn more.