El Mejor Software para Gestión de Portafolios
Hemos visto una gran cantidad de software de gestión de portafolio de proyectos, pero estos están por encima del resto. Examinamos en profundidad los pros y los contras de las siguientes herramientas en esta revisión:
Tienes visiones de crecimiento para tu equipo y tu negocio, pero para convertir esas visiones en realidad, debes tener un software para gestión de portafolios adecuado para gestionar proyectos y recursos de manera efectiva a medida que escalas.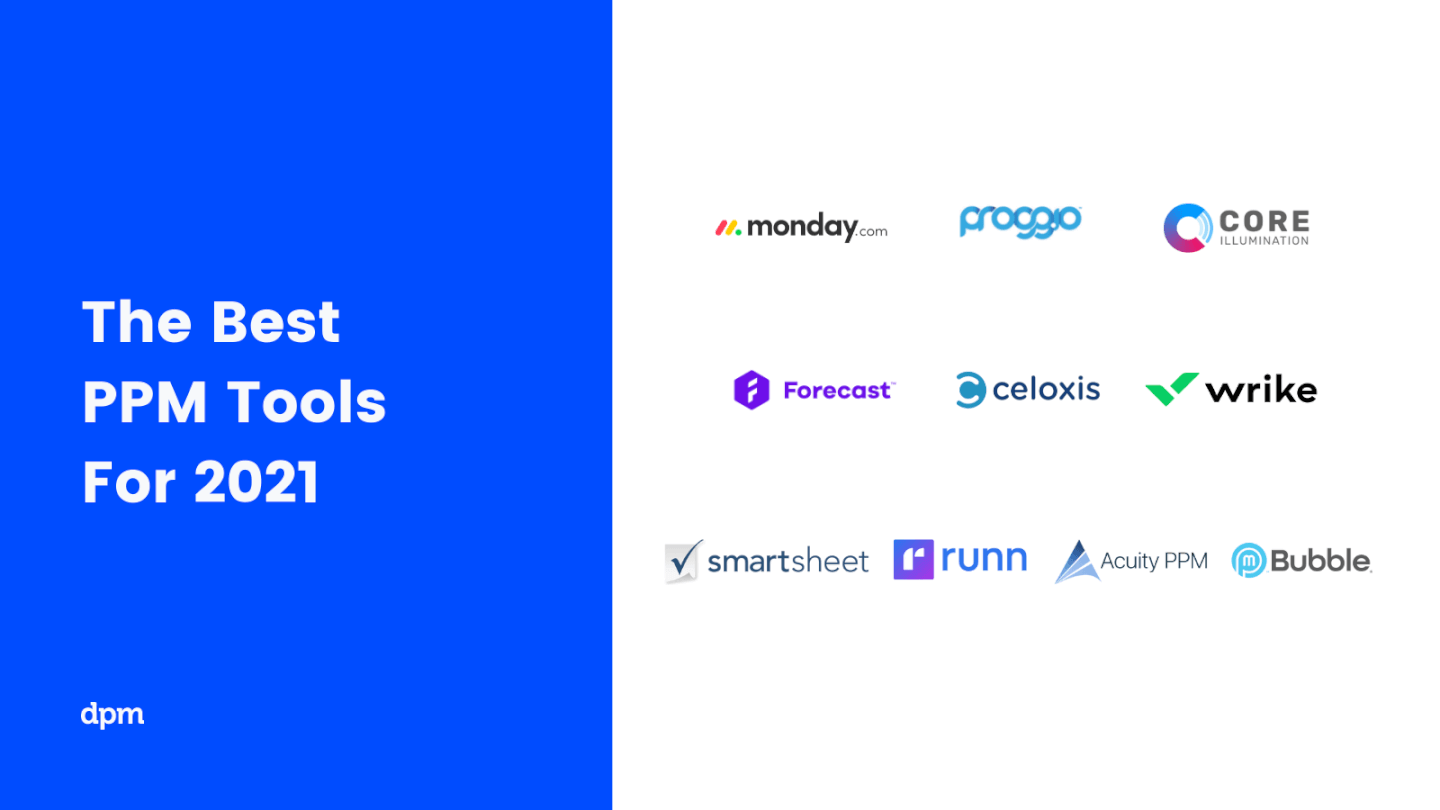 El crecimiento de tu equipo, y tu empresa en general, a través de proyectos cada vez más grandes, es fundamental para convertirse en una empresa competitiva en el mercado actual. Con un software para gestión de portafolios de proyectos (project portfolio management), puedes recopilar y consolidar datos sobre tus proyectos para gestionar riesgos, recursos, plazos, presupuestos y mucho más.
No hay escasez de excelentes software para gestión de portafolios por ahí, por lo que ofrecemos una evaluación detallada de las mejores en esta revisión de software para gestión de portafolios de proyectos. Conozca qué hacen un software para gestión de portafolios, cómo se comparan y cómo saber que estás seleccionando el software ideal para tu portafolio de proyectos y servicios comerciales.
Pero primero, algunos conceptos básicos:
¿Qué es la Gestión del Portafolio de Proyectos?
En la gestión de proyectos, GPP es la gestión del portafolio de proyectos. En GPP, un gerente del portafolio de proyectos analiza en alto nivel el conjunto de proyectos y programas (algunos de los cuales pueden estar directamente relacionados y otros no) en el portafolio de una empresa.
Un solo proyecto es la célula elemental de una organización. Si nos alejamos un poco tenemos la gestión de proyectos, que se ocupa de la ejecución necesaria para completar proyectos. Si nos alejamos un poco más, y vemos los diversos proyectos que asume una organización. GPP se asegura de que estos proyectos distintos se realicen de manera que se complementen entre sí en términos de recursos, plazos y objetivos comerciales generales.
¿Qué hace un Gerente del Portafolio de Proyectos?
Un Gerente del Portafolio de Proyectos supervisa, controla y dirige las tareas asociadas con la gestión de un portafolio de proyectos. Esta persona necesita las habilidades de un maestro de ajedrez para dirigir adecuadamente el equipo y terminar los proyectos a tiempo y por debajo del presupuesto. El rango de responsabilidad de esta posición es inmenso y, a menudo, trata con investigadores, analistas y clientes mientras gestionan la coordinación de alto nivel de los proyectos, siguiendo las tendencias actuales del mercado y anticipando las futuras.
¿Qué Hace un Software de Gestión de Portafolios y Cómo Puede Ayudarte?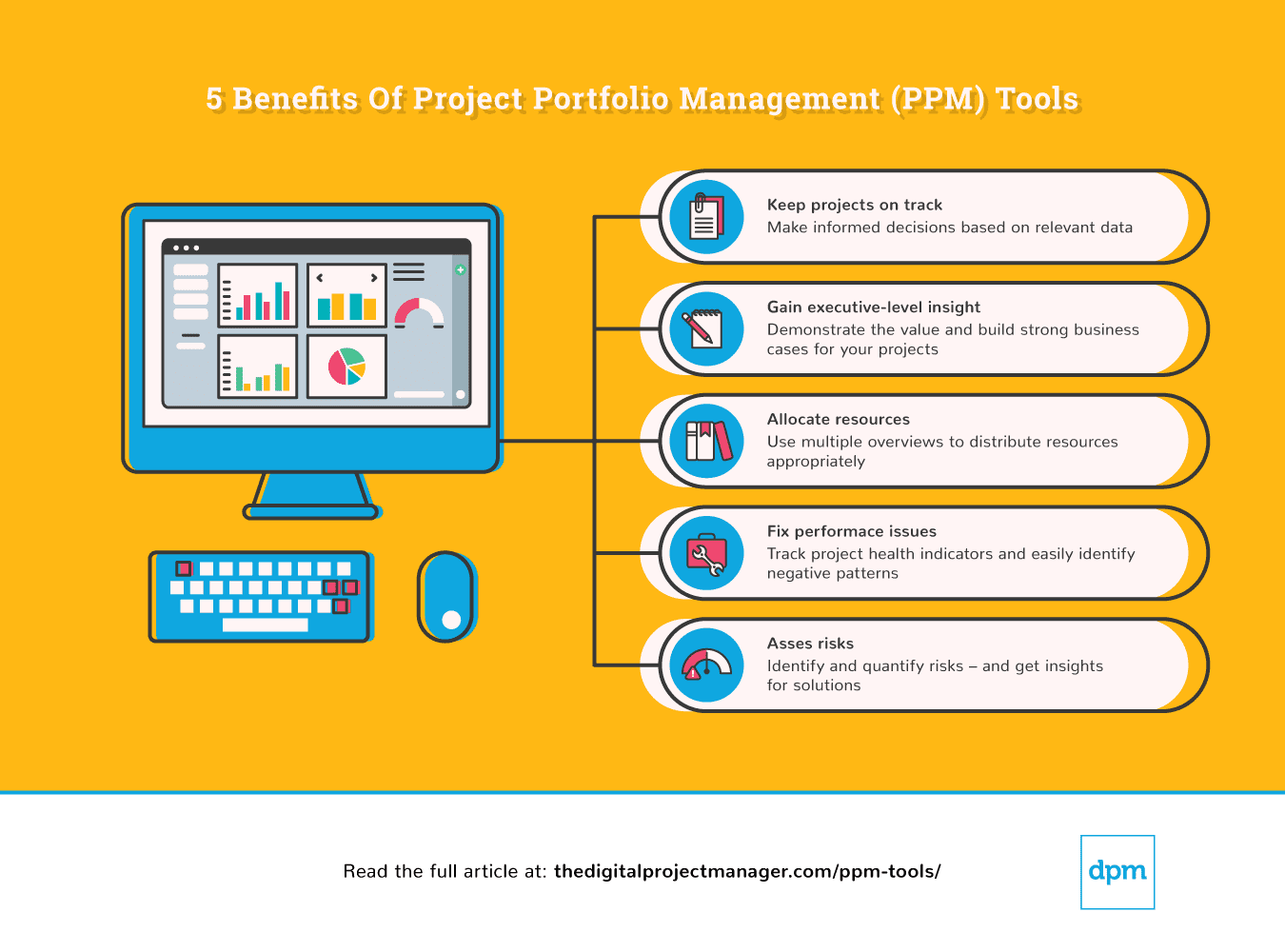 Mantén tu proyecto en el camino correcto: los datos que tienes son lo que le dan valor a tu proyecto. Use el software gestión del portafolio de proyectos para evitar tomar decisiones erróneas basadas en información desactualizada o irrelevante.
Proporciona información empresarial de nivel ejecutivo: es imposible almacenar en tu cabeza las estadísticas detalladas del proyecto. Al gestionar múltiples proyectos, necesitas un software que sea capaz de proporcionar datos más avanzados, ¡y tus jefes te amarán por eso! Demostrar a las partes interesadas el valor y la justificación de las decisiones de manera concisa te ayudará a crear casos comerciales sólidos para tus proyectos.
Asigna recursos: la toma de mejores decisiones de negocios está de primero en la lista de prioridades de cada empresa exitosa. El software GPP te muestra quién está trabajando en qué y durante cuánto tiempo, lo que te permite asignar y redistribuir recursos en consecuencia.
Solucionar problemas de rendimiento: al gestionar un portafolio de proyectos, puedes comenzar a identificar lugares donde surgen los mismos problemas de forma recurrente. Una herramienta de gestión del portafolio de proyectos efectiva te ayuda a rastrear los indicadores de salud del proyecto (como el Retorno de la inversión) e identificar cualquier patrón no saludable.
Evaluar riesgos: el software GPP proporciona datos y transparencia en tus proyectos no solo para identificar riesgos, sino también para cuantificarlos y explorar soluciones a través de los datos de tu portafolio.
Al final de este artículo, incluimos una tabla que resume información básica sobre las herramientas aquí descritas, así como una explicación de nuestros criterios de selección, para que puedas comprender cómo hicimos esta lista de software de gestión de flujo de trabajo.
Descripción General del Mejor Software de Gestión de Cartera de Proyectos (Herramientas PPM)
monday.com is a great project portfolio management software because of the way the tool has done away with a lot of the trimmings of typical management tools and focused on simple, visually intuitive layouts that help clarify the sequence of work.
monday.com allows you to allocate & prioritize tasks, use various views in order to see where everything stands, and track multiple projects using dashboards that provide high-level insights in a visual and intuitive way. The platform is completely customizable so you will be able to adjust it to your workflow. The platform also provides powerful and customizable notifications and automation so you and your team can focus on what's important.
With monday.com you can plan, manage, and track your budgets in an intuitive interface. You can track expenses, income, their dates, and attach needed files to each item. And thanks to the various columns, you can filter items by many different variables such as status, people, text, time, location and others. Formula columns are also available.
While monday.com doesn't offer traditional automated reporting, it is built to show the big picture at a glance to help you analyze various aspects of your projects and processes. To learn about the different capabilities that help analyze performance, scope out their detailed explanation here.
monday.com's integrations include project management apps like Slack, Google Drive, Gmail, Google Calendar, Jira, GitHub, Trello, Dropbox, Typeform, and many more, accessible via Zapier.
monday.com costs from $17/month for two users. The company's customer support is available 24/7 by phone or email and answers within 10 minutes.
Celoxis is an all-in-one project portfolio management software and work collaboration platform that is successfully adopted by brands like HBO, Rolex, Virgin Care, Adobe, Staples, LG, and Deloitte. Being a full-featured project portfolio management system, Celoxis is still very intuitive and easy to use for teams of all sizes.
With Celoxis, you get comprehensive resource management capabilities. It lets you easily allocate resources based on skills, roles, and availability as well as view cross-portfolio resource workload to optimally utilize your workforce. You will find tools for capacity planning, demand management, and project requests. When it comes to tracking project financials, you can automatically get cost/revenue estimates from your plans. You can also track budgets, costs, and profits in real-time as well as plug billing leaks by timely invoicing your clients. Celoxis' reporting features let you slice, dice, and visualize data your way. You can get aggregated information about your projects with fully customizable portfolio dashboards. Celoxis comes pre-built with common workflows to help bug/issue tracking and risk management. These workflows are very adaptable to suit your organizational processes without having to resort to emails and spreadsheets.
Celoxis integrates seamlessly with hundreds of popular business applications through first-class integration connectors and web-based API. This includes critical platforms like Jira, Salesforce, QuickBooks Online, Excel, Slack, Google Apps, and more.
Celoxis is one of the few tools that offer SaaS and On-Premise deployment options. Celoxis costs $25/user/month with additional commitment discounts.
Smartsheet isn't a dedicated PPM tool but it does have a lot of really good reporting features that make it great for looking at project metrics on both an individual and high level.
So, while there really aren't many finance or risk management features, Smartsheet offers some above-average reporting and visualization tools that are useful for portfolio management. For example real-time metrics and customizable dashboards that can be made to display specific project data for each project by modifying a drag-and-drop dashboard interface.
Indeed, reporting is the strongest feature of this tool in the context of managing a portfolio of projects, offering the ability to publish stakeholder-facing reporting dashboards and editable summary reports that you can easily export to Excel.
There are lots of project management and resource management tools, which I consider to be fairly standard among this type of software—it's a well-rounded set of tools for scheduling, assigning resources, tracking work, and assigning and tracking budget. There isn't a dedicate PPM module in this tool, but you'll doubtlessly collect all of the project data you need to analyze a portfolio (budget and spend, resource allocation, capacity, etc) and do the rest with a prebuilt integration to a business intelligence tool like Tableau (below).
Smartsheet integrations include Microsoft and Google apps, as well as development essentials like Jira, and useful business apps like Salesforce, ServiceNow, Slack, Box, and Tableau. The platform is extensible through a REST API and webhooks.
Smartsheet costs from $7/user/month, with a minimum of 3 users and a maximum of 25 users. They also offer a 30-day free trial.
Wrike is an award-winning, easy-to-use project portfolio management software trusted by 20,000+ organizations worldwide. The tool is suitable for teams of anywhere from five members to an unlimited number of members. It's highly configurable and includes AI capabilities that can assess at-risk projects and help to optimize your portfolio. Users can customize workflows, dashboards, reports, request forms, and more.
Wrike's easy-to-use interface enables users to switch between Kanban boards, interactive drag-and-drop Gantt charts, and traditional workload views, providing a full overview of resources in real-time.
Wrike also features advanced portfolio insights including project and team performance reports, resource management and allocation, time tracking, and more. The reporting features provide an accurate overview of your portfolio to help minimize risk. Users can also schedule real-time insights to be sent to your inbox for a picture of overall portfolio health.
Wrike has an easy-to-use, intuitive interface and navigation with distinct spaces, folders, and tasks. Toggle between the home screen and timesheets, dashboards, calendars, reports, and the activity stream.
Wrike offers 400+ pre-built native integrations, including integrations with the most popular file management software from Microsoft, Google, and Dropbox, along with sales and marketing software from Salesforce and Marketo.
Pricing starts at $9.80 per user per month. There are four different price points, including a free version and plans which offer the ability to invite free external collaborators to a paid account.
Forecast is a project portfolio management tool that allows users to manage projects, resources, and finances, and includes capabilities for managing entire portfolios and single project milestones or tasks.
Forecast's auto schedule feature assists with project planning by automatically estimating task durations, assigning resources, and setting deadlines. Other AI capabilities include timesheet suggestions based on historical data, cost and budget estimation, and more. Resource management and business intelligence capabilities allow users to see portfolio capacity. The tool also allows for fixed price, time and materials, or retainer projects to be run side-by-side.
Forecast allows you to see a holistic picture of your project's financial performance, including revenue, costs, and potential budget concerns. You can also create invoices from timesheets, and track invoicing against budget.
Forecast integrates with mainstream project management tools, as well as with Jira, QuickBooks, Xero, and more.
Pricing starts at £25/user/month, and a 14-day free trial is available.
Runn is a modern, data-driven resource planning and PPM tool. Runn combines resource and project portfolio planning with time tracking, financial forecasting, and reporting so you can make better decisions and adjust your plans as your projects unfold.
Runn's Planner interface provides a visual bird's-eye view of all your projects and people, allowing you to strategically plan project timelines and balance resources across the entire organization. The Planner interface also allows users to plan out assignments and phases (through simple drag-and-drop), create milestones, and assign people and placeholders. Switch between monthly, quarterly, and half-yearly views to quickly view your projects across the short and long term, and see how tentative projects affect your portfolio's bottom line.
Runn offers a number of charts and reports that update as users schedule projects or people. These reports provide an organization-wide overview of planned workload, resource availability, utilization rates, and more. The tool also generates easy-to-understand financial forecasts, including project billing and profitability, and surfaces relevant KPIs for your people, clients, and projects from their own dashboards. Their built-in timesheets let you compare actual and planned time spent on projects so you can make informed decisions based on real data and avoid risks before they become problems.
Runn integrates with Harvest, WorkflowMax, and Clockify for importing project, client, and people data, and syncing timesheet entries. Their REST API allows you to build out your own integration and send data to and from your favorite tools.
Runn is completely free for businesses of 5 or fewer people, or costs from $10/person/month for their Pro and Enterprise plans. Runn also offers a 14-day free trial, no credit card required.
Proggio is a patent-based enterprise project portfolio management solution that's trusted by companies such as Decathlon, SodaStream, Verifone, and Ahava.
Crafted for portfolio managers by portfolio managers, Proggio comes with a robust interface and project portfolio management functionalities, such as resource management, risk management, budget management, and real-time analytics and reporting.
Proggio gives users visual clarity over multiple projects, with multiple dependencies, deadlines, and goals in a quick snapshot.
Proggio also provides unlimited users with highly customizable views for data and tools for the relevant roles and tasks so that all updates or changes made in the portfolio, project, or task management level are automatically reflected throughout the platform. The tool also has support available through Zoom, chat, and email.
Proggio integrates with G-Suite, Microsoft 365, and Jira. It also offers API access, as well as additional integrations via Zapier.
Proggio costs from $250/month for unlimited users and offers a free 30-day trial
Summary of Proggio:
Resource management: Pass
Financial administration: Pass
Risk management: Pass
Reporting & analytics: Pass
Integrations: Pass
Dragonboat is a modern responsive PPM platform that empowers product teams to drive business outcomes through integrated road mapping and portfolio allocation. By connecting OKRs with product initiatives, enabling data-driven prioritization, and visualizing dependencies, Dragonboat makes it easy to create actionable roadmaps. That means streamlined quarterly planning, increased alignment, instant visibility, automated reporting and real-time insights into your entire product portfolio.
Dragonboat is built for agile teams—providing a single source of truth for the product organization to visualize and manage dependencies, automate progress tracking and risks across multiple teams and roadmaps, plan resources and portfolio trade-off scenarios, and close the loop with multi-level stakeholder reports.
Used by best-in-class product teams such as Miro, F5 Networks, Rapyd and Nium, Dragonboat helps companies of all sizes, across all industries, become more outcome-focused. Beyond the platform, they've also developed a community around responsive PPM for product and portfolio leaders to share learnings and help each other to build outcome-driven product teams.
Dragonboat is seamlessly integrated with engineering tools like Jira, Azure DevOps, and Asana for automated progress reporting and tracking and requires no changes to your current engineering workflow.
Dragonboat costs $100/editor/month and offers unlimited read-only users. They offer a free trial.
Free demo is available
From $45 user/month. Discounts available for user groups of 100+ Requires one-time deployment fee
Bubble sets itself apart in the project and portfolio management space by designing its software around end-user needs. The tool offers features for defining organizational strategies and targets, as well as configurable dashboards that provide a top-to-bottom understanding of the entire portfolio and what it's delivering.
Bubble is easy to learn and intuitive to use. You can get comfortable with using it within an hour, and advanced functionality can be mastered in less than a day. The tool's creators outline a 4-step rapid deployment process and provide quick-start guides, video explainers, and help desk support to ensure widespread adoption of the platform.
The software places a large emphasis on time-saving tools while allowing users to keep an eye on the project detail. Graphical status indicators ensure teams can identify what's required to move projects forward, what the blockers are, and what they don't need to worry about anymore. Real-time reports and updates can be shared easily (often with a single click). Bubble PPM also has fully integrated resource management, risk, and finance modules that automatically track dependencies across the platform according to the role, department, workstream, or other variables.
Bubble doesn't currently have timesheet tracking, but its rough-cut approach to capacity planning ensures customers instantly see the impact of resource bottlenecks ahead of time so they can adapt their plans as priorities evolve.
Finally, a standout feature of Bubble is the prioritization module. This simple but powerful tool helps team leaders ensure all parts of their organization are working to the same priorities. Project lists default to the priority order, meaning users instinctively know what to prioritize. In resource management, the priority order identifies where individuals, departments, or the organization itself, will run out of capacity.
Bubble PPM costs from $45 user/month. The platform also supports integrations using API calls via REST API endpoints with access controlled by a client-owned API key.
Acuity PPM is a lightweight portfolio management solution that is a great alternative to spreadsheets. The tool includes a beautiful interface to help you manage your project portfolio, as well as fundamental capabilities for getting visibility into your entire project portfolio, managing work intake, prioritizing projects, tracking project performance and status reports, and managing resource capacity.
PMOs can track project portfolios and get insights on project status, store status reports in one place, and view status history across your portfolio. Another great feature is the ability to view portfolio roadmaps and see timing and sequencing for projects in the portfolio. PMO team members can also score projects using Acuity's scoring model and then easily prioritize projects.
Acuity PPM pricing starts at $299 per month.
El Mejor Software para Gestión de Portafolios
Aquí hay una tabla de resumen con información esencial: compara fácilmente pruebas gratuitas y precios, junto con una puntuación que muestra cómo calificamos la herramienta.
Criterios de Selección para el Software de Gestión del Portafolio de Proyectos
En nuestra selección de herramientas de GPP, redujimos nuestros criterios a algunos puntos clave. Revisemos algunos de los criterios más importantes para elegir la mejor herramienta de GPP que se ajuste a tu equipo.
Gestión de recursos: al igual que las herramientas de gestión de proyectos con software de programación de recursos, el software GPP con funcionalidad de gestión de recursos te ayudará a tomar mejores decisiones y mejores patrones de flujo de trabajo. Esto incluye características para programar recursos y gestionar líneas de tiempo. Las proyecciones y los escenarios "¿Qué pasaría si?" Son parte de la gestión de un portafolio de proyectos, y las herramientas de GPP deben brindar soporte para estas proyecciones.
Gestión financiera: Un dólar ahorrado es un dólar ganado. Las herramientas de GPP deben ayudar a mejorar tu precisión en la gestión de proyecciones financieras, con funcionalidad para estimar costos y gestionar presupuestos. Hoy en día, casi todos los programas tienen la opción de gestionar las nóminas y la facturación de pago en general. Esta característica es ideal para empresas que tratan con un número moderado de empleados / clientes, por lo que hacer todo desde una sola plataforma es más que bienvenido.
Gestión de riesgos: nos guste o no, cada portafolio que hagamos y trabajemos tendrá datos confidenciales. A menudo, los fondos y los datos con los que tratamos son sensibles en más de una forma (por lo general, el tiempo y el costo son el enfoque). Tener la ventaja en proyectos sensibles al tiempo o al presupuesto puede ser, y generalmente es, una parte importante de la gestión de riesgos. Además, las mejores herramientas de gestión de riesgos nos permiten planificar en consecuencia, incluso hacer planes de respuesta a riesgos, y tenerlos listos si el "¿Qué pasaría si?" Sale mal.
Informes y análisis: con informes completos y optimizados que te permiten ver qué funciona y qué no, te preparas para el éxito futuro. El software moderno de gestión de portafolios debe proporcionar múltiples opciones para generar informes. Las hojas de cálculo son una línea de base para un informe simple y útil, pero hay muchas herramientas modernas de GPP con excelentes representaciones gráficas que facilitan la visualización y comunicación de comparaciones de recursos, desgloses y mucho más.
Integraciones: debido a que no existe un software GPP perfecto (si existiera, esta lista no serviría de nada), debemos combinar varias herramientas para cubrir las necesidades de nuestro proyecto. Conocer estas herramientas a veces es la mitad del trabajo, de ahí este análisis.
Precio: por último, pero no menos importante, necesitamos saber cuánto le costará a tu organización mantener ese nivel de flujo de información interna. Algunas de las herramientas son bastante baratas, pero eso es una rareza en este dominio, y con una buena razón para ello.
¿Cómo Elegir el Mejor Software de Gestión de Portafolio para tus Proyectos?
Ahora, tienes la idea de las herramientas GPP más populares que existen. En este punto, te guiaremos a través de los pasos finales sobre cómo elegir la mejor solución GPP para tu organización. Hazte estas preguntas al elegir el software de GPP:
¿Cuál es tu nivel de madurez de GPP?
De acuerdo con el modelo de Gartner, puedes determinar la madurez de tu empresa colocándola en uno de los 5 modelos (en orden ascendente de madurez):
Reactivo: esto representa a todas las organizaciones con un enfoque ad hoc de proyectos. Hay un requisito mínimo para las herramientas de GPP de gama alta, aunque serán necesarias para el crecimiento de la disciplina.
Emergente: el siguiente nivel de gestión y enfoque de los proyectos. Implica el uso de herramientas básicas de GPP pero en un nivel más frecuente y avanzado.
Integración inicial: sigue un enfoque más holístico para GPP. Este es el punto donde se necesita un patrón de organización más grande. Las decisiones arriesgadas podrían surgir, y el seguimiento de los datos debe estar en punto.
Integración efectiva: este es el punto donde la automatización se vuelve necesaria, y un gerente necesita la mayor ayuda posible para ejecutar todo a tiempo y por debajo del presupuesto.
Innovación efectiva: este es el juego final que todos luchan. Los GPP se utilizan completamente en múltiples niveles, y se instala una Oficina de Gestión de Proyectos Empresariales para facilitar la ejecución.
¿Cuáles son los Requisitos Principales?
Tómate el tiempo para planificar cuidadosamente los requisitos que tu equipo tiene para una herramienta GPP. Analiza el trabajo pasado y los posibles proyectos futuros, y trata de hacer una evaluación lo más objetivamente posible. Utiliza este artículo como base y consulta tantas fuentes como puedas antes de decidir cuál es tu herramienta GPP ideal.
¿Cómo Encajaría la Herramienta GPP en tu Flujo de Trabajo?
Piensa en todas las herramientas que tú y tu equipo utilizan además de una herramienta GPP. Verifica la compatibilidad de integración y ve en qué parte del ciclo del proyecto vas a integrar primero la herramienta recién adquirida.
¿Cuánto Tiempo se Necesita para Configurarlo?
Solo ten en cuenta que es posible que tus proyectos actuales deban detenerse brevemente para integrar completamente una nueva herramienta GPP. Además, piensa en el soporte para diferentes plataformas nativas, como Android y iOS, y, en consecuencia, ajústalo a tu equipo.
Facilidad de Incorporación
Tu equipo necesitará algo de tiempo para aprender y adaptarse al nuevo conjunto de herramientas de GPP que se les presentarán. Ten en cuenta todos los factores como: tiempo para aprender, disponibilidad de material de aprendizaje, capacitación y soporte del proveedor de software, etc.
Costo
Por último, pero no menos importante, estas herramientas de GPP tienen un precio. Después de calcular el presupuesto que tienes para pagarlos, no olvides que cada herramienta GPP se valora con el servicio que brinda.
Other PPM tools
We've prepared a list of additional PPM tools that you might consider:
¿Necesitas Ayuda para Reducir las Opciones?
Esta herramienta es bastante útil. Nos hemos asociado con Crozdesk para brindarte acceso a su "Buscador de software".
Si ingresas algunos de los detalles sobre tu proyecto y las funciones que buscas en una herramienta de administración de proyectos, generará una lista de herramientas que coinciden con tus preferencias. Sólo debes proporcionar tu correo electrónico y te enviarán una bonita guía en PDF con un resumen de las mejores coincidencias.
¿Qué opinas?
¿Estás de acuerdo con nuestra lista? ¿Cómo abordarías este tema? Hay un montón de factores en la ecuación de gestión del portafolio de proyectos, y los nuevos comentarios siempre son bienvenidos.