¿Buscas una alternativa a Microsoft Project? Estás en el lugar indicado. En esta reseña, repasaré algunas nuevas y muy buenas alternativas de MS Project y dejaré una guía descargable para ayudarte a elegir una alternativa de Microsoft Project para tus proyectos.
Una Lista de las Mejores Alternativas a Microsoft Project
Aquí está mi lista de las mejores alternativas a MS Project en 2021:
A continuación verás una descripción general de estas herramientas con capturas de pantalla, características, y precios.
Ir a resumen de alternativas a Microsoft Project
MS Project Common Questions
Compara y Evalúa Rápidamente las 10 Mejores Alternativas a Microsoft Project
Si tu compañía está bajo presión, si solicitas comprar una copia nueva de Microsoft Project, lo más probable es que recibas una respuesta más o menos así:
"Seguramente hay una alternativa gratuita de Microsoft Project que puede hacer el trabajo, ¿o no?"
Sí, hay docenas de alternativas de MS Project gratuitas y pagas. A continuación, encontrarás las que entraron en mi lista de favoritas, seguidas de detalles, capturas de pantalla para ayudarte a elegir la adecuada.
Criterios Para Escoger los Programas Alternativos a Microsoft Project
Hay un montón de software de programación de proyectos que hace todo tipo de cosas que nosotros, como gerentes de proyectos digitales, nunca usaremos. En una herramienta que debe reemplazar a MS Project, ¿qué se busca exactamente? Estos son los criterios bajo los cuales evalúo las herramientas de programación de proyectos alternativas a Microsoft Project:
Interfaz de usuario (UI): ¿Qué tan bien diseñada está? ¿Qué tan claras son las visuales y la navegación?
Usabilidad: ¿Es fácil de aprender? ¿Hay tutoriales, capacitación y soporte al usuario?
Características y funcionalidad: ¿Cuántas de las características y funciones clave del software de administración de recursos ofrece y qué tan potentes son? Específicamente, busqué esta funcionalidad:

Que se pueda crear un diagrama de Gantt: que se demuestre en detalle la estructura de desglose del trabajo (WBS, por sus siglas en ingles) con tareas, subtareas, que muestren la duración, las fechas de inicio y finalización, las dependencias y los recursos asignados.
Que se pueda crear un gráfico de resumen de la ejecución del proyecto: proporcionar una vista panorámica del plan del proyecto para proporcionar una instantánea del proyecto que cualquier persona pueda entender.
Que se pueda importar y exportar archivos .mpp: importa sin problemas el plan del proyecto de otra persona, edítalo y envíalo de vuelta sin molestar a nadie.
Que se pueda exportar PDF o que planos compartibles del proyecto: poder compartir algo que se vea presentable

Integraciones: ¿Es fácil conectarse con otras herramientas? ¿Hay integraciones por defecto?
Relación calidad-precio: ¿Qué tan apropiado es el precio según sus características, capacidades y usos? ¿La fijación de precios es clara, transparente y flexible?
Lo sé, lo sé: hay muchas otras cosas que MS Project hace, como la gestión de recursos y la gestión de cartera de proyectos con integraciones de inteligencia empresarial, lo cual es muy bueno. Pero en términos generales, lo que realmente estamos haciendo es programar nuestros proyectos. Sí, hay muchas otras funciones excelentes, pero di la verdad, ¡no las usas (mucho)!
Las Mejores Alternativas a Microsoft Project de Software de Programación de Proyectos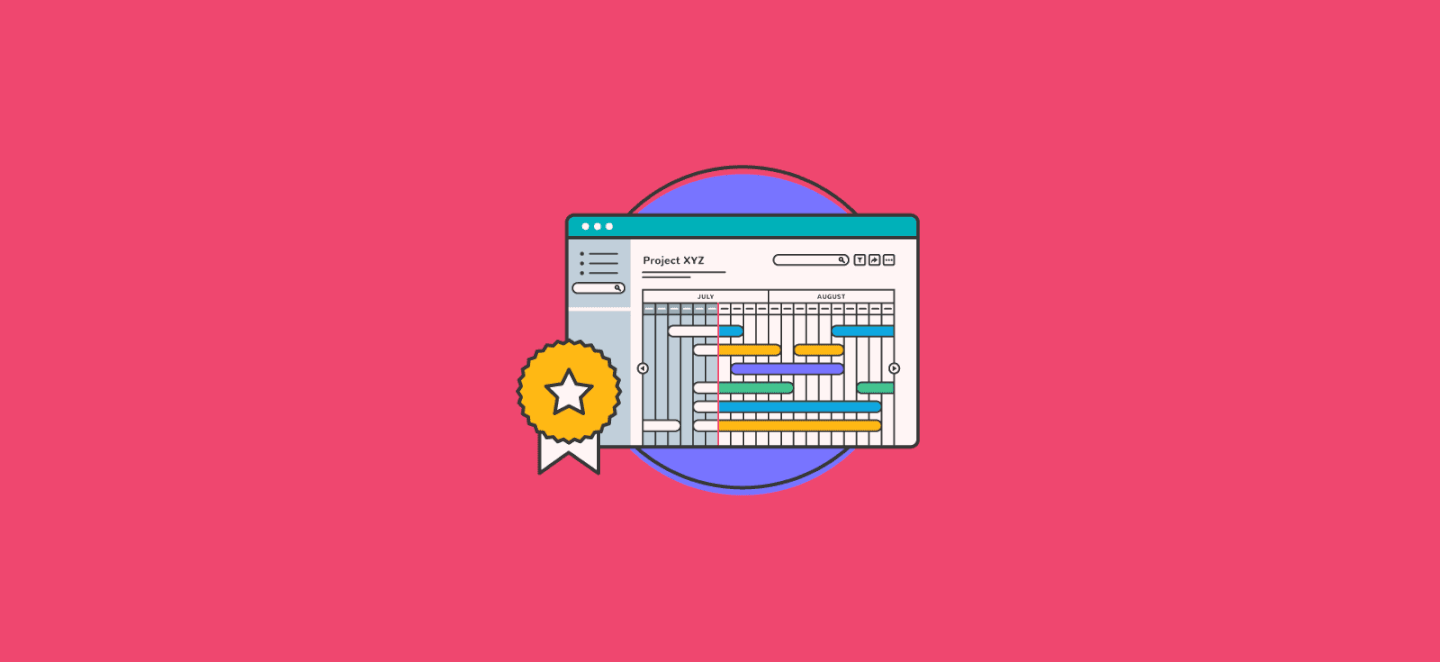 En la descripción general de las alternativas a Microsoft Project a continuación, desgloso las características, los precios y los beneficios principales de las mejores alternativas a Project.
The Digital Project Manager es financiado por sus lectores. Cuando haces clic en los enlaces de nuestro sitio, podríamos ganar una comisión. Más información.
monday.com is one of the few tools that prides itself in 'not being a project management tool'! They've done away with a lot of the trimmings of typical tools and focused on simple structures that help clarify the sequence of work that needs to be done.
This tool is a great Microsoft Project alternative in that it functions a lot like a spreadsheet—but one that's more intuitive to use and modify without having to mess around with formulas. Likewise, it offers more than a basic spreadsheet by giving you various views of your projects—view as spreadsheets or as lists, on a map, on a Kanban board, and other views. Users can upload and attach files to cards, make comments, mention teammates, and more.
It offers the ability to create summary charts as well as export and share project plans. However, one downside is that it doesn't allow you to make Gantt charts in the traditional sense (they have a feature that serves the same purpose and works just as well, called "timelines"), nor can you import or export MPP files. That said, monday.com is designed as a true alternative to MS Project, not something to be used in tandem with it.
monday.com's integrations include project management apps like Slack, Excel, Google Drive, Gmail, Google Calendar, Jira, GitHub, Trello, Dropbox, Typeform and many more, accessible via Zapier.
monday.com costs from $17/month for two users.
Hive is a project management tool and collaboration platform that powers companies like Starbucks, Uber, WeWork, and IBM. With AI-based analytics, thousands of integrations, flexible project views, and more, Hive streamlines your work in one centralized platform and offers much more than just Gantt charts. Used by teams of varying sizes, from 10 people to 1,000, Hive is a great option as a Microsoft Project alternative for a diverse range of companies and work styles.
Hive's time-tracking, analytics, and flexible view capabilities allow for a transparent understanding of other team member's work and upcoming projects. Hive also has one of the first full email integrations in any project management tool, which allows you to send and receive Gmail and Outlook messages from the app. Choose Hive if you're in the market for a well-laid-out, comprehensive Microsoft Project alternative tool that can be scaled up or down based on team needs.
The tool costs $12 per user per month when billed annually.
Forecast is a powerful combination of resource management and project management built on the foundation that successful projects require a combination of short and long term planning. You can build advanced interactive Gantt charts with Forecast's full suite of project management features.
Powered by AI, it is designed for companies that want to monitor the progress of their projects, programs, and portfolios in real-time. Forecast learns from hundreds of thousands of projects and turns a simple list of tasks into a project plan with assigned team members, estimated task duration, and precise delivery dates – allowing you to be more efficient and build project timelines in seconds.
Team members can collaborate and comment on tasks, and Forecast gives you profitability insights as well, so management can monitor revenue by project.
Forecast is currently used in 40+ countries worldwide, by agencies, consulting companies, and enterprises. The tool offers Lite, Pro, and Enterprise options that cost from $29/user/month, as well as a 14-day free trial.
Wrike is an award-winning, easy-to-use project management software trusted by 20,000+ organizations worldwide. The tool is suitable for teams of anywhere from five to an unlimited number of team members. It's highly configurable and allows users to customize workflows, dashboards, reports, request forms, and more.
Wrike's simple interface enables users to switch between customizable Kanban boards, one-click Gantt charts, and traditional workload views, allowing them to choose how to visualize their priorities and providing a snapshot of work. Wrike also features task lists, subtasks, schedules, shared workflows, file sharing, and real-time communication and collaboration.
Wrike has an easy-to-use, intuitive interface and navigation with distinct spaces, folders, and tasks. Users can toggle between the home screen and timesheets, dashboards, calendars, reports, and an activity stream for notifications and messages. Wrike has a dedicated help center with interactive training, videos, a 'Getting Started' guide, and a thriving community.
Wrike offers 400+ pre-built native integrations, including integrations with the most popular file management software from Microsoft (including Teams), Google, and Dropbox, along with sales and marketing software from Salesforce and Marketo.
Wrike pricing starts at $9.80 per user per month. There are four different price points, including a free version and plans which offer the ability to invite free external collaborators to a paid account.
Smartsheet's online project management tool takes some of the most useful features of Microsoft Project, combines them with the simple use of an online spreadsheet, and then incorporates team collaboration and automation functions to save money. It offers the basics: functions such as making a schedule of beautiful activities with tasks, subtasks, activities, assigned resources and sections on tasks.
Smartsheet helps you organize projects, grids, calendars, dashboards, portals, forms and more all from a unified control center. They have pre-built Gantt chart templates with customizable fonts and colors, "% Complete" and "Assigned To" columns and more. It has useful features such as workflow automation and visualization of tasks in Gantt, calendar and card views. Team members get notified of critical changes in real-time, and the tool provides shared views, detail history, activity logs, automated alerts, reminders, and status reports to keep everyone aligned and informed.
The Critical Path feature highlights all the tasks which directly impact your project completion date to keep an eye on important milestones. Reporting is a strong feature of this tool, with editable summary reports that you can easily export to Excel.
Smartsheet integrations include Microsoft and Google apps, as well as development essentials like Jira, and useful business apps like Salesforce, ServiceNow, Slack, Box, and Tableau. The platform is extensible through a REST API and webhooks.
Smartsheet costs from $14/user/month and offers a 30-day trial.
You're probably aware of how painful it is to find a nice looking and powerful Gantt chart and an MS Project substitute. In GanttPRO, you will find both. This Gantt chart tool looks really nice with its intuitive UX/UI design and a short learning curve.
GanttPRO offers a wide range of robust project management, project portfolio management, team collaboration, resource and cost management features. In this MS Project alternative, you easily create tasks with lots of settings like statuses, priorities, dates, deadlines, progress, time log, etc., assign them, set dependencies between connected tasks, and add milestones. Thanks to the Auto-scheduling feature, any change in your tasks, dates, or dependencies will be automatically reflected.
Moreover, you can switch between views to get more flexibility. Besides the native greatly looking Gantt chart timeline, there are also the Board view and My tasks view.
If you already started your plan in MS Project but need to change it, import it directly to GanttPRO, in seconds.
GanttPRO provides:
Intuitive project management, robust portfolio and program management with a high-level picture.

Team collaboration with comments, real-time notifications, attachments, and mentions.

Advanced resource management: manage resources from all your projects in one place, see their availability, who is overloaded/underloaded, and with the help of drag & drop simplicity, redistribute tasks.

Task time tracking.

Advanced export and Sharing.
You can try a 14-day free trial or book a personal demo. A plan for 1 user starts from $15 if billed annually. Team plans start from $8.90 per user if billed annually.
Companies are quickly finding that traditional, siloed, on-premises project planning and task management tools don't work well in today's environment. These tools are too complex and too narrowly focused and do not have the real-time information, the responsive planning, and flexibility required to keep everyone in the loop and everything on track. While it's easy to download a simple task management tool, they do not support the collaborative interaction needed to complete process or project-related tasks. By contrast, delivers secure, cloud-based collaborative work management solutions built on the vision of business agility.
Discussions, tasks, projects, and portfolios are all accessible from Clarizen's scalable enterprise platform. Our intuitive, easy-to-use and flexible solution offers a single source of information to improve work execution, collaborate in-context, optimize resources and respond faster. Clarizen provides:
• Centralized project and portfolio management – organize complex projects and automate workflows
• Change and issue management – track, manage and prioritize change requests and resolve issues
• Resource optimization and robust collaboration – execute on feedback and tasks in real-time to streamline how you work
Zoho Projects is a MS Project alternative that has a simple, easy-to-use interface that also comes with a mobile application. Zoho Projects has extensive Gantt chart features and capabilities at an affordable price range which creates an all-round project management experience. It has an intuitive Gantt chart that can be operated with simple drag-and-drop actions. It supports all four kinds of dependencies and contains a critical path and baseline to help avoid delays.
Zoho Projects comes with features like task management, time tracking, and resource utilization. All projects can be split into milestones that you want to reach at various time periods. Task management is easy with features like custom fields and statuses, task recurrence, reminders, and a Kanban view. You can manage your time by splitting and allocating your available hours to all your work items.
The resource utilization chart comes with simple seesaws that depict the workload of your resources. While allocating tasks, you can easily see who is over-utilized, under-utilized, or unavailable too. Collaboration is possible with any of the project's stakeholders with interactive feeds and forums, wiki pages and built-in chat.
Zoho Projects integrates with several Zoho applications like Zoho CRM, Zoho Books, Zoho People, and other applications like Office 360, Google Drive, G Cal, GitHub, BitBucket, and Crashlytics. Zoho has a Marketplace that has several pre-built extensions. Zoho Projects also has support engineers and live chat support to help with onboarding.
Zoho Projects costs from $3/user/month. The available plans are Standard, Premium, Express, and Enterprise.
Microsoft Project's advanced features are meant for formally trained project management professionals, while Workzone provides robust features designed to be used successfully by the entire team, even those with no background in project management.
Unlike MS Project, Workzone includes five-star customer service. In fact, Workzone has a battle-tested approach that includes comprehensive onboarding and unlimited support. For anyone who struggles to make MS Projects useful to their teams, I'd recommend Workzone if for nothing else than the level of training and ongoing coaching that they offer.
Workzone's interactive Gantt Charts, 10,000 ft project portfolio view, and project calendar allow teams to always know what's going on and avoid bottlenecks. In the Gantt charts, Workzone links dependent tasks and uses a specific task's end date to calculate the following task's start date for projects with tasks that follow a set sequence. Plus, it automatically notifies the next party downstream when the dependent task is completed. In addition to those features, it offers secure document management and file-sharing, file versioning, customizable reporting, resource and task management, user permissions, and time tracking to keep teams productive. The software is cloud-based and offers automated emailed reports with up to date project status information.
Already an MS Project user? Import your Microsoft Project files directly into Workzone. I'm not sure if you can export .mpp files, but I do know that the tool offers file sharing at various permission levels as well as workload reports, so it's easy enough to share out your resource plans.
Workzone has integrations with over a dozen standard workplace tools for comms, accounting, CRM, etc. Notably, it also integrates with MSTeams, so that could be useful for anyone who can't leave the MS ecosystem fully. You can also extend Workzone's functionality through their extensive API and Zapier.
Workzone pricing starts at $40/user/month for up to 5 users. Price per user lessens with the number of users…for instance, for 15 users the price per person starts at $24/user/month.
Well done for making it all the way down to the bottom. Here's your prize. Not many people seem to be aware of this product, and even Microsoft keep pretty quiet about it, but there's an alternative to spending $500 on a Microsoft Project licence, you can pay as you go. and get the control and capabilities of Project Professional 2019 from virtually anywhere as an always up-to-date desktop subscription through Office 365.
The upside is that you get what you wanted from the start; you don't need a Project alternative when you can actually pretty much have the real deal. The downside is that all those bells and whistles and add-ons that you can get with some of the other products might actually be quite useful after all.
Microsoft Project Pro for Office 365 costs from $30/user/month.
Resumen de las Mejores Alternativas a Microsoft Project Para Crear Diagramas de Gantt
Es fácil sentirse un poco abrumado por la gran variedad de alternativas que hay para Microsoft Project. A continuación, hemos hecho una tabla fácil de leer que resume con mucha precisión alguna información básica sobre las herramientas descritas en este artículo. Hemos investigado los precios y la disponibilidad de versiones de prueba y de demostración gratuitas para que puedas compararlas mucho más rápido.
Microsoft Project Para Mac
Microsoft no desarrolla Microsoft Project para los usuarios de Mac. De hecho, la última vez que hubo una versión de Microsoft Project para usuarios de Apple fue en 1993 con Microsoft Project 4.0 para Mac. Lamentablemente, ya no funciona, por lo que, si usas Mac e intentas crear un diagrama de Gantt, lo primero que debes recordar es que puedes usar Bootcamp o Parallels para instalar Windows en tu Mac y luego usar el software para PC que hemos enumerado anteriormente. Si no puedes hacer eso, además de las alternativas basadas en la web muy conocidas, hay algunas opciones dedicadas de Microsoft Project con gráficos de Gantt para Mac que puedes instalar en tu Mac o iPad.
Otras Alternativas Para la Programación de Proyectos Que Deberías Considerar:
¡Hay algunas opciones nuevas para crear gráficos de Gantt! No he tenido la oportunidad de revisarlos correctamente, pero si ninguno de los anteriores se acomoda a tu gusto, puedes revisar estos:
¿Necesitas Ayuda Para Reducir las Opciones?
Esta herramienta es bastante útil. Nos hemos asociado con Crozdesk para brindarte acceso a su "Buscador de software".
Si ingresas algunos de los detalles sobre tu proyecto y las funciones que buscas en una herramienta de administración de proyectos, generará una lista de herramientas que coinciden con tus preferencias. Sólo debes proporcionar tu correo electrónico y te enviarán una bonita guía en PDF con un resumen de las mejores coincidencias.
Preguntas Que Debes Hacerte al Momento de Elegir Entre las Mejores Alternativas a Microsoft Project
[thrive_2step id='8264′]


[/thrive_2step]
¿Cuál es el mejor software de programación de proyectos para usar como alternativa a Microsoft Project? Todo depende de si cumples o no los requisitos que establecimos anteriormente.
Si buscas algo que brinde más que eso, entonces una de las soluciones basadas en la nube como Smartsheet probablemente te sirva. Como a menudo me encuentro fuera de línea, en aviones y en general fuera de la oficina, me haría falta una aplicación de escritorio para utilizar mis .mpp sobre la marcha. En resumen, yo escogería Microsoft Project Pro para Office 365. Hace todo lo que quiero, en el formato que necesito. Sí, es una salida fácil, pero funciona, y no es más cara que cualquiera de las mejores alternativas pagas.
Así es como yo tomé mi decisión. Aquí tienes algunas preguntas que debes hacerte al momento de elegir la alternativa de MS Project correcta:
¿Dónde usas el diagrama de Gantt y el cronograma del proyecto en tu flujo de trabajo?
Esto engloba de todo un poco, pero al elegir una alternativa de Microsoft Project, debes pensar en cómo administras las estimaciones, tareas, recursos, presupuestos, riesgos, planillas horarias e informes de proyectos. Hay características dentro de Microsoft Project compatibles con todo esto, y muchas de las alternativas también las incluyen.
¿Cómo usas tus planes y cronogramas de proyectos?
Si solo usas diagramas de Gantt que creas al comienzo de un proyecto y luego no se actualizan, es muy diferente a necesitar una herramienta que debe actualizarse diariamente.
Piensa para qué usas realmente los plazos de los proyectos; ¿Los imprimes todos los días y a medida que avanza el proyecto? ¿Cómo compartes esa información con el equipo del proyecto y el ejecutivo? Considera también cómo actualizarás la línea de tiempo a lo largo del proyecto.
¿Quién lo usará?
Es menester considerar si será solo el gerente del proyecto el que actualizará el plan del proyecto, o si el equipo también deberá hacerlo. Si el equipo del proyecto necesita actualizar activamente el cronograma del proyecto, vale la pena considerar herramientas que sean fáciles de usar y fáciles de aprender.
¿Qué otras herramientas usas?
Microsoft Project se integra muy bien con las otras herramientas de Microsoft, SharePoint y Project Server, que son soluciones a nivel empresarial capaces de hacer algunas cosas increíblemente inteligentes con Power BI, el llamado 'Internet of Things', bots y machine learning. Microsoft Project se integra con muchas otras aplicaciones y herramientas, incluido JIRA a través del complemento Ceptah y Daptiv PPM.
¿Estás siempre en línea?
Las aplicaciones de línea de tiempo del proyecto en la nube pueden ser excelentes, y pueden mantenerse actualizadas con información "en vivo", pero requieren una conexión activa a Internet para funcionar. Si llegas a trabajar sin conexión, y no sin señal telefónica, como por ejemplo, en un avión, estarás muy limitado y querrás una aplicación de escritorio.
¿Cuánto cuesta?
El costo de Microsoft Project tiende a ser una de las razones principales por las que las personas buscan una alternativa. Microsoft Project no es barato, pero, ¿sabías que si buscas rápidamente en Amazon, puedes encontrar la última versión de Microsoft Project 2016 por menos de $600?
Considera los Proyectos Frente a los Usuarios
La mayoría de las alternativas de Microsoft Project tienen un precio basado en el costo por usuario. Por lo tanto, al determinar qué solución es la más asequible, considera qué se ajusta más a tu realidad; ¿Es una herramienta que muchas personas en la organización necesitarán usar o será utilizada principalmente por el gerente del proyecto?
Piensa en el Costo de la Opción 'De por Vida'
Si bien las aplicaciones basadas en la web pueden parecer asequibles a corto plazo, generalmente cuestan alrededor de $15/usuario/mes, por lo que el costo de propiedad durante 3 años termina siendo lo mismo que comprar una copia de Microsoft Project. Entonces, antes de decidir suscribirte a un servicio, considera comprar una solución que no esté basada en la nube, sino más bien tenga aplicación de escritorio como:
La mayoría de las alternativas a Microsoft Project basadas ??en la nube ofrecen al menos una pequeña oferta gratuita que podría ser suficiente para ti:
Resumen
Mientras que Microsoft Project podría verse como una herramienta fácil de reemplazar cuando puedes suscribirte a Project Online Professional por $30/usuario/mes, es importante sopesar todas las opciones antes de suscribirse a una opción basada en la nube.
Pero si no lo usas todos los días y solo necesitas un planificador de proyectos sencillo con Gantt, hay muchas excelentes y económicas opciones (e incluso gratuitas) para ti.
¿Qué Opinas?
¿Qué crees que nos faltó? ¿Alguna otra alternativa excelente a Microsoft Project para la programación de proyectos, la creación de diagramas de Gantt y los planes de proyectos? Nos encantaría saber si tienes alguna sugerencia u opinión sobre el uso de este tipo de software de programación de proyectos. ¿Por qué no los compartes en los comentarios?