La liste des meilleurs outils de suivi des problèmes et des bugs
Voici une liste des principaux outils de suivi des bugs inclus dans cette évaluation, suivie d'un tableau récapitulatif et d'une description détaillée de chaque outil ci-dessous.

Shortlist Block Settings:
Ad Group: Bug Tracking Tools
Number of Ads: 10
Pourquoi avez-vous besoin d'un outil de suivi des bugs? Parce qu'il n'y a pas de logiciel sans bugs.
Malheureusement, ces bugs peuvent nuire à votre réputation, causer une perte de revenus et entraîner des heures passées à fouiller dans les logs afin de trouver et de classer les bugs – c'est pourquoi chaque équipe de développement peut bénéficier des outils de suivi des bugs.
En identifiant les bugs dès le début du processus de développement (et si possible avant que l'utilisateur final ne les rencontre !), nos équipes ont de meilleures chances de pouvoir faire des corrections simples avec un impact relativement faible sur les délais et les budgets du projet. De même, fournir un moyen facile pour les utilisateurs finaux de signaler des bugs à nos équipes de développement nous aide à modifier et à améliorer notre produit au fil du temps.
Les bugs sont un mal nécessaire, mais ils n'ont pas besoin d'être difficile à gérer. Il existe des douzaines d'outils de suivi des bugs qui aident à rationaliser et à organiser le processus de gestion des défauts. Dans cet article, j'expliquerai les caractéristiques à rechercher dans ces outils et les éléments à prendre en compte pour choisir le bon. Je fournis également une description détaillée du meilleur logiciel de suivi des bugs que j'ai rencontré, avec des informations sur les prix, les essais, les intégrations, les avantages, les inconvénients, et plus.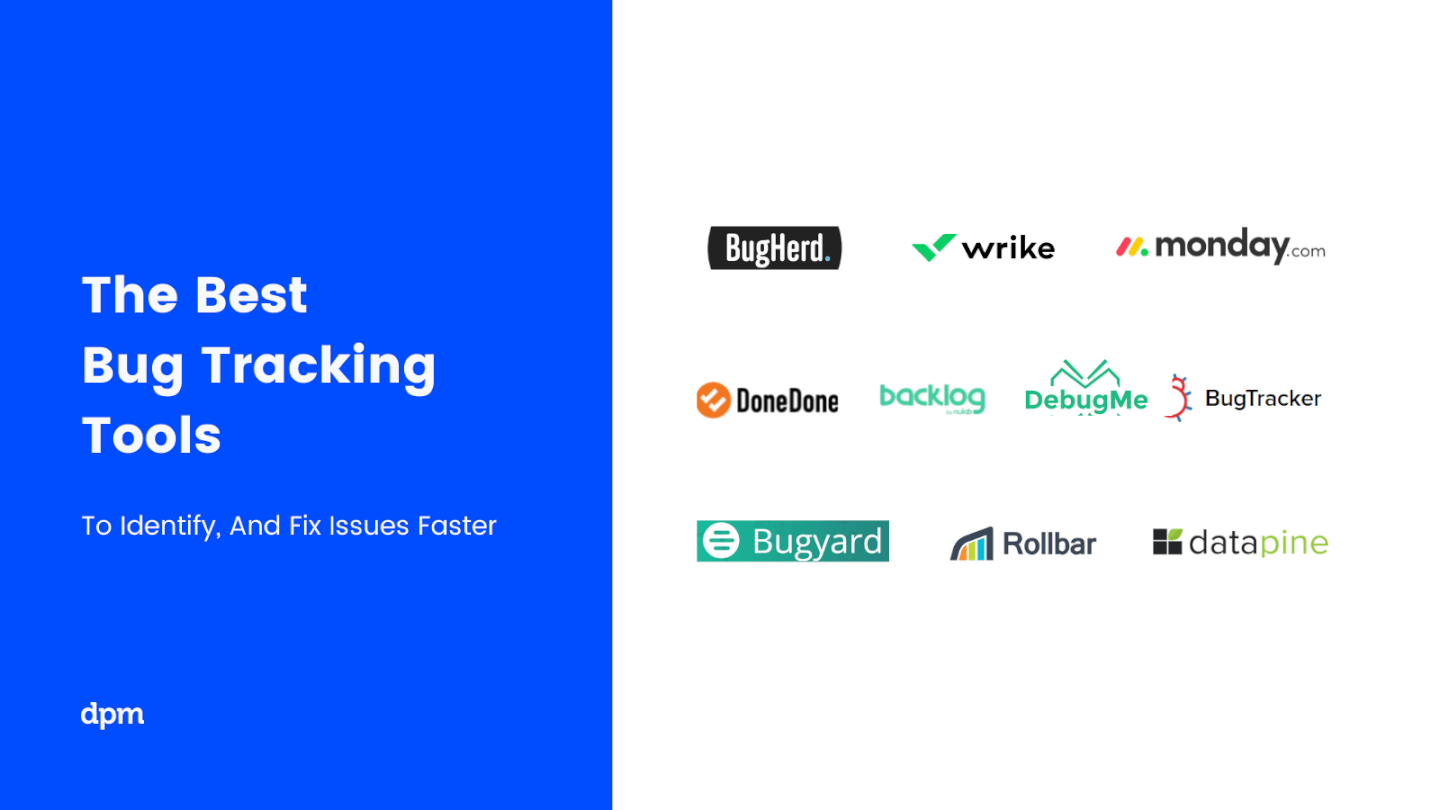 Nous commencerons par une définition de base du suivi des bugs et un résumé de ce que font les outils de gestion des défauts.
Que sont les outils de suivi des bugs?
Comparés à beaucoup d'autres outils de développement, les outils de suivi des bugs sont assez simples: ils aident les développeurs à identifier et corriger les bugs.
Qu'est-ce qui compte pour un bug de logiciel?
Très rapidement, j'aimerais passer en revue la définition d'un bug. C'est parce que les bugs portent plusieurs noms différents – ce qu'une équipe appelle un bug, d'autres équipes peuvent appeler un problème, une erreur, un défaut, un ticket, une faute, un problème ou un incident. Pour choisir un outil de suivi des bugs adapté à votre cas d'utilisation, vous devez d'abord avoir une idée claire de ce que vous considérez exactement comme un bug. Avoir une idée claire vous aidera à choisir un outil qui fait ce que vous voulez qu'il fasse.
Bug vs problème?
En général, les gens font une distinction entre le concept de bug et celui de problème (ou utilisent vos propres termes – peut-être utilisez-vous "défaut" et "problème", etc). Vous trouverez une explication simple ci-dessous:
Un bug est généralement considéré comme un défaut (une faille, une erreur) dans la base de code. En tant que telle, la solution implique des étapes telles que l'isolement et la reproduction du bug et le changement de la base de code. Pour corriger un bug, les développeurs ont besoin d'informations concernant son environnement, son système d'exploitation, la version de son navigateur, etc (voici une définition plus détaillée du bug de logiciel).
On considère généralement qu'une question couvre un éventail beaucoup plus large de lacunes potentielles d'un projet ou d'un produit – elle n'est pas nécessairement liée à un problème avec votre code. Selon votre organisation, un problème peut être un ticket de réclamation client généré par un rapport de l'utilisateur final, une entrée dans la liste des "fonctionnalités demandées", un problème identifié avec votre configuration matérielle, ou une préoccupation de l'équipe de conception concernant l'interface utilisateur.
Outils de suivi des bugs vs outils de suivi des problèmes
Dans certains cas, il est acceptable d'utiliser les "outils de suivi des bugs" et les "outils de suivi des problèmes" de manière interchangeable, mais dans certains cas, il est logique de faire la distinction entre eux. C'est parce que, pour certaines organisations, la gestion des problèmes fonctionne vraiment sur un cycle de vie totalement différent du suivi des bugs. La gestion des problèmes peut être entièrement centrée sur le cycle de résolution des plaintes, des demandes et des questions des utilisateurs finaux – il peut s'agir de corriger un défaut logiciel, mais ce n'est pas toujours le cas, et ses tâches principales peuvent relever de la responsabilité d'un service qui n'est pas votre équipe de développement.
Quelle est la conclusion?
Gardez simplement à l'esprit que lorsque vous regardez les outils de suivi des bugs/questions, vous pourriez simplement vouloir un outil pour signaler et corriger les bugs (un outil de suivi des défauts) – ou vous pourriez vouloir quelque chose qui relève de l'ensemble plus large du suivi des problèmes. Les outils de gestion des problèmes plus larges offriront généralement plus de fonctions de reporting et de gestion, ainsi qu'une plus grande variété de rôles d'utilisateurs pour capturer les commentaires et permettre la collaboration entre le service client, la gestion de projet, l'informatique, la conception, etc. comprenant un système complet de gestion des problèmes.
Que font les outils de suivi des bugs? (Et comment peuvent-ils vous aider?)
Que vous les appeliez outils de suivi des défauts ou outils de rapport de bugs, ces outils sont conçus pour attirer votre attention de manière systématique sur les bugs, en fournissant autant de données d'environnement que possible sur les bugs afin qu'il soit plus facile de les isoler, tracer, classer, établir en priorité et de les corriger. La plupart des traqueurs de défauts fournissent également des fonctionnalités pour aider vos équipes à unifier et à rationaliser la communication/collaboration qui fait partie du processus de correction des bugs.
Dans de nombreux cas, les outils de capture de bugs sont conçus pour servir un but plus étroit (enregistrer et suivre les bugs) et ils s'intègrent aux systèmes de gestion des tâches qui vous permettent d'effectuer les tâches de planification et de gestion environnantes. D'autres outils offrent une suite plus complète de fonctions de gestion de projets logiciels. J'ai inclus les deux types de logiciel de bug dans cette revue.
Voici les avantages des outils de suivi des bugs:
Fournir une interface commune et simple pour le partage de fichiers et la communication sur les bugs
Fournir des notifications et des enregistrements pour aider votre équipe à suivre le rythme, à suivre et à estimer le travail lié aux bugs
Fournir une base de données de bugs interrogeable que votre équipe de développement pourra consulter à l'avenir.
Automatiser les tâches manuelles associées à la capture des bugs et à la mise à jour des problèmes.
Enfin, comme les bugs font inévitablement partie du processus de développement logiciel, les outils de suivi des bugs ne sont pas très pratiques : ils remplissent une fonction essentielle dans ce processus.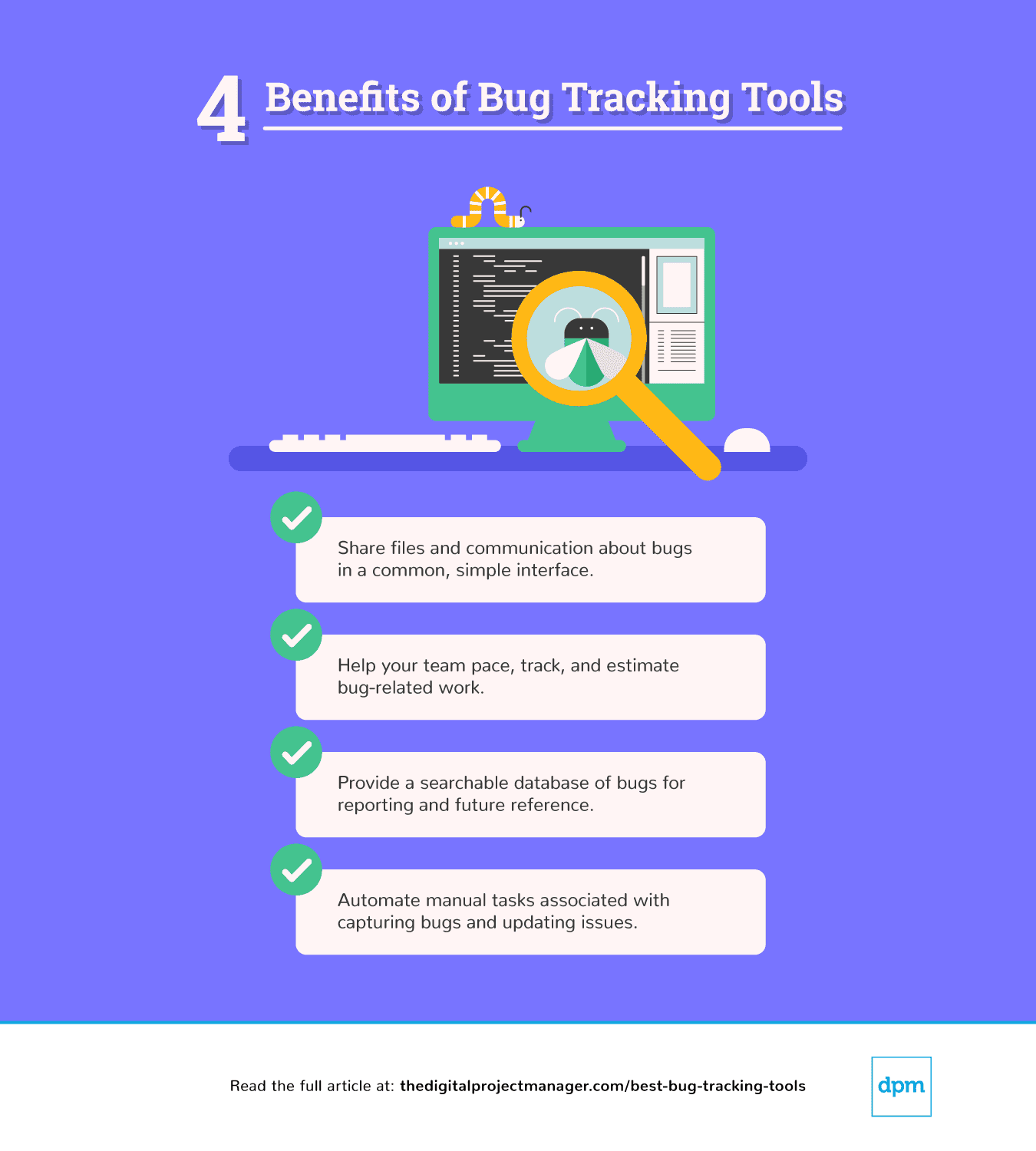 The Digital Project Manager est sponsorisé par le lecteur. Lorsque vous cliquez sur les liens de notre site, nous pouvons gagner une commission. En Savoir Plus.
1
monday.com
Best bug tracking tool for customization
monday.com is a great for managing scrum and agile teams, and although it's suited to a wide range of business environments, it's often used in software development. The platform includes a bug tracking template, and they've made a video showing how their own teams set up the platform to track bugs.
Additionally, the platform has robust time tracking capabilities and customizable notifications and automations. This helps you focus on what's important and track bugs and bottlenecks easily. You can create, visualize and share your roadmap to keep everyone in sync. Backlogs, dependencies, and sprint planning are available as well in a very intuitive interface.
You can create forms in the platform or integrate to other tools. Moreover, thanks to shareable boards, you can share your project with partners for feedback. With completely customizable labels in the status column (with color coding), and the multiple views, monday.com helps teams see the real status of their projects and tasks.
While monday.com doesn't offer many features specific to bug tracking (other tools offer features like webpage markup and a more robust set of issue management features) it does let you get an overview of work in progress, capacity, and effort.
monday.com's integrations include project management apps like Slack, Google Drive, Gmail, Google Calendar, Jira, GitHub, Trello, Dropbox, Typeform and many more, accessible via Zapier.
monday.com costs from $8/user/month and comes with a free 14-day trial. They offer a free plan for up to 2 users.
2
Marker.io
Best website bug tracking tool for easy in-browser markups
Marker.io is an issue management tool for individuals, teams, and enterprises. It allows you to collect visual feedback from clients and team members and report it directly into your existing project management tools through pre-built integrations with Trello, Asana, Jira, GitHub, GitLab, Bitbucket, and Slack.
The main distinction of this tool is that, instead of aiming to provide you with project and task management features that you may or may not use, Marker.io is designed to work seamlessly within the task and project management system you've already got in place.
Market.io is quick to implement as a web-based tool with a browser extension that allows you to capture issues and ideas from any webpage. When you take screenshots, it automatically saves information like browser version, OS, and screen size. Users can explain their feedback with tags, descriptions, and annotations.
Marker.io also provides bug report templates to quicken the bug reporting process. Marker.io is currently working with: Jira, Trello, Asana, ClickUp, Teamwork, Notion, Wrike, Monday.com, GitLab, Linear, Bitbucket, and Shortcut.
Marker.io costs from $39/month for 5 users with unlimited projects and guests. They have a 15-day free trial available.
3
BugHerd
Best for tracking bugs visually
BugHerd is a visual bug tracker that sits in a virtual layer on top of your website. Once installed either through browser extension or through a one-line JavaScript tag, it enables your team and clients to report bugs and manage all the communication to resolve them directly on your site. BugHerd is hailed for being intuitive and easy to use, especially with non-developers. Project managers of teams who handle a lot of client feedback on websites love BugHerd for the simplicity in gathering feedback from multiple sources and managing it to completion. BugHerd also offers zero-project limits on all their plans.
To report a bug, users point & click on website elements, to which you can add statuses, due dates, files, comments, etc. Feedback is automatically added to a customisable Kanban-style task management board, along with essential data (OS, browser, etc). When working on a mobile-friendly website, you can log tasks and manage your workflow across mobile devices.
Overall, Bugherd's biggest benefit is its visual simplicity and ease of use, even for non-technical folks. Its biggest drawback is found in its lack of integration with WordPress, although you can bridge the gap with Zapier. Likewise, aside from task boards and task lists, BugHerd's reporting features are pretty slim, but I expect you'll be able to round out its reporting functionality with some native integrations that they have in the works at this moment. You can also export data from BugHerd in CSV, XML, and JSON formats.
BugHerd costs from $39/month for 5 users. They offer a discount of 20% for annual plans and a free 14-day trial with no credit card required.
4
DoneDone
Best for collaborative bug tracking
DoneDone is a collaborative bug tracker that gives your dev team a simple way to track bugs and fix them efficiently. DoneDone users access a sleek dashboard that displays all tasks and issues. These can be categorized by priority, due date, status, task name, assignee, and more.
DoneDone users can create unlimited bug tracking tasks manually in a few simple steps, or tasks can be automatically created by end-users via DoneDone's "Mailboxes" feature. Mailboxes can be configured to accept inbound bug notices sent by end-users via embedded web forms or directly from emails sent to an email address of your choice. You can easily set up multiple Mailboxes to track bug notifications from multiple sources.
Most dev teams have repeatable processes to resolve issues. DoneDone allows users to create Custom Workflows and Statuses to save you time and energy while categorizing and assigning recurring issue types.
DoneDone has a mobile app and pre-built integrations with other applications such as Slack and Glip. The app has just about everything most teams need for an effective bug tracking system, yet DoneDone is still known for its simplicity. It's robust enough to handle most bug tracking demands and simple enough that it can be used by non-technical employees for tracking other tasks.
DoneDone starts at $5/user/month. They offer a 20% discount for annual plans.
5
Backlog
Best bug tracking tool for software development teams
Backlog is one of the more feature-rich bug tracking tools on this list and is really more of an online project management tool for developers rather than strictly a defect tracking tool. It includes features for task management, project management, bug tracking, and version control. Available both as a self-hosted solution and as a SaaS, it's a good fit for teams of all sizes, from small teams to enterprises with thousands of users.
A main benefit of Backlog is its intuitive interface that's easy for anyone to learn (developers, designers, clients)—it's not solely designed for development teams, offering useful visualization and PM tools like burndown charts, git graphs, and Gantt charts. Much more than a bug-capturing tool, Backlog enables pull requests, merge requests, and branches, and it provides features for code review and collaboration (wiki, Git and Subversion repositories). At the same time, if you already have PM tools you're happy with, Backlog's rich feature set might not be as much of a consideration.
Backlog comes with a few useful pre-built integrations with Typetalk, Cacoo, Redmine, Jira Importer. iCal, email, and Google Sheets. For additional integrations you can build your own through the API. They also have an app for both Android and iOS, so your clients and teams can access the tool from mobile devices.
Backlog costs from $35/month for up to 30 users. They also offer a free version for up to 10 users and 1 project.
6
DebugMe
Best bug tracking tool for small and mid-size teams
DebugMe is a visual feedback and bug tracking tool with some really useful project management features built in. It's a simple, easy-to-learn solution with minimal features, making it a good fit for small and mid-sized teams (their enterprise plan caps out at 60 users).
The main upside of this tool is that it's straightforward to use and not overloaded with modules and features. On the other hand, it doesn't offer anything in the way of reporting tools—for capturing and resolving bugs, it's great, but it doesn't do much else (which may be exactly what you need).  The pricing reflects this, and it's one of the more affordable bug tracking tools out there at $8/month for 10 users.
DebugMe provides teams and clients with the ability to leave on-site feedback in the form of highlights, pins, blackouts, and drawings. The screen capture tool automatically records important information about the OS, resolution, browser version, plugins, etc. You can communicate through comments, change the status of a bug, get notifications based on your role, and manage tasks on the app's Kanban board.
DebugMe comes with native integrations with Trello, Redmine, Jira, Gmail, Pivotal Tracker, Teamwork, Visual Studio Online, Outlook, and Yahoo, and you can sync with other tools through Zapier.
DebugMe costs from $8/month for 10 users, and they also offer a free plan for 2 users.
7
Zoho Bug Tracker
Best bug tracking tool for reporting features
Zoho advertises their bug tracker as "simple, fast and scalable", and they deliver on this promise. Their tool enables you to record bugs and tracks them based on severity, due date, and custom-set statuses and fields.
Zoho Bug Tracker supplies an interface that you can personalize with their configuration tools, alongside a range of useful features for time management and project management (not just bug tracking). The reporting features let you see logged and resolved bugs in addition to team progress and milestones. The timesheet feature allows your team to log their hours. Notifications and newsfeeds keep the team up to date, and you can also automate your SLAs—set rules to trigger updates in other apps when changes are made within Zoho, or trigger an automated email to a client.
Overall, Zoho has better reporting, notifications, and integrations that many other bug tracking tools, so it's a good choice for teams who need to distribute and access data about their bugs at various points in their workflow. However, it lacks the visual appeal of tools like BugHerd which allows clients and teams to leave feedback directly on web pages and images.
Zoho Bug Tracker comes with pre-built integrations with a large assortment of 3rd party tools: Crashlytics, Zapier, Dropbox, Box, GitHub, Bitbucket, Jira, OneDrive, Google Drive. It also sync with Zoho apps like Desk, Analytics, People, Books, Invoice, Docs, Forums, and Chat.
Zoho Bug Tracker costs from about $3/user/month billed annually. Also has a freemium plan for upto 3 users for 2 projects
8
Bugyard
Best bug tracking tool for freelancers
Bugyard is designed to help you manage bugs, both during development with feedback from team members and clients and also on your live website with tools for capturing feedback from users. This is a simple, streamlined tool that works well for freelancers, small teams, and small-to-mid-sized agencies.
Bugyard isn't bogged down with features, but it does include the bug tracking essentials. It provides a visual bug capture that automatically adds useful information to the capture (screenshot, technical metadata like browser, screen resolution and size, OS), as well as some simple collaboration tools for commenting and sharing feedback. Through its integration with Zendesk and Freshdesk, Bugyard also allows you to capture feedback from users on your live website and add those issues to your workflow.
Bugyard doesn't have much in the way of task management or reporting features, so it's best for teams who are already using other tools like Trello in order to manage their workflow, set statuses and priorities, etc. For now, Bugyard's integrations are minimal but useful: Zendesk, Freshdesk, Trello, Gmail, and Slack.
Bugyard costs from €9/month for 2 users.
9
Rollbar
Best bug tracking tool for agile workflows
Unlike most other tools on this list, Rollbar is designed to help you debug your software in production—it's not a client feedback tool, but rather an error monitoring tool for agile deployment and continuous delivery. As such, it provides features for development teams to to get real-time visibility into errors, trace their root cause, and manage issues through to resolution.
Rollbar offers some best-in-class issue tracking features, including a real-time error feed, instant notifications that can be sent through your existing project tools, and impact analysis tools. It automatically gathers data about an error (HTTP request parameter, browser, OS, language, etc). Another useful function this tool performs: Rollbar uses a proprietary technology to automatically group similar errors together, reducing noise for your dev team as they sift through errors.
Rollbar offers a large number of native integrations: Asana, Bitbucket, Campfire, Heroku, GitLab, Help Scout, Datadog, Engine Yard, Flowdock, GitHub, HipChat, Clubhouse, OpsGenie, Pagerduty, Pivotal Tracker, Slack, Split, Sprintly, Trello, VictorOps, Webhooks, Codeship, Buddy, Bash, Octopus, Powershell, Jira, Jenkins, Ansible, Capistrano, Fabric, MSBuild, and Google Cloud.
Rollbar costs from $41/month. They also offer a free version for side projects and hobbies.
10
MantisHub
Best bug tracking tool for integrations
Founded by a MantisBT project lead, (MantisBT is a free, open source bug tracker has been around since 2000), MantisHub is a SaaS bug tracking tool that offers a powerful suite of issue management, customer support, project management, release management, and reporting features.
For the price, MantisHub provides a larger-than-average array of features—personalized dashboards, access controls for administrators, team members, and clients, customizable issue fields, notifications, comments, a built-in customer support platform, project timelines with a live activity stream, time-tracking, and plenty of graphical reporting tools.
MantisHub also touts a long list of plug-ins, along with built-in integrations with Clockify and Toggl to import MantisHub issue data directly into those time-tracking apps. MantisHub also integrates with other tools like Slack, JetBrains, and Eclipse IDEs (and your dev team can use the MantisHub API with C# and PHP client SDKs in order to integrate with the tools you're using).
Mantis costs from $4.95/month for 5 users and 1 project.
Full Listicle Block Settings:
Ad Group: Bug Tracking Tools
Number of Ads: 10
Résumé des meilleurs outils de suivi des bugs
Le tableau ci-dessous fournit un résumé de base des principaux logiciels de suivi des bugs inclus dans cette revue. Obtenez un aperçu du prix, des essais et de la note global de qualité de chaque outil. Ensuite, lisez les critiques détaillées ci-dessous.
Summary Table Block Settings:
Ad Group: Bug Tracking Tools
Number of Ads: 10
Autres outils de feedback pour intégrer le feedback des utilisateurs
Si vous ne vous contentez pas d'obtenir les commentaires sur votre projet et sur votre équipe client, vous pouvez également demander aux utilisateurs et aux visiteurs du site. Voici quelques outils pour vous aider à capturer les bugs et les commentaires:
Vous voulez de l'aide pour réduire les options?
Cet outil est très utile. Nous nous sommes associés à Crozdesk pour vous donner accès à leur "Software Finder".
Si vous saisissez certains détails sur votre projet et les fonctionnalités que vous recherchez dans un outil de gestion de projet, une liste d'outils correspondant à vos préférences sera générée. Vous fournissez votre email, et ils vous envoient un beau guide PDF avec un résumé de vos meilleures options.
Critères de sélection des outils de suivi des bugs
En préparant cette évaluation, j'ai cherché des traqueurs qui répondaient à tous ou à la plupart de ces critères clés:
Feedback sur le site: permet aux clients ou aux membres de l'équipe d'annoter, surligner, épingler ou laisser un feedback pour identifier et décrire un bug directement sur le site. C'est utile parce qu'il fournit un contexte qui facilite la compréhension de la question à laquelle ils font référence.
Intégration: s'intègre aux outils communs de gestion de projet, exporte directement les données et génère des notifications dans ces outils afin de vous aider à gérer votre suivi des bugs à partir d'un seul endroit.
État du problème: permet de définir et de modifier l'état d'un problème. Certains des meilleurs outils ont également un certain niveau d'automatisation – lorsque l'état d'un problème change, il envoie des alertes automatiques à certains utilisateurs ou il met automatiquement à jour le problème dans le tableau des tâches.
Notifications: offre soit des notifications dans l'application (de base), soit des notifications dans des applications tierces (encore mieux) lorsqu'un bug est signalé, assigné, résolu, commenté, etc. Les meilleurs outils vous permettent de personnaliser vos notifications et/ou de recevoir des notifications personnalisées en fonction de votre rôle utilisateur (administrateur, développeur, client, etc.)
Reporting: fournit au minimum une liste de tâches ou une vue d'ensemble avec un enregistrement des problèmes et de tous leurs statuts associés, étiquettes, cessionnaires, etc.
Prix: Un bon outil de suivi des bugs devrait avoir une tarification transparente et flexible. Votre prix par utilisateur peut varier considérablement entre moins de 1.00$ par utilisateur par mois et 15.00$ par utilisateur par mois. En chiffres approximatifs, le prix moyen d'un outil de suivi des bugs par utilisateur est d'environ 3.00$ à 5.00$ par utilisateur et par mois.
Autres fonctionnalités à prendre en compte
Certains des meilleurs outils de suivi des problèmes logiciels sur le marché offrent également des fonctionnalités comme la logique de priorisation (aide à déterminer automatiquement les bugs à corriger, dans quel ordre et combien de temps cela va prendre). En plus d'être de simples outils de capture de bugs, certains fournissent également des mesures de performance conçues pour donner un aperçu à la direction pour maintenir les horaires et coordonner le travail entre les équipes. Cependant, dans cette revue, je me concentre sur l'examen des outils basés sur les critères de base de l'outil de suivi des bugs énumérés ci-dessus.
Comment choisir le meilleur outil de suivi des bugs pour votre équipe?
D'abord et avant tout, l'avantage de choisir un outil de suivi des bugs, c'est que presque tous sont à faible risque – ce sont des outils simples, faciles d'accès et qui permettent de se faire une idée dans les essais gratuits. Dans l'ensemble, il s'agit d'un investissement léger et à faible risque qui n'a pas d'impact sur une grande partie de votre infrastructure existante.
Néanmoins, vous pouvez vous épargner les tracas d'une série d'outils de suivi des bugs en vous posant ces questions de qualification importantes pour choisir le bon:
Pourquoi en avez-vous besoin?
Les outils de suivi des bugs sont conçus pour quelques scénarios d'utilisation différents. Trouvez le bon choix ici:
Si vous avez besoin de trouver des erreurs et des bugs tout au long de votre cycle de développement, optez pour des outils orientés développeurs comme Rollbar.
Si vous avez besoin d'un outil permettant aux clients de donner leur avis à vos équipes. Bugherd, TrackDuck, DebugMe, Marker et Bugyard sont d'excellents outils visuels faciles à apprendre et à utiliser pour les clients.
Quelle est la taille de votre équipe?
Avant de tomber amoureux d'un outil, vérifiez combien d'utilisateurs il supporte. Alors que certains outils peuvent prendre en charge une équipe au niveau de l'entreprise, de nombreux outils de suivi de bugs sont vraiment conçus pour des équipes de petite ou moyenne taille et ils ont une limite sur le nombre maximum d'utilisateurs. Des outils comme Backlog, Zoho Bug Tracker et DoneDone sont parfaits pour les grandes équipes distribuées. Des outils comme DebugMe et Bugyard sont conçus pour les petites et moyennes équipes.
Combien de projets devez-vous tester?
Beaucoup d'outils de suivi des bugs évaluent leurs plans en fonction des projets actifs avec les utilisateurs, vous devriez donc considérer combien de projets vous aurez besoin de tester. Les outils qui offrent des projets illimités comme Bugherd, Backlog, Zoho Bug Tracker, DoneDone, Bugyard, et Marker.io sont bons pour les équipes avec beaucoup de projets.
Comment s'intègrera-t-il à votre flux de travail et à votre boîte à outils actuelle?
La plupart des outils de suivi des bugs ne sont pas conçus comme des outils autonomes. En fait, plusieurs outils de cette liste, comme TrackDuck, DebugMe, Bugyard et Marker.io offrent des fonctionnalités minimales allant au-delà de la simple capture et du suivi des Bugs, alors il est conseillé de consulter les outils de gestion de projet qu'ils utilisent (Trello, Slack et Jira sont communs) et voir si ceux-ci conviennent pour votre workflow. Si vous n'utilisez pas déjà ces outils de projet supplémentaires, comment leur adoption affecterait-elle votre flux de travail, votre budget, etc.
D'autre part, quelques outils fournissent des fonctionnalités supplémentaires pour le suivi et l'analyse de vos projets, tâches et temps. Il s'agit notamment des options Backlog, DoneDone, Rollbar et MantisHub – de bonnes options si vous n'êtes pas fortement investi dans d'autres projets, tâches et outils de gestion du temps.
Qu'en pensez-vous?
Avez-vous de l'expérience avec l'un de ces outils de suivi de bug? Quelles sont, selon vous, les principales caractéristiques qu'ils devraient inclure? Partagez vos idées avec notre communauté ci-dessous.