Preguntas Frecuentes Acerca de los Diagramas de Gantt

Si eres gerente de proyectos, probablemente has buscado una forma de hacer un gráfico de Gantt online. La cosa es… no solo los gerentes de proyectos necesitan un creador de gráficos de Gantt. Prácticamente todas las tareas, proyectos, departamentos o esfuerzos coordinados de cualquier tipo podrían beneficiarse al emplear un simple diagrama de Gantt para delinear su punto de partida, progreso y destino previsto.
¿Buscas algo más que un creador de gráficos de Gantt? Echa un vistazo a nuestras otras listas de herramientas de planificación de proyectos para administrar equipos, recursos y proyectos:
¿No estás 100% impresionado con los diagramas de Gantt? También reseñamos las mejores herramientas ágiles de 2019.
Cualquiera que esté buscando el "mejor diagrama de Gantt" también debe conocer la importancia de las excelentes herramientas de gestión de proyectos en general, muchas de las cuales incluyen diagramas de Gantt como un elemento de un conjunto completo de planificación de proyectos.
¿Buscas una alternativa más sólida a los diagramas de Gantt para las líneas de tiempo y la planificación? También repasamos algunos de los mejores programas de programación de proyectos de 2019.
Escribí este artículo para ayudarte a comparar y evaluar rápidamente el mejor software de diagramas de Gantt y las herramientas de planificación de proyectos.
Como gerente de proyectos, es muy probable que hayas visto uno o dos diagramas de Gantt en el trabajo. Popularizado por Henry Gantt a principios de 1900, el diagrama de Gantt ha sido durante mucho tiempo la herramienta favorita para planificar actividades, crear líneas de tiempo y ver todos los aspectos de un proyecto desde una perspectiva macro.
Los diagramas de Gantt ayudan a planificar, administrar y ejecutar. Es por eso que, como gerente de proyectos, no puedes prescindir de ellos, así que comienza a usar diagramas de Gantt y sigue leyendo para descubrir los programas principales que recomiendo para crearlos, compartirlos y usarlos.
Escribí este artículo para ayudarte a comparar y evaluar rápidamente el mejor software de diagramas de Gantt y las herramientas de planificación de proyectos.
Como gerente de proyectos, es muy probable que hayas visto uno o dos diagramas de Gantt en el trabajo. Popularizado por Henry Gantt a principios de 1900, el diagrama de Gantt ha sido durante mucho tiempo la herramienta favorita para planificar actividades, crear líneas de tiempo y ver todos los aspectos de un proyecto desde una perspectiva macro.
Los diagramas de Gantt ayudan a planificar, administrar y ejecutar. Es por eso que, como gerente de proyectos, no puedes prescindir de ellos, así que comienza a usar diagramas de Gantt y sigue leyendo para descubrir los programas principales que recomiendo para crearlos, compartirlos y usarlos.
Compara y Evalúa Rápidamente los 10 Mejores Creadores de Diagramas de Gantt
Dependiendo de los requisitos y presupuesto, hay herramientas creadoras de diagramas de Gantt en línea que se pueden adaptar a tus necesidades. Aquí, analizo las ventajas y desventajas de los mejores programas de modelos de diagramas de Gantt que hay en el mercado.
En esta publicación:
Compartiré el software de planificación para que lo incluyas en tu lista de modelos de diagramas de Gantt.
Explicaré qué son las herramientas de diagrama de Gantt.
Explicaré cómo los diagramas de Gantt pueden ayudar a establecer una línea de tiempo online.
Responderé algunas preguntas frecuentes sobre el software de diagrama de Gantt
Te diré lo que debes buscar cuando estableces una línea de tiempo en online.
Explicaré nuestros criterios de evaluación para las herramientas de diagramas de Gantt.
Proporcionaré una comparación simple de herramientas de modelos de gráficos de Gantt.
¿Listo para encontrar el creador de gráficos de Gantt que siempre quisiste? Comencemos.
The Digital Project Manager es financiado por sus lectores. Cuando haces clic en los enlaces de nuestro sitio, podríamos ganar una comisión. Más información.
Criterios Comparativos de Creadores de Diagramas de Gantt Online
¿Qué es exactamente lo que busco en el "mejor" software de gráficos de Gantt? Aquí están algunos de los puntos que considero en cada reseña:
Interfaz de usuario (UI): ¿Qué tan bien diseñada está? ¿Ofrece vistas claras y navegación intuitiva?
Usabilidad: ¿Es fácil de aprender y dominar? ¿Hay tutoriales y capacitación? ¿La compañía ofrece buena tecnología y soporte al usuario?
Características y funcionalidad: ¿Cuántas de las características y funciones clave del cuadro de control del tiempo proporciona y qué tan potentes son? Específicamente, busqué:

Colaboración y uso compartido: capacidad para establecer roles, asignar tareas a los miembros del equipo (la colaboración en tiempo real para trabajar simultáneamente con colegas en diagramas de Gantt es una ventaja). Comentar tareas y adjuntar archivos, fotos, videos, notas o documentos. Compartirlos y exportarlos a formatos populares como PDF, PNG, XLSX y XML.
Arrastrar y soltar: organizar, extender y acortar fácilmente las tareas simplemente haciendo clic y arrastrando. Del mismo modo, el software debe hacer que sea intuitivo hacer clic y agregar rápidamente tareas, dependencias, atributos, endentar y alargar, y prioridades.
Notificaciones y alertas: recibir notificaciones sobre menciones, cambios, próximas tareas y elementos en riesgo que permitan volver a priorizar las tareas y compartir las actualizaciones correctas con los interesados.
Programación automática: también llamada seguimiento de dependencias, lo que significa que el software ajusta automáticamente las tareas posteriores según las dependencias, recalculando las tareas en cascada cuando una tarea anterior sufre cambios.

Integraciones: ¿Es fácil conectarse con otras herramientas? ¿Hay alguna integración por defecto?
Relación Calidad-Precio: ¿Qué tan apropiado es el precio para sus características, capacidades y casos de uso? ¿La fijación de precios es clara, transparente y flexible?
La Lista de Herramientas de Diagramas de Gantt Definitiva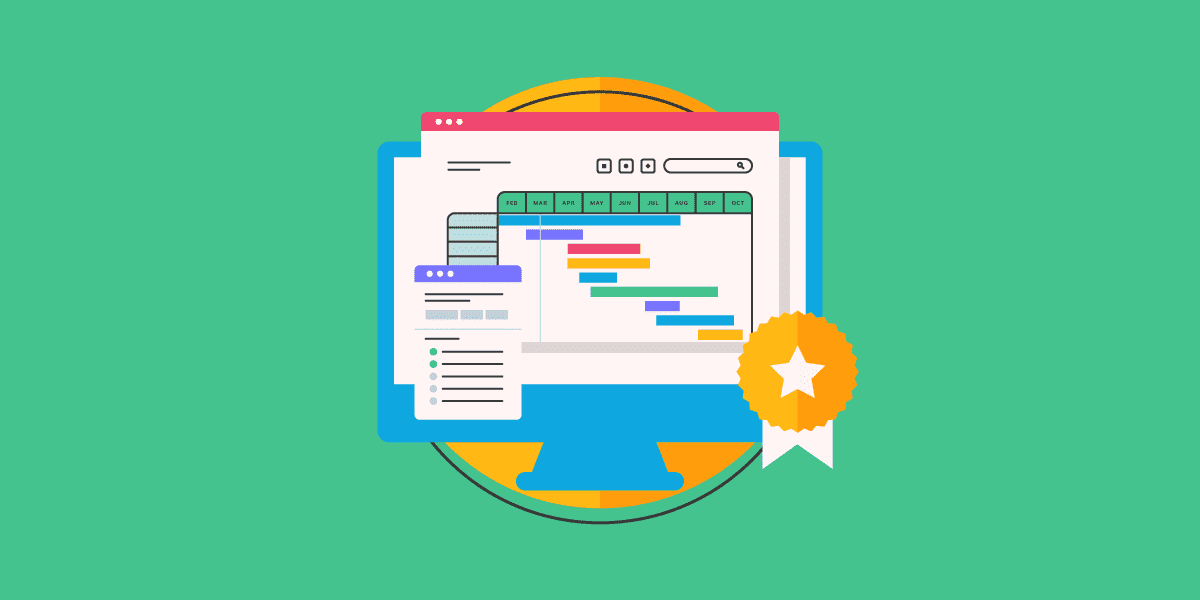 Si quieres establecer una línea de tiempo online, necesitarás un software de planificación de proyectos de primera clase. Ya sea que quieras crear un diagrama de Gantt desde cero o crear uno con modelos preexistentes, hay muchas herramientas de planificación de proyectos diseñadas para ayudarte. Aquí está mi lista de los diez mejores programas de gráficos de Gantt:

Smartsheet is used by big names like HP, Netflix, Cisco, and Hilton. Smartsheet helps you organize projects, grids, calendars, dashboards, portals, forms, and more all from a unified control center. They have pre-built Gantt chart templates with customizable fonts and colors, "% Complete" and "Assigned To" columns, and more.
While their alert and notification systems meet our general evaluation criteria, there have been some reports that automation sometimes goes down, causing regular notifications not to send, unbeknownst to the user. While this has never happened to us, it is something to be wary of.
Smartsheet integrates with Google G-Suite, Microsoft Office 365, Box, DocuSign, Slack, Workplace Chat, Microsoft Teams, Google Hangouts Chat, Skype for Business, Gmail, Outlook, and many other apps. Some integrations require Business or Enterprise plans.
The cons of a web-based app is that it may be slow to load or update at times and there will be occasional outages for updates (they warn in advance). Report extraction could be a bit more flexible in its output, particularly when it comes to data that would benefit from a visual-heavy approach (you might have to tag in a different app for that).
Smartsheet costs from $7/user/month, with a minimum of 3 users and a maximum of 25 users. They also offer a 30-day free trial.
monday.com does many things related to project planning and resource tracking. Gantt charts are just one of the key features offered in this work management suite. With monday.com, you can see your project timeline at a glance, spot upcoming deadlines, and monitor the health of different tasks.
One of the things we always look for in our evaluation criteria is intuitive and aesthetic UX and general usability, which is an area where monday.com excels. monday.com's user-friendly design is great for team members who are a bit tech-phobic or who are new to digital project planning tools.
monday.com boasts integrations with the likes of Dropbox, Excel, Google Calendar, Google Drive, Integromat, Slack, Trello, and even more through paid plan with Zapier.
monday.com could benefit from a simpler pricing rubric, which currently requires a 3+ user commitment to one of 4 different paid plan options, one of which (the lowest paid tier) doesn't even include timeline view and Gantt charts in its feature list.
monday.com costs from $14/user/month for the lowest tier plan that included Gantt charts. The 14-day free trial will let you test them out before you buy.
ClickUp is a project management tool and Gantt chart maker for planning and organizing projects, ideas, deadlines, and more.
ClickUp's dynamic Gantt timeline lets you schedule tasks, keep up with project progress, manage deadlines, schedule tasks, manage dependencies, and handle bottlenecks. The tool also features color-coding for further organization and clarity.
Users can create tasks and link them with dependencies. The tool includes drag and drop actions for updating projects and it automatically reschedules tasks based on dependencies. ClickUp's Critical Path feature provides intelligent dependency-path tracking that reveals potential bottlenecks.
ClickUp also includes features for creating, sharing, and collaborative editing for Wikis and documents. Users can comment on documents and tasks, assign comments, and chat with other team members for increased communication and collaboration.
ClickUp offers native integrations with Slack, G Suite, Dropbox, and many more tools, as well as over 1,000+ integrations through Zapier.
ClickUp's free plan is robust and includes all primary features. The unlimited plan starts at $5 a month per user and offers additional functionality.
Wrike is an award-winning, easy-to-use project management software trusted by 20,000+ organizations worldwide. The tool is suitable for teams with anywhere from five to an unlimited number of team members. Users can create Gantt charts in one click, as well as customize workflows, dashboards, reports, request forms, and more.
Wrike's simple interface enables users to switch between Kanban boards, one-click Gantt charts (that can be adjusted with drag-and-drop), and traditional workload views, allowing teams to choose how to work. Wrike also features task lists, subtasks, task dependencies, shared workflows, file sharing, and real-time collaboration.
Wrike has an easy-to-use, intuitive interface and navigation with distinct spaces, folders, and tasks. Toggle quickly between the home screen and timesheets, dashboards, calendars, reports, and a notification and activity stream.
Wrike's features can be configured for each individual team's needs, as well as for specific teams such as marketing teams and professional service teams. Users can also try a variety of templates for common organizational processes with several of these templates featuring Gantt charts.
Wrike offers 400+ pre-built native integrations, including integrations with the most popular file management software from Microsoft, Google, and Dropbox, along with sales and marketing software from Salesforce and Marketo.
Wrike starts at $9.80 per user per month. There are four different price points, including a free version and plans which offer the ability to invite free external collaborators to a paid account.
GanttPRO has a clean user interface and an intuitive UX/UI design. It's easy to navigate and learn as well, which is a plus for usability.
GanttPRO offers a range of project management, project portfolio management, risk management, team collaboration, and resource and cost management features. You can easily create tasks and set statuses, priorities, dates, deadlines, progress, and time logs, as well as assign tasks, set dependencies between connected tasks, and add milestones. The auto-scheduling feature ensures any changes in your tasks, dates, or dependencies are automatically reflected.
Moreover, you can switch between views to get more flexibility. Besides the native Gantt chart timeline, you can use a board view or a task view. GanttPRO also includes comment, notification, and mention functionalities, and is useful for resource management and task redistribution.
There is also a useful functionality that allows you to import MS Project Files, .xlsx files, and .csv files directly.
A plan for 1 user starts from $15 if billed annually. Team plans start from $8.90 per user per month if billed annually. You can try a 14-day free trial or book a personal demo.
ProjectManager cloud-based, interactive Gantt chart maker pairs on-screen with a detailed spreadsheet populated by customizable data to complement your chart, be it currency details, work breakdown structure numerals, actual vs planned cost/duration/hours, or planned start and finish dates. The menu icons let you turn tasks into subtasks, mark milestones, and link dependencies with minimal effort. Teams can collaborate directly in the Gantt with @mentions, task comments, file sharing and more. Plus, any updates made in the Gantt will automatically update in other project views.
ProjectManager used by organizations such as NASA, Avis, and the University of Washington. It combines one of the industry's best Gantt chart makers with many other project views—kanban boards, spreadsheets, task lists, and so on—to support the needs of today's hybrid teams. ProjectManager is highly customizable and yet maintains a fair ease-of-use that will be appropriate for your whole team, no matter their experience level with project management platforms.
With their entry-level paid plan (Teams), ProjectManager gives you access to key features like unlimited file storage, expenses and budgeting, skill tracking, time tracking and holidays, and 24-hour customer support. These are often linked to much higher subscription tiers for other, similar software on the market.
ProjectManager integrates with MS Project, Excel, Office 365, Salesforce CRM, QuickBooks, Xero, Dropbox, Desk.com, JIRA, Hubspot, Slack, Zendesk, Evernote, OneLogin, OneDrive, and the complete Google Suite. They also have a powerful REST API to help you build against internal or external tools (Enterprise plan needed).
ProjectManager costs from $11.50/user/month (annually) and comes with a generous 30-day free trial. They have a free plan for up to 3 users but this does not include Gantt charts.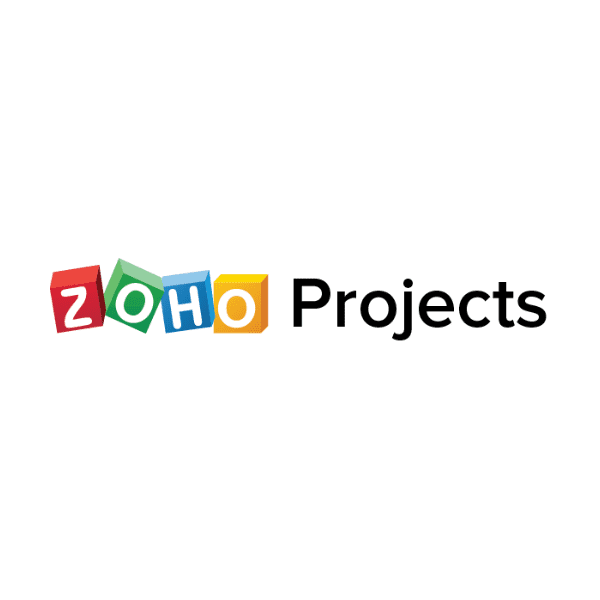 10 days free trial
From $4/user/month billed annually. Also has a freemium version upto 3 users for 2 projects
Zoho's comprehensive project management solution offers a built-in Gantt chart maker that generates Gantt charts automatically from your tasks and task lists. The Gantt chart is interactive allowing for revision of plans and also in analyzing timelines using baselines and critical path.
By adding multiple users to the portal, populate the project and never miss the details. The click and drag Gantt chart interface helps users to manipulate timelines, reallocate tasks, create dependencies and much more. Export and share Gantt charts to PDF, task and task lists to XLS/CV. With the blueprint task automation feature, you can automate repetitive tasks and notifications.
The interface and modules are highly customizable. All aspects of the UI from theme colors to arrangement and visibility of the various modules can be changed to suit a user's preferences. Zoho projects also offers free onboarding for its customers and a comprehensive online help guide for all users. Zoho Projects is one of the few PM tools that allows the creation of dependencies between projects.
Zoho Projects stands out in cases where there are multiple hand-offs involved. It is especially popular among IT companies, consultants and education organizations. The tool is trusted by over three million users and hundreds of big brands across the globe.
Being part of the Zoho's ecosystem allows Projects to connect to several of Zoho's own services such as Zoho Books, Zoho CRM and Zoho's finance suite. The new Zoho marketplace allows 3rd party integrations as well.
Starts from $4/user/month billed annually. Also has a freemium version upto 3 users for 2 projects. No credit card information required.
Used by Amazon and Netflix, TeamGantt is a Gantt chart maker with a freemium version for smaller groups and teams who don't yet need an upgrade to a paid plan. TeamGantt specializes in task planning tools and charts but they also track workloads and team availability, collaboration features like chat and tagging, and customizable alerts.
The Gantt chart dependencies can be a bit tricky to navigate the more of them you have and making a wrong move will shift everything you have done. Furthermore, "undoing" a mistake (an allowed feature) logs into the system as "X number of changes" depending on how many dependencies were repositioned, despite the fact that it really is only a single change.
TeamGantt scores well in the Usability segment of the evaluation criteria, as it is incredibly flexible to use. The tool is accommodating to however you may want to set up and track your projects, no matter their structure or constraints. Additionally, providing an easy "read-only" URL makes it great for sharing with outside parties for input.
TeamGantt costs from $24.95/month and has a freemium version for up to 3 users.
Canva does more than just Gantt charts: You'll find templates for slideshows, presentations, infographics, graphs, emails, and more. They have a simple drag-and-drop interface that makes it easy for non-designers to create aesthetically pleasing designs with minimal effort.
They offer quite a bit for their price, per our evaluation criteria, but free users won't have access to everything. While Canva is free to tinker with, it will cost you to use certain designs, shapes, patterns and templates. It will also cost you to download your work in any functionable format (besides a mere screenshot). Still, the price is ideal for smaller businesses that are looking for Gantt charts along with other marketing graphics but don't have a budget for an in-house designer.
Canva integrates with WordPress, eClincher (social media), Rippling (payroll/accounting), Sendible (social media), Post Planner (social media), Viraltag (social media). As you can probably tell, their focus with integration is social media and/or content creation – if you need to access PM or workflow apps, you're out of luck.
Furthermore, if the only thing you need is Gantt charts then Canva doesn't offer the range of robust data detailing that other programs do. Rather, it's strength comes from the clean simplicity of its designs. If your project requires an in depth, multifaceted timetable, Canva probably won't be for you.
Canva Pro costs from $9.95/month and offers a free 30 day trial.
freemium version
30 days free trial. Freemium version for up to 10 users
From $35/month
Backlog is a cloud-based project management tool perfect for developers and the teams they collaborate with. Backlog provides a range of useful collaboration features including task management (including subtasks, checklists, and custom fields), milestones, burndown charts, file management, wikis, and most importantly, a Gantt chart maker. But Backlog is more than a collaboration and Gantt chart tool, it's also a bug tracker and version control system in one.
For collaborating on code, Backlog provides SVN and Git repositories, a differences viewer and inline comments, plus pull requests, merge requests, and branches. Visually, the app provides burndown charts, Git graphs, and Gantt charts, so project managers and users alike can quickly assess projects at a glance.
Backlog allows you to assign, track, and release work, right in one app while ensuring transparency and accountability across teams. If you're looking for a tool to help manage development projects or working closely with a team of developers, this is the app for you.
Backlog works for a range of team sizes. They have a free account available to teams of up to 10, while also offering a self-hosted Enterprise option for larger companies. They also provide a mobile app on both iOS and Android for collaborating on-the-go. It integrates with Nulab's other apps and provides both Redmine and Jira importers.
Backlog is free for up to 10 users with some feature limitations or $35/month for up to 30 users. For $100/month, your team gets unlimited users, i.e. their Standard Plan.
Tabla Comparativa De Los Mejores Creadores De Diagramas De Gantt
Otros Creadores de Líneas de Tiempo Online
Las herramientas enumeradas anteriormente no son los únicos creadores de diagramas de Gantt que existen actualmente. Aquí hay algunas más herramientas de Gantt que merecen una mención honorífica.

¿Necesitas Ayuda Para Reducir las Opciones?
Esta herramienta es bastante útil. Nos hemos asociado con Crozdesk para brindarte acceso a su "Buscador de software".
Si ingresas algunos de los detalles sobre tu proyecto y las funciones que buscas en una herramienta de administración de proyectos, generará una lista de herramientas que coinciden con tus preferencias. Sólo debes proporcionar tu correo electrónico y te enviarán una bonita guía en PDF con un resumen de las mejores coincidencias.
¿Qué Opinas Acerca de software Top Gantt Chart?
Los diagramas de Gantt son solo una de las formas en que puedes hacer un seguimiento de cómo inviertes tu tiempo, estableces prioridades, planificas con anticipación, te mantienes organizado, programas el tiempo y delegas. Todas ellas son las características clave de un maestro de la administración del tiempo. ¿Qué software de gráficos de Gantt es la mejor opción para ti? ¿Hay algo que crees que debería haber sido agregado a la lista y no está? Dinos en los comentarios.