Wrike vs ClickUp explained: Similarities, differences and find out which is best for you.
Summary
Wrike and ClickUp are professional services automation software that often gets compared because of how similar they are. Choosing between the two can be difficult, so it is vital to know about the similarities and differences between the two. Knowing the strengths and weaknesses of software can help you determine which between the two will meet the demands of your business.
My goal is to provide you with everything you need to know to get the project management software that will work best for you.
Hive vs Mavenlink Overview
Jump to side by side comparsion
Expert Summary: Wrike vs ClickUp
Wrike and ClickUp are project management software that can help companies improve productivity through a wide range of task management, file-sharing, resource management, and collaboration tools. Aside from Wrike and ClickUp's native productivity apps, users can integrate additional third-party apps like Asana, Slack, Jira, and Basecamp to ensure that they have all the tools they need to improve work management. Users can also use API to develop their tools if they need special programs to fulfill their company's unique needs. Users can access Wrike and ClickUp on their workstations or iOS and Android mobile devices through Wrike and ClickUp's mobile apps.
Wrike would be best for marketers or advertisers who handle multiple clients because of its generous storage space for free plan holders and cloud storage integration.
ClickUp would be best for social media managers because it supports social media integration making managing clients' social media accounts more convenient.
Side by Side Comparison Of Wrike and ClickUp
Wrike is a SaaS project management tool that can help users plan, execute and assess projects. It supports the integration of third-party apps and programs such as GitHub, Asana, Microsoft Teams, Outlook, Jira, and Dropbox, allowing users to customize their programs depending on their needs. Wrike supports file sharing making it easier for users to work with other team members while maintaining privacy and data integrity.
Wrike has a free plan with unlimited users and 2GB storage per account.
Price: $9.80/user/month
Trial: 14-day free trial
Go to Wrike
ClickUp is a professional services automation software with resource management, automation, file sharing, and task management capabilities that improve how a team handles projects and crucial tasks. ClickUp allows users to create custom workspaces to work closely with other team members on a project while protecting sensitive information from users who are not part of the team. On top of workstation access, ClickUp also has a mobile app version that subscribers can use when working out of the office.
ClickUp has a free forever plan which includes 100MB storage space.
Price: $5/user/month
Trial: 14-day free trial
Go to ClickUp
Wrike vs ClickUp Comparison Criteria
How did I come up with this comparison article for Wrike and ClickUp? This is the criteria I used in creating this article:
Feature list
What do you get, and what do you not get?
Use cases
What are the most effective use cases for this feature set?
Ease of use
Is it easy to learn and master?
Integrations
Is it easy to connect with other tools?
Customer support
Can you get help easily and quickly?
Price
How appropriate is the price for the tool?
Differences Between Wrike and ClickUp
Wrike's free plan comes with a generous 2GB storage space that subscribers can use to store files or data, whereas ClickUp's free forever plan comes with 100MB of storage.
Wrike's free plan includes cloud storage integration providing customers with a secure and convenient way of accessing files while ClickUp's free plan doesn't include cloud storage.
Wrike has ad hoc reporting functionality to ensure business continuity by allowing members to assign reporting rights to another member in special cases temporarily. ClickUp lacks this functionality.
Wrike has a video proofing feature that enables users to proof and approve video assets, while ClickUp doesn't have this functionality.
Wrike users can customize their home pages through themes and color schemes, whereas ClickUp doesn't have this feature.
Go to Wrike
ClickUp's paid subscription plans come with unlimited storage space where users can store vital files or documents, while Wrike's paid plans have capped storage space allocations per user.
ClickUp supports social media integration to manage their clients' social media accounts within the software, whereas Wrike users need to use a separate social media app.
ClickUp has a native messaging feature allowing users to instantly connect with other team members for improved cooperation, whereas Wrike users need to install a third-party messaging app.
ClickUp has a gamification feature that counts on team members' competitive nature to increase productivity in the workplace. This feature is not available in Wrike.
ClickUp has an overtime calculation feature to ensure employees get proper compensation for extra hours and prevent payroll discrepancies and disputes. Wrike doesn't have this feature.
Go to ClickUp
Similarities Between Wrike vs ClickUp
Best Use Cases for Wrike vs ClickUp
Wrike Vs ClickUp Feature Comparison
Wrike vs ClickUp Pricing Comparison
This side-by-side price comparison shows Wrike's price compared to ClickUp.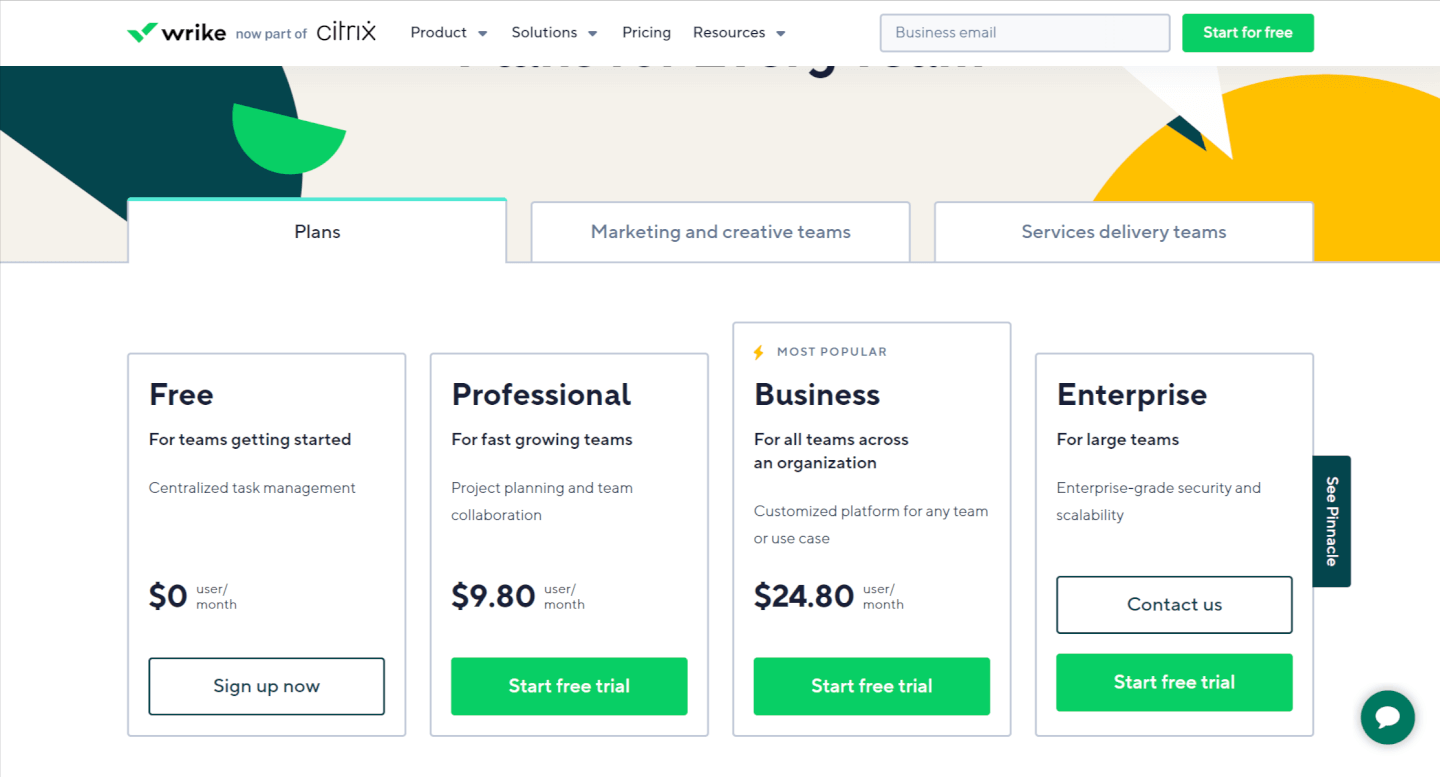 Other Wrike and ClickUp Software Comparisons
If you're still looking at the options for professional services automation software, check out our comparison with other tools.
Other Wrike software Comparisons
Here are some other project management software comparisons with Wrike:
Other ClickUp software Comparisons
Here are some other project management software comparisons with ClickUp:
Conclusion
Wrike and ClickUp are both awesome options if you want to try out some free project management software. Wrike has more feature limitations to consider but what you do have access to you can use for life. ClickUp gives you more free stuff right off the bat but usage of each item (like charts and graphs) are limited to 100X or less. Which will you choose? Let us know your thoughts in the comments.