Timesheet tracking and project management have always been problematic for creative businesses. People – especially creative people – dislike and avoid them, yet they are essential to ongoing productivity and profitability for creative professionals.
A surprisingly large number of creative geniuses still record their time on paper timesheets, on sticky-notes, or in complicated Excel spreadsheets. It is not surprising at all that they dislike taking time away from the work they love to search out docket numbers, remember project names, and record their time at the end of the day (or week… or in some cases not until the end of the month, when project managers are breathing down their necks for timesheets so they can get monthly billings done).
Functionfox – A Better Way
FunctionFox offers a better way to tackle these essential activities – one that is simple to set up and use, effective, and very affordable. Designed and developed by a creative agency, FunctionFox now has more than 100,000 users in more than 120 countries, and is the proven time-tracking and project management system for creative professionals.
The Fun Starts Here
For project managers, the fun starts when timesheets have been completed. Immediately, every time record is available throughout the system – to be tracked against estimated hours, to inform estimates for similar projects and decisions about scheduling and resource allocation, to be included in reports about clients, projects, tasks, personnel and more, and to update timelines. FunctionFox cuts admin time dramatically, and makes it infinitely easier for project managers to stay on top of everything, meet deadlines and keep to budget.
Ten Reasons Project Managers Love Functionfox
Here are 10 reasons people give for loving FunctionFox – everything from ease of use and affordability, to truly unbeatable customer service.
1. It's More Than Software
Business systems are absolutely critical to the success of creative companies, and so are the partnerships they establish. FunctionFox has made it their mission to be an extension of its customers businesses – not just a software provider. Make the choice to do business with FunctionFox and you'll quickly learn why our customers say "WOW"!
2. A Dedicated Account Rep
When it comes to customer service, FunctionFox prefers to leave it to real people with professional knowledge of FunctionFox and the creative industry. And to make sure they understand a customer's business as well as their own, they assign a representative to each customer's account. If there is ever a question or concern, this dedicated rep, or another knowledgeable service rep, will be there to handle it. They will take people through the demo, work with them to setup an account and will be there as the company grows with the FunctionFox system – all at no cost.
3. No Hardware
FunctionFox provides software as a service. There is no hardware to install, support, or upgrade. With FunctionFox, customer accounts are stored on a professional grade server with constant back-up, supported by dedicated IT staff. All that is needed is a web browser – it takes only minutes to get up and running.
4. No Contract
For FunctionFox, contracts and up-front fees just don't make sense. FunctionFox monthly subscription can be cancelled at any time without penalty. With their money-back guarantee and unlimited, personal customer support, FunctionFox's commitment to service takes the place of confusing and intimidating contracts.
5. Instant Updates
FunctionFox is continually being improved, with updates added to customer accounts whenever needed, at no extra cost. Bug fixes are instantaneous – in most cases users never know they were there.
6. Peace Of Mind
Along with a great timesheet and project management solution, FunctionFox guarantees up-time, continuous back-ups and secure storage – all at the same high-level standard banks to keep personal finances. FunctionFox IT professionals focus on keeping the system in top condition, leaving you to focus on your business.
7. Simplicity
Far too often, software gets over-developed. A formerly usable tool becomes clunky with features and capabilities that are seldom used, and soon the whole system becomes unmanageable. FunctionFox keep simplicity, ease of use, and return on input in mind in every development decision. Creative professionals don't have time to mess with complicated tools, which is why FunctionFox remains simple, straightforward, and easy to use.
8. Proven
Over 100,000 creative minds log into FunctionFox every day. This company has helped countless independent contractors and small creative firms improve accountability, cut admin time and bill what they're worth.
9. Cross-Platform Compatible
Whether customers work on a Mac or a PC, FunctionFox makes sure their system works as it was designed to do. It is compatible with the latest operating systems and browsers (including Internet Explorer, Chrome, Safari, FireFox and Edge) all users need is an Internet connection and a computer. The company's iPhone and Android apps allow users to log time on their tablet or phone, any time, from anywhere.
10. Committed To Small Creatives
Spun from an advertising and design firm, FunctionFox recognizes the unique challenges facing creative businesses. FunctionFox was developed to meet the specific needs of creative professionals, and the company continues to do so as those needs evolve. Each development decision is based on feedback from graphic designers, writers, developers, engineers, architects and other creative minds– people who face similar challenges
Free, Unlimited Customer Support
The absolute best in the business – and what has always separated FunctionFox from all the rest. Carol at Redbird Communications says, "You continue to set impossibly high standards of customer service! I'm sure other software developers must cry themselves to sleep at night wondering how they, too, can make customers happy as quickly as you do! Thanks for the help…"
What Do You Get With Functionfox?
Easy timesheets, accurate quotes, estimates, and budgets set projects up for success, but FunctionFox doesn't stop there. There are three FunctionFox versions, offering a range of capabilities designed to meet the specific needs of creative professionals, minute by minute, from the estimate through the life of the project and right up to the final invoice.
Classic
Classic helps project managers stay on top of projects and prevent scope creep, deepens understanding about the business, provides instant reports on clients, projects and personnel, and improves efficiency and accuracy when estimating time and costs for new projects. Features include:
Free customer support and timesheets with stopwatch timers
Unlimited clients and projects and flexible preference and customization options
CEO Desktop, Flink file exchange, and tasks with editable rates
Reports about clients, projects, tasks, personnel, project status and more
Estimates, quotes and budgets
Contacts and invoicing
($5 per month per user, $35/m for 1st user. Customer service is free!)
Premier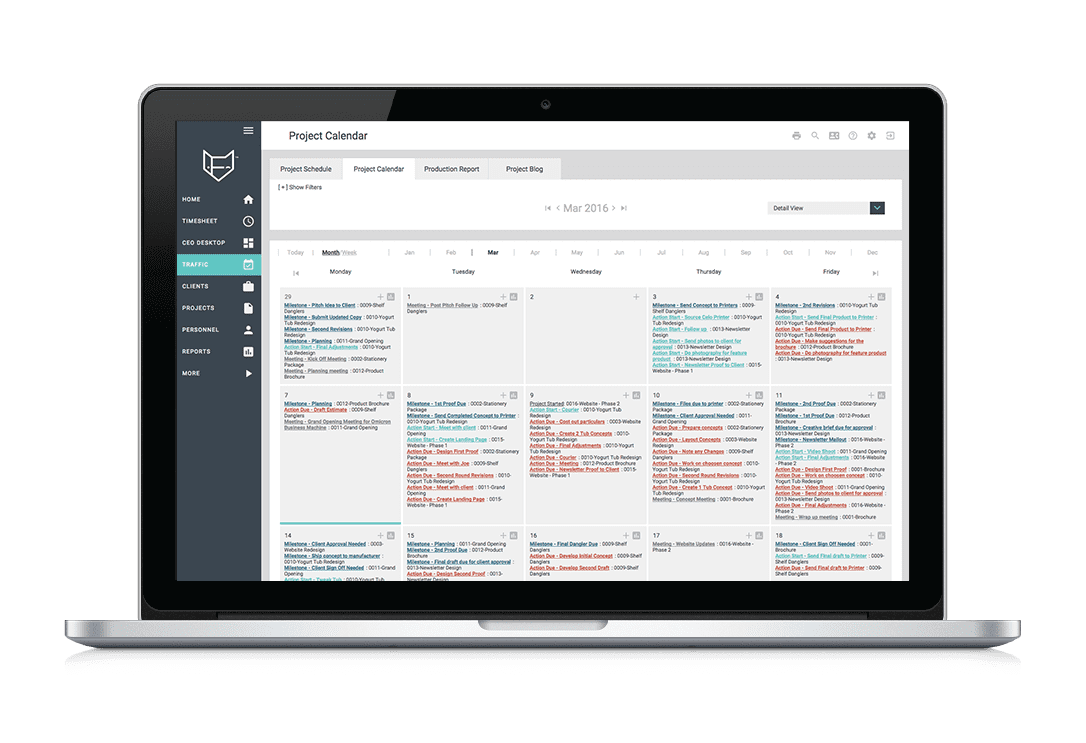 Premier offers advanced project management with the ability to assign and schedule tasks, for teams looking for increased control. Easily track internal and external communication and know what everyone is doing — even when multiple projects are on on the go. It also enables project managers to keep production schedules and job progress in line with estimates and budgets. Features include all Classic capabilities, plus:
Action assignment with an action calendar for resource allocation
To-do lists with email alerts
Project scheduling and project calendar
A project blog with email alerts
Timelines and milestones
Resource availability
($10 per month per user, $50/m for 1st user. Customer Service is free!)
In-House
In-House is ideal for creative teams within larger organizations. It includes all the capabilities of Premier and Classic, plus:
Customizable multiple request forms for all outside departments
Cycle and capacity reports
Unlimited custom fields to track additional project information
Advanced report generator with template reports
($20 per month per user, $150/m for 1st user. Customer service is free!)
Test Drive: Free Functionfox Demo
FunctionFox wants customers to be sure our products are right for them. A free [Demo] is fully functional, and pre-populated with sample information, which provides an opportunity to explore the features fully. FunctionFox representatives are available to answer questions or explain how things work. No credit card is required, and there's absolutely no obligation to purchase.
The Digital Project Manager is reader-supported. When you click through links on our site, we may earn a commission. Learn more.