Smartsheet vs Wrike explained: Similarities, differences and find out which is best for you.
Summary
Smartsheet and Wrike are two of the most sought-after project management software because of their wide range of features that users can benefit from. Although the two share some similar features, they also have key differences that make them unique. In this article, I will walk you through the similarities and differences between Smartsheet and Wrike so you can better understand what they can offer to you.
My goal is to provide you with everything you need to know so you can decide whether Smartsheet or Wrike is the best project management solution for you and your company.
Smartsheet vs Wrike Overview
Jump to side by side comparsion
Expert Summary: Smartsheet vs Wrike
Smartsheet and Wrike are project management software with resource management, workflow automation, file sharing, and task management capabilities. These two project management tools boast various project schedule views (Gantt, calendar, list, Kanban), easy analytics and reporting functions, and customizable dashboards for KPI measurement. Users can also integrate third-party programs and apps with both Smartsheet and Wrike, such as Trello, Excel, Asana, Jira, Basecamp, Salesforce, and Evernote.
Smartsheet would be best for professional services companies because of the flexibility of the program that can speak to many industry niche use cases.
Wrike would be best for small to midsize businesses because even its freemium plan allows for unlimited users.
Side by Side Comparison Of Smartsheet and Wrike
Smartsheet is a project management SaaS platform that can help users automate work to concentrate on other tasks. Smartsheet prides itself of being fully customizable. With a bit of tech-savvy (or help from Smartsheet's customer success team), you can modify every part of every workflow, spreadsheet, and project funnel. This project management tool will enable users to integrate third-party programs such as Adobe CC, Microsoft Teams, and Google Drive to have the tools they need to perform their duties.
Smartsheet doesn't have a free plan.
Price: $25/user/month
Trial: 30-day free trial
Go to Smartsheet
Wrike is a project management software that provides users with resource, portfolio, and task management tools that are reflected on visually appealing dashboards and reports to keep all stakeholders up-to-date. Users can also count on Wrike as a collaboration tool where team members can share ideas and plan projects with the help of in-app commenting, user tagging, and an approvals/proofing module. Wrike also has a robust array of native and third-party apps to help users complete tasks, manage KPIs, and generate reports.
Wrike has a free plan with unlimited users and up to 2GB of storage per account.
Price: $9.80 per user per month
Trial: 14-day free trial
Go to Wrike
Smartsheet vs Wrike Comparison Criteria
There are some factors I considered in coming up with an objective comparison between Smartsheet and Wrike. Here are the criteria I used in creating this article:
Feature list
What do you get, and what do you not get?
Use cases
What are the most effective use cases for this feature set?
Ease of use
Is it easy to learn and master?
Integrations
Is it easy to connect with other tools?
Customer support
Can you get help easily and quickly?
Price
How appropriate is the price for the tool?
Differences Between Smartsheet and Wrike
Smartsheet's business plan allows unlimited users, making it ideal for large companies, while Wrike's business plan is only for up to 200 users.
Smartsheet is hugely flexible and can be tailored to fit different professional services and industry niches and fits HIPAA, GxP, CCPA, and GDPR requirements. Wrike does not.
Smartsheet has an RFI and submittals feature, making sourcing products and supplies easier for companies, whereas Wrike doesn't have this feature. Request for Information can help users access prospective suppliers to ensure that products and services meet company standards.
Smartsheet has a meeting agenda management feature letting users prioritize agenda items and manage meeting action items for a smoother meeting flow. This feature is not available in Wrike.
Smartsheet has a longer 30-day trial period, while Wrike's trial period is only for 14 days. The longer trial period provides users with enough time to explore all the features of Smartsheet so they can get a better grasp of the program before subscribing.
Go to Smartsheet
Wrike has an individual development plan feature to help employees improve current job performance and realize short- and long-term career goals. Smartsheet doesn't have this feature.
Wrike has a free plan with unlimited users and up to 2GB of storage per account, while Smartsheet doesn't have a free plan.
Wrike has a series of add-ons that can expand the program to cover additional functionality (at a cost) around proofing/approvals, marketing, sales, DAM, BI, and data encryption.
Wrike has a one-click time clock in the menu of every project task card so that team members can easily record how much time went into each item.
Wrike's user story mapping feature helps brands create features that deliver value to customers, whereas Smartsheet lacks this feature.
Go to Wrike
Similarities Between Smartsheet vs Wrike
Best Use Cases for Smartsheet vs Wrike
Smartsheet Vs Wrike Feature Comparison
Smartsheet vs Wrike Pricing Comparison
This side-by-side price comparison shows Smartsheet's price compared to Wrike.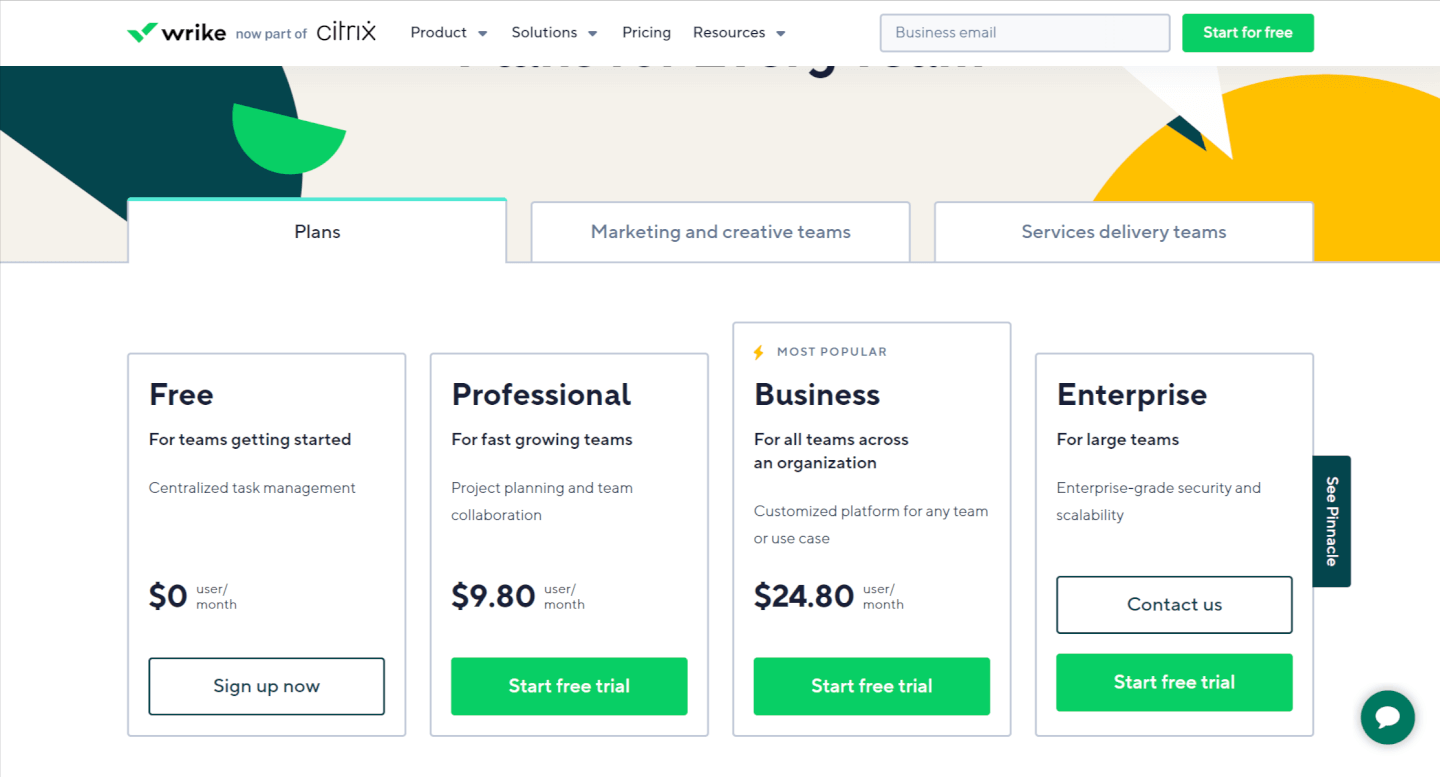 Other Smartsheet and Wrike Software Comparisons
If you're still looking at the options for professional services automation software, check out our comparison with other tools.
Other Smartsheet software Comparisons
Here are some other project management software comparisons with Smartsheet:
Other Wrike software Comparisons
Here are some other project management software comparisons with Wrike: