Le logiciel de gestion du flux de travail canalise le flux de travail d'un projet, dirigeant son cours de A à Z. Un outil de flux de travail solide sert de guide pour les tâches courantes qui se produisent tout au long du projet, avec un résultat qui se forme au fur et à mesure qu'il passe par les différents processus, contrôles et équilibres.
La variété des outils de BPM est suffisante pour vous submerger! Nous évaluons les outils suivants :
Le logiciel de gestion des flux de travail ajoute une couche de structure et de visibilité à votre flux de travail, vous aidant à transformer les idées en produits et les concepts en processus. Ces outils vous aident à vous assurer que le projet est livré correctement et que la qualité du projet est maintenue. Ces outils vous aident à planifier les tâches, à collaborer avec les autres, à gérer les charges de travail, à créer et à partager la documentation et à évaluer les progrès. Aujourd'hui, les logiciels de gestion des flux de travail sont indispensables pour garder les équipes unifiées, en particulier avec la complexité croissante et le rythme rapide de notre main-d'œuvre répartie et multi-tâche.
En profitant des nouvelles fonctionnalités offertes par l'automatisation et la disponibilité de données utiles à la prise de décision, vous pouvez faire beaucoup mieux qu'une liste de choses à faire – vous pouvez soutenir votre équipe avec tout un écosystème d'outils de gestion des processus métier (outils BPM) pour créer des flux de travail efficaces et optimisés.
L'astuce consiste à savoir comment choisir le meilleur logiciel de gestion de flux de travail pour votre équipe, vos objectifs commerciaux et votre budget. Voici une liste des meilleurs logiciels de gestion de flux de travail ainsi que les critères clés à prendre en compte dans le choix d'un outil de flux de travail.
Que fait un logiciel de gestion de flux de travail? (Et comment cela peut vous aider)
Qu'est-ce qu'un logiciel de flux de travail?
Au cœur d'un système de gestion de flux de travail (WMS) se trouve un ensemble de fonctions permettant d'établir, d'exécuter et de surveiller des tâches commerciales.
Que fait le logiciel de flux de travail?
Les logiciels de gestion des flux de travail portent de nombreux noms – vous l'entendrez peut-être sous le nom de logiciels BPM, ou simplement de logiciels de gestion des processus. Quel que soit le nom que vous lui donnez, tous les outils de flux de travail offrent une interface permettant de représenter visuellement un flux de travail et d'optimiser ses nombreuses pièces mobiles.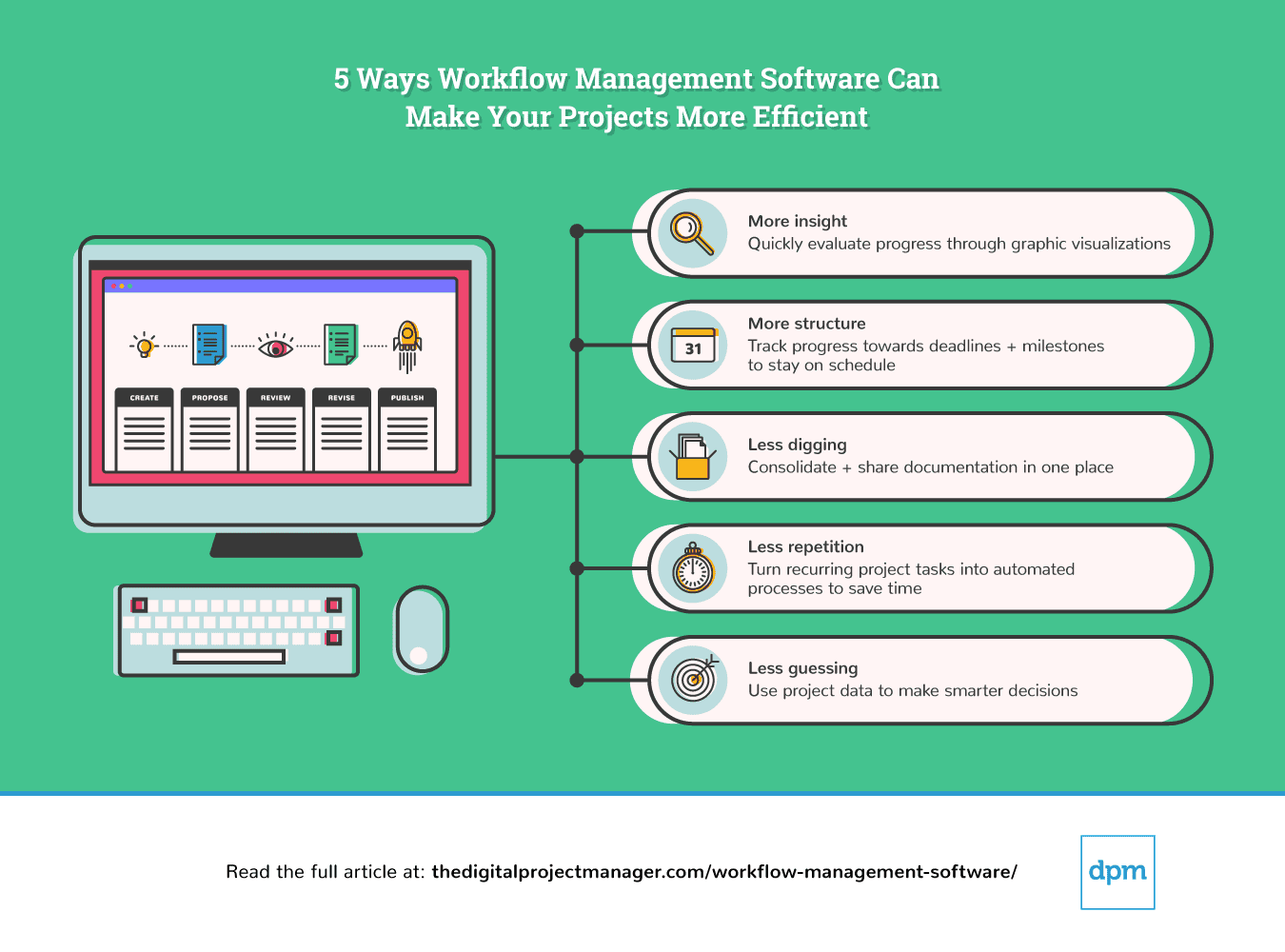 Les freelances, les agences, les entreprises et tous ceux qui se trouvent entre peuvent bénéficier d'une sorte d'outil de flux de travail, dans le but d'augmenter la productivité, de réduire les coûts, d'améliorer la communication et d'assurer un échange fluide d'informations au sein d'un projet. Vous pouvez utiliser un logiciel de gestion de flux de travail pour tout, du suivi des délais au niveau individuel à l'automatisation des tâches récurrentes au niveau d'un projet, en passant par l'évaluation et l'optimisation de la performance des projets au niveau métier.
Le logiciel de flux de travail automatise ces processus. Il contribue à l'élaboration d'un cadre ou d'une méthodologie de BPM.
Qu'est-ce que le cadre BPM?
Le cadre BPM (Business Process Management) est centré sur les processus qui fournissent la définition et la visibilité des tâches coordonnées d'une organisation.
Qu'est-ce que la méthodologie BPM?
La méthodologie BPM vise à simplifier les processus métiers de bout en bout afin d'augmenter la productivité et l'efficacité. La méthodologie BPM comprend l'analyse des processus d'affaires, la création de nouveaux cadres et le suivi des processus pour une optimisation continue.
The Digital Project Manager est sponsorisé par le lecteur. Lorsque vous cliquez sur les liens de notre site, nous pouvons gagner une commission. En Savoir Plus.
Les meilleurs logiciels de gestion du flux de travail pour améliorer l'efficacité de votre équipe
En bas de l'article, nous incluons un tableau résumant les informations de base sur les outils décrits dans cet article ainsi qu'une explication de nos critères de sélection, afin que vous puissiez comprendre comment nous avons fait cette liste de logiciels de gestion de flux de travail.
The Best flux de travail Management Software To Boost Your Team's Efficiency
monday.com, an award winning platform, is one of the few workflow tools that prides itself in 'not being a project management tool'! They've done away with a lot of the trimmings of typical workflow tools and focused instead on a structure and views that help clarify the sequence of work that needs to be done.
You put tasks on a board, and then you add in the steps you'll need to take to get it done. It's vaguely similar to a spreadsheet (a nicer-looking one)— if you're currently using spreadsheets for project management, monday.com is a good choice because it can round out your workflow with alerts, notifications, integrations and automated processes. monday.com's features include a customizable task board for managing task status, assignee, due date, hours spent, etc.
The tool offers multiple views of work—view by list, by geographical map, on a Kanban board, and others. It also offers a great project dashboard with a Gantt chart style overview for checking all projects that are underway. Apart from that, monday.com enable big picture view using dashboards that collect data from multiple boards, allowing better tracking abilities of progress. It doesn't offer much in the way of financial reporting, though, so for budget-related reports you'd want to look at 3rd party integrations.
monday.com's integrations include Slack, Google Drive, Gmail, Google Calendar, Jira, GitHub, Trello, Dropbox, Typeform and many more, accessible via Zapier. For help setting up integrations, the company's customer support is available 24/7 by phone or email.
monday.com pricing starts at $17/month for two users.
Summary of monday.com:
Automation:

Pass

KPI Reports:

Pass

Deadline Tracking:

Pass

Integrations:

Pass
It's hard to draw a comparison between lightweight tools like Asana with enterprise-grade tools like Wrike. If Asana were a bicycle, Wrike would be an SUV. They both get you from A to B, but the scenario and the user are clearly different. While Wrike offers several versions that are well-suited to small teams, this workflow management software comes equipped to quickly scale to an enterprise-grade solution.
Wrike simplifies managing your workflows with auto-assigned workflows that can be set to various folders, projects, and templates. In addition to task management, Wrike comes with a resource management suite of features, including Gantt charts, time-tracking, and budgeting. In fact, many of these are included in the Professional version ($9.80/user/month), offering a bit more than most other platforms for the typical price we often see hover around $10/user/month.
For reporting, Wrike has a leading edge. Among the reporting features, users can choose from report templates or use the report-building wizard to create custom reports and schedule notifications for any report updates. One major advantage of Wrike is its real-time reporting function, which can automatically share real-time reports with clients, stakeholders, etc.
In terms of integrations, Wrike also offers a distinct advantage, especially for teams using GitHub and Jira: as an add-on they offer a two-way sync with these platforms for better collaboration between technical teams. Wrike also integrates with dozens of other CMS, IT, automation, customer support, and file storage platforms.
Wrike costs from $9.80/user/month for the Professional plan (up to 15 users). There's also a free plan for up to 5 users with simple task management functionality.
Summary of Wrike:
Automation:

Pass

KPI Reports:

Pass

Deadline Tracking:

Pass

Integrations:

Pass
Clarizen is not your high school prom date—this is marriage material, here.
This software has been in the game for a while (since 2006), and it shows: this is a well-developed, well-supported tool offering a wealth of business process management tools. These include dynamic reports and dashboards, automated repeatable processes and alerts, project and portfolio optimization features, resource management tools, and real-time visibility. In short: what's not to like? This one's a keeper. The only caveat to this robust, enterprise-grade solution is that, well, it's priced like one. It isn't designed or priced for smaller teams, offering only two versions: "Enterprise" and "Unlimited".
This platform offers just about every tool or feature you could dream of: a well-rounded library of add-ons, as well as integrations, a flexible interface, and configurable workflows. On top of this, it's reporting features are cutting edge, with a built-in report wizard for automatically generating presentations of your data. They even have a bot that integrates with Slack so you can keep up with events happening in Clarizen from inside your Slack account.
Clarizen integrations include essentials like Jira, Box, Salesforce, SAP, Slack, Google Drive, NetSuite, Oracle, and others.
Clarizen costs from $29.95/user/month.
Summary of Clarizen:
Automation:

Pass

KPI Reports:

Pass

Deadline Tracking:

Pass

Integrations:

Pass
ProcessMaker is a business process management software designed for enterprise corporations and government organizations. This tool's framework is more aligned with the structured hierarchies of larger organizations in healthcare, education, manufacturing (etc) with a variety of management features for structuring roles, groups, departments, and chains of command. A major benefit of ProcessMaker is its open-source model—you're not locked in to a single vendor or system, and you can easily connect ProcessMaker to other databases and systems (Oracle, MySQL, SQL, DMS, BI, CMS, ERP). The free open source version is available for download and includes basic workflow functionality, which is a decent workflow tool for developers who work in a non-mission-critical environment.
ProcessMaker integrations are accessed through RESTful APIs that integrate ProcessMaker with other standalone or web applications. The Enterprise version also include a useful Gmail, Google Calendar, and Google Sheets integration for integrating emails and events with tasks.
Summary of ProcessMaker:
Automation:

Pass

KPI Reports:

Pass

Deadline Tracking:

Pass

Integrations:

Pass
For teams who are used to Trello, Asana will appear familiar. Like Trello, Asana's workflow is visually simple and intuitive, based off of kanban-style cards. In fact, if you're already using Trello but looking to add some important functions to your workflow, you can sync your Trello boards with Asana so your teams can work in the app of their choice. Really, the use case for both of these workflow apps is the same: they're both great for small-to-mid-sized teams who work closely together and who need all of their project deadlines, reports, communication, and tasks all in one organized place. For small, growing teams who don't require a ton of features at the start, Asana's free version might do the trick—at least for the first couple of months—with unlimited projects and basic dashboards for up to 15 team members.
Flexible and lightweight, Asana is a simpler tool with fewer features than the other workflow management software tools in this list (which could be ideal, especially if you know you're not going to want loads of ultra-configurable workflows). While it doesn't include a ton of advanced features, it does offer a straightforward, functional task management tool that is easy to learn how to use. There are some reporting features, including a customizable dashboard and visual progress chart. You'll also find some basic automation, such as turning processes into templates, creating task dependencies, and setting up automatic status updates.
Asana integrations include 100+ applications that you can use to round out the tool with further time-tracking, reporting, and communication functionality.
Asana costs from $9.99/user/month. There's also a free version for up to 15 team members.
Summary of Asana:
Automation:

Pass

KPI Reports:

Pass

Deadline Tracking:

Pass

Integrations:

Pass
ProWorkFlow is similar to tools like GetFlow or Pipefy. It's designed to provide project and task management in a simple, streamlined interface for small- to mid-sized teams. If you're new to the layout of workflow management software, ProWorkFlow is a good starting point—their straightforward, thorough explanation of their platform's features is easy to digest, even for non-technical readers. Likewise, their pricing is straightforward and comparable to the industry average at $10/user/month for the basic version.
This is a well-rounded tool that's easy to learn how to use, with a complete suite of time-tracking (as an add-on widget), reporting, file sharing, communication, invoicing, resource management, and template-building tools. ProWorkFlow also offers a template library to quickly create invoices, quotes, and tasks.
In terms of integrations, ProWorkFlow is mostly DIY. They have a library of their own apps, including a kanban-style board, scheduling app, time tracker, customer map, productivity dashboard (and more). Otherwise, their API allows you to build your own reports, apps, and integrations. Of course this does require a bit of work from someone on your team who knows their way around APIs.
ProWorkFlow costs from $10/user/month.
Summary of ProWorkFlow:
Automation:

Pass

KPI Reports:

Pass

Deadline Tracking:

Pass

Integrations:

Pass
If the slick, colorful GetFlow is the millennial of workflow tools, MetaTask is the baby boomer. Not to say that it's old fashioned by any means—simply that MetaTask means business. It's a highly practical tool that's not looking to impress (and clutter) with flashy, sexy features. As well, this tool doesn't attempt to reinvent the wheel by using its own vocabulary for already established concepts (looking at you, Pipefy, no offense). No trendy proprietary lingo: MetaTask just calls it like it is. It's a good choice for someone who wants a highly functional, straightforward tool.
MetaTask offers process templates, approval workflows, and a real-time dashboard that automatically organizes and displays tasks by the due date for each user. Within their process forms, you can create invoices, expense reports, timesheets, and other data-based tables by simply choosing a table form. The tool also offers multiple options for setting and triggering deadlines: setting deadlines on a day, week, month, or based on completion of a previous task, the start of a new process, etc. MetaTask clearly has the tools for a smooth workflow—however, the platform does lack some of the reporting functionality included in other tools (namely, it lacks customizable, visual data reports).
MetaTask's integration library isn't extensive, but it includes essentials like Microsoft Flow, Google, and Zapier for connecting to hundreds of other apps.
MetaTask costs $5/user/month and offers a free 14-day trial. In alignment with its no-fuss approach, MetaTask takes the cake for the absolute simplest pricing in the workflow management game. No complicated paywalls or user limits. Pricing is the simplest: $5/user/month. Period.
Summary of MetaTask:
Automation:

Pass

KPI Reports:

Pass

Deadline Tracking:

Pass

Integrations:

Pass
Avaza is the Swiss army knife of workflow management software, providing resource management, workflow management, time-tracking, and invoicing tools. It also integrates with an array of online payment systems.  In use cases where expenses, estimates, payments, and invoicing feature strongly, this tool offers a major advantage over other tools with its many features for managing a business's financial tasks. That said, Avaza is a good choice if you're currently not happy using multiple disjointed platforms for handling finances and managing tasks.  In some use cases, Avaza's comprehensive suite of features is overkill (perhaps you run a small business or work as a freelancer). However, for the reasonable $9.95/month for the Startup Plan, Avaza's above-average functionality—at a very average price—is hard to say "no" to.
As a workflow tool, Avaza enables you to create tasks in integrated workflows, invite customers, and set up triggers to automate your processes. You can toggle between different project views, including Kanban boards, Gantt charts, and task list views, which is a helpful feature for quickly surveying the status of your projects and resources. Because it's a comprehensive project, resource, and task management tool, Avaza's reporting features can provide insight into multiple aspects of your business' performance, and this is a strong selling point. For example, in addition to status and time reports, you can view reports on overall project profitability, your team's expenses, unpaid invoices, and more.
Avaza integrations include essentials like GitHub, Jira, Salesforce; through Zapier it can integrate with hundreds of other apps.
Avaza costs $9.95/month for 2 users and unlimited collaborators. It's free for 1 user and unlimited collaborators.
Summary of Avaza:
Automation:

Pass

KPI Reports:

Pass

Deadline Tracking:

Pass

Integrations:

Pass
If Kissflow is a buffet, Formstack is a tiramisu: we're talking layers. Forms upon forms!
Formstack's workflow management is centered around an easy-to-use form builder. They offer an impressive template library with over 200 pre-built business forms to customize. For users who are launching a business or nonprofit or using workflow management software for the first time, Formstack is a solid choice. It is an abundant, well-rounded resource full of pre-made documentation that saves your team time. For the same reason, Formstack is a smart choice for teams who are running a bit lean—it offers pre-built templates for HR, marketing, customer service, IT, business operations, and more. This document workflow software is good for small agencies, as it's a bit of a "one-stop" admin shop. Overall, it's a higher price-per-user than many of the other workflow tools, but if your processes are documentation-heavy, this tool pays for itself in those time-saving templates.
Formstack features include some workflow automation, such as automatically collecting payments or collecting data and routing it to people who need it. The dashboard provides a visual display of your data and KPIs, and even in basic versions, you can access custom visual reports of metrics like unique views, conversion rates, and abandonment rates to assess your campaigns.
Formstack integrations include business applications like Salesforce, PayPal, MailChimp, Slack, ZenDesk, and 40 others. These integrations allow you to round out this tool; expanding it from a "one-stop admin shop" to provide workflow management as well.
Formstack costs from $19/month for 1 user, which allows you to create online forms. Note: the caveat with using Formstack for workflow management specifically is that you don't really access many of the workflow features until you upgrade to the Gold plan ($82.50/month for 5 users).
Summary of Formstack:
Automation:

Pass

KPI Reports:

Pass

Deadline Tracking:

Pass

Integration:

Pass
Pipefy is among the more robust workflow management tools, with a comprehensive suite of workflow functions, form templates, reporting and analytics, and integrations. Much as the name suggests, Pipefy's workflow could be likened to a network of pipes equipped with valves and triggers. What sets this Kanban tool apart is that you can apply a different set of specific work rules and triggers to each of your work processes—granted, it's a bit of extra work to set up, but it does get more granular than many tools. This is a highly configurable tool, most suitable for teams with complex workflows involving many team members and constantly moving pieces.
Their kanban-inspired workflow management app is board-based (they call them "pipes"). Users choose from pre-made templates for common workflows, or you can build your own with an intuitive drag-and-drop tool. Within the boards, you create lists (or "phases") that accommodate a wide range of management functions, such as survey questions, time estimates, difficulty ratings, and more. You can also track deadlines in various ways with a number of different notifications for overdue, late, and expired tasks. In addition to a customized workflow with triggers that help to automate processes (such as sending an email when a task hits a certain stage), it offers advanced reporting to visualize the data from workflows, a custom dashboard that can display information about productivity, lead time, and more.
Pipefy integrations include 500+ apps, through Zapier.
Pipefy costs from $12/month/user. There's also a free plan that includes 5 boards and 10 users.
Summary of Pipefy:
Automation: Pass
KPI Reports: Pass
Deadline Tracking: Pass
Integration: Pass
Résumé des meilleurs logiciels de gestion du flux de travail
Voici un tableau résumant les informations de base sur les outils décrits dans cet article. Consultez les prix ainsi que la disponibilité d'essais gratuits pour faire une comparaison rapide côte à côte.
Autres logiciels de gestion du flux de travail qui valent la peine d'être pris en considération
Je n'ai pas eu l'occasion de les examiner correctement, mais si les outils inclus dans l'évaluation ne fonctionnent pas pour vous, pensez à vérifier ces outils BPM supplémentaires :
Vous voulez de l'aide pour réduire les options?
Cet outil est très utile. Nous nous sommes associés à Crozdesk pour vous donner accès à leur "Software Finder".
Si vous saisissez certains détails sur votre projet et les fonctionnalités que vous recherchez dans un outil de gestion de projet, une liste d'outils correspondant à vos préférences sera générée. Vous fournissez votre email, et ils vous envoient un beau guide PDF avec un résumé de vos meilleures options.
Critères de sélection du logiciel de gestion du flux de travail
Certains logiciels d'automatisation du flux de travail sont plus complets que d'autres – certains sont axés sur la gestion du flux de travail lui-même (attribution des tâches, création de dépendances, suivi des délais). Ce type d'application peut aussi porter le nom de logiciel de diagramme de flux de travail. D'autres offrent un système de gestion de flux de travail plus robuste dans le cadre d'un logiciel de gestion des ressources plus large ou d'un logiciel de gestion de projet. À ce titre, ils offrent une suite de fonctions d'affaires supplémentaires pour créer des formulaires de processus, traiter les factures et les paiements, modéliser les données, gérer un portefeuille de projets, et plus encore.
Dans notre sélection de logiciels de gestion des flux de travail, nous avons réduit nos critères à quelques points clés. Ce sont les fonctions essentielles d'un outil de flux de travail utile :
1. Automatisation
C'est tout l'intérêt d'utiliser un logiciel de flux de travail. Nous examinons les fonctionnalités d'automatisation des outils qui permettent de gagner du temps, telles que l'attribution automatique des tâches, l'envoi de notifications de push, la documentation de routage, l'envoi de mises à jour de statut et la génération de rapports.
2. Rapports KPI
Il s'agit généralement d'un type de tableau de bord avec affichage graphique des statistiques de votre flux de travail. Le reporting KPI donne non seulement aux membres de l'équipe un aperçu de leur tâche ou de l'état d'avancement de leur projet, mais aussi à la direction une vue d'ensemble des inefficacités afin que vous puissiez optimiser vos processus métier.
3. Suivi des délais
Même avec un tableau de bord, lorsque vous exécutez des dizaines de flux de travail, il est facile de perdre de vue les délais. Pour être utile, un outil de flux de travail doit offrir un système clair pour les indicateurs SLA. Les outils utilisent des notifications, des codes couleurs et des vues de tableau de bord qui affichent les tâches par date d'échéance afin de vous aider à gérer les délais.
4. Intégrations
De nos jours, tous les projets nécessitent des outils multiples. Votre logiciel de gestion de flux de travail doit absolument s'intégrer aux autres applications que vous utilisez pour votre entreprise. Cela inclut les calendriers, les CMS, les outils de développement, les bases de données, les outils de messagerie et de communication, les applications de traitement des paiements, etc.
5. Prix
La valeur que vous obtenez d'un outil de flux de travail doit correspondre au prix que vous payez. Le meilleur logiciel de flux de travail pour vous n'exigera pas que vous payiez pour des fonctionnalités dont vous n'avez pas besoin ou des utilisateurs dont vous ne disposez pas. Nous évaluons le prix de l'outil en fonction de sa simplicité, de sa transparence et de la valeur offerte au prix.
Comment choisir le meilleur logiciel de gestion du flux de travail?
Le meilleur logiciel de flux de travail qui existe est celui qui s'aligne étroitement avec les exigences de vos processus d'affaires. Au moment de choisir, demandez-vous :
Pourquoi en avez-vous besoin?
En vous posant cette question, vous essayez vraiment d'identifier : mes processus sont-ils centrés sur l'homme ou sur le système? Un flux de travail centré sur l'humain se concentre davantage sur le regroupement des personnes et de leurs tâches, documents et progrès en un seul endroit. Un flux de travail centré sur le système se concentre sur le regroupement de différents processus ou systèmes d'affaires, intégrant leurs fonctions pour créer un flux de travail unifié dans un seul espace.
Qui va l'utiliser?
Combien de personnes sont dans votre équipe? Qui va utiliser l'outil et avez-vous besoin d'un contrôle d'accès basé sur les rôles? Vous devrez également vous demander quels types de personnes utiliseront l'outil afin de décider si vous avez besoin de quelque chose basé sur un code ou avec peu ou pas de code.
En pensant à votre équipe, il est facile de supposer qu'une grande équipe a nécessairement besoin de fonctions de flux de travail plus complexes. Cependant, gardez à l'esprit que même les grands projets peuvent mieux fonctionner avec des flux de travail simples où tout ce qui est vraiment nécessaire est la capacité d'attribuer des tâches, de partager la documentation et de suivre les délais. D'un autre côté, même de très petites équipes peuvent avoir des flux de travail complexes qui bénéficient de fonctions avancées de reporting, de gestion des ressources et d'optimisation.
Comment cela pourrait-il s'intégrer à votre processus?
Cet outil s'intègre-t-il à votre boîte à outils existante et s'intègre-t-il aux bons outils? S'il s'agit de l'un des premiers outils que vous ajoutez, sera-t-il adapté et élargi afin de répondre à vos besoins au fur et à mesure de votre croissance? Demandez-vous si votre équipe l'utilisera en ligne ou si elle a besoin de quelque chose qui fonctionne également hors ligne.
Combien de temps pour que tout se passe bien?
Est-il facile à mettre en œuvre? En plus de cela, regardez la facilité d'intégration : est-ce un outil que votre équipe peut facilement apprendre à utiliser? De nombreux outils offrent différents niveaux de support en fonction de votre niveau de prix – offre-t-il un support technique ou serez-vous laissé en suspens? Enfin, la solution est-elle hébergée ou allez-vous maintenir l'infrastructure?
Combien ça coûte?
Les prix se situent dans une large fourchette de 0 à 40$ par utilisateur et par mois. La plupart des outils de flux de travail sont tarifés par utilisateur, ce qui souligne l'importance de tenir compte du nombre de membres de l'équipe qui l'utiliseront – ainsi que du nombre de membres de l'équipe qui l'utiliseront à l'avenir. Assurez-vous de voir comment le coût augmentera au fur et à mesure que vous évoluerez – non seulement vos coûts augmenteront avec chaque membre de l'équipe, mais vous devrez peut-être aussi augmenter votre plan à un niveau plus élevé à mesure que les besoins de votre entreprise augmentent.
Qu'en pensez-vous?
Qu'avez-vous pris en compte lors du choix de votre logiciel de gestion de flux de travail? Quelle est votre expérience dans le choix et l'utilisation d'un logiciel de flux de travail? Partagez avec notre communauté ce que vous pensez être les considérations les plus importantes dans le choix d'un outil de flux de travail.