El Software de Gestión de Flujo de Trabajo canaliza el flujo del trabajo de un proyecto, dirigiendo su curso de la A a la Z. Una herramienta de flujo de trabajo sólido sirve como una guía para las diversas tareas que deben realizarse durante el proyecto, formando completamente los resultados del proyecto a medida que fluyen a través de diferentes procesos, verificaciones y balances.
¡La gran variedad de herramientas BPM puede impresionarte fácilmente! Examinaremos las siguientes herramientas:
El Flujo de Trabajo convierte las ideas en productos y los conceptos en procesos. Las herramientas de flujo de trabajo agregan una capa de estructura y visibilidad a este flujo, lo que te ayuda a garantizar que el proyecto se entregue correctamente y que se mantenga la calidad del proyecto. Estas herramientas te apoyan a medida que programas tareas, colaboras con otros, gestionas cargas de trabajo, creas y compartes documentación y evalúas el progreso. Hoy en día, el software de gestión de flujo de trabajo es una herramienta imprescindible para mantener los equipos unificados, especialmente con la creciente complejidad y el rápido ritmo de nuestra fuerza laboral distribuida.
Aprovechando las nuevas capacidades que ofrece la automatización y la disponibilidad de datos útiles para la toma de decisiones, puedes hacer algo mucho mejor que una lista de tareas pendientes: puedes respaldar en tu equipo un ecosistema completo de herramientas de gestión de procesos empresariales (herramientas BPM) para crear flujos de trabajo eficientes y optimizados.
El truco está en saber cómo elegir el mejor software de gestión de flujo de trabajo para tu equipo, tus objetivos comerciales y tu presupuesto. Aquí desglosamos el mejor software de gestión de flujo de trabajo junto con los criterios clave que se deben tener en cuenta al elegir una herramienta de flujo de trabajo.
¿Qué hace un Software de Gestión de Flujo de Trabajo? (Y cómo puede ayudarte)
¿Qué es el Software de Flujo de Trabajo?
Básicamente, un sistema de gestión de flujo de trabajo (WMS) es un conjunto de funciones para configurar, hacer y monitorear tareas de negocios.
¿Qué hace el Software de Flujo de Trabajo?
El software de gestión de flujo de trabajo tiene muchos nombres: es posible que escuches que se refieran a él como software BPM o simplemente como software de gestión de procesos. No importa cómo lo llames, todas las herramientas de flujo de trabajo ofrecen una interfaz para representar visualmente el flujo de trabajo y optimizar las partes móviles.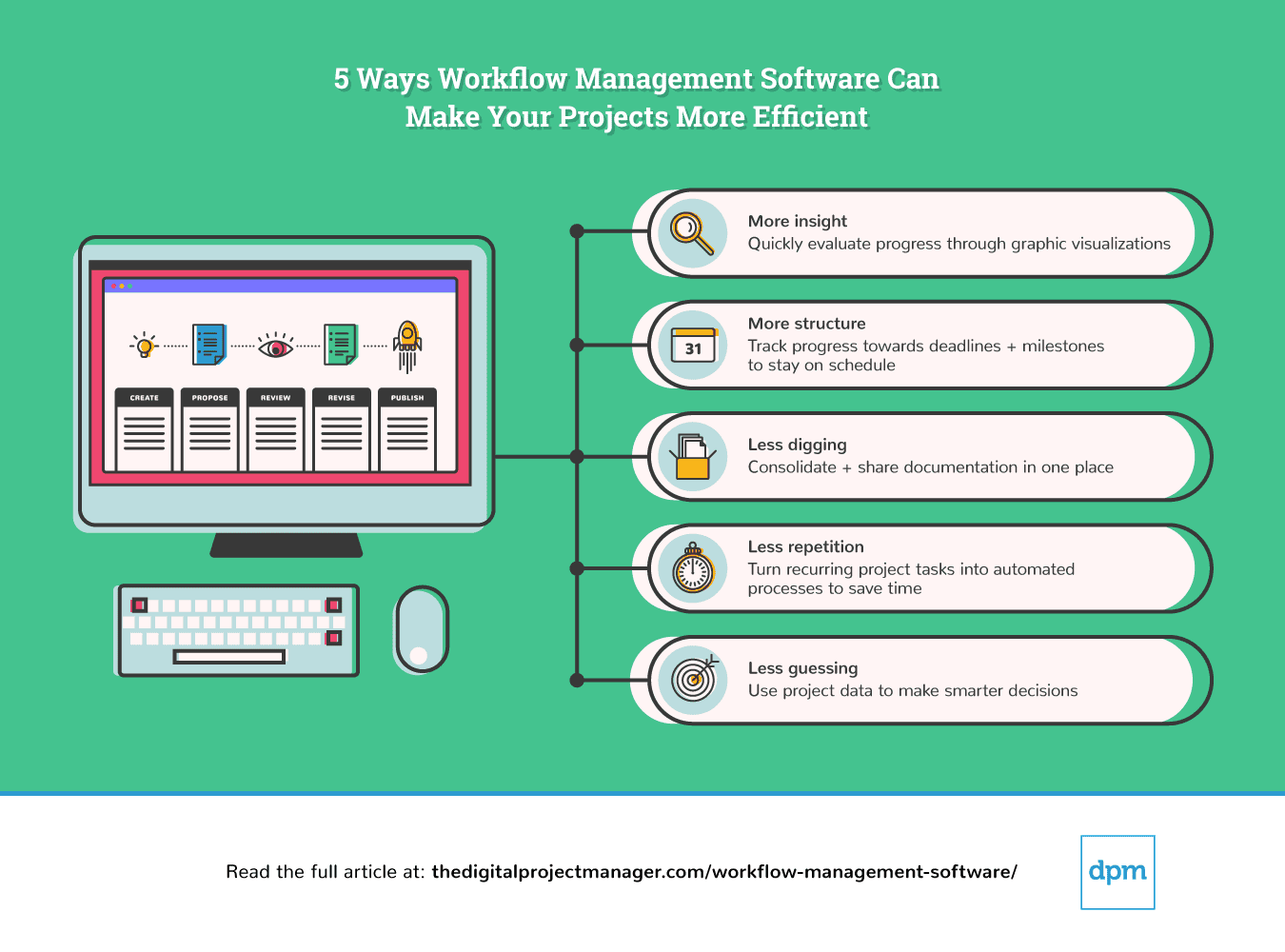 Los freelancers, agencias, empresas y el resto de las personas pueden beneficiarse de algún tipo de herramienta de flujo de trabajo, con el objetivo de aumentar la productividad, reducir los costos, mejorar la comunicación y realizar un intercambio fluido de información dentro de un proyecto. Puedes utilizar el software de gestión de flujo de trabajo para cualquier cosa, desde la supervisión de fechas de entrega a nivel individual, hasta la automatización de tareas recurrentes a nivel de proyecto, y la evaluación y optimización del rendimiento de los proyectos a nivel empresarial. El software de flujo de trabajo automatiza estos procesos. Contribuye a una estructura o metodología BPM.
¿Qué es la Estructura BPM?
Una estructura BPM (Gestión de Procesos de Negocio) es una estructura centrada en el proceso que proporciona definición y visibilidad de los conjuntos de tareas coordinadas de una organización.
¿Qué es la Metodología BPM?
La Metodología BPM tiene como objetivo simplificar completamente los procesos de negocios para aumentar la productividad y la eficacia. La Metodología BPM incluye el análisis de los procesos de negocios, la creación de nuevas estructuras y procesos de monitoreo para la optimización continua.
El Mejor Software de Gestión de Flujo de Trabajo para Aumentar la Eficacia de su Equipo
En la parte inferior del artículo, incluimos una tabla que resume información básica sobre las herramientas descritas en este artículo, así como una explicación de nuestros criterios de selección, para que puedas comprender cómo hicimos esta lista de software de gestión de flujo de trabajo.
El Mejor Software de Gestión de Flujo de Trabajo para Aumentar la Eficacia de su Equipo
1. monday.com – Best workflow management software for process visualization
monday.com, an award winning platform, is one of the few workflow tools that prides itself on 'not being a project management tool'! They've done away with a lot of the trimmings of typical workflow tools and focused instead on a structure and views that help clarify the sequence of work that needs to be done.
You put tasks on a board, and then you add in the steps you'll need to take to get it done. It's vaguely similar to a spreadsheet (a nicer-looking one)— if you're currently using spreadsheets for project management, monday.com is a good choice because it can round out your workflow with alerts, notifications, integrations, and automated processes. monday.com's features include a customizable task board for managing task status, assignee, due date, hours spent, and more.
The tool offers multiple views of work—view by list, by geographical map, on a Kanban board, and others. It also offers a great project dashboard with a Gantt chart style overview for checking all projects that are underway.
Apart from that, monday.com enables big picture views using dashboards that collect data from multiple boards, allowing better tracking abilities of progress. It doesn't offer much in the way of financial reporting, though, so for budget-related reports you'd want to look at 3rd party integrations.
monday.com's integrations include Slack, Google Drive, Gmail, Google Calendar, Jira, GitHub, Trello, Dropbox, Typeform, and many more that are accessible via Zapier. For help setting up integrations, the company's customer support is available 24/7 by phone or email.
monday.com pricing starts at $17/month for two users.
Summary of monday.com:
Automation:

Pass

KPI Reports:

Pass

Deadline Tracking:

Pass

Integrations:

Pass
Pros
Huge focus on collaboration

Long list of supported integrations

Spreadsheet-style pulses for task progress
Cons
Complex pricing rubric

No single-user plan
2. Kissflow – Best enterprise workflow management software
This is the buffet of workflow management software. Combining projects, cases, and collaboration with its core functionality, workflows, Kissflow offers a unified digital workplace for all forms of work, both manual and automated. The visual interface lets users drag and drop elements to create any number of apps without any coding. Users can either build on top of apps spanning across multiple categories like HR, Finance, or Procurement in their gallery or build one from scratch.
The platform is highly intuitive and requires little to no effort to learn. The customizable workflows and dynamic routing let users adapt when requirements change or as teams scale. Users can prioritize work and easily delegate work to team members. Users get instant notifications when an item is complete or requires action.
Further, users can identify bottlenecks, track task flows, and drastically improve efficiency. Kissflow is intrinsically connected with G-suite and users can make use of its open API to integrate with any other tool.
There's nothing else quite like Kissflow on the market. This tool offers highly configurable, trigger-based workflows and advanced reporting features like KPI dashboards and ad-hoc reports configuration. Kissflow is a good tool for teams or projects whose makeup, processes, or framework can experience change at the drop of a hat.
However, for users who are building workflows that require more system-integrations rather than human tasks, Kissflow may not have all the features required.
Kissflow starts at $360/month for up to 30 users and offers a 14-day free trial.
Summary of Kissflow:
Automation:

Pass

KPI Reports:

Pass

Deadline Tracking:

Pass

Integration:

Pass
Pros
Holistic, comprehensive task modeling
Loads of configurable features
Community feedback voting for roadmap features
Cons
Not tailored for small organizations
Could use a better commenting system
3. Unito – Best workflow management tool for customizable two-way integrations
Unito is a workflow management platform with deep integrations for some of the world's most popular work management tools, like Trello, Jira, and Asana. Unito's simple, visual workflow designer empowers users to create deep workflows with a no-code, drag and drop process.
Workflows can be created by authorizing the necessary 3rd party tools, choosing the relevant projects, customizing your mappings, and creating the rules. Once created, your workflow automatically runs in the background, meaning you can be sure information travels between tools without needing to check in. Fine-tuning a workflow can be done on the fly in just a few minutes.
Where most integrations on the market are limited to one-way automations, Unito's integrations create deep, two-way relationships by default. Everything from due dates to assignees and comments can be synced between tools. Deep rules give users the ability to fully customize their workflows and control the flow of information between tools.
To date, Unito's integrations include Asana, Jira, Trello, GitHub, GitLab, Wrike, HubSpot, Basecamp, Bitbucket, Jira Service Desk, and Zendesk.
Unito's beta integrations include ClickUp, monday.com, Smartsheet, and Teamwork.
Unito offers a 14-day free trial (no credit card required). Plans start at $10/month for five users.
Pros
Visual, no-code workflow designer
Deep and easy to use integrations
Thorough onboarding process and dedicated customer support
Cons
Analytics aren't as robust as other solutions
Can have a bit of a learning curve
4. Admation – Best agency workflow management software
Admation is a project management software made for marketing teams and agencies that want the benefit of multiple features rolled into one comprehensive tool. Combining project, resource, and approval workflow management, Admation enables users to manage the full production cycle of their campaigns, from project set up to resourcing to managing the entire approval workflow.
With a user-friendly interface, Admation offers an exceptional range of project tracking software features and tools. A central dashboard enables you to have complete visibility over your projects and resources while offering an intuitive framework from which to manage all facets of your work.
Features include briefing templates, project resource templates, project timelines, scheduling and assigning tasks, document approval, capacity planning, department dashboard & calendar, resource allocation, timesheets and time tracking, a complete brand archive, permissions & access levels, tags & keywords, a secure digital storage system for your finalized ads, and more. Integrations include email systems and Mediaocean, formally BCC, which is ad agency finance software.
Admation costs from $30 per user per month and offers a free demo and free trial upon request.
Summary of Admation:
Automation:

Pass

KPI Reports:

Pass

Deadline Tracking:

Pass

Integration:

Pass
Pros
View extensive history for each job
Great for proofing material
Track reviews and approvals
Easily manage updates and changes
Cons
Custom reporting tools limited to Enterprise Plan
Can't batch download a project
5. Orchestly – Best workflow management software for optimizing processes
Orchestly is a workflow management software that helps automate, manage, and optimize routine business workflows and standard operating procedures on a drag and drop platform. Built for medium and enterprise businesses in any industry, it helps automate workflows across departments like HR, Marketing, Finance, IT, and Legal.
Customizable forms make it easy to capture business information. Both simple and complex workflows can be mapped as flowcharts in a few minutes on a drag and drop workflow builder that doesn't require in-depth technical knowledge.
You can ensure accountability by assigning the right people to the right stages of a process. Contextual data like comments and attachments can be requested from users during the process. Decision making can be automated by setting if-then conditions to route the flow. Manual labour can be eliminated by automating stages based on condition or time. Process exceptions can be handled through business rules.
Requesters can track everything in real time, and stay updated on requests. Employees know exactly what should be done, and when. Ready-made reports give you powerful insights on your process bottlenecks and redundancies, and you can create your own process-specific reports to analyze and improve your operational KPIs.
Orchestly has an Active Directory and role-based access control. You can integrate with your other tools and build your own third party app extensions as widgets. You can also connect to other tools via Zapier and Zoho Flow. There is a marketplace with several pre-built extensions like Slack, Dropbox, Google Drive, and Zoho Sign as well.
Orchestly offers a 15-day free trial and has flexible user-based pricing that starts at $8/user per month. There is also an implementation team that can help you automate your organization's workflows.
Summary of Orchestly:
Automation:

Pass

KPI Reports:

Pass

Deadline Tracking:

Pass

Integrations:

Pass
Pros
Modest per-user price
Native integration with Zoho
Great workflow visualizations ("Blueprints")
Webhooks can send notifications to third-party applications
Cons
Dashboards aren't customizable
Complex feature set has a learning curve
6. Quixy – Best no-code workflow management software
Quixy is a user-friendly no-code business application platform that empowers users with no coding skills to automate workflows and processes. Users can assess, design, model, implement, monitor, and modify any processes using simple and efficient drag and drop design.
Quixy provides dozens of pre-built workflow applications for a variety of use cases such as CRM, project management, HRMS, travel and expense management, helpdesk and incident management, and much more. Quixy also offers automation options, and users can build custom workflows and processes to fit the needs of their team or department. The tool also includes capabilities for tracking project and task milestones.
The platform is rated Leader – Asia Pacific for No-Code Application Development on G2. The platform is ISO 27001 and SOC 2 Type 2 certified. Quixy's API allows integration with other third-party apps and tools.
Pricing starts at $10/user/month.
Summary of Quixy:
Automation:

Pass

KPI Reports:

Pass

Deadline Tracking:

Pass

Integration:

Pass
Pros
Simple drag and drop workflow design
Excellent data tables and app referencing
Workflow building requires zero coding skills
Cons
No in app collaboration with other users in the workflow
More online help content welcomed
Could benefit from larger variety of app templates
7. TeamGantt – Best For Creating Drag And Drop Gantt Charts
TeamGantt is a workflow management solution that works right in your browser, making it compatible with any OS. Users can plan and manage projects with this super-easy-to-use Gantt software and invite co-workers, teammates, and friends to view and edit their work.
Create your Gantt chart online by simply dragging and dropping your tasks to plan your workflow, making this software easily adaptable with a lean learning curve.
TeamGantt's workflow tools let you keep all of your tasks, documents, conversations, and team availability stats in one place. You can also connect documents and conversations directly to the associated task or milestone.
TeamGantt integrates with Slack, Trello, Basecamp, Google Calendar, iCal, and Outlook. Or, build a custom integration using TeamGantt's public RESTful API.
TeamGantt is free for up to 3 users and 1 project. Paid plans cost from $24.95/month.
Pros
Flexible setup/tracking for projects
Share charts without receiver logging in
Easy drag-and-drop task duration
Quick learning curve
Cons
Dependency data is awkward at times
Lack of in-app notifications
Views sometimes lag behind changes
8. Process Street – Best For Automating Scheduled Tasks
Process Street is a process-driven tool that adapts well to simple workflow strategies. While Process Street doesn't offer as much as other workflow management software tools in terms of analytics and reporting, it's a good fit for teams with document-driven workflows. The free plan welcomes an unlimited number of users, which is a nice trade-off for being feature lite in some areas.
Process Street's approach breaks up workflow management into three chunks: handling documentation (creating, exporting, and embedding procedure documents and templates), running trigger-based workflows (for random events initiated by a trigger, such as a client onboarding), and programming scheduled tasks that run on an automated schedule. Its drag-and-drop task manager makes it easy for anyone to use.
With many tools for process documentation and workflow automation, it's a good choice for teams who want a streamlined process framework without a maze of features to get lost in.
Process Street integrations include 1000+ apps through Zapier. It also integrates with Formstack, opening up a world of additional templates.
Process Street costs from $12.50/user/month for the Business Plan, but also offers a freemium account.
Pros
Checklists utilize conditional logic
Automation for onboarding/training
Unlimited workflow checklists and templates
Great third-party integration options
Cons
No drag-and-drop for checklist reordering
Missing field validation for phone numbers (emails only)
9. Formstack – Best For Small Teams
Formstack's workflow management is centered around an easy-to-use form builder. They offer an impressive template library with over 200 pre-built business forms to customize. This document workflow software is good for small agencies, as it's a bit of a "one-stop" admin shop. Overall, it's a higher price-per-user than many of the other workflow tools, but if your processes are documentation-heavy, this tool pays for itself in those time-saving templates.
Formstack features include some workflow automation, such as automatically collecting payments or collecting data and routing it to people who need it. The dashboard provides a visual display of your data and KPIs, and even in basic versions, you can access custom visual reports of metrics like unique views, conversion rates, and abandonment rates to assess your campaigns.
Formstack integrations include business applications like Salesforce, PayPal, MailChimp, Slack, ZenDesk, and 40 others.
Formstack costs from $19/month for 1 user, which allows you to create online forms. Note: the caveat with using Formstack for workflow management specifically is that you can't really access many of the workflow features until you upgrade to the Gold plan ($82.50/month for 5 users)
Pros
Great for gathering customer data
Easily extract information to Excel
Powerful forms with conditional logic
Stack forms for complex workflow automation
Cons
Lack of variety with field types
Log-in required for each of their product suite
10. ProWorkflow – Best For Visual Deadline Tracking
Created in 2002, ProWorkflow was designed as a workflow management solution with flexible communication strategies. The workflow dashboard can be seen by assigned staff, clients, and contractors and includes tasks, time, messages, files, quotes, invoices, and more. In addition to seeing upcoming projects and tasks, there is also a 'Recent Work' tab and the ability to see who is currently working on what.
This tool also supplies comprehensive messaging features that are integrated with your existing email. Recipients can reply to the message from their email client and replies are added to the project discussion.
The ProWorkflow mobile app works with a touchscreen smartphone or tablet and offers core features like time tracking and task management on-the-go. Additionally, you can use the app for document management and internal messaging related to your workflow protocols.
ProWorkflow integrates with tools like Xero, Quickbooks, KashFlow, FreshBooks, MYOB AccountRight, Box Storage, DropBox, Google Drive, Microsoft OneDrive, and hundreds more through Zapier.
ProWorkflow costs from $10/user/month, which includes a maximum of 10 active projects.
Pros
Compact, easy to understand dashboard
Ability to see who is currently logged in
Handy list of recent actions
Cons
No data source Integrations
No dashboard widgets
Resumen de los Mejores Software de Gestión de Flujo de Trabajo
A continuación te presentamos una tabla que resume información básica sobre las herramientas descritas en este artículo. Mira los precios, así como la disponibilidad de pruebas gratuitas para hacer una comparación rápida entre ellas.
Otros Software de Gestión del Flujo de Trabajo que vale la pena Considerar
No he tenido la oportunidad de revisarlos correctamente, pero si las herramientas incluidas en este artículo no funcionan para ti, intenta revisar estas herramientas adicionales de BPM:
Criterios de Selección para los Software de Gestión de Flujo de Trabajo
Algunos programas de automatización de flujo de trabajo son más completos que otros: algunos se centran en la gestión del flujo de trabajo en sí mismo (asignación de tareas, creación de dependencias, seguimiento de plazos). Este tipo de aplicación también puede llamarse software de diagrama de flujo de trabajo. Otros ofrecen un sistema de gestión de flujo de trabajo más completo como parte de un software de gestión de recursos o software de gestión de proyectos más amplio. Como tales, ofrecen un conjunto de funciones empresariales adicionales para crear formularios de proceso, manejar facturas y pagos, modelar datos, administrar un portafolio de proyectos y más.
En nuestra selección de software de gestión de flujo de trabajo, redujimos nuestros criterios a algunos puntos clave. Estas son las funciones esenciales de una herramienta de flujo de trabajo útil:
Automatización: este es el punto del uso de un software de flujo de trabajo. Examinamos las funcionalidades de automatización que ahorran tiempo, como la asignación automática de tareas, el envío de notificaciones emergentes, la documentación de enrutamiento, el envío de actualizaciones de estado y la generación de informes.
Informes KPI: Esto suele ser algún tipo de panel con pantallas gráficas de sus estadísticas de flujo de trabajo. Los informes de KPI no solo brindan a los miembros del equipo información sobre el estado de sus tareas o proyectos, sino que también brindan información de la gestión relacionada con dónde están ocurriendo las ineficiencias para que puedan optimizar sus procesos de negocios.
Seguimiento de Fechas de Entrega: Incluso con un panel de control, cuando se ejecutan docenas de flujos de trabajo, es fácil perder de vista las fechas de entrega. Para ser útil, una herramienta de flujo de trabajo tiene que ofrecer un sistema claro para los indicadores de SLA. Las herramientas usan notificaciones, códigos de colores y vistas de tablero que muestran las tareas por fecha de vencimiento para ayudarlo a gestionar las fechas de entrega.
Integraciones: Hoy en día, todos los proyectos requieren múltiples herramientas. El software de gestión de su flujo de trabajo debe integrarse absolutamente con otras aplicaciones que utiliza para su negocio. Esto incluye calendarios, CMS, herramientas de desarrollo, bases de datos, correo electrónico y herramientas de comunicación, aplicaciones de procesamiento de pagos, etc.
Precio: El valor que obtiene de una herramienta de flujo de trabajo tiene que alinearse con el precio que está pagando. El mejor software de flujo de trabajo para usted no requerirá que pague por las funciones que no necesita o los usuarios que no tiene. Evaluamos el precio de la herramienta en función de su simplicidad, transparencia y valor ofrecido al precio.
¿Cómo escoger el Mejor Software de Gestión de Flujo de Trabajo?
El mejor software de flujo de trabajo que existe es el que se alinea estrechamente con los requisitos de sus procesos de negocio. Al elegir, pregúntate:
¿Para qué lo necesitas?
Al preguntar esto, realmente estás intentando identificar: ¿Los procesos están centrados en el ser humano o en el sistema? Un flujo de trabajo centrado en el ser humano se enfoca más en llevar a las personas y sus tareas, documentos y progreso a un solo lugar. Un flujo de trabajo centrado en el sistema se centra en reunir diferentes procesos o sistemas de negocios, integrando sus funciones para crear un flujo de trabajo unificado en un espacio.
¿Quién lo va a usar?
¿Cuántas personas hay en tu equipo? ¿Quién va a utilizar la herramienta y necesita un control de acceso basado en roles? También deberás preguntarte qué tipo de personas utilizarán la herramienta para decidir si necesitas algo basado en código o con código bajo / sin código.
Al pensar en su equipo, es fácil asumir que un equipo grande necesita funciones de flujo de trabajo más complejas. Sin embargo, ten en cuenta que incluso los proyectos grandes pueden funcionar mejor con flujos de trabajo simples donde todo lo que se necesita realmente es la capacidad de asignar tareas, compartir documentación y hacer un seguimiento de las fechas de entrega. Por otro lado, incluso los equipos muy pequeños pueden tener flujos de trabajo complejos que se benefician de funciones avanzadas de generación de informes, gestión de recursos y optimización.
¿Cómo tendrá cabida en mi Proceso?
¿Esta herramienta encaja con su conjunto de herramientas existente y se integra con las herramientas adecuadas? Si esta es una de las primeras herramientas que está agregando, ¿se ampliará y expandirá para satisfacer sus necesidades a medida que crece? Pregúntate si tu equipo lo usará en línea o si también necesitan algo que funcione sin conexión.
¿Cuánto tiempo tomará para que funcione sin problemas?
¿Es fácil de implementar? Junto con esto, debes observar la facilidad de incorporación: ¿es una herramienta que tu equipo puede aprender a usar fácilmente? Muchas herramientas ofrecen diferentes niveles de soporte en función a sus precios. ¿Ofrece soporte técnico o quedará colgado? Finalmente, ¿la solución está alojada o mantendrá la infraestructura detrás de ella?
¿Cuánto cuesta?
Los precios están en un amplio rango de $ 0 a $ 40 por usuario al mes. La mayoría de las herramientas de flujo de trabajo tienen un precio por usuario, lo que resalta la importancia de considerar cuántos miembros del equipo lo usarán, así como cuántos miembros del equipo lo van a usar más adelante en el futuro. Asegúrese de ver cómo aumentará el costo a medida que aumenta la escala; no solo aumentarán sus costos con cada miembro del equipo, sino que también es posible que tenga que aumentar su plan a un nivel más costoso a medida que aumenten las necesidades de su negocio.
¿Qué opinas?
¿Qué consideraste al elegir un software de gestión de flujo de trabajo? ¿Cuál es tu experiencia al elegir y utilizar el software de flujo de trabajo? Comparte con nuestra comunidad las consideraciones que piensas son más importantes al seleccionar una herramienta de flujo de trabajo.
Our friend and supporter: