El Mejor Software de Asistencia Técnica – La Lista
Aquí tienes nuestra lista de programas de asistencia técnica:

Preguntas Frecuentes sobre Software de Asistencia Técnica
¿No sabes por dónde empezar? Visita nuestras preguntas frecuentes para obtener más información acerca de los conceptos básicos del software de asistencia técnica.
El software de asistencia técnica es un centro digital donde los clientes pueden enviar consultas para ser registradas, organizadas y resueltas. Esto puede incluir elementos como la gestión de tickets, la suite de automatización, la generación de informes y la optimización. También puede proporcionar un foro de conocimiento para la resolución de autoservicio de solicitudes repetidas o en curso.
Los beneficios del software de asistencia técnica incluyen una resolución más rápida de problemas tecnológicos, mayor satisfacción del cliente, aumento de los ingresos, aumento de la productividad y mayor satisfacción en el trabajo.
El software de asistencia técnica es importante porque unifica todas las comunicaciones y registros sobre los problemas de soporte, proporcionando un sistema único para comunicarse, controlar, administrar y analizar los problemas de manera efectiva.
¿No buscas una herramienta de soporte técnico? Echa un vistazo a nuestras otras listas de los mejores programas para administrar equipos, recursos y proyectos.
Control de errores/bugs: si gran parte del tráfico de tu asistencia técnica es por informes de errores, tal vez sea el momento de comenzar a invertir en herramientas de control de errores como DoneDone, Trackduck o DebugMe.
Herramientas de comunicación: a veces los problemas se reducen a una mala comunicación entre equipos y departamentos. Si ese tu caso, implementa herramientas de comunicación que se adapten a las necesidades únicas de la empresa.
Software de colaboración: la colaboración perfecta entre proyectos, departamentos, compañeros de equipo y clientes garantiza que las cosas funcionen sin problemas de principio a fin; Asegúrate de revisar nuestras sugerencias para 10 herramientas de colaboración en línea, si aún no lo has hecho.
Esto te ayudará a comparar y evaluar rápidamente el mejor software de help desk, incluido el software de asistencia técnica de 'tickets' a soporte y el software de asistencia técnica de TI.
A medida que nuestros lugares de trabajo se interconectan más, el software de asistencia técnica se vuelve más útil que nunca en una amplia gama de aplicaciones. Los equipos de productos, los estudios de desarrollo, las empresas de comercio electrónico y muchos otros tipos de equipos están adoptando sistemas de tickets que optimizan la forma en la cual manejan el servicio al cliente y el soporte de TI.
Compara y Evalúa Rápidamente las 10 Mejores Soluciones de Software de Helpdesk
Hay dos tipos principales de software de asistencia técnica: aquellos destinados a ayudar a los empleados y aquellos destinados a ayudar a los clientes. Ambos son importantes y, dependiendo de tus necesidades, es posible que te sientas atraído por las herramientas que aborda uno u otro, o ambos. ¿Por qué necesitas software de soporte de TI? Se ha demostrado que mejorar el "recorrido del cliente" aumenta los ingresos hasta en un 15%, al tiempo que aumenta la satisfacción del cliente en un 20%. Por otro lado, tus empleados internos pueden estar perdiendo hasta dos semanas de tiempo de trabajo por año debido a problemas de tecnología e informática.
Sabiendo esto, es fácil ver la importancia del software de soporte técnico para los clientes, el personal, o ambos. Un sólido centro de asistencia de TI puede ayudar a mantener contentos a los clientes, a identificar problemas y dirigirlos a las personas correctas para resolverlos, y también puede ayudar al equipo de soporte a administrar mejor su carga de trabajo.
Quizás te estés preguntando: Bien, entonces… ¿cuáles son los mejores programas de asistencia técnica? ¿Qué necesita mi equipo? ¿Cómo puedo tomar estas decisiones? Si bien definitivamente no podemos hacer integrar a cada grupo con la solución ideal de asistencia técnica, podemos ofrecer una revisión concisa del mejor software de administración de asistencia técnica disponible en la actualidad.
En esta publicación:
Compartiremos las mejores herramientas de administración de servicios para que los incluyas en tu lista de software de asistencia técnica.
Explicaremos qué son las herramientas de asistencia técnica de TI.
Explicaremos cómo las herramientas de software de asistencia técnica pueden ayudarte a optimizar el servicio al cliente y / o empleado.
Responderemos algunas preguntas frecuentes sobre las herramientas del sistema de soporte técnico.
Te diremos lo que debes buscar en las herramientas de software de soporte de TI y te haremos saber nuestros criterios de evaluación.
Al final de este artículo, deberías tener una lista muy completa con algunas de los mejores programas de asistencia técnica del mercado. Así podrás tomar la decisión que mejor le convenga a tu empresa y tu equipo.
Una Lista del Mejor Software de Asistencia Técnica
Hemos buscado por doquier para reunir el mejor software de asistencia técnica de TI para ti. Ya sea que tus prioridades sean un sistema de tickets bastante sólido o una solución de servicio de asistencia integral, creo que hay algo para todos.
The Digital Project Manager es financiado por sus lectores. Cuando haces clic en los enlaces de nuestro sitio, podríamos ganar una comisión. Más información.
LiveAgent is for customer support teams of all sizes. The software collects and organizes customer queries from multiple channels, and enables agents to collaborate to resolve them.
The software has tons of useful help desk features. LiveAgent's multi-channel ticketing system converts all received messages from social media, email, phone and live chat into tickets, and then organizes them according to importance. The software is collaborative, and eliminates account sharing, device and account monitoring, duplicate answers, and confusion. The software has powerful automation rules that can be either time-triggered, SLA triggered, or action triggered.
LiveAgent's reporting and analytics features enable users to create comprehensive reports on agent availability, resolution times, rebukes, and more. The software also recognizes the need for self-service in customer support and enables users to create internal and external knowledge bases that are fully customizable and equipped with FAQs, feedback, suggestions, and forums.
The software's UI is very clean and minimalistic, however, it does have quite a learning curve. Not to worry though, LiveAgent provides integrated guides so you can utilize the software in no time. The biggest pro of using LiveAgent is its price to value ratio. LiveAgent offers over 179 advanced help desk features and integrates with over 40 third party applications. The software is fully customizable– from general appearance and sounds to specific feature customization. The cons include a steep learning curve and limited mobile app capabilities.
LiveAgent supports both native and third-party integrations. Native integrations include but are not limited to Braintree, Slack, Instagram, Shopify and more. LiveAgent also provides built-in migration plugins that enable you to migrate data from your old help desk software into LiveAgent.
LiveAgent costs from $15/user/month. They also offer a free trial, a forever free account, and a product demo.
Zendesk is an easy-to-use customer service solution that's sophisticated enough to meet complex needs and simple enough to let you get set up and running immediately. Zendesk serves more than 160,000 customers across a multitude of industries in over 40+ languages.
Zendesk's reporting solution integrates data from every channel, even third-party systems, so you can measure how customers interact with your brand. Access real-time and historical data, analyze your performance using pre-built dashboards that are pre-populated with best-practice customer service metrics, customize your dashboards and charts, and share and schedule relevant dashboards to keep stakeholders in the loop about key insights and trends.
Zendesk allows your team to connect to all of your data sources and automatically bring the right information up about your customers. It's a unified agent workspace where agents can communicate with customers through email, SMS, chat, voice, and even social messaging apps like Facebook, WhatsApp, Apple Business Chat among others, in just one place.
Your team can customize the support environment based on use case or channel, no code required. Easily collaborate across teams and connect with external partners – such as Slack – to ease the burden of an agent looking for answers. Leverage built-in routing and intelligence to collect critical details and reduce data entry, and escalate issues to the agent best suited to help.
Empower customers to help themselves with knowledge base content and a customized, mobile responsive help center. Use automation and AI-powered bots to ensure customers never have to repeat themselves. With integrated knowledge management, agents can help content managers and contribute expertise directly from their agent workspace.
Zendesk integrates with key email providers such as Gmail, G Suite, Office 365, and many more. Sell can be connected with out-of-the-box integrations with over 50 apps such as MailChimp, Zapier, Hubspot, with the option to display or update external data, or even build a custom solution. Sell APIs and SDKs also provide the foundation to set your integration project up for success with sync services and pre-built code libraries.
Zendesk starts at $19/user/month and offers a 14-day free trial.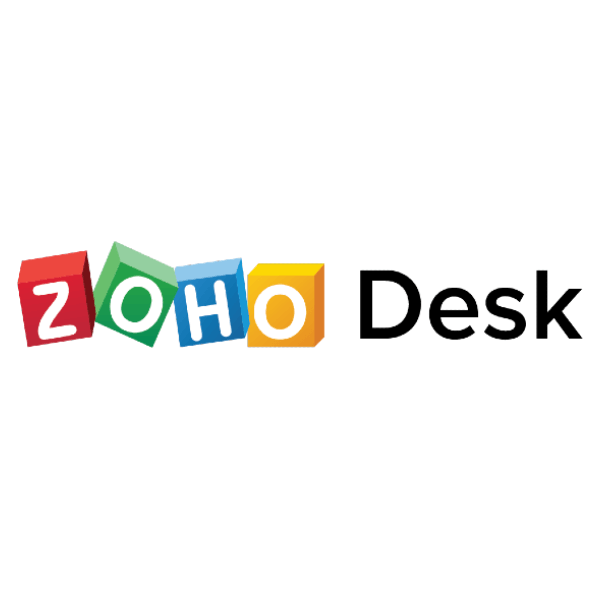 freemium version
15 days free trial
From $14/agent/month billed annually. Also has a freemium version upto 3 agents
Zoho Desk is a cloud-based customer service application with contextual AI that helps your company build stronger relationships with customers.
Zoho Desk has great features for prioritizing, managing, and closing customer support tickets. Users have control over tickets submitted to the support team via email, phone, chat, social media, a self-service portal, forums, and web forms. All tickets are presented in one place, and team members can set priorities and close tickets in the preferred order.
The tool allows teams to create a Knowledge Base of customer support articles, so your team can quickly find appropriate solutions for customer tickets. Zoho Desk's Help Center features also allow customers to create a ticket and track it online themselves.
Zoho Desk's AI and automation features take into account an appropriate resolution time based on your business hours when a customer ticket is created. If those parameters are missed, the ticket will be escalated automatically. Tasks such as ticket assignment, service escalations, notification rules, live chat widget and time-based actions can be automated by setting workflow rules.
The tool provides detailed reports and analytics about your support center performance, such as the average resolution time, the number of tickets closed per agent per day, the number of tickets opened per product and more.
The platform integrates with Zoho customer relationship management (CRM), as well as other Zoho Apps. The tool also offers an API for further integrations.
Pricing starts at $14/agent/month billed annually. Also has a freemium version up to 3 agents.
HaloITSM is a help desk solution that helps businesses streamline the incident lifecycle, from ticket creation to issue resolution. It enables professionals to update the status of incidents and view details including ticket ID, priority level, issue summary, and date created.
HaloITSM allows organizations to link new incidents with existing requests and share potential solutions with team members or end-users through the knowledge base. Managers can specify default values such as categories, priority, service-level agreements, or mailboxes before creating requests. Customer service agents can view upcoming tasks on a calendar and streamline approval processes by requesting validation on ticket creation or modifications.
HaloITSM facilitates integration with various third-party applications such as Microsoft Office 365, Azure DevOps, Microsoft Teams, Lansweeper, and more. Other features of HaloITSM include reporting, compliance management, status tracking, a self-service portal, collaboration, and auditing. It also helps businesses generate maintenance requests, store asset details, and set validation rules across configuration fields using IP addresses or numeric passwords.
In addition, HaloITSM can serve as an enterprise service management solution allowing you to extend your workflows beyond IT and experience the benefits throughout the organization. HaloITSM enables teams to join together siloed service areas to create seamless processes and a great experience for users.
OneDesk combines help desk and project management software and allows users to access all work, collaboration, and communication in one place so users can avoid having to buy, learn, integrate, and switch between multiple applications.
OneDesk includes a multi-channel ticketing system that gives users the flexibility to create tickets for issues noted through email, support portals, live chat, and more. Collaborate with your team and your customers in resolving issues. Automations are customizable and allow you to set up complex workflows. The tool's knowledge management system includes the use of knowledge bases which lets you publish self-service articles for your users and customers.
OneDesk also includes project management features, including multiple view layouts that allow you to filter and group tasks the way you choose. Views include the task list flat view, which is especially useful for assignees when keeping track of their workload; and roadmap, Gantt, and status board (Kanban) views, which provide project managers with visual and functional flexibility when planning or managing projects. Other project management features include scheduling tasks, sharing files, and real-time communication between team members.
The interface is clean, and the navigation makes it easy to find applications and project levels, as well as change views and layout. OneDesk is also quick to set up — the learning curve depends on the complexity of the workflows you create. There are tutorials, videos and live-chat support options which are all accessible within the OneDesk web application.
OneDesk currently has native integrations for Box, Dropbox, FreshBooks, Mailchimp, Okta, QuickBooks, Microsoft Visual Studio, WordPress, and Azure Active Directory. Integrations with 100s of other web apps are also available via Zapier.
Pricing for OneDesk starts at $9 per user per month.
Wrike is a help desk tool trusted by 20,000+ organizations worldwide and is suitable for any size team. Wrike's powerful automation engine promises to improve engagement, lead to better customer support, and foster good relationships with clients and other team members. Easily set up request forms that auto-assign tasks, allowing each ticket to be tracked through to completion.
Wrike's simple interface updates in real-time, so your help desk team can stay on top of new tasks and adjusted information at all times. Instant @mentions and live editing capabilities mean any queries are ironed out quickly, and issues can be resolved in an efficient manner. Customizable workload views allow each team member to choose the way of working that suits them best.
Wrike has an easy-to-use, intuitive interface that allows team members to start helping clients without having to avail of in-person training themselves. Wrike also simplifies team collaboration with instinctive navigation between distinct spaces, folders, and tasks. Wrike has a dedicated help center with interactive training, videos, a 'getting started' guide, and a thriving community.
Wrike includes over 400 integrations, including the most popular file management software from Microsoft, Slack, Google Drive, and Dropbox, as well as Microsoft Excel and Project. You can check if the application your team needs is in Wrike's app directory for seamless integration.
Start free with Wrike, no matter how big your team is. Or, try a free 14-day trial of Wrike's more advanced features and customization. Paid plans start at $9.80/user/month.
Jitbit Helpdesk is a help desk software that was built to help you provide email support for your customers and users. With its pricing, Jitbit is a great fit for medium and large businesses across different industries. If you want to host the app on your own server and use it internally, Jitbit also offers an on-premise version.
Although email is the primary channel, Jitbit supports various other channels, like live chat, web-portal, API and multiple built-in integrations with third-party apps. Jitbit updates in real-time and offers ways to collaborate on user issues with your team; for example, you can see when other techs are looking at a ticket or typing a reply. You can also assign multiple people to a single ticket.
Automation Rules is a pretty slick feature in this tool, designed to carry out the more boring parts of the job. You can do simple things like "if a ticket comes from this company assign it to this agent" all the way up to something more sophisticated like "if ticket subject contains 'word', send an HTTP request to this URL".
This helpdesk software offers more than 10 built-in reports and a custom report builder on all aspects of customer support. You can see various metrics, including response speeds, the number of tickets you get per day, and your team performance is broken down by individual techs. Most reports allow you to export data to Excel, too.
They also offer a Knowledge Base with some AI-powered self-service features. So, this means that if you take your time to fill out your Knowledge Base with helpful articles, Jitbit will suggest those articles to your users as they are submitting the tickets. I'm sure you've seen this type of support feature on a couple of the sites you have accounts with, and it can be useful as it sometimes takes care of the issue without even needing to open a support ticket.
I'd say that Jitbit has a very small learning curve, thanks to clean design and easy-to-use UI. You can customize both the public-facing and the private parts of your help desk to match your company branding—so you can change colors and add your logo and a favicon. For more customization, you can change pretty much anything else through CSS and JS code.
Jitbit integrates with a lot of apps out of the box. Apps like Slack, Jira, Github, Dropbox and a lot of others are really easy to set up and start using. If that's not enough you can use Zapier to integrate with 500+ other apps.
Jitbit Helpdesk costs from $29/month. They also offer a free trial and an on-premise version.
ServiceDesk Plus is a complete IT Service Management (ITSM) suite with built-in IT Asset Management (ITAM) and Configuration Management Database (CMDB) capabilities. With advanced ITSM functions, powerful automations, smart customizations, and easy-to-use capabilities, ServiceDesk Plus helps IT support teams easily deliver world-class service to end users at lower costs.
Features include strong incident management processes that help resolve incidents swiftly and improve agent productivity; comprehensive problem management features that enable IT teams to classify, analyze, and close issues as well as identify repetitive issues to close tickets faster; and a change management system that allows IT teams to implement IT changes with minimal risk through streamlined planning, approval, and implementation.
The tool also provides integrated knowledge management, virtual assistant, and AI capabilities, as well as effective SLA management with proactive and reactive escalations and escalation actions.
It offers various integration options, including Microsoft Outlook, Microsoft 365, Microsoft Teams, Jira, and more through REST APIs.
Pricing for ManageEngine ServiceDesk Plus starts at $12/per user/month for the standard plan. See further pricing plans on their pricing page.
EngageBay offers help desk software in the form of their Service Bay tool. Users can answer unlimited tickets in one place, as well as create a personalized ticket view to suit their needs.
The tool also offers advanced service automation tools so users can automate routine customer service processes and tasks. Users can also create canned responses to common queries and questions to save time and increase productivity.
EngageBay also includes capabilities for grouping and organizing tickets in order to boost efficiency. You can also manage tickets like tasks in order to keep track of closed and open tickets. The tool offers custom reporting and analytics to ensure you make informed decisions about the support process and specific tickets.
EngageBay's Service Bay software is free to use.
Freshservice's modern and intuitive UI requires minimal to no training, and is customizable to IT and non-IT needs. It automates tasks and provides support for issues raised via email, self-service portal, phone, chat, or in-person. Freshservice maintains records of contracts, hardware, software, and other vital customer-data assets.
Built in user-portal, reporting, workflows, and continuous updates mean that you have all the basic functionality you would expect for a helpdesk tool as well as a roadmap for constant improvement.
They offer the whole gamut of helpdesk tools: incident management, change management, release management, vendor relationships all with robust analyzing tools to make sure common problems are tracked and improved.
The biggest cons that I noticed was that it doesn't work with corrective actions (CAPA) and that it doesn't manage portfolios or offer product road mapping. These services can be supplemented with another app or service, but that will obviously increase the cost of your overall set-up.
Freshservice scored favorably on our features and functionality evaluation criteria section because it truly is a jack-of-all-trades. The software lets you track assets, manage problems, manage self-service portals, navigate advanced incident management, organize contracts and licenses, and more.
Integrations listed include Slack, DocuSign, Jira, Freshbooks, Google calendar, Survey Monkey, Dropbox, and many more through Zapier.
Freshservice starts at $19/user/month and has a 21-day free trial.
The Best Help Desk Software Comparison Chart
Criterios Comparativos de Software de Asistencia Técnica
¿Qué criterios utilizamos para determinar el mejor software de asistencia técnica de TI? ¿Qué significa tener un software de soporte que destaca sobre el resto? ¿Cómo evaluamos los sistemas de tickets de asistencia técnica en nuestra comparación de los sistemas de tickets?
Nos gusta ser completamente transparentes en nuestros métodos de evaluación, por lo que hemos desglosado el quién, qué, dónde, por qué y cómo, aquí y ahora para ti.
Interfaz de usuario (IU): ¿Qué tan bien diseñado está el software de soporte técnico? ¿Ofrece vistas claras y navegación intuitiva? ¿Es estéticamente agradable o sólo para negocios? ¿A quién está dirigida la IU y de verdad logran ser de agrado para sus usuarios?
Usabilidad: ¿Es fácil de aprender y dominar? ¿Hay tutoriales y capacitación? ¿Qué soporte técnico y de usuario ofrece la compañía de software?
Integraciones: ¿Es fácil conectarse con otras herramientas? ¿Hay integraciones por defecto? ¿Cuántas integraciones hay disponibles y qué tan fáciles (o costosas) son de implementar?
Relación calidad-precio: ¿Cuánto cuesta? ¿Hay diferentes niveles? ¿A qué características se tiene acceso en cada etapa?
Características y funcionalidad: ¿Cuántas de las características y funciones clave del software del servicio de asistencia técnica ofrece, y qué tan potentes son? Específicamente, busqué:

Sistema de emisión de entradas multicanal: las herramientas deberían tener un software de administración de tickets bastante bueno. Deben agilizar los tickets desde múltiples fuentes para que puedas comunicarte a través de varios canales (correo electrónico, teléfono, etc.) desde un solo lugar. Debería ayudarte a administrar estos tickets de transmisión al permitirte etiquetar, categorizar, priorizar y asignar automáticamente los tickets entrantes desde cualquier canal. Comparativa del sistema de tickets del software de asistencia técnica entre niveles de productos.
Colaboración: las herramientas deben mantener a los usuarios informados acerca de los propietarios de tickets, estados, respuestas y prioridades para ayudar a sincronizar los esfuerzos del equipo.
Automatizaciones: los sistemas de asistencia técnica deberían ofrecer la capacidad de establecer activadores basados ??en el tiempo y en eventos, así como flujos de trabajo personalizados con automatizaciones que enrutan los tickets al usuario adecuado para obtener la mejor respuesta.
Informes y análisis: el sistema de asistencia técnica debe ofrecer paneles de control configurables que muestren datos clave de la asistencia técnica, así como informes en vivo para obtener una vista panorámica de las operaciones actuales.
Sistema de gestión del conocimiento: ITSM utiliza un repositorio de problemas resueltos previamente. Puede ser un sitio web público de autoservicio para clientes o un repositorio interno para técnicos y representantes de servicio al cliente. Debe incorporar tecnologías de búsqueda avanzada (como sugerencias automáticas) para ayudar a los usuarios a encontrar respuestas rápidamente.
Más Programas de Asistencia Técnica
¿No estás interesado en ninguno de los recursos anteriores? Tienes suerte. Siempre hay docenas de otras herramientas de software de soporte de TI y de asistencia técnica para tu empresa. Las siguientes opciones de software de asistencia técnica son solo unas pocas, pero si continuas bucando, de seguro descubrirás más. No tengas miedo de invertir mucho tiempo en investigación y desarrollo. Recuerda, sólo debes conformarse con la herramienta que sea absolutamente adecuada para ti y tu equipo.

¿Necesitas Ayuda Para Reducir las Opciones?
Esta herramienta es bastante útil. Nos hemos asociado con Crozdesk para brindarte acceso a su "Buscador de software".
Si ingresas algunos de los detalles sobre tu proyecto y las funciones que buscas en una herramienta de administración de proyectos, generará una lista de herramientas que coinciden con tus preferencias. Sólo debes proporcionar tu correo electrónico y te enviarán una bonita guía en PDF con un resumen de las mejores coincidencias.
¿Qué Opinas Sobre Estas Grandes Soluciones de Asistencia Técnica?
Hay muchos sistemas de asistencia técnica para escoger. El verdadero problema es encontrar el mejor para cada quien. Una vez que tengas tu lista de 'Funcionalidades Obligatorias", puedes comenzar a reducir las opciones, comparándolas entre sí.
¿Crees que hay algo que debería estar en nuestra lista pero nos faltó? ¿Tienes alguna experiencia con alguno de estos programas que te gustaría compartir con nostoros? ¡Participa en los comentarios! Nos encantaría saber qué piensas.